Administrative jurisdiction & public administration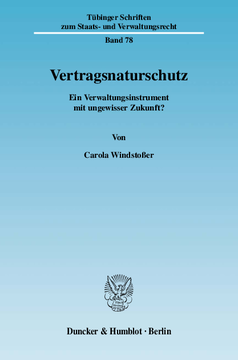 BOOK
Cite BOOK
Style
---
Windstoßer, C. (2008). Vertragsnaturschutz. Ein Verwaltungsinstrument mit ungewisser Zukunft?. Duncker & Humblot. https://doi.org/10.3790/978-3-428-52834-9
Windstoßer, Carola. Vertragsnaturschutz: Ein Verwaltungsinstrument mit ungewisser Zukunft?. Duncker & Humblot, 2008. Book. https://doi.org/10.3790/978-3-428-52834-9
Windstoßer, C, (2008): Vertragsnaturschutz: Ein Verwaltungsinstrument mit ungewisser Zukunft?, Duncker & Humblot, [online] https://doi.org/10.3790/978-3-428-52834-9
---
Format
---
Vertragsnaturschutz
Ein Verwaltungsinstrument mit ungewisser Zukunft?
Tübinger Schriften zum Staats- und Verwaltungsrecht, Vol. 78
(2008)
Additional Information
Book Details
ISBN

978-3-428-52834-9
978-3-428-12834-1 (print edition)

DOI

https://doi.org/10.3790/978-3-428-52834-9

Edition

1

Language

German

Pages

259

Subjects
Pricing
Institution

€ 106.00 (incl. local VAT if applicable)

Individual

€ 79.90 (incl. local VAT if applicable)
Abstract
Lange schien die Kluft zwischen einer rentablen Landwirtschaft und dem Naturschutz unüberbrückbar. Seit den 80er Jahren wurde zunehmend die Funktion der Landwirtschaft für die Erhaltung der ländlichen Umwelt erkannt und der Vertragsnaturschutz entwickelt: Er honoriert Landwirte über freiwillige vertragliche Vereinbarungen gezielt für ihre Leistungen für den Naturschutz. Trotz der positiven Resonanz werden für den Vertragsnaturschutz nicht wie gefordert mehr Gelder zur Verfügung gestellt. Die Verfasserin fragt nach den Ursachen hierfür und wie Abhilfe geschaffen werden könnte.Zunächst umreißt sie den Begriff "Vertragsnaturschutz" näher und stellt am Beispiel von drei Bundesländern die Verwaltungspraxis dar. Sodann untersucht sie die Rechtsgrundlagen des Vertragsnaturschutzes auf Bundes- und Landesebene. Es folgt eine Prüfung der Anforderungen, die das Grundgesetz und das EG-Recht an die Verträge stellen. Dies wirft die Frage auf, ob sich die Situation des Vertragsnaturschutzes durch eine verstärkte Mitfinanzierung der EG bzw. des Bundes verbessern ließe. Die Autorin prüft abschließend, inwieweit Landwirte für die Erbringung von Naturschutzleistungen zu vergüten sind.Carola Windstoßer beschreibt detailliert tatsächlich wie auch rechtlich die derzeitige Situation des Vertragsnaturschutzes. Sie liefert eine systematische Analyse des Rechtsrahmens, vor allem auch hinblicklich der beihilfenrechtlichen Fragen.For a long time there seemed to be no way to bridge the gap between profitable agriculture and nature conservancy. Especially the sponsoring of the agriculture by the EC led to a growing intensification of well-situated and fertile locations whereas the poor and infertile locations were given up. Starting in the 80ties the function of agriculture for the preservation of the rural environment has been seen. In order to stop the development so far contracts for nature conservancy were developed. Farmers' work for the nature conservancy should be directly paid by voluntary agreements. Though the reactions were extremly positive not more money was given to the project but even shortened in some federal states.This dissertation asks for the reasons and possible solutions. At first the term "Vertragsnaturschutz" is worked out, then administration practice in three federal states is shown. After that the demands the German Constitution and the EC law ask for are examined. Finally the improvement of financial situation for the nature conservation through co-financing by the EC and the Federal Republic as well as the payment for the farmers are discussed.
Table of Contents
Section Title
Page
Action
Price

Vorwort

5

Inhaltsverzeichnis

7

Einleitung

13

Erster Teil: Abgrenzung und Erscheinungsformen des Vertragsnaturschutzes

16

A. Entwicklung des Vertragsnaturschutzes und Untersuchungsrahmen

16

B. Abgrenzung zu Agrarumweltmaßnahmen

21

I. Abgrenzung mittels Finanzierung und Gestaltung

21

II. Differenzierung nach der Zielsetzung

22

III. Weitere Abgrenzungskriterien

23

IV. Zwischenergebnis

24

C. Angebotsnaturschutz

24

D. Verhältnis des Vertragsnaturschutzes zu mitwirkungsbedürftigen Verwaltungsakten

25

I. Verwaltungspraxis

26

II. Argumente für eine Einbeziehung in den Vertragsnaturschutz

27

III. Argumente gegen eine Einbeziehung in den Vertragsnaturschutz

27

IV. Zwischenergebnis

29

E. Erscheinungsformen

29

I. Vertragsnaturschutz in der Forstwirtschaft

29

II. Verpachtung von Flächen

32

1. Verpachtung staatseigener Flächen

32

2. Anpachtung von Flächen durch die öffentliche Hand

32

III. Ankauf von Flächen durch die öffentliche Hand

33

F. Abschließende Zusammenstellung der Ergebnisse

34

Zweiter Teil: Handhabung des Vertragsnaturschutzes in der Verwaltungspraxis ausgewählter Länder\r

35

A. Vertragsnaturschutz in Baden-Württemberg

35

I. Entwicklung des Vertragsnaturschutzes in Baden-Württemberg

35

II. Vertragsnaturschutzprogramme

36

1. Landschaftspflegerichtlinie

36

a) Gliederung der Landschaftspflegerichtlinie

36

b) Regelung des Vertragsnaturschutzes in der Landschaftspflegerichtlinie

37

c) Abschließende Betrachtung

38

2. Marktentlastungs- und Kulturlandschaftsausgleich

39

3. Regionale Landschaftspflegeprogramme

39

B. Vertragsnaturschutz in Hessen

40

I. Entwicklung des Vertragsnaturschutzes in Hessen

40

II. Vertragsnaturschutzprogramme

41

1. Hessisches Integriertes Agrarumweltprogramm (HIAP)

41

2. Rahmenvertrag für den Naturschutz im Wald

44

3. Regionale Landschaftspflegeprogramme

45

C. Vertragsnaturschutz in Niedersachsen

45

I. Entwicklung des Vertragsnaturschutzes in Niedersachsen

45

II. Vertragsnaturschutzprogramme

47

1. Kooperationsprogramm Naturschutz (KoopNat)

47

2. Regionale Landschaftspflegeprogramme

50

D. Abschließende Betrachtung

51

Dritter Teil: Rechtsfragen des Vertragsnaturschutzes

52

A. Rechtsgrundlagen für den Vertragsnaturschutz

55

I. § 8 BNatSchG

56

II. Landesrechtliche Bestimmungen des Vertragsnaturschutzes\r

57

1. Untersuchung der landesrechtlichen Regelungen auf Gemeinsamkeiten und Unterschiede

58

2. Auswirkung von Vorrangregelungen zu Gunsten des Vertragsnaturschutzes

60

III. Rechtsnatur der im Rahmen des Naturschutzrechts getroffenen vertraglichen Vereinbarungen

64

1. Gesetzlich vorgegebene Rechtsnatur

64

2. Zuordnung durch die Vertragsnaturschutzprogramme und Verwaltungspraxis

65

3. Abgrenzung öffentlich-rechtlicher Verträge von solchen des Privatrechts

66

a) Abgrenzungskriterien

67

b) Wahlfreiheit der Verwaltung?

68

4. Qualifizierung der naturschutzrechtlichen Verträge

71

a) Normersetzende Verträge

71

b) Normverwirklichende Verträge

73

c) Normergänzende Verträge

73

d) Verträge ohne Normbezug

74

e) Verträge mit der öffentlichen Hand als Eigentümer

76

5. Ergebnis

77

B. Anforderungen des nationalen Rechts an den Vertragsnaturschutz

77

I. Grundgesetzliche Vorgaben für den Vertragsnaturschutz

78

1. Begrenzung der Zulässigkeit des Vertragsnaturschutzes durch das Gesetzmäßigkeitsprinzip

78

a) Auswirkungen des Gesetzesvorranges auf den Vertragsnaturschutz

78

b) Anforderungen des Gesetzesvorbehalts an den Vertragsnaturschutz

80

aa) Ausreichende Ermächtigungsgrundlage für ein vertragliches Handeln der Verwaltung

80

(1) Mögliche Grundrechtseingriffe durch die Teilnahme am Vertragsnaturschutz

81

(2) Auswirkungen der Wesentlichkeitstheorie auf die vertraglichen Vereinbarungen

84

bb) Ausreichende Rechtsgrundlage für die im Rahmen des Vertragsnaturschutzes gewährten staatlichen Zahlungen

86

(1) Eingriffswirkung der staatlichen Leistungen

88

(2) Einflüsse der Wesentlichkeitstheorie auf die Finanzierung des Vertragsnaturschutzes

90

(3) Ausreichend vorhandene Rechtssicherheit durch die Verknüpfung von Haushaltsplan und Verwaltungsvorschrift

93

(4) Ergebnis

95

2. Anspruch auf Vertragsabschluss

95

a) Anspruch auf Vertragsabschluss auf Grund öffentlicher Bekanntgabe der Fördermöglichkeit

96

b) Anspruch auf Vertragsabschluss als Ersatz einer hoheitlichen Maßnahme

97

aa) Gesetzliche Anordnung der Vertragsform

98

(1) Vorliegen eines subjektiv öffentlichen Rechts

99

(2) Erfolgsaussichten einer gerichtlichen Geltendmachung

102

bb) Vertragsformgebot aus dem Übermaßverbot (Grundsatz der Verhältnismäßigkeit)

102

cc) Vertragsformgebot aus dem Kooperationsprinzip

105

c) Ergebnis

107

II. Verwaltungsrechtliche Vorgaben für den Vertragsnaturschutz

108

1. Beteiligungsrechte

109

a) Bürger- und Behördenbeteiligung

109

b) Beteiligung von Verbänden

110

aa) Einlegung von Rechtsbehelfen

111

bb) Mitwirkungsrechte

112

2. Situationsgebundenheit

116

III. Exkurs: Zulässigkeit unechter Normsetzungsverträge

117

IV. Ergebnis

123

C. Anforderungen des EG-Vertrages (EGV) an den Vertragsnaturschutz

123

I. Genehmigungsverfahren von Beihilfen im Rahmen des Vertragsnaturschutzes

123

1. Begriff der Beihilfe

124

a) Begünstigung

124

b) Bestimmte Unternehmen oder Produktionszweige

128

c) Wettbewerbsverfälschung

128

d) Beeinträchtigung des Handels zwischen den Mitgliedstaaten

129

e) Staatliche oder aus staatlichen Mitteln stammende Beihilfen

130

f) Ergebnis

132

2. Ausnahme nach Art. 36 EGV

132

a) Anwendungsbereich der Art. 32 ff. EGV

132

b) Regelungsinhalt und praktische Anwendung des Art. 36 EGV

134

c) Geltungsbereich der ELER-Verordnung für Zahlungen im Rahmen des Vertragsnaturschutzes

135

d) Ergebnis

138

3. Genehmigung gemäß Art. 87 ff. EGV

138

a) Ausnahme gemäß Art. 87 Abs. 3 EGV

138

b) Gruppenfreistellungsverordnungen

141

aa) KMU-Verordnung

141

bb) De-minimis-Verordnung\r

142

cc) Verordnung (EG) Nr. 1857/2006\r

143

dd) Verordnung (EG) Nr. 1860/2004 (De-minimis-Verordnung für die Landwirtschaft)

144

c) Rahmenregelung der Gemeinschaft für staatliche Beihilfen im Agrar- und Forstsektor

145

4. Zusammenfassung

145

5. Ablauf des Notifizierungsverfahrens

146

a) Staatliche Beihilfen

146

b) Kofinanzierte Beihilfen

149

II. Probleme bei der Rückforderung von Beihilfen

150

1. Die Rückforderung rechtswidriger nationaler Beihilfen

152

a) Formell rechtswidrige Subventionsverträge\r

153

b) Materiell rechtswidrige Subventionsverträge

157

c) Die Rückabwicklung der Verwaltungsverträge

159

d) Privatrechtliche Subventionsverträge

160

2. Die Rückabwicklung von Gemeinschaftsbeihilfen

161

III. Ergebnis

163

Vierter Teil: Mittel und Wege zur Verringerung der finanziellen Schwierigkeiten

164

A. Ausweitung der Mitfinanzierung von EG und Bund

164

I. Kompetenz der Europäischen Gemeinschaft

165

II. Kompetenz des Bundes

168

1. Verwaltungszuständigkeit des Bundes gemäß Art. 87 Abs. 3 GG

169

2. Ausnahmen vom Konnexitätsgrundsatz

170

a) Ausnahme gemäß Art. 104 a Abs. 3 GG

170

b) Ausnahme gemäß Art. 91 a Abs. 1 Nr. 2 GG

171

aa) Zulässiger Umfang der Aufgabenwahrnehmung durch die GAK im Bereich des Naturschutzes und der Landschaftspflege

173

bb) Bisherige Unterstützung des Naturschutzes und der Landschaftspflege im Bereich der Agrarstruktur durch die GAK

178

cc) Zulässigkeit einer Erweiterung der Bundesfinanzierung auf den Vertragsnaturschutz

179

III. Ergebnis

181

B. Zulässigkeit einseitig-hoheitlicher Anordnungen ohne entsprechende Ausgleichsgewährung

182

I. Erfordernis der Honorierung naturschützender bzw. landschaftspflegender Tätigkeiten\r

183

II. Zulässigkeit der hoheitlichen Anordnung von Maßnahmen des Naturschutzes sowie der Landschaftspflege und Vorliegen einer Ausgleichspflicht

185

1. Verfassungsrechtlich geschützte Eigentumspositionen im Rahmen der Flächenbewirtschaftung

186

a) Das Grundeigentum

187

b) Der eingerichtete und ausgeübte Gewerbebetrieb

188

c) Das Pachtrecht

189

2. Abgrenzung der Enteignung von einer Inhalts- und Schrankenbestimmung

190

3. Verfassungsmäßigkeit der beeinträchtigenden Vorschriften

195

a) Vorhandene gesetzliche Grundlagen für die Anordnung von Maßnahmen des Vertragsnaturschutzes

195

b) Materielle Rechtmäßigkeit der Enteignung

197

c) Materielle Rechtmäßigkeit von Inhalts- und Schrankenbestimmungen

197

aa) Unterlassungspflichten (Nutzungseinschränkungen)

200

(1) Allgemeine Abgrenzungstheorien und spezielles entscheidungslenkendes Kriterium (Situationsgebundenheit)

202

(2) Ausgleichspflicht bei der Beschränkung von Nutzungen

206

(a) Vorliegen einer bereits verwirklichten Nutzung

207

(b) Wesentlichkeit der Nutzungseinschränkung

208

(c) Folgerung für Maßnahmen des Vertragsnaturschutzes

210

bb) Handlungspflichten

212

(1) Berücksichtigungswürdige Unterschiede zwischen der Anordnung von Nutzungsbeschränkungen und Handlungspflichten

213

(a) Auswirkungen des Verursacherprinzips

213

(b) Stärkere Freiheitsbeeinträchtigung

215

(c) Duldungspflichten

216

(2) Beurteilung der Maßnahmen des Vertragsnaturschutzes

216

(a) Erhaltungspflichten

217

(b) Verbesserungs- und Neuschaffungspflichten

219

d) Exkurs: Ausgleichsanspruch für die bloße Einhaltung der guten fachlichen Praxis

221

e) Zwischenergebnis

222

III. Zulässigkeit einer finanziellen Unterstützung ohne Vorhandensein einer Ausgleichspflicht bei entsprechender einseitig-hoheitlicher Anordnung

222

IV. Ergebnis

224

Fünfter Teil: Abschließende Betrachtung und Ausblick

226

Anhang: Landesrechtliche Bestimmungen zum Vertragsnaturschutz

228

Literaturverzeichnis

237

Sachverzeichnis

256