Constitution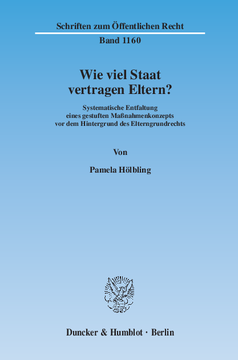 BOOK
Cite BOOK
Style
---
Hölbling, P. (2010). Wie viel Staat vertragen Eltern?. Systematische Entfaltung eines gestuften Maßnahmenkonzepts vor dem Hintergrund des Elterngrundrechts. Duncker & Humblot. https://doi.org/10.3790/978-3-428-53347-3
Hölbling, Pamela. Wie viel Staat vertragen Eltern?: Systematische Entfaltung eines gestuften Maßnahmenkonzepts vor dem Hintergrund des Elterngrundrechts. Duncker & Humblot, 2010. Book. https://doi.org/10.3790/978-3-428-53347-3
Hölbling, P, (2010): Wie viel Staat vertragen Eltern?: Systematische Entfaltung eines gestuften Maßnahmenkonzepts vor dem Hintergrund des Elterngrundrechts, Duncker & Humblot, [online] https://doi.org/10.3790/978-3-428-53347-3
---
Format
---
Wie viel Staat vertragen Eltern?
Systematische Entfaltung eines gestuften Maßnahmenkonzepts vor dem Hintergrund des Elterngrundrechts
Schriften zum Öffentlichen Recht, Vol. 1160
(2010)
Additional Information
Book Details
ISBN

978-3-428-53347-3
978-3-428-13347-5 (print edition)

DOI

https://doi.org/10.3790/978-3-428-53347-3

Edition

1

Language

German

Pages

217

Subjects
Pricing
Institution

€ 92.00 (incl. local VAT if applicable)

Individual

€ 69.90 (incl. local VAT if applicable)
About The Author
Dr. Pamela Hölbling, LL.M., arbeitet als Syndikus bei der Entsorgung Dortmund GmbH. Zuvor war sie in einer größeren Wirtschaftskanzlei in Düsseldorf im dortigen Dezernat für Umwelt- und Planungsrecht als Rechtsanwältin tätig. Frau Hölbling hat ihre Dissertation zur Neuausrichtung des grundrechtlichen Elternrechts, während ihrer Zeit als wissenschaftliche Mitarbeiterin am Lehrstuhl für Deutsches und Europäisches Öffentliches Recht an der Ruhr-Universität Bochum bei Herrn Prof. Dr. Martin Burgi, geschrieben. Im Anschluss hat Frau Hölbling ein Postgraduiertenstudium an der University of Nottingham, England mit Schwerpunkt im europäischen Wirtschafts- und Vergaberecht absolviert. Frau Hölbling hat bereits mehrere Publikationen zu vergabe- und verfassungsrechtlichen Themen in Fachzeitschriften veröffentlicht.
Abstract
Eine wachsende Anzahl von Eltern in Deutschland erscheint außerstande, aus eigener Kraft ein intaktes Familienleben zu organisieren. Die Kinder werden so zu Opfern, wenngleich in ganz unterschiedlicher Intensität. Freiwillige Hilfs- und Unterstützungsleistungen von Seiten des Staates stehen zwar zur Verfügung, erreichen aber oftmals die Kinder nicht rechtzeitig oder vollumfänglich.Gegen den Willen der Eltern kann der Staat bislang nur in eng begrenzten Ausnahmefällen eingreifen. Die traditionelle Verfassungsinterpretation geht von einer klaren Grenzziehung zwischen elterlichem Erziehungsgrundrecht (Art. 6 Abs. 2 S. 1 GG) und staatlichem Wächteramt, insbesondere im Vorschulalter, aus. Das Elterngrundrecht - als Garant des Kindeswohls gedacht - zwinge den Staat, sich weit möglichst vom Elternhaus fernzuhalten. Die Autorin fragt nach Modifikationen der Gefährdungs- und damit Eingriffsschwelle. Neben der argumentativen Aufarbeitung dieses verfassungsrechtlichen Spannungsfeldes zielt die vorliegende Arbeit darauf, den Eltern-Kind-Bereich aus öffentlich-rechtlicher Sicht zu beleuchten; denn bislang dominiert die zivilrechtliche Perspektive des Familienrechts. Die sich aus der verfassungsrechtlichen Beurteilung ergebende Defizitanalyse wirft unterschiedliche Fragen auf: Welche Wendepunkte kann der Staat nutzen, um gefährdete Kinder frühzeitiger als bisher zu erreichen? Wie kann der Ausbau staatlicher Präventions- und vorverlagerter Interventionsmöglichkeiten ins Werk gesetzt werden, um den aufgezeigten Erziehungsschwierigkeiten zu begegnen? Diese und weitere Fragen werden durch die erstmalige Erarbeitung eines gestuften Maßnahmenkonzepts als Nukleus eines Erziehungsverwaltungsrechts beantwortet und zudem erste Begründungsansätze für eine Fortschreibung des Rechtsdreiecks zwischen Eltern, Kindern und Staat geliefert.
Table of Contents
Section Title
Page
Action
Price

Vorwort

7

Inhaltsverzeichnis

9

Abkürzungsverzeichnis

16

Einleitung

21

A. Problemaufriss

21

B. Ablauf und Ziel der Untersuchung

24

Erster Teil: Die Realanalyse

27

A. Eltern, Kinder und Familien in Deutschland – eine Bestandsaufnahme

27

I. Gegenwärtiger Gesellschaftsbefund

27

1. Familiäre und partnerschaftliche Lebenswirklichkeit

27

2. Wirkungszusammenhänge

29

a) Einstellung

29

b) Erwerbstätigkeit und Einkommen

30

3. Abnehmende Erziehungsfähigkeit

31

II. Aktuelle Reaktionen der einfachen Gesetzgebung

34

1. Familien- und Erwerb

34

2. Im Bereich der Verwaltung

36

3. Im Bereich des Familiengerichts

38

4. Zwischenergebnis

40

B. Kindeswohlgefährdung – sozialwissenschaftliche Begriffsbestimmung

41

I. Frühkindliche Basisbedürfnisse

42

II. Kindeswohlgefährdung – Kategorienbildung

44

1. Vernachlässigung

44

2. Misshandlung und Missbrauch

45

III. Risikofaktoren für die Entstehung von Kindeswohlgefährdungen

47

1. Individuelle Risikofaktoren

48

a) Biografie

48

b) Aktuelle Lebenssituation

49

2. Strukturelle Risikofaktoren\r

50

a) Armut

50

b) Soziale Deprivation

52

IV. Folgen von kindeswohlgefährdenden Situationen

53

1. Körperliche Verletzungsfolgen

54

2. Seelische Verletzungsfolgen

55

3. Gesamtgesellschaftliche Folgen

56

C. Zusammenfassung

58

Zweiter Teil: Der bestehende normative Kontext

60

A. Historische Grundlegung

60

I. Vom römischen und germanischen Recht

61

II. Vom Allgemeinen Landrecht für die Preußischen Staaten und Bürgerlichen Gesetzbuch

63

1. Allgemeines Landrecht für die Preußischen Staaten

63

2. Bürgerliches Gesetzbuch

64

B. Einfachgesetzliches Instrumentarium

67

I. Staatliche Hilfsangebote zur Abwendung von Kindeswohlgefährdungen

67

1. Gestufte Hilfsformen

68

2. Freiwillige Erziehungshilfe

70

3. Kontrollfunktion

71

II. Familiengerichtliche Intervention zur Abwendung von Kindeswohlgefährdungen

72

1. Tatbestandsvoraussetzungen

73

2. Rechtsfolgen

74

C. Aussagen des Europa- und Völkerrechts sowie der Länderverfassungen zu Eltern- und Kinderrechten

75

I. Internationale Ebene

76

II. Europäische Ebene

78

III. Länderverfassungen

80

Dritter Teil: Systematische Entfaltung eines gestuften Maßnahmenkonzepts

83

A. Systembausteine

83

B. Erste Ebene

85

I. Erziehungskurse

85

II. Öffentlichkeitsarbeit

86

III. Institutionelle Angebote

87

IV. Gutscheinvergab

89

V. Exkurs: Kindergartenbesuch (-pflicht)

90

C. Zweite Ebene

93

I. Abstrakte Gefährdungseinschätzung

93

II. Ausgestaltungsfragen

95

1. Zeitliche Rahmenbedingungen

95

2. Inhaltliches Prüfprogramm

96

3. Gesundheitssystem

97

4. Individuelle Gefährdungseinschätzung

99

a) Weitere Sachverhaltsaufklärung

99

b) Besuchsangebot\r

99

5. Verpflichtende Früherkennungsuntersuchung

101

a) Leistungsanspruch

101

b) Obligatorische Untersuchungen

101

c) Untersuchungsintervalle

102

d) Nichtbefolgung

103

6. Kooperationen und Vernetzungen

104

D. Dritte Ebene

106

I. Familienhebamme

107

1. Praktischer Familienhelfer

107

2. Wöchentliche Hausbesuche

109

II. Obligatorische Elternkurse

109

E. Vierte Ebene

111

Vierter Teil: Das Elterngrundrecht in herkömmlicher Interpretation

113

A. Historische Determinanten des Elterngrundrechts

114

I.Weimarer Reichsverfassung

114

II. Zeit des Nationalsozialismus

116

III. Art. 6 Abs. 2 und Abs. 3 GG – Entstehungsgeschichte

118

1. Beratungsverlauf

118

2. Motive

119

IV. Entwicklungslinien

121

1. Deutsche Demokratische Republik

121

2. Bundesrepublik Deutschland

122

B. Das Erziehungsprimat der Eltern

123

I. Die Eltern – Grundrechtsträger

123

II. Die Kindererziehung – sachlicher Schutzbereich

126

III. Das Erziehungsprimat

127

1. Elternrecht

127

2. Elternpflicht

130

C. Das verfassungsrechtliche Umfeld des Erziehungsgrundrechts

132

I. Familie gemäß Art. 6 Abs. 1 GG

133

1. Familie und Individuum

133

2. Familie und Gemeinwesen

135

II. Schule gemäß Art. 7 Abs. 1 GG

137

1. Schulerziehung

137

2. Eltern und Schule

139

III. Sozialstaatsprinzip

140

D. Verfassungsrechtliche Begrenzungen des Elternrechts

141

I. Das Kindeswohl als innere Grenze\r

141

1. Verfassungsrechtliche Eingriffsrechtfertigung

142

a) Art. 6 Abs. 2 S. 1 GG

142

b) Art. 2 Abs. 1 i.V.m. Art. 1 Abs. 1 GG

143

c) Art. 2 Abs. 2 S. 1 GG

145

2. Eltern- versus Kindergrundrechte?\r

146

3. Materiell-rechtliche Ausprägung

148

4. Prozessuale Umsetzung

149

II. Das staatliche Wächteramt als äußere Grenze

151

1. Voraussetzungen

152

2. Subsidiarität

153

3. Verhältnismäßigkeit

154

4. Gefahrenabwehr und -vorsorge\r

155

5. Schutzfunktion

157

Fünfter Teil: Das Elterngrundrecht mit Blick auf das gestufte Maßnahmenkonzept

160

A. Auf dem Prüfstand: Das gestufte Maßnahmenkonzept

160

I. Erste Ebene: Öffentlichkeitsarbeit

160

II. Zweite Ebene: Gefährdungseinschätzung und Pflichtuntersuchung

161

1. Grundrechtseingriff

161

2. Verfassungsrechtliche Rechtfertigung

162

a) Art. 2 Abs. 1 GG

162

b) Art. 6 Abs. 2 GG

163

aa) Geeignetheit

164

bb) Erforderlichkeit

164

cc) Angemessenheit

165

III. Dritte Ebene: Familienhebamme und obligatorische Elternkurse

167

1. Grundrechtseingriff

167

2. Verfassungsrechtliche Rechtfertig

167

IV. Vierte Ebene: Herausnahme des Kindes aus der Familie

168

B. Defizitanalyse und Veränderungsansätze

169

I. Defizite im Gesamtverständnis

169

II. Defizite auf der Ausführungsebene

171

1. Hilfen

171

2. Interventionen

172

3. Nachsorge

173

III. Argumentationslinien

174

1. Sinn des Wächteramtes

174

2. Kompensation

175

3. Gesellschaftliche Komponente

176

IV. Erweiterungsansätze

178

1. Absenkung der Gefährdungsschwelle

179

2. Modifikation der Gefährdungsschwelle

181

a) Präventive Vorfeldarbeit

181

b) Konsequenzen für die Beurteilung des Maßnahmenkonzepts

183

C. Resümee

185

Literaturverzeichnis

189

Sachwortverzeichnis

210