Economic theory & philosophy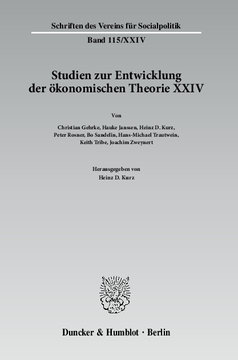 BOOK
Cite BOOK
Style
---
Kurz, H. (Ed.) (2010). Wechselseitige Einflüsse zwischen dem deutschen wirtschaftswissenschaftlichen Denken und dem anderer europäischer Sprachräume. Studien zur Entwicklung der ökonomischen Theorie XXIV. Duncker & Humblot. https://doi.org/10.3790/978-3-428-53435-7
and Kurz, Heinz D.. Wechselseitige Einflüsse zwischen dem deutschen wirtschaftswissenschaftlichen Denken und dem anderer europäischer Sprachräume: Studien zur Entwicklung der ökonomischen Theorie XXIV. Duncker & Humblot, 2010. Book. https://doi.org/10.3790/978-3-428-53435-7
Kurz, H (ed.) (2010): Wechselseitige Einflüsse zwischen dem deutschen wirtschaftswissenschaftlichen Denken und dem anderer europäischer Sprachräume: Studien zur Entwicklung der ökonomischen Theorie XXIV, Duncker & Humblot, [online] https://doi.org/10.3790/978-3-428-53435-7
---
Format
---
Wechselseitige Einflüsse zwischen dem deutschen wirtschaftswissenschaftlichen Denken und dem anderer europäischer Sprachräume
Studien zur Entwicklung der ökonomischen Theorie XXIV
Editors: Kurz, Heinz D.
Schriften des Vereins für Socialpolitik, Vol. 115/XXIV
(2010)
Additional Information
Book Details
ISBN

978-3-428-53435-7
978-3-428-13435-9 (print edition)

DOI

https://doi.org/10.3790/978-3-428-53435-7

Edition

1

Language

German

Pages

182

Subjects
About The Author
Professor Dr. Heinz D. Kurz, Universität Graz, Leiter des Graz Schumpeter Centres. Nach Studium der Volkswirtschaftslehre in München Assistent in Kiel, Visiting Fellow in Cambridge, Professor in Bremen, Theodor-Heuss-Professor an der Graduate Faculty der New School for Social Research, New York, Gastprofessuren u. a. in Bogotá, Mexico City, Paris, Rom, Pisa, Wuhan, Osaka, zahlreiche Publikationen in internationalen Fachzeitschriften, Hrsg. von Metroeconomica und EJHET.
Abstract
Die Diffusion von ökonomischen Ideen und Theorien und damit deren Kontinuität und Wandel in Zeit und Raum sind Gegenstand des vorliegenden Bandes. Dieser enthält Beiträge zur 28. Jahrestagung des Dogmenhistorischen Ausschusses (jetzt: Ausschuss für die Geschichte der Wirtschaftswissenschaften). Behandelt werden das Adam-Smith-Problem betreffend das Verhältnis des Wealth of Nations zur Theory of Moral Sentiments sowie die deutsche Rezeption der Smithschen Werke. Weiterhin wird der Frage nachgegangen, welchen Einfluss Pierre-Joseph Proudhon auf die von Karl Marx in "Das Kapital" behandelten Themen und die Art ihrer Behandlung hatte. Die gegenseitige Beeinflussung von Ökonomen im baltischen Raum mit dem Hauptaugenmerk auf der wechselvollen Beziehung zwischen der deutschen und der schwedischen Wirtschaftswissenschaft im 19. und 20. Jahrhundert ist ein weiteres Thema des vorliegenden Bandes. Darüber hinaus widmen sich Beiträge den deutschsprachigen Einflüssen auf das russische ökonomische Denken in der ersten Hälfte des 19. Jahrhunderts, dem Werk des russischen Agrarökonomen Alexander W. Tschajanow und der Adoption bzw. Adaption von Ideen und Vorstellungen, mit denen russische Emigranten um die Wende vom 19. zum 20. Jahrhundert in Deutschland konfrontiert wurden. Der Band schließt mit der Rezeptionsgeschichte von Piero Sraffas Kritik an der Marshallschen Theorie des partiellen Gleichgewichts in der Mitte der 1920er Jahre im deutschen Sprachraum unter besonderer Berücksichtigung eines Beitrags von Oskar Morgenstern.