Employment & labour law: general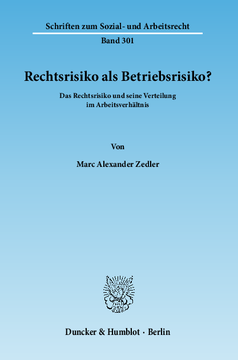 BOOK
Cite BOOK
Style
---
Zedler, M. (2011). Rechtsrisiko als Betriebsrisiko?. Das Rechtsrisiko und seine Verteilung im Arbeitsverhältnis. Duncker & Humblot. https://doi.org/10.3790/978-3-428-53331-2
Zedler, Marc Alexander. Rechtsrisiko als Betriebsrisiko?: Das Rechtsrisiko und seine Verteilung im Arbeitsverhältnis. Duncker & Humblot, 2011. Book. https://doi.org/10.3790/978-3-428-53331-2
Zedler, M, (2011): Rechtsrisiko als Betriebsrisiko?: Das Rechtsrisiko und seine Verteilung im Arbeitsverhältnis, Duncker & Humblot, [online] https://doi.org/10.3790/978-3-428-53331-2
---
Format
---
Rechtsrisiko als Betriebsrisiko?
Das Rechtsrisiko und seine Verteilung im Arbeitsverhältnis
Schriften zum Sozial- und Arbeitsrecht, Vol. 301
(2011)
Additional Information
Book Details
ISBN

978-3-428-53331-2
978-3-428-13331-4 (print edition)

DOI

https://doi.org/10.3790/978-3-428-53331-2

Edition

1

Language

German

Pages

333

Collections

Subjects
Pricing
Institution

€ 104.00 (incl. local VAT if applicable)

Individual

€ 79.90 (incl. local VAT if applicable)
About The Author
Dr. Marc Alexander Zedler ist als Rechtsanwalt im Berliner Büro der Sozietät Hengeler Mueller tätig. Er studierte Rechtswissenschaften in Münster, Budapest und Heidelberg und erwarb einen Master of Laws an der Georgetown University in Washington, DC. Während seines Promotionsstudiums an der Ludwig-Maximilians-Universität München arbeitete er als Wissenschaftlicher Mitarbeiter am Zentrum für Arbeitsbeziehungen und Arbeitsrecht. Dr. Zedler hielt Lehrveranstaltungen für die Humboldt-Universität Berlin und die Universität Heidelberg.
Abstract
Marc Zedler beschäftigt sich mit Ungewissheiten der Rechtsanwendung. Er definiert Rechtsrisiko als fehlende Vorhersagbarkeit der rechtlichen Beurteilung eines vorliegenden Sachverhalts durch ein Gericht und untersucht Faktoren, die dieses Risiko erhöhen. Hierzu werden Normfindungs-, Normauslegungs- und Normanwendungsrisiken unterschieden. Im Anschluss diskutiert der Autor die Bestimmbarkeit der Verteilung des Rechtsrisikos. Er legt dar, dass unter einer paritätischen Risikoverteilung jeder Handelnde das sich aus seiner Rechtsauffassung ergebende Rechtsrisiko trägt.Bei der Erörterung der Risikoverteilung im Arbeitsrecht werden insbesondere die Auswirkungen der Anforderungen an einen entschuldigenden Rechtsirrtum und die Rolle verschuldensabhängiger Ansprüche untersucht. Der Autor kommt zu dem Ergebnis, dass der Arbeitgeber Rechtsstreitigkeiten nicht unter Beibehaltung einer paritätischen Risikoverteilung lösen kann und somit ein zu seinen Ungunsten disparitätisch verteiltes Rechtsrisiko trägt.
Table of Contents
Section Title
Page
Action
Price

Vorwort

7

Inhaltsübersicht

9

Inhaltsverzeichnis

11

Abkürzungsverzeichnis

19

Verzeichnis der verwendeten logischen Symbole

24

Erster Teil: Problemstellung

25

§ 1 Gegenstand der Untersuchung

25

I. Rechtsproblem Rechtsrisiko

25

II. Unvermeidbarkeit des Rechtsrisikos

26

III. Auswirkung des Rechtsrisikos

28

§ 2 Stand der Forschung

30

§ 3 Gang der Untersuchung

33

Zweiter Teil: Das Rechtsrisiko

35

§ 4 Der Risikobegriff

35

I. Entwicklung des Risikobegriffs

35

II. Verwendung in der Wissenschaft

36

III. Recht als Risiko

39

§ 5 Normfindungsrisiko

43

I. Normfindung

45

1. Normebenen des Arbeitsrechts

47

a) Europarecht

48

b) Bundesrecht

49

c) Länderrecht

52

d) Tarifvertrag

53

e) Betriebsvereinbarung

53

f) Arbeitsvertrag

54

g) Betriebliche Übung

54

h) Direktionsrecht

55

2. Normenkonkurrenz

55

a) Gleichrangige Normen

56

b) Normen unterschiedlichen Ranges

57

aa) Rangprinzip

57

bb) Günstigkeitsprinzip

59

3. Rechtslücken

61

a) Offene Lücken

63

aa) Analogie

63

bb) Richterrecht

65

b) Verdeckte Lücken

70

II. Risikomerkmale

70

1. Systematik der Gesetzgebung

71

2. Anzahl und Eindeutigkeit der Kollisionsregeln

71

3. Anzahl der Normebenen

73

4. Unwirksame Normen

73

5. Richterrecht

75

III. Zwischenergebnis

77

§ 6 Normauslegungsrisiko

78

I. Normauslegung

79

1. Notwendigkeit und Bedeutung

80

a) Sprachliche Zeichen und ihre Bedeutung

83

b) Auslegung und Entscheidungsbegründung

85

2. Normkonkretisierung

89

a) Definition

89

aa) Gesetzesdefinition

90

bb) Richterliche Definition

91

b) Beispiele

92

aa) Beispiele im Gesetz

92

bb) Richterliche Beispiele

93

c) Indikative Merkmale

93

3. Auslegungsmethode

94

a) Wortlaut als Ausgangspunkt

95

b) Auslegungskriterien

95

c) Rangfolge der Kriterien

99

d) Grenzen der Auslegung

102

aa) Wortlaut als Grenze

103

bb) Verfassungskonforme Auslegung

105

cc) Richtlinienkonforme Auslegung

107

4. Auswahlkriterium zwischen mehreren Auslegungsergebnissen

108

a) Dogmatik

110

b) Logik

112

c) Judiz

112

d) Gerechtigkeit

114

e) Präjudizien

117

5. Verbleibender Auslegungsspielraum

117

II. Risikomerkmale

119

1. Bestimmte und unbestimmte Merkmale

119

2. Normative und deskriptive Merkmale

120

3. Generalklauseln

121

4. Rechtsprechungsänderung

123

III. Zwischenergebnis

125

§ 7 Normanwendungsrisiko

126

I. Normanwendung

128

1. Subsumtionsvorgang

128

2. Subsumtionsmaßstab

131

II. Risikomerkmale

134

1. Subjektive und objektive Merkmale

134

2. Einbeziehung einer zukünftigen Entwicklung

135

3. Abwägungsmerkmale

137

a) Verhältnismäßigkeit

138

b) Zumutbarkeit

140

c) Billigkeit

141

d) Interessenabwägung

145

e) Der verständige Rechtsgenosse

148

aa) Der verständige Arbeitgeber

149

bb) Der verständige Arbeitnehmer

150

III. Zwischenergebnis

151

§ 8 Abgrenzung des Rechtsrisikos

152

I. Materielle Rechte

152

II. Sachverhaltsermittlung

154

III. Irrtümer

154

1. Tatsachenirrtum

154

2. Rechtsirrtum

155

3. Subsumtionsirrtum

157

IV. Prozessrisiko

160

V. Zwischenergebnis

162

Dritter Teil: Die Verteilung des Rechtsrisikos

164

§ 9 Das individuelle Rechtsrisiko

164

I. Konkretisierungsstufen des Rechtsrisikos

164

1. Abstraktes Rechtsrisiko

165

2. Konkretes Rechtsrisiko

165

3. Individuelles Rechtsrisiko

166

II. Entstehung des individuellen Rechtsrisikos

166

1. Rechtsauffassung

167

2. Rechtsrisikorelevante Handlung

168

a) Unterlassen

169

b) Gerichtsverfahren

170

3. Rechtsrisikorelevanter Schaden

170

a) Schäden aufgrund der rechtsrisikorelevanten Handlung

170

b) Schäden aufgrund fehlender Voraussetzungen der rechtsrisikorelevanten Handlung

171

aa) Unwirksamkeit der rechtsrisikorelevanten Handlung

172

bb) Beruhen der Unwirksamkeit auf der rechtlichen Würdigung

172

(1) Fehlen der umstrittenen Voraussetzung

172

(2) Fehlen weiterer Voraussetzungen

173

(3) Fehlen einer weiteren Voraussetzung aufgrund der umstrittenen rechtlichen Würdigung

173

c) Mittelbare Schäden

174

III. Quantifizierbarkeit des Rechtsrisikos

174

1. Quantifizierbarkeit des individuellen Rechtsrisikos

175

a) Rechtsanwendungsrisiko einer angenommenen Rechtmäßigkeit

176

b) Rechtsanwendungsrisiko einer angenommenen Rechtswidrigkeit

177

c) Vergleich der Rechtsanwendungsrisiken

178

2. Quantifizierbarkeit des konkreten Rechtsrisikos

180

3. Quantifizierbarkeit des abstrakten Rechtsrisikos

181

4. Folgen fehlender Quantifizierbarkeit

183

IV. Zwischenergebnis

183

§ 10 Ermittlung der Risikoverteilung

183

I. Risikoverteilung in einer konkreten Situation

184

1. In einem Gerichtsverfahren

185

a) Geschehensverlauf

185

b) Individuelle Rechtsrisiken

185

c) Verteilung des Rechtsrisikos

187

2. Vor einem Gerichtsverfahren

187

a) Geschehensverlauf

187

b) Individuelle Rechtsrisiken

189

c) Verteilung des Rechtsrisikos

189

3. Bewertung der Risikoverteilung

190

4. Paritätische Verteilung des Rechtsrisikos

190

II. Abstrakte Risikoverteilung im Arbeitsverhältnis

191

1. Geschehensverlauf

191

a) Ausgangssituation

191

b) Weitere Entwicklung

192

c) Endpunkte

194

2. Individuelle Rechtsrisiken

194

3. Verteilung des Rechtsrisikos

195

III. Zwischenergebnis

195

§ 11 Rechtsrisiko und Verschulden

196

I. Vertretenmüssen

196

1. Keine Haftungserleichterung gem. § 276 Abs. 1 Satz 1 BGB

197

2. Vorsatz

198

3. Fahrlässigkeit

198

II. Voraussetzungen eines entschuldigenden Rechtsirrtums

200

1. Anlass zur Prüfung der Rechtslage

201

2. Bildung der eigenen Rechtsauffassung

202

a) Eigene Rechtseinschätzung

203

b) Auskunft einer Gewerkschaft

204

aa) Individual-rechtliche Sachverhalte

205

bb) Kollektiv-rechtliche Sachverhalte

207

c) Auskunft des Betriebsrats

211

d) Rechtsabteilung

212

e) Rechtskundige neutrale Stelle

212

f) Gerichte

214

g) Zwischenergebnis

215

3. Erforderlicher Grad der Rechtsüberzeugung

217

a) Mit Unterliegen im Rechtsstreit ist nicht zu rechnen

217

b) Rechtsansicht des Schuldners ist vertretbar

219

c) Rechtsansicht ist gut vertretbar

221

d) Zwischenergebnis

223

aa) Auswirkung der rechtlichen Schwierigkeit

223

bb) Milde Linie des Bundesarbeitsgerichts

224

III. Auswirkungen auf die Risikoverteilung

224

§ 12 Risikoverteilung im Gerichtsverfahren

226

I. Leistungsklage

226

1. Geschehensverlauf und Rechtsrisiko

227

2. Risikoverteilung

227

3. Entschädigung gem. § 61 Abs. 2 Satz 1 ArbGG

228

4. Besonderheiten der Leistungsklage auf Arbeit

229

II. Feststellungsklage

230

III. Gestaltungsklage

231

IV. Einstweiliger Rechtsschutz

232

V. Zwischenergebnis

232

§ 13 Vorgerichtliche Risikoverteilung

233

I. Verletzung der Hauptleistungspflicht des Arbeitnehmers

233

1. Gerichtliche Geltendmachung des Erfüllungsanspruchs

234

2. Verweigerung der Entgeltzahlung

234

3. Schadensersatz

236

a) Voraussetzungen

236

b) Weiterer Geschehensverlauf und Risikoverteilung

236

4. Beendigung des Arbeitsverhältnisses

237

a) Abmahnung

238

aa) Voraussetzungen

239

bb) Weiterer Geschehensverlauf und Risikoverteilung

240

b) Verhaltensbedingte Kündigung

241

aa) Voraussetzungen

241

(1) Vertretenmüssen des Arbeitnehmers

242

(2) Negative Zukunftsprognose

244

(3) Interessenabwägung

245

(a) Unverschuldeter Rechtsirrtum

246

(b) Verschuldeter Rechtsirrtum

247

bb) Weiterer Geschehensverlauf und Risikoverteilung

250

c) Außerordentliche Kündigung

251

aa) Voraussetzungen

251

(1) Wichtiger Grund an sich

251

(2) Interessenabwägung im Einzelfall

252

bb) Weiterer Geschehensverlauf und Risikoverteilung

253

cc) Schadensersatz gem. § 628 Abs. 2 BGB

253

d) Weitere Folgen der Beendigung des Arbeitsverhältnisses

254

5. Zusammenfassende Risikobewertung

255

II. Verletzung von Nebenpflichten des Arbeitnehmers

256

1. Erfüllungsanspruch

257

2. Zurückbehaltungsrecht

257

3. Schadensersatz

258

4. Beendigung

258

5. Zusammenfassende Risikobewertung

259

III. Verletzung der Hauptleistungspflicht des Arbeitgebers

259

1. Erfüllungsanspruch

260

2. Zurückbehaltungsrecht

260

a) Rechtsgrundlage

261

b) Voraussetzung

262

c) Weiterer Geschehensverlauf

263

d) Verteilung des Rechtsrisikos

263

3. Schadensersatz

264

4. Beendigung

264

a) Abmahnung

265

b) Außerordentliche Kündigung

265

c) Schadensersatz gem. § 628 Abs. 2 BGB

266

5. Zusammenfassende Risikobewertung

268

IV. Verletzung von Nebenpflichten des Arbeitgebers

268

1. Erfüllungsanspruch

269

2. Verweigerung der Arbeitsleistung

270

a) Rechtsgrundlage

270

b) Weiterer Geschehensverlauf und Risikoverteilung

271

3. Schadensersatz

271

4. Beendigung

272

5. Zusammenfassende Risikobewertung

273

V. Risikobewertung einer Leistungsverweigerung

273

1. Risikobewertung einer Verweigerung der Entgeltzahlung durch den Arbeitgeber

273

a) Weiterer Geschehensverlauf

274

b) Verteilung des Rechtsrisikos

275

2. Risikobewertung einer Verweigerung der Arbeitsleistung durch den Arbeitnehmer

275

3. Wechselseitige Verweigerung der Hauptleistungspflichten

275

VI. Zwischenergebnis

276

§ 14 Rechtsrisiko als Betriebsrisiko?

277

I. Die Verteilung des Rechtsrisikos im Arbeitsverhältnis

277

1. Praktische Bedeutung der Handlungsmöglichkeiten

277

a) Leistungsklage

278

b) Leistungsverweigerung

279

c) Schadensersatz

280

d) Kündigung

282

2. Vermeidbarkeit des Rechtsrisikos

282

3. Zwischenergebnis

283

II. Folgen einer disparitätischen Risikoverteilung

284

III. Vorschläge für eine paritätische Risikoverteilung

287

1. Ursache der disparitätischen Risikoverteilung

287

2. Änderungsvorschläge

287

a) Leistungsklage auf Arbeit

287

b) Verschulden

288

aa) Anforderungen an einen entschuldigenden Rechtsirrtum

289

bb) Gefährdungshaftung für Rechtsauffassungen?

289

cc) Risikozuordnung statt Verschulden

290

c) Interessenabwägung

292

IV. Rechtsrisiko als Betriebsrisiko!

293

Zusammenfassung in Thesen

296

Literaturverzeichnis

299

Personenverzeichnis

328

Sachverzeichnis

329