Company, commercial & competition law: general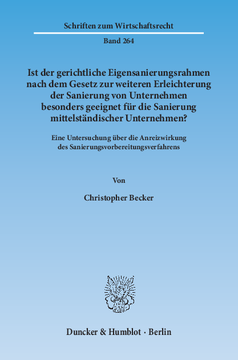 BOOK
Cite BOOK
Style
---
Becker, C. (2015). Ist der gerichtliche Eigensanierungsrahmen nach dem Gesetz zur weiteren Erleichterung der Sanierung von Unternehmen besonders geeignet für die Sanierung mittelständischer Unternehmen?. Eine Untersuchung über die Anreizwirkung des Sanierungsvorbereitungsverfahrens. Duncker & Humblot. https://doi.org/10.3790/978-3-428-54456-1
Becker, Christopher. Ist der gerichtliche Eigensanierungsrahmen nach dem Gesetz zur weiteren Erleichterung der Sanierung von Unternehmen besonders geeignet für die Sanierung mittelständischer Unternehmen?: Eine Untersuchung über die Anreizwirkung des Sanierungsvorbereitungsverfahrens. Duncker & Humblot, 2015. Book. https://doi.org/10.3790/978-3-428-54456-1
Becker, C (2015): Ist der gerichtliche Eigensanierungsrahmen nach dem Gesetz zur weiteren Erleichterung der Sanierung von Unternehmen besonders geeignet für die Sanierung mittelständischer Unternehmen?: Eine Untersuchung über die Anreizwirkung des Sanierungsvorbereitungsverfahrens, Duncker & Humblot, [online] https://doi.org/10.3790/978-3-428-54456-1
---
Format
---
Ist der gerichtliche Eigensanierungsrahmen nach dem Gesetz zur weiteren Erleichterung der Sanierung von Unternehmen besonders geeignet für die Sanierung mittelständischer Unternehmen?
Eine Untersuchung über die Anreizwirkung des Sanierungsvorbereitungsverfahrens
Schriften zum Wirtschaftsrecht, Vol. 264
(2015)
Additional Information
Book Details
ISBN

978-3-428-54456-1
978-3-428-14456-3 (print edition)

DOI

https://doi.org/10.3790/978-3-428-54456-1

Edition

1

Language

German

Pages

244

Collections

Subjects
Pricing
Institution

€ 106.00 (incl. local VAT if applicable)

Individual

€ 79.90 (incl. local VAT if applicable)
About The Author
Der Autor hat an den Hochschulen Mainz und Nürtingen/Geislingen Wirtschaftsrecht mit den Schwerpunkten Insolvenzrecht und Unternehmenssanierung studiert. Nach dem Abschluss zum Diplom Wirtschaftsjurist und zum Master of Laws war er als Sanierungsberater bei einer überregionalen und einer mittelständischen Insolvenzverwalterkanzlei sowie bei einer Big Four Wirtschaftsprüfungsgesellschaft tätig. Zudem ist er seit 2010 ständiger Lehrbeauftragter an den Hochschulen Mainz und Nürtingen/Geislingen. Seit Herbst 2014 ist er bei einem Kreditinstitut in der Funktion Sonderengagements im Bereich Risikomanagement tätig.
Abstract
Mit der Einführung des Sanierungsvorbereitungsverfahrens im Rahmen des Gesetzes zur weiteren Erleichterung der Sanierung von Unternehmen verfolgte der Gesetzgeber das Ziel, den Anreiz zur frühzeitigen Insolvenzantragstellung für sanierungsfähige und insbesondere mittelständische Unternehmen zu erhöhen, da in der Vergangenheit selten und häufig verspätet von der Option »gerichtliches Eigensanierungsverfahren« Gebrauch gemacht wurde. Vor diesem Hintergrund geht die Arbeit der Frage nach, ob die verfahrensrechtliche Ausgestaltung des Sanierungsvorbereitungs- und anschließenden (eröffneten) Eigenverwaltungs- und Insolvenzplanverfahrens dazu geeignet ist, dass der Schuldner nunmehr frühzeitig(er) Insolvenzantrag stellt als vor dem ESUG. Bei aufgedeckten Defiziten werden Anpassungen im Sinne eines Reformvorschlags de lege ferenda begründet, sofern keine Handlungsempfehlungen zur praktischen Verfahrensgestaltung innerhalb des gegebenen gerichtlichen Sanierungsrahmens Abhilfe leisten können.
Table of Contents
Section Title
Page
Action
Price

Danksagung

1

Inhaltsverzeichnis

5

Abkürzungsverzeichnis

12

Teil 1: Einführung

15

A. Gegenstand der Untersuchung

15

I. Ausgangslage

15

II. Ziel der Untersuchung

17

III. Methodik

19

B. Gang der Untersuchung

20

C. Begriffsbestimmungen und Abgrenzungen

21

Teil 2: Die Stellung des Unternehmens zwischen außergerichtlichem und gerichtlichem Sanierungsrahmen

23

A. Die Krise als Ausgangssituation

23

I. Betriebswirtschaftlicher Krisenbegriff

23

1. Strategiekrise

24

2. Erfolgskrise

24

3. Liquiditätskrise

24

4. Rechtsfolgen

25

II. Insolvenzrechtlicher Krisenbegriff

26

1. Zahlungsunfähigkeit

26

2. Überschuldung

27

a) Historische Entwicklung des Überschuldungsbegriffs

28

b) Konzeption des Überschuldungsbegriffs

30

aa) Ermittlung der rechnerischen Überschuldung

30

(1) Ansatz und Bewertung des Vermögens

31

(2) Ansatz und Bewertung der Schulden

33

bb) Anforderungen an eine positive Fortbestehensprognose

34

(1) Positive Unternehmensfortführung

35

(a) Prognosezeitraum

35

(b) Objektive Überlebensfähigkeit

36

(c) Subjektiver Fortführungswille

38

(2) Prognosesicherheit

38

3. Drohende Zahlungsunfähigkeit

38

4. Rechtsfolgen

40

III. Ergebnis und kritische Würdigung

41

B. Verfahrensalternativen zur Überwindung der Krise

43

I. Überblick über die außergerichtliche Sanierung

44

1. Rechtliche Anforderungen an die Beurteilung der Sanierungsfähigkeit

44

2. Rechtliche Anforderungen an die Beurteilung der Sanierungswürdigkeit

48

II. Überblick über den gerichtlichen Sanierungsrahmen

49

1. Grundsystematik des Insolvenzplanverfahrens

49

a) Sinn und Zweck des Insolvenzplans

49

b) Rechtsnatur des Insolvenzplans

49

c) Verfahrensablauf bis zur Planvorlage

50

aa) Aufstellung des Plans

50

(1) Planvorlageberechtigung

50

(2) Planarten

51

(a) Schuldner- und Verwalterpläne

51

(b) Planziele

51

(aa) Liquidationsplan

51

(bb) Sanierungsplan

52

(cc) Mischformen

53

(dd) Sonstige Pläne

54

bb) Planinhalt

54

(1) Darstellender Teil

54

(a) Allgemeines

54

(b) Information über die Planart und über das Ziel des Plans

56

(c) Darstellung der Lage und der Entwicklung des schuldnerischen Unternehmens

56

(d) Erläuterung des Plankonzepts

56

(e) Grundzüge der Gruppenbildung

56

(2) Gestaltender Teil

57

(a) Gruppenbildung

57

(b) Rechtsstellung der Planbetroffenen

58

(c) Regelungen zum debt to equity swap

59

(aa) Grundstruktur

59

(bb) Insolvenzrechtliche Besonderheit: Ausschluss der Differenzhaftung

60

(cc) Zur Frage der Forderungsbewertung

60

(d) Sonstige Planregelungen

62

(3) Plananlagen

63

(a) Planungsrechnungen nach § 229 InsO

63

(b) Plananlagen i.S.d. § 230 InsO

63

(c) Vergleichsrechnung

64

d) Der verfahrensrechtliche Insolvenzplanablauf

64

aa) Das Planvorprüfungsverfahren

65

bb) Das Planannahmeverfahren

67

(1) Die Annahme des Plans durch die Beteiligten

67

(2) Das Obstruktionsverbot

68

cc) Das Planbestätigungsverfahren

69

dd) Wirkungen des bestätigten Insolvenzplans und Aufhebung des Verfahrens

70

ee) Überwachung der Planerfüllung

72

2. Grundstruktur der Eigenverwaltung

72

a) Sinn und Zweck der Eigenverwaltung

73

b) Auswirkungen auf das eröffnete Verfahren

73

aa) Überblick über die Rechtsstellung des Geschäftsführers

74

bb) Überblick über die Rechtsstellung des Sachwalters

75

cc) Die Rolle des Insolvenzgerichts

78

dd) Einflussmöglichkeiten der Gläubiger

78

c) Aufhebung der Eigenverwaltung

80

III. Vor- und Nachteile der beiden Verfahren

80

Teil 3: Darstellung und Beurteilung der neu geschaffenen Anreizmechanismen durch das ESUG

83

A. Die Eigenverwaltung als Anreizinstrument

85

I. Kritikpunkte vor Einführung des ESUG

86

1. Der restriktive Umgang der Insolvenzgerichte mit dem Eigenverwaltungsantrag

87

2. Der Kontrollverlust des Schuldners im Eröffnungsverfahren

88

II. Änderungen durch das ESUG

90

1. Die neuen Voraussetzungen für die Anordnung der Eigenverwaltung

91

2. Die Eigenverwaltung im Eröffnungsverfahren

91

a) Das Regeleigenverwaltungseröffnungsverfahren nach § 270a InsO

92

aa) Rechtsstellung des vorläufigen Sachwalters

92

bb) Rechtsstellung des Schuldners

93

cc) Der vorläufige Gläubigerausschuss

93

dd) Sonstige Sicherungsmaßnahmen

94

b) Das Sanierungsvorbereitungsverfahren nach § 270b InsO

95

aa) Anordnungsvoraussetzungen

95

(1) Allgemeine Voraussetzungen

95

(2) Besondere Voraussetzungen

96

(a) Die Beurteilung des insolvenzrechtlichen Krisenstadiums

96

(b) Die Beurteilung der nicht offensichtlich aussichtslosen Sanierung

96

(aa) Das Verfahrensziel als Beurteilungskriterium

96

(bb) Keine offensichtliche Aussichtslosigkeit der Sanierungsfähigkeit

98

(c) Anforderungen an den Bescheinigungsaussteller

99

(aa) Allgemeine Anforderungen

99

(bb) Tatbestandsvoraussetzungen: "In Insolvenzsachen erfahren"

101

(cc) Zur Frage nach der Unabhängigkeit

103

(dd) Juristische Person als Bescheinigungsaussteller?

104

bb) Ablauf des Verfahrens

104

(1) Sicherungsmaßnahmen

105

(2) Ermächtigung zur Begründung von Masseverbindlichkeiten

106

(3) Zur Thematik Insolvenzgeld und dessen Vorfinanzierung

106

(4) Zur öffentlichen Bekanntmachung

108

(5) Vorzeitige Aufhebung des Verfahrens

109

(6) Übergang zum eröffneten Verfahren

111

III. Bewertung der Neuregelungen

111

1. Rechtssicherheit durch die Modifizierung der Eigenverwaltungsvoraussetzungen?

111

a) Konsequenzen des § 270 InsO n.F. für die gerichtliche Praxis

112

b) Der neu geregelte Gläubigereinfluss im Eigenverwaltungsverfahren

113

c) Lösungsvorschlag zur Vertrauensförderung: Aufnahme eines Sanierungsexperten in die Geschäftsführung

114

d) Ergebnis

116

2. Die Rechtsstellung des Schuldners im Sanierungsvorbereitungsverfahren – ein Anreizmechanismus zur frühzeitigen Antragstellung?

117

a) Der "starke" vorläufige Eigenverwalter

117

b) Problemfelder der besonderen Anordnungsvoraussetzungen

118

aa) Die Selbstprüfungspflicht als Hinderungsgrund für eine frühzeitige Antragstellung?

119

(1) Auswirkung von eingeschränktem Rationalverhalten auf die Selbstprüfungspflicht

119

(2) Reformvorschlag de lege ferenda

121

(a) Gesetzlich fixierte Krisenprüfungspflicht

121

(b) Gesetzliche Regelung zur Eindämmung von eingeschränktem Rationalverhalten im Rahmen der Überschuldungsprüfung

123

bb) Die Sanierungsbescheinigung als Unsicherheitsfaktor

125

(1) Problemaufriss und Empfehlungen aus Literatur und Praxis

125

(2) Reformvorschlag de lege ferenda: Einführung eines Vordrucks für die Sanierungsbescheinigung

127

(a) Allgemeine Anforderungen an den Vordruck

128

(b) Notwendige Anlagen des Vordrucks

129

(c) Konkreter Gestaltungsvorschlag

131

cc) Die Person des Bescheinigungsausstellers als Unsicherheitsfaktor

132

(1) Problemaufriss

133

(2) Reformvorschlag de lege ferenda: Implementierung eines Anerkennungsverfahrens

133

(a) Anerkennungsverfahren im Verbraucherinsolvenzverfahren

134

(b) Übertragung auf das Sanierungsvorbereitungsverfahren

134

(aa) Sachliche Anforderungskriterien

135

(bb) Verfahrensablauf

136

(cc) Sonstiges

136

c) Ergebnis

136

B. Das gesetzlich geregelte Vorschlagsrecht für das Amt des (vorläufigen) Sachwalters als Anreizmechanismus

137

I. Kritik vor Inkrafttreten des ESUG

139

II. Die Regelungen zur Auswahl des Verwalters nach dem ESUG

142

1. Allgemeine Neuerungen

142

a) Konkretisierung des Unabhängigkeitserfordernisses

142

aa) Vorschlagsrecht durch den Schuldner oder einen Gläubiger

142

bb) Allgemeine Beratung des Schuldners vor Antragstellung

143

(1) Begriffsbestimmung

143

(2) Mandatskollisionssachverhalte durch die allgemeine Beratung?

144

b) Die besondere Gläubigerbeteiligung nach § 56a InsO

145

2. Das besondere Vorschlagsrecht im Sanierungsvorbereitungsverfahren

146

III. Zur Anreizwirkung des besonderen Vorschlagsrechts

148

1. Allgemeines

148

2. Mangelnde Transparenz des Verwaltermarktes als Risikofaktor

149

a) Problemaufriss

149

b) Qualitätssiegel als geeignete Anlaufstelle?

151

c) Rechtsvergleichende Betrachtung

153

aa) Ausgestaltung der österreichischen Internetverwalterliste

153

bb) Vorteile gegenüber dem nationalen Recht

154

cc) Reformvorschlag de lege ferenda: Einführung einer Internetverwalterliste

154

(1) Strukturierung der Internetverwalterliste

155

(2) Sachlich gebotene Eingrenzung

155

(3) Überprüfung der Eintragungen

156

(4) Führung der Liste

157

3. Der mitgebrachte Sachwalter – risikolose Schuldnerautonomie?

157

a) Die Wirkung des mitgebrachten Sachwalters auf die Gläubiger

158

b) Handlungsempfehlung zur Verfahrensgestaltung

159

4. Ergebnis

160

C. Zum Abbau von Rechtsmittelblockaden im Planverfahren

161

I. Allgemeine Kritik vor Einführung des ESUG

161

II. Der Minderheitenschutz im Planverfahren

162

1. Zweck der Regelung

162

2. Kritik am Minderheitenschutz vor Einführung des ESUG

163

3. Regelung nach Einführung des ESUG

166

4. Auswirkung auf die Rechtspraxis

167

5. Ergebnis

170

III. Die sofortige Beschwerde gegen die Planbestätigung

171

1. Kritikpunkte vor Einführung des ESUG

171

2. Die verfahrensrechtliche Ausgestaltung nach Einführung des ESUG

173

a) Die geänderten Zulässigkeitsvoraussetzungen gegen die Planbestätigung

173

b) Das insolvenzrechtliche Freigabeverfahren

174

aa) Person des Antragstellers in der Eigenverwaltung

174

bb) Instanzenzug

175

cc) Gerichtliche Prüfung

175

(1) 1. Prüfungsschritt: Interessenabwägung

175

(2) 2. Prüfungsschritt: Ausnahme bei besonders schwerem Rechtsverstoß

176

dd) Schadensersatzregelung bei zurückgewiesener Beschwerde

177

3. Auswirkung der Neuregelung auf die Rechtspraxis

178

a) Die besonderen Zulässigkeitsschranken planopponierenden Beschwerden

178

b) Möglichkeiten und Grenzen des insolvenzrechtlichen Freigabeverfahrens

179

4. Ergebnis

180

D. Auswirkung des ESUG auf die Verfahrenskosten

181

I. Allgemeine Kritik vor Einführung des ESUG

181

II. Die Verfahrenskosten nach Einführung des ESUG

181

1. Vergleichende Betrachtung der Verwaltervergütung

182

2. Kosten für gerichtlich bestellte Sachverständige

184

a) Allgemeines

184

b) Sachverständigenbeauftragungen im Eröffnungsverfahren vor Einführung des ESUG

186

aa) Prüfung der allgemeinen materiellen Eröffnungsvoraussetzungen

186

bb) Prüfung der Fortführungsaussichten

187

cc) Entscheidung über die Nachteilsprognose i.S.d. § 270 InsO a.F.

187

dd) Fazit

188

c) Zur Sachverständigenbeauftragung im Kontext des Sanierungsvorbereitungsverfahrens

188

aa) Prüfung des Eröffnungsgrundes, der Fortführungsaussichten und der Sanierungsbescheinigung?

189

bb) Prüfung der materiellen Anordnungsvoraussetzungen der Eigenverwaltung

191

cc) Prüfung der materiellen Anordnungsvoraussetzungen des Eigenverwaltungseröffnungsverfahrens

193

d) Fazit

194

3. Zusammenfassung

195

III. Auswirkung auf die Anreizwirkung

195

1. Allgemeines

195

2. Der Umgang der Insolvenzgerichte mit der Sachverständigenbeauftragung – ein unkalkulierbares Risiko in der Rechtspraxis?

196

3. Reformvorschlag de lege ferenda: ausdrückliche Regelung zur Sachverständigenbeauftragung

200

4. Ergebnis

201

Teil 4: Thesenartige Zusammenfassung

202

I. Ergebnisse zu den Untersuchungsgrundlagen

202

II. Ergebnisse zur Eigenverwaltung

203

III. Ergebnisse zur Auswahl des (vorläufigen) Sachwalters

206

IV. Ergebnisse zu den Rechtsmitteln im Planbestätigungsverfahren

207

V. Ergebnisse zu den Verfahrenskosten

209

VI. Ausblick

210

Literaturverzeichnis

211

Stichwortverzeichnis

237