Criminal law: procedure & offences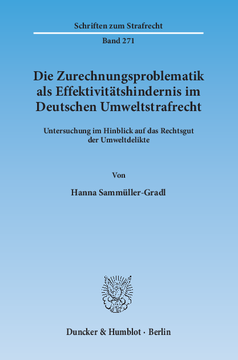 BOOK
Die Zurechnungsproblematik als Effektivitätshindernis im Deutschen Umweltstrafrecht
Untersuchung im Hinblick auf das Rechtsgut der Umweltdelikte
Schriften zum Strafrecht, Vol. 271
(2015)
Additional Information
Book Details
ISBN

978-3-428-54401-1
978-3-428-14401-3 (print edition)

DOI

https://doi.org/10.3790/978-3-428-54401-1

Edition

1

Language

German

Pages

199

Collections

Subjects
Pricing
Institution

€ 76.00 (incl. local VAT if applicable)

Individual

€ 58.90 (incl. local VAT if applicable)
About The Author
Hanna Sammüller-Gradl nahm nach dem Abitur in Landsberg am Lech im Jahre 2002 ihr Studium der Rechtswissenschaften an der LMU München auf. Von 2004 bis 2006 studierte sie in Frankreich an der Université Paris II, Assas und schloss mit der Licence und der Maitrise en droit ab. Im Anschluss studierte sie an der Karlsuniversität Prag bevor sie 2008 das 1. Staatsexamen ablegte. Neben ihrer Promotion arbeitete sie als wiss. Mitarbeiterin am Lehrstuhl von Prof. Dr. Mario Martini in München. Während ihres Referendariats absolvierte sie das Ergänzungsstudium Verwaltungswissenschaften an der DUV Speyer und leistete ihre Wahlstation an der Dt. Botschaft in Washington DC ab. Das zweite Staatsexamen legte sie 2014 in München ab. Von 2011 bis 2014 war sie Vorsitzende des ThinkTank30, dem jungen ThinkTank des Club of Rome.
Abstract
Die Untersuchung befasst sich mit Effektivitätshindernissen des Umweltstrafrechtes. Nach einem Abriss über die Entstehung des Umweltstrafrechtes wird dargestellt, inwieweit dieses als ineffektiv bezeichnet werden muss. Dabei gerät insbesondere die aus Unternehmen heraus verwirklichte Umweltschädigung in den Fokus. Als einer der Gründe für das Defizit wird die Zurechnungsproblematik herausgegriffen. Dabei wird zwischen der sogenannten außer- und der innerbetrieblichen Zurechnungsproblematik differenziert. Um die Besonderheit der Zurechnungsproblematik im Umweltstrafrecht zu veranschaulichen, wird der Zusammenhang zwischen dem speziellen Rechtsgut der Umweltdelikte und der Zurechnung ausgeführt. Dabei nimmt die Untersuchung Anlehnung an den Begriff des »Öffentlichen Gutes« aus der Makroökonomie. Die Arbeit schließt mit einem alternativen Lösungsweg für den repressiven Schutz von Umwelt. »The Problems of Imputation as an Obstacle to Efficiency in the German Environmental Penal Law«

Though the necessity to protect our natural ressources has found its way into legal awareness, especially the German environmental penal law is fighting with immense problems. Critiques concerning this branch of law are not muting as it is considered as pure symbolic. This book examines the efficiency of the German environmental penal law and names its difficult ways of imputation as one cause to its deficient prosecution.
Table of Contents
Section Title
Page
Action
Price

Vorwort

3

Inhaltsverzeichnis

5

Abkürzungsverzeichnis

10

A. Einleitung

13

I. Relevanz der Fragestellung

13

II. Gang der Untersuchung

14

III. In der Arbeit verwendete Begriffe

17

B. Umweltschutz durch Strafrecht

19

I. Zur aktuellen Situation des Umweltstrafrechts

19

1. Entstehungsgeschichte

20

a) Umweltrecht zunächst als verwaltungsrechtliche Sanktion

20

b) Das erste UKG

21

c) Das zweite UKG

21

d) Weitere Reformen

24

e) Der Prozess der Europäisierung des Umweltstrafrechts

24

2. Konsequenzen aus der Entstehungsgeschichte

27

a) Dogmatische Konsequenzen

28

aa) Ausschließliche Strafbarkeit der natürlichen Person

28

bb) Wahrung der Vorgaben des Ultima-Ratio-Grundsatzes

30

b) Praktische Konsequenzen

34

3. Empirische Daten zur Entwicklung der Fallzahlen der Umweltdelikte

36

a) Die Fallzahlen nach dem ersten UKG

36

b) Die Fallzahlen nach dem zweiten UKG

40

c) Aktuelle Fallzahlen

43

d) Das Dunkelfeld der Umweltkriminalität

45

aa) Die überdurchschnittlich hohe Dunkelziffer im Umweltstrafrecht

45

bb) Die Gründe für die hohe Dunkelziffer

46

e) Zusammenfassung der Ergebnisse aus den empirischen Daten und abschließende Analyse

48

II. Das Rechtsgut der Umweltdelikte

49

1. Ein Rechtsgut der Umweltdelikte?

50

2. Das Rechtsgut der Umweltdelikte als Kollektivrechtsgut

52

a) Die Kollektivrechtsgüter im System der Rechtsgüter

52

b) Kritische Stimmen zur Konzeption des Kollektivrechtsgutes

53

aa) Grundlegende Kritik am Kollektivrechtsgut

53

bb) Kritik an der Ausgestaltung des kollektiven Rechtsgutes im Umweltstrafrecht

56

3. Das unterschiedliche Verständnis des Schutzzweckes der Umweltdelikte

57

a) Das personale Rechtsgutsverständnis und das anthropozentrische Rechtsgut im Umweltstrafrecht

58

b) Die dualistische Lehre und das ökologische Rechtsgutsverständnis im Umweltstrafrecht

59

c) Die vermittelnde Lehre im Umweltstrafrecht

62

d) Unterscheidung der Rechtsgüter je nach Delikt

63

e) Verwaltungsrechtlicher Rechtsgutsbegriff

64

f) Fazit zur Bestimmung des Rechtsgutes der Umweltdelikte

65

III. Prämisse Nr. 1: Legitimes Rechtsgut der Umweltdelikte

67

IV. Prämisse Nr. 2: Legitime Existenz des Umweltstrafrechts

69

1. Keine Existenzberechtigung für rein symbolisches Strafrecht

69

2. Existenzberechtigung des Umweltstrafrechts

71

V. Zurechnung als Anknüpfungspunkt für die Ineffektivität

74

1. Definition der Zurechnung

74

2. Aspekte der Zurechnung im Umweltstrafrecht

75

a) Die Zurechnungsproblematik aufgrund von Unternehmensbeteiligung

75

b) Zurechnungsproblematik unabhängig von der Unternehmensbeteiligung

76

VI. These: Zusammenhang zwischen außerbetrieblicher Zurechnungsproblematik und dem Rechtsgut der Umweltdelikte

77

1. Abhängigkeit der innerbetrieblichen von der außerbetrieblichen Zurechnung

77

2. Außerbetriebliche Zurechnungsprobleme unter Beachtung des speziellen Rechtsgutes der Umweltdelikte

79

C. Zurechnungsproblematik in Zusammenhang mit der Umwelt als öffentlichem Gut

80

I. Vergleich des Rechtsgutes Umwelt mit seiner Einordnung in der Volkswirtschaftslehre

80

1. Vergleich der Nutznießer im volkswirtschaftlichen bzw. der Schädiger im juristischen Sinn

81

2. Vergleich der Inhaber der Nutzungsmöglichkeiten im volkswirtschaftlichen bzw. der Geschädigten im juristischen Sinn

82

II. Zurechnungsproblematik aufgrund der Eigenschaft als kollektives Rechtsgut

85

1. Abstrakte Gefährdungsdelikte als Reaktion auf die Unschärfe des Rechtsgutes

86

a) Kurzer Einblick: Unschärfe und Einfluss auf den Erfolgseintritt

86

b) Kollektive Rechtsgüter und ihr Schutz über abstrakte Gefährdungsdelikte

89

aa) Das abstrakte Gefährdungsdelikt als bevorzugter Deliktstyp zum Schutz kollektiver Rechtsgüter

90

bb) Ausgestaltung von Umweltdelikten

91

c) Folge der Ausgestaltung als abstrakte Gefährdungsdelikte

93

d) Die speziell im Umweltstrafrecht auftretenden potenziellen Gefährdungsdelikte

94

2. Abstrakte Gefährdungsdelikte und Zurechnung

95

a) Kontrollverlust gegenüber der Rechtsprechung bezüglich der Zurechnungskriterien

96

b) "Abschleifen" dogmatischer Differenzierungen der Zurechnung

97

c) Exkurs: Einflüsse auf die Zurechnung im Rahmen des Strafprozesses durch den Deal und das Kooperationsprinzip

98

3. Zurechnung über den Risikogedanken des Umweltstrafrechts

101

4. Fazit zur Zurechnung beim Kollektivrechtsgut Umwelt

102

III. Zurechnungsproblematik aufgrund der Umwelt als kumulativ geschädigtes Rechtsgut

103

1. Umwelt als "kollektiv geschädigtes Rechtsgut"

104

2. Die rechtliche Bewertung des Aufeinandertreffens mehrerer Handlungen

106

3. Der Begriff der Kumulation

107

a) Kumulationseffekte

107

b) Summationseffekte

108

c) Synergetische Effekte

109

4. Auswirkungen der Kumulation

110

a) Kumulative Schädigung als Problem im Verfahrensrecht

110

aa) Nachweisschwierigkeiten beim Kausalzusammenhang

111

bb) Lösung der Schwierigkeiten im Kausalitätsnachweis nach dem Ausschlussprinzip – die Lederspray-Entscheidung des BGH

112

cc) Aufweichung des Kausalitätsnachweises – die Holzschutzmittelentscheidung des BGH

113

dd) Kritik an dieser sog. generellen Kausalität

114

b) Materiell-rechtliche Auswirkungen des Zusammenwirkens verschiedener Faktoren

115

aa) Abweichen des Kausalverlaufs

115

(1) Problemeinordnung als Fall der objektiven Zurechnung oder des Vorsatzes

116

(2) Sachverhalte im Umweltstrafrecht

119

(3) Rechtliche Folge der Existenz kumulativer Effekte

121

bb) Zurechnung des Einzelerfolges oder des Gesamterfolges?

123

(1) Gesamterfolgszurechnung

125

(a) Zurechnung des Gesamterfolges nach allgemeinem Verständnis der kumulativen Kausalität

125

(b) Zurechnung des Gesamterfolges durch ein weites Verständnis des tatbestandlichen Erfolges

127

(2) Die Einzelerfolgszurechnung

129

(a) Die Äquivalenztheorie als Argument für die Einzelerfolgszurechnung

130

(b) Die Regelungen von Täterschaft und Teilnahme als Grund für die Zurechnung des Einzelerfolges

131

(c) Die qualitativen Strafbarkeitsgrenzen im Umweltstrafrecht als Argument für die Einzelerfolgszurechnung

132

(aa) Die Minimaklauseln im Umweltstrafrecht

132

(bb) Die Minimaklauseln als Argument für die Zurechnung des Einzelerfolges

134

(d) Die Kausalitätslehre von Puppe als Argument für die Teilerfolgszurechnung

135

(e) Der differenzierende Ansatz nach Saliger

136

IV. Fazit über die Gesamt- oder Einzelerfolgszurechnung

139

1. Effektivität als Vorteil für die Gesamterfolgszurechnung?

139

2. Die Ausnahmen als Schwachstelle der Gesamterfolgszurechnungslehre

140

3. Der Vergleich mit dem Wirtschaftsstrafrecht

142

V. Ein umfassender Lösungsansatz: Der diskutierte Deliktstyp des Kumulationsdelikts

144

1. Die unterschiedlichen Konstruktionen eines Kumulationsdelikts

144

2. Bewertung der Konstruktion des Kumulationsdelikts

149

VI. Zusammenfassung: Die Zurechnungsproblematik aufgrund des kumulativ geschädigten Rechtsgutes der Umweltdelikte

150

D. Ausblick: Möglichkeiten des Gesetzgebers zur Entschärfung der Zurechnungsproblematik im Umweltstrafrecht

152

I. Lösung auf praktischer Ebene: Anzeigepflicht im Strafrecht

152

1. Problemstellung: Kein klares Opfer mangels eindeutiger Zuordnung zu einer Person oder einem Personenkreis

152

2. Die Anzeigepflicht im Umweltstrafrecht als rein praktische Lösungsmöglichkeit

154

3. Fazit: Ein Problem der Ermittlungspraxis

156

II. Lösung auf Ebene des GVG: Spezielle Umweltkammern

157

1. Problemstellung: Erforderlichkeit von Spezialwissen

157

2. Lösung: Schaffung einer gerichtlichen Spezialzuständigkeit

158

III. Eigener Lösungsweg

159

1. Integration des strafrechtlichen Umweltschutzes in einen anderen Abschnitt des StGB

160

2. Einfügen des strafrechtlichen Umweltschutzes in den Abschnitt der Sachbeschädigungsdelikte

162

a) Vergleichbarkeit der Tatobjekte

162

b) Vergleichbarkeit der Rechtsgüter

164

c) Weitere bereits bestehende Parallelen: Die Naturdenkmäler in § 304 StGB

167

3. Verbesserung für das Umweltstrafrecht

168

a) Allgemeine Vorteile

168

aa) Übernahme eingeführter Lösungswege und gefestigter Rechtsprechung

169

bb) Gesteigerte Wertigkeit der Umwelt bei eigentumsähnlicher Zuweisung

170

cc) Festlegung des Rechtsgutsbegriffs auf eine anthropozentrische Sichtweise

171

b) Spezieller Vorteil für die Problematik der Zurechnung – Festlegung auf die Einzelerfolgszurechnung

172

aa) Erster Schritt: Feste Erheblichkeitsschwellen als Argument für eine Einzelerfolgszurechnung

173

bb) Zweiter Schritt: Festlegung auf die Einzelerfolgszurechnung

176

IV. Fazit über die vorgestellten neuen Lösungswege

176

E. Schlussbetrachtung

178

Literaturverzeichnis

180

Personenregister

187

Sachregister

189