Public finance & taxation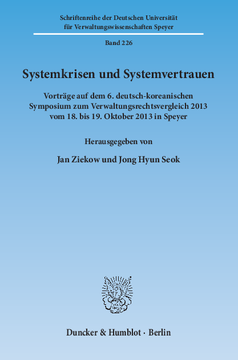 Additional Information
Book Details
ISBN

978-3-428-54548-3
978-3-428-14548-5 (print edition)

DOI

https://doi.org/10.3790/978-3-428-54548-3

Edition

1

Language

German

Pages

244

Collections

Subjects
Pricing
Institution

€ 104.00 (incl. local VAT if applicable)

Individual

€ 79.90 (incl. local VAT if applicable)
About The Author
Univ.-Prof. Dr. Jan Ziekow: Inhaber des Lehrstuhls für Öffentliches Recht, insbesondere Allgemeines und Besonderes Verwaltungsrecht an der Universität Speyer; Direktor des Deutschen Forschungsinstituts für öffentliche Verwaltung; Präsident der Deutschen Sektion des IIAS; Mitglied des UN Committee of Experts on Public Administration; Mitglied des Beirats Verwaltungsverfahrensrecht beim Bundesministerium des Innern und diverser Experten- und Enquetekommissionen.
Abstract
»Systemic Crises and Systemic Trust«

This publication is aiming at carrying out the comparative analyses and discussing the reasons leading to system crises and the factors that are suitable to stabilize systemic trust for both countries. Based on the various problem areas the contributions analyze the reasons for lacking trust in the respective governance and administrative system as well as approaches to overcome a possibly resulting escalation of crises. Der vorliegende Band fasst die Beiträge zusammen, die im Rahmen des 6. deutsch-koreanischen Symposiums zum Verwaltungsrechtsvergleich 2013 vorgetragen wurden. Das Symposium, das am 18. und 19. Oktober 2013 in Speyer stattfand, hatte zum Ziel, Ursachen von Systemkrisen und Faktoren, die zur Stabilisierung von Systemvertrauen geeignet sind, vergleichend für beide Länder zu analysieren und zu diskutieren. Die Beiträge analysieren anhand verschiedener Problembereiche die Ursachen fehlenden Vertrauens in das jeweilige Regierungs- und Verwaltungssystem sowie Ansätze zur Überwindung daraus eventuell resultierender krisenhafter Zuspitzungen.
Table of Contents
Section Title
Page
Action
Price

Vorwort

5

Inhaltsverzeichnis

7

Josef Ruthig: Finanz- und Wirtschaftskrisen als juristisches Problem

9

I. Einführung

9

II. Die haushaltspolitische Dimension von Krisen

13

III. Die aufsichtsrechtliche Dimension von Krisen

14

1. Verwaltungsorganisationsrecht: die unabhängige Regulierungsagentur

14

2. Verwaltungsverfahren und Rechtsschutz

19

3. Die Grundsatzfrage

22

IV. Krisen als verfassungsrechtliches Problem

23

1. Grundrechte

24

2. Gewaltenteilung

24

3. Das europäische Subsidiaritätsprinzip und die Hochzonung von Verwaltungsaufgaben

26

V. Zusammenfassung

30

Sung Soo Kim: Wirtschafts- und Finanzkrisen als juristisches Problem – Krisenstaat und seine rechtsstaatliche Kontrolle

33

I. Problemstellung

33

1. Die globalen Kredit- und Finanzkrisen und ihre Auswirkung auf die koreanische Wirtschaft

33

2. Das Wesen der Krise in Korea – das stillstehende Wachstum und zunehmender Finanzbedarf

34

II. Verfassungsrechtliche Vorgaben zur Krisenbewältigung

35

1. Art. 76 der Koreanischen Verfassung

35

2. Rechtsprechung des Verfassungsgerichts

36

3. Kurze Stellungnahme

37

III. Weitgehende Ermächtigung zur Gesetzgebungskompetenz an Exekutive (atypische Form der Rechtsverordnung)

39

1. Problemstellung – Grenzen der Krisenbewältigung im Rahmen der normalen Gesetzgebung

39

2. Eine atypische Form der Rechtsverordnung – die sog. "Gosi" (öffentliche Anzeige)

40

a) Das Gesetz zur Verbesserung der Geldwesenstruktur (Geldwesenstrukturverbesserungsgesetz; GWSVG)

40

b) Die Rechtsnatur der öffentlichen Anzeige

41

aa) Allgemeines

41

bb) Rechtsprechung des Verfassungsgerichts

41

3. Eigene Stellungnahme

42

IV. Schlussfolgerung

44

Okju Shin: Eine Studie über die verfassungsrechtliche wirtschaftliche Ordnung unter Berücksichtigung der Novellierungsdiskussion

45

I. Einführung

45

II. Inhalt der verfassungsrechtlichen Wirtschaftsordnung

46

1. Historische Entwicklung der verfassungsrechtlichen Wirtschaftsordnung

46

2. Kapitel 9 der koreanischen Verfassung, die Wirtschaftsverfassung

47

a) Grundbestimmung der koreanischen Wirtschaftsordnung

47

b) Einzelne wirtschaftliche Bestimmungen

47

3. Interpretation der Wirtschaftsordnung des Art. 119

49

a) Keine normative Bestimmung des Art. 119 Abs. 2

49

b) Ergänzendes Verhältnis zwischen Art. 119 Abs. 1 und Abs. 2: Regel-Ausnahme-Verhältnis

50

c) Konkurrierendes Verhältnis zwischen Art. 119 Abs. 1 und Abs. 2

50

d) Soziale Marktwirtschaft

51

e) Haltung des koreanischen Verfassungsgerichts zur Wirtschaftsordnung

52

III. Diskussion um die Novellierung der Wirtschaftsordnung

53

1. Pro-Novellierung

53

a) Novellierung unter Berücksichtigung des Erforderlichkeitsprinzips

53

aa) Grenze als Rahmenbestimmung

53

bb) Vorschläge zur Novellierung

54

b) Radikale Position zur Novellierung der Wirtschaftsordnung

55

aa) Problematische Lage

55

bb) Vorschlag zur Novellierung

56

2. Kontra-Novellierung

57

3. Fazit

58

IV. Zusammenfassung

59

Literatur

60

Wolf-Rüdiger Schenke: Die Bankenaufsicht als Mittel zur Bekämpfung von Finanzkrisen

63

I. Einführung in die Problematik

63

II. Die staatliche Bankenaufsicht nach dem KWG

65

1. Der Gegenstand der Bankenaufsicht

65

2. Die gemeinsame Wahrnehmung der Bankenaufsicht durch die Bundesbank und die Bundesanstalt für Finanzdienstleistungsaufsicht (BaFin)

65

3. Vorschriften, welche durch die Banken bei ihrer Tätigkeit gem. den §§ 10 ff. KWG zu beachten sind

67

4. Die präventive Bankenaufsicht und die nach Geschäftsaufnahme durchzuführende laufende Überwachung

68

a) Präventive Bankenaufsicht durch Erlaubnispflicht

68

b) Die laufende Überwachung des Geschäftsbetriebs

68

5. Rechtsschutz, Schadensersatz und Entschädigung bei rechtswidrigem Verhalten der BaFin

70

III. Die zukünftige Bankenaufsicht durch die Europäische Zentralbank (EZB)

73

1. Die Europäische Bankenaufsichtsbehörde (EBA)

73

2. Die partielle Übertragung der Bankenaufsicht auf die EZB

73

3. Die Befugnisse der EZB nach der SSM-VO

76

4. Rechtsschutz und Haftung bei rechtswidriger Bankenaufsicht durch die EZB

77

Seung-pil Choi: Tendenzen und Strukturen der südkoreanischen Bankenregulierung

79

I. Einleitung

79

II. Strukturen der Bankenregulierung in Korea

80

1. Eigenschaften der Bankenregulierung

80

2. Eintritts- und Austrittsregulierungen

81

a) Eintrittsregulierung

81

b) Austrittsregulierung

82

3. Regulierung der Eigentümerstruktur

82

a) Hintergrund und Entwicklung der Regulierungen zu Anteilsbesitz bei Banken

82

b) Anteilsgrenze

83

4. Regulierung der Geschäftstätigkeiten nach dem Bankengesetz

84

a) Regulierung des Aufgabenbereichs

84

aa) Struktur der Regulierung

84

bb) Deregulierung der Geschäftstätigkeiten

85

cc) Rechtliche Bedeutung der Regulierungsmaßnahmen von Geschäftshandlungen

85

b) Regulierungen über unfaire Geschäftshandlungen

86

5. Soliditätsregulierung (Prudential Regulation)

87

a) Regulierungen der Eigenkapitalausstattung

87

b) Regulierungen zu Solidität der Geschäftsführung

88

6. Liquiditätsregulierungen

90

7. Regulierungen über Interessenkonflikte

90

8. Schutz von Verbrauchern

91

a) Diskussion des Verbraucherschutzes

91

b) Schutz von Verbrauchern in Bezug auf Bankenregulierungen

92

9. Struktur der Regulierungsbehörde

93

III. Sanktionen und Rechtsbehelfe bei Regulierungsverstößen

94

1. Sanktion gegen Banken

94

2. Sanktion gegen Finanzinstitute sowie Vorstandsmitglieder

95

3. Aufteilung der Sanktionskompetenzen zwischen Kommission für Finanzdienstleistungen und Finanzaufsichtsbehörde

96

4. Überprüfung der Sanktionsverfahren

98

5. Widerspruch gegen Sanktionen und Streitigkeiten

99

IV. Ein neues Thema: Einführung der Regelungen zur makroökonomischen Solidität

101

1. Paradigmenwechsel der Bankenregulierung

101

2. Hauptinhalte neuer Regulierungen für makroökonomische Solidität

102

3. Regulierung der makroökonomischen Solidität

103

a) System der makroprudenziellen FX-Stabilitätsabgabe

103

b) DTI und LTV

104

c) SIFI und D-SIB-Regulierung

104

V. Fazit

105

Literatur

106

Peter Baumeister: Der Sozialstaat in der Finanz- und Wirtschaftskrise

109

I. Einleitung

109

II. Überblick zum deutschen System der sozialen Sicherung

110

1. Soziale Vorsorge

110

2. Soziale Entschädigung

111

3. Soziale Hilfe und Förderung

111

4. Fazit

112

III. Die Bedeutung des Sozialsystems in der Krise

113

IV. Die Krise als Anlass für eine kritische Analyse des Sozialsystems

115

V. Herausforderungen der sozialen Sicherungssysteme jenseits von Wirtschaftskrisen

117

VI. Verfassungsrechtliche Grenzen für Reformen der sozialen Sicherungssysteme

121

1. Rentenversicherung und Eigentumsschutz

121

2. Erweiterung des versicherungspflichtigen Personenkreises in der Krankenversicherung

122

3. Absenkung sozialhilferechtlicher Leistungen

124

VII. Ergebnis

124

Hyun-Ho Kang: Sozialstaatliche Streitpunkte hinsichtlich der Finanz- und Wirtschaftskrise in Korea

127

I. Einleitung

127

II. Wirtschaftskrisen in Korea

128

1. Bemerkenswerte Krisen in Korea

128

2. Merkmale der koreanischen Krise

129

a) Schwere Überwindbarkeit aus eigener Kraft

129

b) Unzureichendes Überwachungssystem des Finanzbereichs

130

3. Einfluss der Finanzkrise auf die koreanischen Bürger

130

III. Sozialstaat in Korea

132

1. Verständnis des Sozialstaates

132

2. Rechtliche Gestaltung des Sozialstaates in Korea

133

a) Die Artikel in der koreanischen Verfassung

133

b) Sozialstaatliche Gesetze

134

c) Entscheidungen des KVerfG

136

aa) Staatsverdienten-Entscheidung

136

bb) Lebensunfähige-Bürger-Entscheidung

136

cc) Niederflur-Bus-Entscheidung

137

dd) Beamtenpension-Entscheidung

138

IV. Sozialstaatliche Streitpunkte der Finanzkrise

138

1. Die rechtliche Wirkung der sozialen Grundrechte

138

2. Die Rolle der Legislative und des KVerfG

139

3. Eine Richtung auf einen aktivierenden Sozialstaat

140

V. Schluss

140

Literatur

141

Hans-Werner Laubinger: Die systemstabilisierende Funktion des Berufsbeamtentums

143

I. Einführung

143

II. Beamte und Arbeitnehmer des öffentlichen Dienstes

147

1. Das Statusrecht der Beamten und Arbeitnehmer

147

2. Die Funktionsbereiche von Beamten und Arbeitnehmern

149

3. Anteil der Beamten an den öffentlichen Bediensteten

151

4. Beamte: Begriff und Arten

153

5. Die Rechtsstellung der Beamten und der Arbeitnehmer des öffentlichen Dienstes im Vergleich

155

a) Arbeitskampf: Streik und Aussperrung

155

b) Modalitäten der Einstellung und anderer Maßnahmen zur Gestaltung des individuellen Rechtsverhältnisses

158

c) Rechtsschutz

158

d) Disziplinarische Maßnahmen

158

e) Gehorsamspflicht und Remonstrationspflicht

160

f) Treuepflicht und politische Treuepflicht

161

g) Laufbahnprinzip und Laufbahngruppenprinzip, Lebenszeitprinzip

163

h) Leistungsprinzip

165

i) Volle Hingabe an den Beruf und Hauptberuflichkeit

165

j) Alimentationspflicht der Dienstherrn und Alimentationstheorie

166

k) Pflicht zur Neutralität und Unparteilichkeit

167

6. Resumé zur Unterscheidung der Rechtsstellung von Beamten und Arbeitnehmern des öffentlichen Dienstes?

167

III. Berufsbeamtentum und Systemstabilität

168

IV. Schlussbemerkung

170

Hyun Im: Aktuelle Fragen des Berufsbeamtentums

171

I. Einleitung

171

II. Verfassungsrechtliche Garantie des Berufsbeamtentums

172

1. Berufsbeamtentum in Deutschland

172

a) Rechtsgrundlagen

172

b) Das öffentliche Dienstrecht nach der Föderalismusreform I

173

2. Berufsbeamtentum in Süd-Korea

175

III. Bürokratiekritik und Berufsbeamtentum

177

1. Anforderung des Bürokratieabbaus

177

2. Grundrechtsschutz durch Verfahren und Bürokratie

178

IV. Fazit

178

Literatur

179

Hee-Gon Kim: Die systemstabilisierende Funktion und die Aufgabe des Berufsbeamtentums

181

I. Einleitung

181

II. Das Berufsbeamtentum und der Öffentliche Dienst

181

1. Begriff und Geschichte des Berufsbeamtentums

181

a) Begriff des Berufsbeamtentums

181

b) Die Geschichte des Berufsbeamtentums

183

2. Die Bedeutung des Amts im modernen Rechtsstaat

183

3. Der Aufgabenbereich der Berufsbeamten

184

III. Die wesentlichen Gehalte des Berufsbeamtentums

185

1. Gewährleistung der Beamtenstatus

185

2. Gewährleistung der politischen Neutralität

188

3. Leistungsprinzip

189

IV. Die Funktion des Berufsbeamtentums

190

1. Die systemstabilisierende Funktion des Berufsbeamtentums

190

2. Die gewaltenteilende Funktion des Berufsbeamtentums

190

V. Die Problembereiche des Berufsbeamtentums

191

1. Die Zunahme der tariflichen Zeitbeamten

191

2. Die Erhöhung der Zahl von Teilzeitbeamten

192

3. Die politische Neutralität des Beamten

194

4. Die individuelle politische Äußerungsfreiheit des Beamten (und des Präsidenten) im Rahmen der Amtsausübung

194

5. Drei berufsbezogene Grundrechte des Beamten

195

6. Die Durchbrechung des Leistungsprinzips

196

VI. Schluss

197

Literatur

198

Annette Guckelberger: Unabhängige Ombudsleute

201

I. Einführung

201

II. Herkunft

203

III. Vorkommen heute

204

IV. Zweck des Bürgerbeauftragten, Kritik an Petitionsausschüssen

208

V. Vorteile des Ombudsmannsystems

211

1. Für die Bürger

211

a) Unabhängigkeit des Bürgerbeauftragten

211

b) Selbstaufgriffsbefugnis/größerer Prüfungsumfang

212

c) Verständlichkeit/keine Fachsprache

213

d) Einfacher Zugang

214

e) Personalisierung, Verwaltung hat ein Gesicht

215

f) Effektiver und fachkompetenter

215

2. Für den Staat

216

a) Kontroll- und Präventionsfunktion

216

b) Arbeitsersparnis

217

c) Verbesserung des Images/der Glaubwürdigkeit

218

VI. Verfassungsrechtliche Zulässigkeit

218

VII. Rechtliche Gestaltung/Kosten

220

VIII. Fazit

220

Jan Ziekow: Bürgerbeteiligung als systemstabilisierendes Element der parlamentarischen Demokratie

223

I. Zu Begriff und Formen von "Bürgerbeteiligung"

223

II. Die strukturelle "Sprachlosigkeit" der Verwaltung in der legalistischen repräsentativen Demokratie

225

III. Bürgerbeteiligung und repräsentative Demokratie

227

1. Befürchtung: Legitimation

227

2. Befürchtung: Verantwortung

228

3. Befürchtung: Indienstnahme des Staates

228

4. Befürchtung: Repräsentationsdefizit

228

IV. "Frühe Öffentlichkeitsbeteiligung" – auf dem Weg zu einer neuen Verwaltungskultur?

229

V. Schlussbetrachtung

233

Byoung-Hyo Moon: Unabhängige Ombudsleute und Bürgerbeteiligung

235

I. Einleitung

235

II. Zum Ombudsmann

235

1. Bedeutung des Ombudsmannes

235

2. Zwei Beispiele in Korea

236

a) Die Nationale Menschenrechts-Kommission Koreas

236

b) Die Anti-Korruptions- und Bürgerrechtskommission in Korea

238

III. Zur Bürgerbeteiligung

239

1. Bedeutung der Bürgerbeteiligung

239

2. Bürgerbeteiligung und Repräsentativsystem

239

3. Ideal und Realität der partizipatorischen Demokratie

240

IV. Ergebnis

241

Literatur

241

Internetquellen

242

Verzeichnis der Autoren

243