Family law: children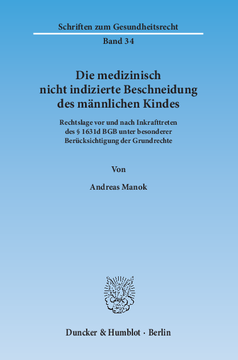 BOOK
Die medizinisch nicht indizierte Beschneidung des männlichen Kindes
Rechtslage vor und nach Inkrafttreten des § 1631d BGB unter besonderer Berücksichtigung der Grundrechte
Schriften zum Gesundheitsrecht, Vol. 34
(2015)
Additional Information
Book Details
ISBN

978-3-428-54584-1
978-3-428-14584-3 (print edition)

DOI

https://doi.org/10.3790/978-3-428-54584-1

Edition

1

Language

German

Pages

218

Collections

Subjects
Pricing
Institution

€ 80.00 (incl. local VAT if applicable)

Individual

€ 62.90 (incl. local VAT if applicable)
About The Author
Nach dem Studium der Rechtswissenschaften in Mannheim und Tübingen sowie dem Referendariat in Konstanz und Istanbul legte Andreas Manok im Jahr 1990 das Zweite Juristische Staatsexamen ab. Seither ist er als Rechtsanwalt tätig. Es folgten Weiterbildungen zum Fachanwalt für Arbeitsrecht und für Medizinrecht. Von 2009 bis 2011 absolvierte er den Masterstudiengang Medizinrecht der Dresden International University. Im Anschluss hieran promovierte er am Lehrstuhl von Prof. Dr. Bernd-Rüdiger Kern an der Universität Leipzig. Andreas Manok ist Partner einer mittelständischen Kanzlei in Ravensburg. Er berät und vertritt überwiegend Ärzte und andere Leistungserbringer im Gesundheitswesen in allen berufsspezifischen Rechtsangelegenheiten.
Abstract
Der Autor untersucht die Frage der rechtlichen Zulässigkeit medizinisch nicht indizierter Beschneidungen männlicher Minderjähriger auf Veranlassung ihrer Eltern. Nach einem kulturhistorischen Abriss und der Betrachtung medizinischer Aspekte prüft er umfassend, ob der vom Bundesgesetzgeber als Reaktion auf das sogenannte »Kölner Beschneidungsurteil« in das BGB eingefügte § 1631d verfassungsgemäß ist. Er gelangt zu dem Ergebnis, dass § 1631d BGB in mehrfacher Hinsicht verfassungswidrig ist. Denn zum einen überwiegt angesichts der Tragweite und der Irreversibilität des Eingriffs das Grundrecht der Minderjährigen auf körperliche Unversehrtheit das elterliche Erziehungsrecht und deren Grundrecht auf Religionsfreiheit. Zum anderen liegt eine nicht gerechtfertigte Diskriminierung männlicher Minderjähriger wegen des Geschlechts vor, da der Eingriff bei ihnen zulässig sein soll, während selbst milde Formen weiblicher Beschneidung durch § 226a StGB als Verbrechen unter Strafandrohung stehen. »Medically Not Indicated Circumcision of Male Minors«

The book examines the question of the legality of medically not indicated circumcision of male minors with parental consent. Based on cultural history and medical aspects, the author examines comprehensively whether § 1631d BGB, which was newly inserted into the German civil code (BGB) by federal legislation as a reaction to the so-called »Cologne circumcision judgment«, is constitutional, especially with regards to the basic right of minors to physical integrity and the basic right of equality.
Table of Contents
Section Title
Page
Action
Price

Vorwort

5

Inhaltsverzeichnis

7

1. Kapitel: Einführung

13

2. Kapitel: Genitalbeschneidungen

19

A. Historischer, religiöser und kultureller Kontext

19

I. Beschneidung im alten Ägypten

19

II. Beschneidung im Judentum

21

III. Beschneidung im Islam

23

IV. Beschneidung im Christentum

25

V. Beschneidung bei Naturvölkern

27

VI. Keine konstitutive Wirkung der Beschneidung für die Religionszugehörigkeit

28

B. Männliche Genitalbeschneidung

29

I. Prävalenz

29

II. Funktion der Vorhaut

30

III. Durchführung der Zirkumzision

30

IV. Erforderlichkeit wirksamer Anästhesie

32

V. Indikationen

34

VI. Risiken und Folgen

36

VII. Hygienische und präventiv-medizinische Vorteile

39

C. Weibliche Genitalbeschneidung

40

I. Prävalenz

41

II. Unterschiede zu männlicher Genitalbeschneidung

41

III. Modephänomen ästhetisch motivierte Genitalveränderung

43

IV. Strafbarkeit weiblicher Genitalbeschneidung

45

3. Kapitel: Rechtslage vor Inkrafttreten des § 1631d BGB

46

A. Männliche Beschneidung in der bisherigen Judikatur

46

B. Das "Beschneidungs-Urteil" des Landgerichts Köln

50

C. Die Zirkumzision als Körperverletzung i.S.d. §§ 223ff. StGB

52

I. Objektiver Tatbestand des § 223 Abs. 1 StGB

52

II. Qualifikation des § 224 Abs. 1 Nr. 2, 2. Alternative StGB

54

III. Erfolgsqualifikation schwere Körperverletzung gem. § 226 Abs. 1 StGB

55

IV. Exkurs: Meinungsstreit über Tatbestandslosigkeit des ärztlichen Heileingriffs

56

V. Tatbestandsausschluss infolge von Sozialadäquanz

58

VI. Subjektiver Tatbestand

60

VII. Rechtfertigung durch Einwilligung

61

1. Selbstbestimmungsaufklärung

65

a) Form der Aufklärung

65

b) Umfang der Aufklärung

66

c) Zeitpunkt der Aufklärung

67

d) Person der Aufklärungspflichtigen

68

e) Entbehrlichkeit der Aufklärung und Aufklärungsverzicht

68

2. Einwilligungsfähigkeit

68

3. Stellvertretende Einwilligung durch Sorgeberechtigte

70

4. Schranken der Einwilligung

71

a) Disponibilität des Rechtsguts

72

b) Sittenwidrigkeit

72

c) Kindeswohl

74

aa) Begriff des Kindeswohls

75

bb) Bestimmung des Kindeswohls

76

cc) Meinungsstand

79

dd) Stellungnahme

91

(1) Erziehungsrecht der Eltern vs. Grundrecht auf körperliche Unversehrtheit

92

(2) Grundrecht auf Religionsfreiheit der Eltern vs. Grundrecht auf körperliche Unversehrtheit

99

(3) Grundrecht auf Religionsfreiheit des Kindes vs. Grundrecht auf körperliche Unversehrtheit

103

5. Zwischenergebnis

105

VIII. Schuld

106

D. Ergebnis

107

4. Kapitel: Rechtslage nach Inkrafttreten des § 1631d BGB

109

A. Gang des Gesetzgebungsverfahrens

109

I. Gesetzentwurf der Bundesregierung

109

II. Alternativentwurf der Abgeordneten Rupprecht u.a.

112

III. Änderungsanträge zum Gesetzentwurf

114

1. Änderungsantrag der Abgeordneten Lischka u.a.

114

2. Änderungsantrag der Abgeordneten Montag u.a.

115

3. Änderungsantrag der Abgeordneten Reimann u.a.

117

IV. Expertenanhörung

117

V. Empfehlungen des Deutschen Ethikrats

123

VI. Gemeinsame Stellungnahme der DGKJP, des BKJPP und der BAG

124

VII. Stellungnahmen des BVKJ

125

VIII. Stellungnahme der Deutschen Kinderhilfe

126

IX. Abstimmung im Bundestag

126

B. Verfassungsgemäßheit des § 1631d BGB

127

I. Grundrecht auf körperliche Unversehrtheit aus Art. 2 Abs. 2 S. 1 GG

127

1. Schutzbereich

127

2. Eingriff

128

3. Rechtfertigung des Eingriffs

129

a) Gesetzesvorbehalt als Schranke des Grundrechts aus Art. 2 Abs. 2 S. 1 GG

130

b) Schranken-Schranken

130

aa) Formelle Verfassungsmäßigkeit

130

bb) Verbot des Einzelfallgesetzes

131

cc) Zitiergebot

132

dd) Parlamentsvorbehalt

134

ee) Bestimmtheitsgebot

134

ff) Grundsatz der Verhältnismäßigkeit

141

(1) Geeignetheit

142

(2) Erforderlichkeit

142

(3) Verhältnismäßigkeit im engeren Sinne

144

(4) Einschränkende verfassungskonforme Auslegung auf religiöse Motive

151

4. Zwischenergebnis

153

II. Gleichheitsgrundrecht aus Art. 3 GG

153

1. Besondere Diskriminierungsverbote aus Art. 3 Abs. 3 S. 1 GG

154

a) Benachteiligung wegen des Geschlechts

154

aa) Rechtlich relevante Ungleichbehandlung

154

bb) Rechtfertigung der Ungleichbehandlung

155

cc) Einschränkende verfassungskonforme Auslegung

158

b) Benachteiligung wegen des Glaubens oder der religiösen Anschauung

159

2. Allgemeiner Gleichheitssatz

160

a) Rechtlich relevante Ungleichbehandlung

160

b) Rechtfertigung der Ungleichbehandlung

161

3. Zwischenergebnis

162

III. Grundrecht auf Religionsfreiheit aus Art. 4 Abs. 1 u. 2 GG

163

1. Schutzbereich

163

2. Eingriff

163

3. Rechtfertigung des Eingriffs

164

a) Schranken des Grundrechts aus Art. 4 Abs. 1 u. 2 GG

165

b) Schranken-Schranken

165

4. Zwischenergebnis

167

IV. Grundrecht auf Schutz der Menschenwürde aus Art. 1 Abs. 1 GG

167

1. Schutzbereich

168

2. Eingriff

170

3. Zwischenergebnis

172

V. Ergebnis der Grundrechteprüfung

172

VI. Rechtsfolgen

173

C. Konformität des § 1631d BGB mit überstaatlichen Menschen- und Grundrechten

174

I. UN-Menschenrechtserklärung

174

II. IPBPR als Konkretisierung der Menschenrechtserklärung

175

III. UN-Kinderrechtskonvention

177

IV. Europäische Menschenrechtskonvention

182

V. EU-Grundrechtecharta (EGRC)

185

D. Konformität des § 1631d BGB mit dem AGG

188

E. Zusammenfassung der Ergebnisse und Fazit

189

5. Kapitel: Nachkodifizielle Judikatur und aktuelle Praxis

194

A. Nachkodifizielle Judikatur

194

B. Aktuelle Praxis

197

6. Kapitel: Schlussbetrachtung und Ausblick

201

Literaturverzeichnis

204

Sachwortverzeichnis

215