Company law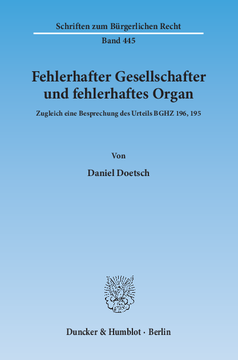 Additional Information
Book Details
ISBN

978-3-428-54694-7
978-3-428-14694-9 (print edition)

DOI

https://doi.org/10.3790/978-3-428-54694-7

Edition

1

Language

German

Pages

204

Collections

Subjects
Pricing
Institution

€ 80.00 (incl. local VAT if applicable)

Individual

€ 62.90 (incl. local VAT if applicable)
About The Author
Daniel Doetsch studierte Rechtswissenschaften an den Universitäten Passau und Münster und schloss das Studium im Jahr 2011 mit dem ersten Staatsexamen ab. Es folgte der juristische Vorbereitungsdienst am Landgericht Essen mit Stationen bei Kanzleien in Düsseldorf und London. Das zweite Staatsexamen absolvierte er im Jahr 2013. Im Anschluss daran begann die Forschung im Rahmen seiner Dissertation unter der Betreuung von Frau Prof. Dr. Barbara Grunewald an der Universität zu Köln.
Abstract
Die Lehre von der fehlerhaften Gesellschaft und die Lehre vom fehlerhaften Organ sind miteinander im Zusammenhang stehende Grundsätze, die aus der gesellschaftsrechtlichen Praxis nicht hinwegzudenken sind. Die durch Gesetz angeordneten Rechtsfolgen der Unwirksamkeit bestimmter Maßnahmen sind zu starr und würden in der Praxis zu untragbaren Ergebnissen führen.

Daniel Doetsch untersucht den Zusammenhang beider Lehren zueinander, deckt Widersprüche und Ungenauigkeiten auf und stellt dann dar, dass beide Rechtsinstitute auf derselben Grundlage beruhen und auch dieselben Voraussetzungen haben. Nach einer Diskussion des zur fehlerhaften Aufsichtsratswahl ergangenen Urteils BGHZ 196, 195 zieht der Autor den Schluss, dass sämtliche Aussagen, die zu der einen Lehre getroffen werden, auch auf die andere Lehre übertragbar sind. Während sich die Rechtsprechung nicht durch Konsistenz, sondern zunehmend durch Einzelfallentscheidungen auszeichnet, schlägt der Autor ein stringentes und simples Anwendungskonzept vor. »De Facto Corporation and Partnership and de Facto Executive Body«

With the decision of the Federal Supreme Court (BGHZ 196, 195) concerning the defective election of members of the supervisory board the judicature started releasing case-by-case decisions without using an overall concept. Daniel Doetsch shows that the de facto corporation and partnership and the de facto executive body ground on the same base. Although he does not follow the opinion of the Federal Supreme Court, he demonstrates that the statements made in this decision can also be transferred on the de facto partnership.
Table of Contents
Section Title
Page
Action
Price

Vorwort

5

Inhaltsverzeichnis

7

Einleitung

15

Erster Teil: Die Lehre der fehlerhaften Gesellschaft

16

A. Die Lehre der fehlerhaften Gesellschaft i. e. S.

16

I. Einführung

16

II. Abgrenzung zur faktischen Gesellschaft und Scheingesellschaft

16

1. Die faktische Gesellschaft

17

2. Die Scheingesellschaft

17

III. Historische Entwicklung der Rechtsprechung

18

1. Entscheidung des Plenums des königlichen Geheimen Ober-Tribunals vom 23.01.1843

18

2. ROHG 20, 270

19

3. RGZ 2, 130

20

4. RGZ 57, 292

20

5. RGZ 123, 102

22

6. RGZ 148, 225

22

7. RGZ 165, 193

23

8. RG IV 243/42

24

9. BGHZ 55, 5

24

10. BGHZ 62, 20

24

11. BGH II ZR 212/90

26

12. Zusammenfassung der Entwicklung der Rechtsprechung

26

IV. Dogmatische Grundlagen

27

1. Begründung der Rechtsprechung

27

2. Die Lehre von der Beschränkung der Nichtigkeitsfolgen

28

3. "Gesetzestreue" Ansichten

29

4. Doppelnatur der Gesellschaft

30

5. Stellungnahme

31

V. Voraussetzungen

31

1. Fehlerhaftigkeit des Gesellschaftsvertrags

31

2. Vollzug des Gesellschaftsvertrags

34

3. Keine entgegenstehenden schutzwürdigen Interessen

36

a) Vorrangige Interessen Einzelner

37

b) Vorrangiger Schutz öffentlicher Interessen

38

c) Stellungnahme

39

VI. Rechtsfolgen

40

1. Grundsatz

40

2. Arglisteinrede

41

VII. Geltendmachung des Fehlers

41

1. Grundsatz

41

2. Frist

42

3. Einschränkung der Geltendmachung durch die Treuepflicht

43

VIII. Schadensersatzansprüche

43

B. Die Lehre vom fehlerhaften Gesellschafterbeitritt

45

I. Einführung

45

II. Abgrenzung zum faktischen Gesellschafter und Scheingesellschafter

45

1. Der faktische Gesellschafter

45

2. Der Scheingesellschafter

46

III. Voraussetzungen

46

1. Fehlerhaftigkeit des Beitritts

46

2. Vollzug des Beitritts

47

3. Keine entgegenstehenden schutzwürdigen Interessen

51

IV. Rechtsfolge

51

1. Grundsatz

51

2. Ausnahme

52

a) Arglisteinrede

52

b) Treu und Glauben

52

V. Geltendmachung des Fehlers

53

C. Die Lehre vom fehlerhaften Gesellschafteraustritt

53

D. Die Lehre von der fehlerhaften Anteilsübertragung

54

I. Einleitung

54

II. Anwendbarkeit

55

1. Historische Entwicklung der Rechtsprechung

55

2. Ansichten in der Literatur

57

a) Bejahende Ansichten

58

b) Verneinende Ansichten

58

c) Differenzierende Ansicht

59

3. Stellungnahme

59

III. Anwendung der Grundsätze

61

E. Die Lehre vom fehlerhaften Geschäftsführer

62

I. Fehlerhafte Einräumung der Geschäftsführungs- und Vertretungsbefugnis

62

II. Fehlerhafte Entziehung der Geschäftsführungs- und Vertretungsbefugnis

63

1. Meinungsstand

63

a) Verneinende Ansicht

63

b) Bejahende Ansicht

63

2. Stellungnahme

64

III. Voraussetzungen

65

1. Fehlerhaftigkeit

65

2. Vollzug

66

IV. Rechtsfolge

66

V. Geltendmachung des Fehlers

66

Zweiter Teil: Die Lehre vom fehlerhaften Organ

67

A. Grundlagen

67

I. Abgrenzung zum faktischen Organ und Organ kraft Rechtsscheins

67

1. Das faktische Organ

67

2. Das Organ kraft Rechtsscheins

68

II. Historische Entwicklung der Rechtsprechung

68

1. Allgemeine Rechtsprechung

68

a) ROHG 20, 207

68

b) RG II 630/08

69

c) RG I 74/10

69

d) RGZ 144, 384

70

e) RG II 187/35

70

f) RG II 206/38

71

g) BGHZ 41, 282

71

2. Anwendung auf fehlerhaft bestellte Aufsichtsratsmitglieder

72

3. Anwendung auf den besonderen Vertreter nach § 147 Abs. 2 AktG

73

III. Dogmatische Grundlagen

74

B. Konkrete Anwendung

74

I. Voraussetzungen der Lehre vom fehlerhaften Organ

74

1. Fehlerhafter Bestellungsakt

75

2. Vollzug der Bestellung

76

3. Keine entgegenstehenden schutzwürdigen Interessen

77

a) Vorrangige Interessen Einzelner

77

b) Vorrangiger Schutz öffentlicher Interessen

78

c) Stellungnahme

79

II. Rechtsfolgen

80

III. Geltendmachung des Fehlers

80

IV. Anwendbarkeit auf die fehlerhafte Bestellung von Aufsichtsratsmitgliedern

81

1. Anteilseignervertreter im Aufsichtsrat

81

2. Arbeitnehmervertreter im Aufsichtsrat

84

V. Fehlerhafte Abberufung des Organs

85

Dritter Teil: Das Urteil BGHZ 196, 195

88

A. Sachverhalt

88

B. Urteil des BGH

88

C. Kritik in der Literatur

92

I. Die Ansicht von Cziupka

92

II. Die Ansicht von Priester

93

III. Die Ansicht von Rieckers

94

IV. Die Ansicht von Schürnbrand

95

V. Die Ansicht von Kocher

96

VI. Die Ansicht von Kiefner/Seibel

97

VII. Die Ansicht von Arnold/Gayk

98

D. Stellungnahme

101

I. Terminologie

101

II. Ursächliche Mitwirkung durch Handeln vor Beschlussfassung

101

III. Asymmetrie der Rechte und Pflichten

103

IV. Zwingende Beibehaltung der ex tunc Wirkung

103

V. Verhältnis der Nichtigkeit der Stimmabgabe zur Nichtigkeit des Beschlusses

104

VI. Schutz über Rechtsschein

105

1. Vertrauensschutz

106

a) Schutz des Vertrauens außenstehender Dritter

106

b) Schutz des Vertrauens von Organmitgliedern

107

2. Kennen oder kennen müssen

108

a) Kennen oder kennen müssen der Fehlerhaftigkeit der Wahl

109

b) Kennen oder kennen müssen der "Ursächlichkeit" der Mitwirkung

110

VII. Bestellung und Abberufung des Vorstands

111

VIII. Vorschläge zur Beschlussfassung der Hauptversammlung

112

IX. Zuständigkeit in Anknüpfung an die aktuelle Funktion des Aufsichtsratsmitglieds

114

X. Feststellung des Jahresabschlusses

116

XI. Anwendung der Lehre auf den besonderen Vertreter nach § 147 AktG

118

XII. Offene Anwendungsfälle

120

1. Verträge mit Aufsichtsratsmitgliedern, §§ 114, 115 AktG

120

2. Zustimmungsbedürftige Geschäfte

120

3. Einberufung der Hauptversammlung, § 111 Abs. 3 S. 1 AktG

122

4. Bericht des Aufsichtsrats, § 171 Abs. 2 AktG

123

5. Vertretung der Gesellschaft gegenüber Vorstandsmitgliedern, § 112 AktG

124

a) Gerichtliche Vertretung

124

b) Außergerichtliche Vertretung

125

6. Kreditverträge mit Vorstandsmitgliedern, § 89 AktG

126

7. Antrag auf Abberufung eines Aufsichtsratsmitglieds

126

8. Einstimmigkeitserfordernis

127

9. Aufsichtsratsausschüsse

128

10. Anerkennung von Ausnahmefällen

129

XIII. Lösungswege für die Praxis

129

1. § 104 AktG während des Klageverfahrens

129

a) Direkte Anwendung und unbedingte Bestellung

129

b) Analoge Anwendung

130

c) Aufschiebend bedingte Bestellung

132

d) Zwischenergebnis

136

2. Sonstige Erwägungen

137

XIV. Fazit

139

Vierter Teil: Übertragung der Grundsätze auf andere Gesellschaftsformen

141

A. Übertragung auf die GmbH

141

I. Aufsichtsrat

141

1. Obligatorischer Aufsichtsrat

141

a) Anwendbare Normen

141

b) Nichtigkeit der Wahl von Aufsichtsratsmitgliedern

142

c) Übertragung der Grundsätze im Einzelfall

142

d) Lösungswege für die Praxis

144

e) Zwischenergebnis

145

2. Fakultativer Aufsichtsrat

145

a) Anwendbare Normen

145

b) Nichtigkeit der Wahl von Aufsichtsratsmitgliedern

145

c) Übertragung der Grundsätze im Einzelfall

146

d) Lösungswege für die Praxis

147

e) Zwischenergebnis

148

II. GmbH-Gesellschafter

148

1. Anwendbarkeit der Lehre der fehlerhaften Gesellschaft auf fehlerhafte GmbH-Gesellschafter

149

2. Zwischenergebnis

152

B. Übertragung auf Personengesellschaften

152

I. Vergleichbarkeit der Rechtsinstitute

152

1. Vergleichbarer Ursprung

152

2. Vergleichbare dogmatische Grundlage

154

3. Vergleichbarkeit der Interessen

154

4. Vergleichbarkeit der Anwendungsvoraussetzungen

156

5. Kritik

156

6. Stellungnahme

157

7. Zwischenergebnis

158

II. Übertragung der Grundsätze

158

Beschlüsse in Personengesellschaften

159

1. Fehlerhafte Beschlüsse in einer Personengesellschaft

159

2. Mitwirkung von Dritten bei Beschlussfassungen

161

a) Einberufung und Teilnahme an der Gesellschafterversammlung

162

b) Stimmabgabe bei der Beschlussfassung

164

aa) Einstimmigkeitserfordernis

165

bb) Mehrheitserfordernis

165

c) Feststellung und Protokollierung des Ergebnisses zur Beschlussfassung

166

d) Zwischenergebnis

166

3. Geltendmachung der Fehlerhaftigkeit von Beschlüssen

167

4. Vergleichbarkeit von Gesellschafterbeschlüssen mit Aufsichtsratsbeschlüssen

167

a) Vorstandsbestellung

168

Einschub: Erweiterung des Begriffs der Fehlerhaftigkeit

169

b) Feststellung des Jahresabschlusses

170

5. Zwischenergebnis

171

III. Konsequenzen der Übertragung der Grundsätze

171

1. Auswirkungen auf andere Gesellschafterbeschlüsse

172

a) Geltendmachung von Schadensersatzansprüchen, § 113 Abs. 2 HGB

172

b) Zustimmungsbedürftige Handlungen, § 116 Abs. 2 HGB

173

c) Beschlüsse gegen einen Gesellschafter

173

d) Eintritt eines neuen Gesellschafters

174

e) Ausschluss eines Gesellschafters, § 737 BGB/§ 140 HGB

175

f) Auflösungsbeschluss, § 131 Abs. 1 Nr. 2 HGB

176

g) Abberufung von Liquidatoren, § 147 HGB

178

h) Anderweitige Änderungen des Gesellschaftsvertrags

178

i) Zwischenergebnis

179

2. Lösungswege für die Praxis

179

Fünfter Teil: Reform

180

A. Reformbedarf

180

I. Reformbedarf bei der AG

180

II. Reformbedarf bei der GmbH

182

III. Reformbedarf bei Personengesellschaften

182

B. Reformvorschlag

182

Sechster Teil: Zusammenfassung

185

Literaturverzeichnis

187

Sachwortverzeichnis

202