Private or civil law: general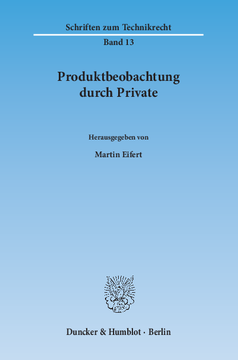 Additional Information
Book Details
ISBN

978-3-428-54718-0
978-3-428-14718-2 (print edition)

DOI

https://doi.org/10.3790/978-3-428-54718-0

Edition

1

Language

German

Pages

172

Collections

Subjects
Pricing
Institution

€ 80.00 (incl. local VAT if applicable)

Individual

€ 62.90 (incl. local VAT if applicable)
About The Author
Martin Eifert ist seit 2012 Inhaber der Professur für Öffentliches Recht, insbesondere Verwaltungsrecht an der Humboldt-Universität zu Berlin. Von 2005 bis 2012 war er Professor für Öffentliches Recht an der Justus-Liebig-Universität Gießen und seit 2009 Sprecher der Sektion 1 des dortigen Zentrums für Medien und Interaktivität. Zuvor war er nach dem Studium in Hamburg, Genf und Berkeley von 1993 bis 1997 wissenschaftlicher Mitarbeiter bei Prof. Dr. Hoffmann-Riem und an der Forschungsstelle Recht und Innovation, von 1999 bis 2001 Referent am Hans-Bredow-Institut.
Abstract
Die Verpflichtung Privater, die Auswirkungen ihrer Produkte fortlaufend zu beobachten, ist heute in vielen Bereichen des Umwelt- und Technikrechts eine verbreitete Erscheinung. Dabei variieren die unterschiedlichen Regelungen hinsichtlich der gesetzgeberischen Ausgestaltung, der jeweiligen Überwachungspflichten und der Verschränkung mit den behördlichen Überwachungsaufgaben. Obwohl mit der Produktbeobachtungspflicht möglicherweise ein neues allgemeines Instrument des Risikorechts entsteht, ist sie unter rechtlichen Gesichtspunkten bislang nur äußerst spärlich untersucht.

Unter Einbeziehung der praktischen Herausforderungen, im Anschluss an aktuelle Diskussionen im Verwaltungsrecht und mit Blick auf das einschlägige Zivilrecht dokumentiert dieser Tagungsband Ergebnisse und Überlegungen, die dem Phänomen der »Produktbeobachtung durch Private« eine schärfere dogmatische Kontur verleihen. Er richtet sich an Wissenschaftler, Praktiker und öffentliche Entscheidungsträger gleichermaßen. »Private Postmarket Product Monitoring Duty«

Private product monitoring duties are a widespread phenomenon in environmental and technology law. Although the product monitoring duty has the potential to become a new general instrument in risk law, it is a very infrequent topic of jurisprudence. In step with actual practice the proceedings document results and considerations that give the phenomenon a sharper dogmatic outline.
Table of Contents
Section Title
Page
Action
Price

Vorwort

5

Inhaltsverzeichnis

7

Martin Eifert: Einführung

9

I. Einleitung

9

II. Ein neues Instrument im neuen Jahrtausend?

9

1. Entstehung und Verbreitung privater Produktbeobachtung

9

2. Private Nachmarktbeobachtung im Kontext der Verwaltungsrechtsentwicklung

11

3. Ein übersehenes Instrument?

15

III. Ausgestaltung und Grenzen

15

1. Private Produktbeobachtung und haftungsrechtliche Produktbeobachtung

15

2. Der konzeptionelle Vorteil öffentlich-rechtlicher Beobachtungspflichten

16

3. Begrenzte Reichweite der öffentlich-rechtlichen Produktbeobachtungspflichten

17

a) Unmittelbare Ausgestaltung nur bei erkennbaren Risikopotentialen

17

aa) (Fast) keine generelle Ausgestaltung durch Gesetz

17

bb) Behördliche Konkretisierung als Nebenbestimmung

18

b) Breite Mitteilungs- und Informationspflichten als Anker für Produktbeobachtungspflichten

19

aa) Unbestimmtheit bei der Ableitung aus Informations- und Mitteilungspflichten

20

bb) Mangelnde Durchsetzbarkeit als Folge mangelnder Bestimmtheit

23

cc) Begrenzte Sicherung sachgerechter Beobachtung durch Organisationsvorgaben

23

c) Fazit: Drei Schichten der Produktbeobachtung durch Private

24

IV. Bedeutung im System des Verwaltungsrechts

25

Ivo Appel: Grundrechtliche Fragen privater Produktbeobachtungspflichten

27

I. Einleitung

27

II. Produktbeobachtung durch Private im Recht

30

1. Stufen der Produktbeobachtung

30

2. Privatisierung der Produktbeobachtung

31

3. Motive für eine Privatisierung der Produktbeobachtung

33

4. Erscheinungsformen einer privatisierten Produktbeobachtung

35

5. Wirkungen einer Privatisierung der Produktbeobachtung

35

6. Produktbeobachtungspflichten als Ausprägung funktionaler Privatisierung

38

7. Ausprägungen von Produktbeobachtungspflichten

39

8. Produktbeobachtung als Instrument der Vorsorge

40

9. Private Produktbeobachtungspflichten in multipolaren Verhältnissen

41

III. Verfassungsrechtlicher Rahmen privater Produktbeobachtungspflichten

41

1. Schutzpflichtdimension

42

2. Reichweite der verfassungsrechtlichen Schutzpflicht

43

3. Schutzpflicht und Übertragung der Produktbeobachtung auf Private

44

4. Abwehrrechtliche Dimension

45

5. Verhältnismäßigkeit unter Bedingungen der Unsicherheit

48

6. Grundrechtliche Rechtfertigung von Produktbeobachtungspflichten

51

IV. Zusammenfassung

53

Thomas Klindt: Produktbeobachtung zwischen Produktsicherheitsrecht und Social Media

55

I. Grundsätzliche Anforderungen an die Sicherheit eines Produkts

55

II. Pflicht zur Produktbeobachtung nach dem ProdSG: "After-Sales-Kontrolle"

56

III. Produktbeobachtungspflicht des Produzentenhaftungsrechts

57

IV. Produktbeobachtung und Social Media

59

V. Social Media und Krisenkommunikation

60

Achim Willand: Private Produktbeobachtung im Gentechnikrecht

61

I. Einleitung

61

II. Relevante Beobachtungsfelder der "grünen Gentechnik"

62

1. Gentechnisch veränderte Organismen und Produkte

62

2. Beobachtungsphasen im Herstellungs- und Distributionsprozess

62

3. Gentechnikspezifische (potentielle) Risiken

63

III. Strukturelemente des Gentechnikrechts

64

1. Ziele

64

2. Schutzkonzept

64

a) Zulassungsregeln

64

b) Vorsorgepflichten

66

c) Flankierende Instrumente

67

d) Lückenlose Kontrolle – aber kein umfassender Schutz

68

IV. Beobachtungspflichten im Gentechnikrecht

68

1. Freisetzung bzw. Anbau von GVO

69

2. Inverkehrbringen von gv-Lebensmitteln und gv-Futtermitteln

70

3. Produktbeobachtungspflicht nach § 16c GenTG

70

4. Zwischenfazit

71

V. Kriterien und Methoden

72

VI. Produktbeobachtung in der Praxis (ausgewählte Aspekte)

74

1. Inverkehrbringen von gentechnisch veränderten Rapssamen

75

2. Anbau des gentechnisch veränderten Maises MON 810

76

VII. Fazit

77

Mario Hieke: Private Produktbeobachtung im Arzneimittelrecht

79

I. Einführung

79

II. Bedeutung der Arzneimittelsicherheit

79

1. Bedeutung der Arzneimittelsicherheit

79

2. Arten von Arzneimittelrisiken

80

3. Pharmakovigilanz

81

III. Gesetzliche Regelungen zur Arzneimittelsicherheit

82

1. § 5 AMG

82

2. § 29 Abs. 1a AMG

83

3. Sonstige rechtliche Vorgaben

83

IV. Produktbeobachtung durch pharmazeutische Unternehmen

84

1. Organisatorische Vorgaben

84

2. Personelle Vorgaben

85

3. Informations- und Meldepflichten

86

4. Eigenverantwortliche Maßnahmen zur Gefahrenminimierung

86

V. Fazit

88

Sascha Werner: Private Produktbeobachtung im Chemikalienrecht

89

I. Einleitung

89

II. Überblick über das Chemikalienrecht

91

1. Private Produktbeobachtung nach der REACH-Verordnung

93

a) Private Produktbeobachtung als Zielsetzung der REACH-Verordnung

93

b) Produktbeobachtungspflichten im Rahmen des Registrierungsverfahrens nach Artikel 10 der REACH-Verordnung

93

c) Produktbeobachtungspflichten im Rahmen des Registrierungsverfahrens nach Artikel 18 der REACH-Verordnung

95

d) Produktbeobachtungspflichten nach Abschluss der Registrierung

97

e) Produktbeobachtungspflichten der Lieferanten – Kommunikation in der Lieferkette

98

f) Die Rückmeldung des Verwenders

99

g) Dokumentations- und Aufbewahrungspflichten

99

2. Private Produktbeobachtung nach der CLP-Verordnung

100

a) Private Produktbeobachtung als Zielsetzung der CLP-Verordnung

100

b) Produktbeobachtungspflichten im Rahmen der Gefahreneinstufung gem. Art. 13 der CLP-Verordnung

101

3. Überwachung, behördliche Anordnungen und Sanktionen

102

III. Fazit

103

Tobias Teufer: Private Produktbeobachtungspflichten im Lebensmittel- und Futtermittelrecht

105

I. Einleitung

105

II. Grundstruktur des EU-Lebensmittel- und Futtermittelrechts

106

III. Grundsatz der Lebensmittelsicherheit

107

IV. Rücknahme und Rückruf unsicherer Lebensmittel

109

V. Parallelregelungen im Futtermittelrecht

110

VI. Rückverfolgbarkeit von Lebensmitteln und Futtermitteln

110

VII. Verantwortlichkeiten in der Lebensmittel- und Futtermittelkette

111

VIII. Rolle der staatlichen Überwachung

112

IX. Produkthaftungsrechtliche Pflichten des Unternehmers

113

X. Fazit: Indirekte private Produktbeobachtungspflichten

113

XI. Ausblick: Privatisierung der Lebensmittel- und Futtermittelüberwachung

114

Gerhard Wagner: Privatrechtliche Haftung und öffentlich-rechtliche Produktbeobachtung

115

I. Produktbeobachtung zwischen öffentlichem Recht und Privatrecht

115

1. Öffentlich-rechtliche Produktverantwortung als Konkretisierung verfassungsrechtlicher Schutzpflichten

115

2. Privatrechtliche Produktbeobachtungspflichten als deliktische Sorgfaltspflichten

116

3. Das Zusammenwirken von öffentlichem Recht und Privatrecht

117

4. Überblick über den Gang der Analyse

118

II. Die Dreispurigkeit der Produkthaftung

118

III. Deliktsrechtliche Produktbeobachtungspflichten

121

1. Beobachtungspflichten

121

2. Reaktionspflichten

124

3. Zwischenergebnis

127

IV. Öffentlich-rechtliche Produktbeobachtungspflichten und ihre haftungsrechtliche Bewehrung

127

1. Überblick über das Produktsicherheitsrecht

127

2. Haftung für die Verletzung spezialgesetzlicher Produktbeobachtungspflichten am Beispiel der Pharmakovigilanzpflichten des AMG

127

a) Dreispurigkeit der Arzneimittelregulierung

127

b) Öffentlich-rechtliche Pharmakovigilanzpflichten

128

c) Gesetzliche Pharmakovigilanzpflichten als Schutzgesetze i.S.d. § 823 Abs. 2 BGB?

129

d) Verhältnis zur Haftung wegen Verkehrspflichtverletzung gemäß § 823 Abs. 1 BGB

134

e) Exkurs: Verhältnis zum Arzneimittelhaftungsrecht

136

3. Haftung für die Verletzung allgemein-produktsicherheitsrechtlicher Produktbeobachtungs- und Reaktionspflichten

138

a) Der Sicherheitsstandard des ProdSG

138

b) Behördliche Eingriffsbefugnisse

138

c) Haftungsrechtliche Bewehrung des ProdSG

139

d) Allgemeine Produktbeobachtungs- und Rückrufpflichten

141

e) Sicherheitsrechtliche Produktbeobachtungspflichten bei Verbraucherprodukten

142

f) Zusammenfassung vor dem Hintergrund der deliktischen Produkthaftung

144

V. Fazit: Privates Produkthaftungs- und öffentliches Produktsicherheitsrecht als "wechselseitige Auffangordnungen"

145

Birgit Schmidt am Busch: Verhältnis privater Produktbeobachtung und öffentlicher Aufsicht

149

I. Einführung

149

II. Nachmarktliche Produktbeobachtung als kontinuierliches Kommunikationsverhältnis zwischen Verwaltung und Produktverantwortlichen

151

1. Erfassung und Sammlung von Risikodaten (Beobachtung i.e.S.)

152

2. Risikobewertung

155

3. Risikomanagement

157

III. Besonderheiten der nachmarktlichen Produktbeobachtung gegenüber dem klassischen Verwaltungsverfahren

159

1. Nachmarktliche Produktbeobachtung als Dauerrechtsverhältnis

160

2. Kooperative Informationsermittlung

160

3. Nachmarktliche Produktbeobachtung im "Verwaltungsverbund"

161

4. Informelle Absprachen als Handlungsform im nachmarktlichen Produktbeobachtungsverfahren

163

5. "Vorläufige" Regelungsentscheidungen im nachmarktlichen Produktbeobachtungsverfahren

164

6. Information der Öffentlichkeit

165

IV. Privatisierung der nachmarktlichen Produktbeobachtung?

166

1. Ersetzung der staatlichen Produktbeobachtung durch eigene Risikovorsorge der Produktverantwortlichen?

167

2. Ersetzung der staatlichen Produktbeobachtung durch nicht staatliche Informationserfassungssysteme?

168

V. Ausblick

169

Autorenverzeichnis

171