Biography: general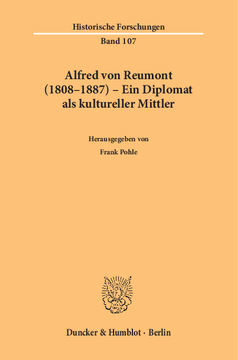 Additional Information
Book Details
ISBN

978-3-428-54640-4
978-3-428-14640-6 (print edition)

DOI

https://doi.org/10.3790/978-3-428-54640-4

Edition

1

Language

German

Pages

159

Collections

Subjects
Pricing
Institution

€ 80.00 (incl. local VAT if applicable)

Individual

€ 62.90 (incl. local VAT if applicable)
About The Author
Frank Pohle ist Juniorprofessor für Geschichte und Kultur der Region Maas/Rhein am Historischen Institut der RWTH Aachen. Er studierte Geschichte, Ältere und Neuere deutsche Literaturgeschichte, Kunst- und Baugeschichte in Aachen, Bonn, Wuppertal und Leuven und promovierte über das katholische Schultheater der frühen Neuzeit im Rheinland. Seine Forschungsschwerpunkte liegen thematisch in der rhein-maasländischen Landesgeschichte, der Bildungs- und Kirchengeschichte, zeitlich im Frühen Mittelalter, der Frühen Neuzeit (1500–1830) und der Moderne (1890–1960). Seine landesgeschichtlich angelegten Arbeiten bewegen sich in Grenzbereichen zwischen der Geschichts-, Literatur- und Kunstwissenschaft.
Abstract
Alfred von Reumont gehört zu den Gelehrtenpersönlichkeiten des 19. Jahrhunderts, die nie ganz vergessen waren, aber längst nicht hinreichend erforscht worden sind. Er zählte als einer von wenigen Katholiken zum Gelehrtenzirkel um Friedrich Wilhelm IV., begleitete den König mehrfach durch Italien und wirkte lange Jahre als Diplomat in preußischen Diensten in der Toscana und im Kirchenstaat. Neben umfangreichen historiografischen Veröffentlichungen, wie der Geschichte der Stadt Rom oder der Geschichte Toscana's, verfasste er zudem zahllose kleinere Werke, Aufsätze und Zeitungsartikel, in denen Reumont den gebildeten Ständen Deutschlands die Geschichte und Gegenwart der italienischen Staaten nähergebracht hat.

Die Beiträge dieses Sammelbands sind ganz dem anerkannten Mittler zwischen dem deutschen und dem italienischen Geistesleben seiner Zeit gewidmet. Sie beleuchten Aspekte seines Lebens und Werkes und laden zur weiteren Beschäftigung mit Alfred von Reumont ein. »Alfred von Reumont (1808–1887) – A Diplomat as Cultural Mediator«

Nine essays open central aspects of Alfred von Reumont's work. He belonged to the scholarly circles to Friedrich Wilhelm IV. and was involved as a Prussian diplomat in Italy and member of several academies in the scholarly networks of his time. As a historian and publicist, he tried in countless books, essays and newspaper articles to enlarge the knowledge of the past and present of the Italian states in Germany, a lifelong project with which he rendered great services.
Table of Contents
Section Title
Page
Action
Price

Inhaltsverzeichnis

5

Frank Pohle: Alfred von Reumont (1808–1887) – ein Diplomat als kultureller Mittler. Vorwort und Einführung

7

Michael Herkenhoff: Der Nachlass Alfred von Reumonts in der Universitäts- und Landesbibliothek Bonn

19

Frank Pohle: Die Teilnachlässe Alfred von Reumonts in Aachen

27

I. Der (Teil-)‌Nachlass im Stadtarchiv Aachen

27

II. Der Teilnachlass in der Stadtbibliothek Aachen

30

III. Die Bibliothek Alfred von Reumonts in der Stadtbibliothek Aachen

32

Rudolf Lill: Alfred (von) Reumont und die Geschichte Italiens

35

I.

35

II.

39

III.

47

Christiane Liermann: Katholische Kirche und Nation – Alfred von Reumont als Beobachter seiner Zeit

49

I. Deutsches Interesse an Italien

49

II. Reumonts italienische Themen

52

III. Das Ideal des "rechten Maßes"

53

IV. Kritik der Revolution

56

V. Plädoyer für die Bundeslösung

59

VI. Kritik an der Entwicklung der katholischen Kirche

61

VII. Religiöse Vorbilder und liberales Lob der Individualität

63

Christine Roll: Wie der Historiker zum Gestrigen gemacht wurde – Alfred von Reumonts "Italienische Diplomaten und diplomatischen Verhältnisse" neu gelesen

65

I. Einleitung

65

II. Der lange Schatten Leopold von Rankes – Reumonts Diplomatenschrift im Kontext und Urteil der Diplomatiegeschichtsschreibung

72

1. "Heerstraßen", "Seitenpfade" und ein "Freundesgruß" an Ranke – die Widmung und die Anlage der Diplomatenschrift Reumonts

73

2. "The trail was broken […] by Reumont's essay" – Mattinglys Lob für Reumonts Diplomatenschrift

75

3. "[...] eine viel benützte Fundgrube" – Reumonts Diplomatenschrift im Urteil der deutschen Diplomatiegeschichtsschreibung des 20. Jahrhunderts

76

4. Und heute? Reumonts Diplomatenschrift als Kulturgeschichte der Diplomatie – zu Reumonts Art und Weise, Diplomatiegeschichte zu schreiben

78

5. Ergebnisse: Geschichtsschreibung aus Gesandtenberichten – eine Kulturgeschichte der italienischen Renaissancediplomatie

88

III. Die unpopuläre Einstellung gegenüber dem Risorgimento – Reumonts Diplomatenschrift als politische Botschaft

89

IV. Das Werk und das "falsche" Netzwerk – wie Reumont aus der Geschichtswissenschaft hinausgeschrieben wurde

97

V. Fazit und Perspektiven – warum der Historiker Reumont wiederentdeckt werden sollte

102

Frank Pohle: Noch einmal Gregorovius und Reumont oder: Alfred von Reumont als Reiseschriftsteller

105

Klaus Graf: Alfred Reumont als Sagensammler und Sagenautor

125

David Engels: Alfred von Reumont als Philologe und Althistoriker – Überlegungen zu "Des Claudius Rutilius Namatianus Heimkehr" (1872)

137

I. Einleitung

137

II. Rutilius Namatianus

138

III. Reumonts Text

144

IV. Die Sicht der Zeitgenossen

153

V. Schluss

155