Methods, theory & philosophy of law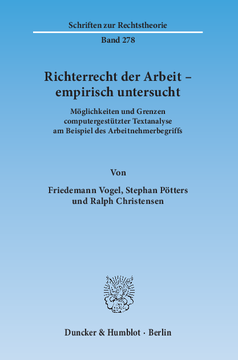 Additional Information
Book Details
ISBN

978-3-428-54636-7
978-3-428-14636-9 (print edition)

DOI

https://doi.org/10.3790/978-3-428-54636-7

Edition

1

Language

German

Pages

237

Collections

Subjects
Pricing
Institution

€ 80.00 (incl. local VAT if applicable)

Individual

€ 62.90 (incl. local VAT if applicable)
About The Author
Friedemann Vogel ist Juniorprofessor für Medienlinguistik an der Universität Freiburg i.Br. und Koordinator der Heidelberger Gruppe der Rechtslinguistik. Er studierte Germanistik, Psychologie und Philosophie und wurde 2011 an der Universität Heidelberg promoviert. Die Dissertation wurde mit dem Preis »Sprache und Recht« der Universität Regensburg ausgezeichnet. An der Universität Freiburg leitet er das Forschungsprojekt JuReko zum Aufbau eines Referenzkorpus des deutschsprachigen Rechts. Friedemann Vogel hat zahlreiche Auszeichnungen erhalten, u.a. den Lehrpreis »Innovatives Studium« der Universität Freiburg (2017).

Dr. iur. Stephan Pötters, LL.M. (Cambridge), Akademischer Rat a.Z. am Institut für Arbeitsrecht und Recht der sozialen Sicherheit, Universität Bonn. Stephan Pötters studierte Rechtswissenschaften in Bonn, Strasbourg und Cambridge. Das Referendariat absolvierte er beim LG Köln mit Stationen in Düsseldorf und Berlin. Er promovierte zum Thema »Grundrechte und Beschäftigtendatenschutz« (2013). Die Dissertationsschrift wurde mit dem Wissenschaftspreis der GDD (Bernd-Hentschel-Preis) 2013 und dem Hugo Sinzheimer Preis 2014 ausgezeichnet. Aktuell habilitiert er sich zu einem arbeitsrechtlichen Thema. Stephan Pötters ist Autor zahlreicher Veröffentlichungen zum Arbeits-, Europa- und Verfassungsrecht.

Dr. iur. Dr. phil. Ralph Christensen (Bonn/Mannheim), Repetitor für öffentliches Recht in Köln und Bonn und Mitbegründer der Heidelberger Gruppe der Rechtslinguistik. Ralph Christensen ist promovierter Rechtswissenschaftler und Philosoph und publiziert seit Jahrzehnten einschlägig zur Dogmatik von Verfassungsrecht, Verwaltungsrecht und Europarecht. Neben zahlreichen Veröffentlichungen unter anderem auch zu Dogmatik, Rechtstheorie und Rechtsphilosophie ist er zusammen mit Friedrich Müller Autor einer »Methodik des öffentlichen Rechts« (11. Aufl., Berlin 2013) sowie »des Europarechts« (3. Aufl., Berlin 2012), beide bei Duncker & Humblot erschienen.
Ralph Christensen is coach for public law in Cologne and Bonn and co-founder of the »Heidelberger Gruppe der Rechtslinguistik« (Heidelberg group for legal linguistics, established in 1984). He studied Philosophy, Jurisprudence and Sociology and is a PhD legal scholar and philosopher and publishes relevant works on the dogmatics of constitutional law, administrative law and European law.

Friedemann Vogel is Professor for media linguistics at the department of Medienkulturwissenschaft at the University of Freiburg since 2012 and Coordinator of the »Heidelberger Gruppe der Rechtslinguistik« (Heidelberg group for legal linguistics). He studied German Philology, Psychology and Philosophy and graduated to Dr. Phil. at the new-philology faculty at the University of Heidelberg in 2011. Since 2016 he is Visiting Professor at University of Siegen.
Abstract
»Employment Law as Case Law – An Empirical Study«

The authors examine fundamental questions of legal theory using German labour and employment law as an example. They implement methods of corpus linguistics for an empirical analysis of how employment law judges work and how they develop the semantic content of the particularly vague, heterogeneous and fragmentary regulatory framework of German employment and labour law. The authors also address related constitutional issues such as the limits of jurisprudence and separation of powers. In their view, the methodological questions and the constitutional problems are two sides of the same coin, as they both address the limits of language and legislation. Die gesetzlichen Grundlagen im Arbeitsrecht bilden kein einheitliches System. Die Begriffsbildung fordert den Richter heraus, selbst eine Bewertungsgrundlage herzustellen, ohne seine Rechtsprechungskompetenz zu überschreiten. Damit verbundene Methodenfragen sind immer auch Verfassungsfragen. Besonders deutlich wird dies beim Begriff des Arbeitnehmers. Die Autoren präzisieren diese Probleme mithilfe der Sprachwissenschaft. Die Methoden der Korpuslinguistik explizieren, was Juristen schon immer getan haben, verschaffen aber der Einschätzung juristischen Handelns auch eine empirische Grundlage: Gesetzesbindung liegt nicht darin, dass sich gerichtliche Urteile aus dem Text ableiten lassen, sondern darin, dass sie ihm zugerechnet werden. Die linguistische Analyse kann die pluralistischen Wertungen der Sprecher sichtbar und verhandelbar machen. Sie zeigt zudem: auch Gesetzesrecht ist notwendig Fallrecht. Ein Beitrag zur empirischen Wende der Jurisprudenz.
Table of Contents
Section Title
Page
Action
Price

Inhaltsverzeichnis

5

Abkürzungsverzeichnis

9

Einführung: Arbeitsrecht, Methodik und Korpuslinguistik

11

A. Der Arbeitnehmer aus dogmatischer Perspektive: Ein Begriff mit Zukunft?

17

I. Funktion des Arbeitnehmerbegriffs: Der Arbeitnehmer als Gatekeeper

17

II. Umschreibungsversuche

18

1. Ansatzpunkte in Gesetzen

18

2. Der Arbeitnehmerbegriff des Bundesarbeitsgerichts und die Kritik bei Wank

19

a) Das Merkmal der "persönlichen Abhängigkeit" als Anknüpfungspunkt einer typologischen Begriffsbestimmung beim Bundesarbeitsgericht

20

aa) Geläufige typologische Kriterien

21

bb) Klassische Antitypen: Selbständige und Beamte

21

(1) Beamte

22

(2) (Schein-)Selbständige

23

(3) Arbeitnehmerähnliche Personen

23

b) Die alternative Konzeption bei Wank

24

III. Arbeitsrechtliche Begriffsbildung und Europarecht

25

1. Der Arbeitnehmer im Unionsrecht

25

a) Arbeitnehmerbegriffe beim EuGH

26

b) Perspektiven

28

2. Verzahnung des nationalen Rechts mit unionsrechtlichen Vorgaben: Grenzen der Konformauslegung

30

a) (Konform-)Auslegung und Rechtsfortbildung

31

b) Die Wortlautgrenze im Unionsrecht

33

c) Bewertung der Entscheidungen Quelle und Schultz-Hoff

36

3. Ein Dialog verlangt Respekt vor Grenzen

37

IV. Aktuelle Herausforderungen für Rechtspraxis und Politik

38

1. Erosion und Europäisierung des Arbeitnehmerbegriffs

39

a) Bedeutungsverlust des Arbeitnehmerbegriffs?

40

b) Fortschreitende Europäisierung

41

2. Die Agenda-Politik und ihre Folgen: Neue Abgrenzungsprobleme im Fokus des Arbeitsrechts

42

a) Flucht in die Arbeitnehmerüberlassung

42

b) Flucht aus der Arbeitnehmerüberlassung

44

3. Arbeitsrecht und Bewältigung neuer Techniken

46

4. Neue Machtverhältnisse in der Arbeitswelt?

49

V. Die Tragfähigkeit typologischer Begriffsbildung

52

1. Normative Unterbestimmtheit der Gesetzesbegriffe

52

a) Die Unbestimmtheit von Begriffen

53

b) Was dem Begriff fehlt

55

2. Typus und Ganzheitsdenken

56

a) Vom Gesetz zum Recht als Wert

57

b) Vom Recht als Wert zum Recht in Fallketten

59

3. Die logisch-semantische Kritik am Typus

61

a) Von der Fallkette zur Definitionslehre

62

b) Das Bereichsmodell soll die Fallreihe ersetzen

64

4. Die Fallreihe als rationaler Kern der Typenlehre

67

a) Was ist die Empirie von Sprache?

68

b) Bedeutung existiert in Fallreihen oder Kontexten

70

B. Korpuslinguistik − eine kurze Einführung für Rechtswissenschaftler

72

I. Korpuslinguistik: Kurze Geschichte einer jungen Teildisziplin

72

II. Methoden, Software und Algorithmen der Korpuslinguistik

79

III. Korpuslinguistische Zugänge zur Rechtssprache: Juristische Sprachmuster als Indices für Sedimente juristischer Dogmatik

88

C. Die fallbezogene Begriffsentwicklung beim BAG – Der Arbeitnehmerbegriff aus korpuslinguistischer Perspektive

93

I. Zum Untersuchungsdesign

93

1. Die Datengrundlage der Untersuchung

93

2. Methodisches Vorgehen im Einzelnen

97

II. Der ›Arbeitnehmer‹-Begriff in den Sedimenten der Rechtsdogmatik

100

1. Komposita mit arbeitnehm

100

2. Explizite Prädikationen zu arbeitnehm

105

3. Cluster bzw. Mehrworteinheiten mit arbeitnehm

109

4. Kookkurrenzpartner mit arbeitnehm

111

III. Semantisches Schema und diskursive Funktion des ›Arbeitnehmers‹ – Sedimente der "herrschenden Meinung"

126

IV. Nachweis diachroner Tendenzen in der Entwicklung des ›Arbeitnehmer‹-Begriffs

129

1. Zunehmende Europäisierung des Arbeitnehmer-Begriffs?

131

2. Diachronie dogmatischer Abgrenzungsversuche

133

V. Die Bedeutung von "Arbeitnehmer" und "Arbeiter" in Medientexten

135

D. Der Widerspruch zwischen Theorie und Praxis der Gesetzesbindung im Arbeitsrecht

138

I. Was die Gerichte sagen

138

1. Die methodische Programmatik der Gerichte

138

2. Die gerichtliche Auslegungslehre

139

3. Vom Gesetz zur Gerechtigkeit

141

II. Was die Gerichte tun

146

1. Die Arbeit mit der Sprache

146

2. Die Arbeit mit der Wissenschaft

147

3. Die Arbeit mit Präjudizien

149

E. Gesetzesbindung trotz Lücke und Richterrecht

152

I. Ab durch die Lücke

152

1. Die Bestimmtheitslücke

153

2. Die Veränderungslücke

157

3. Die Kollisionslücke

159

4. Die Gesetzeslücke

160

5. Die Rechtslücke

163

6. Was bleibt von der Lücke?

166

II. Richtermachtrecht und Richtergesetzesrecht

167

1. Begriff des Richterrechts

168

a) Richterrecht als Überschreitung der wörtlichen Bedeutung

168

b) Gesetzesergänzendes und gesetzesverdrängendes Richterrecht

169

c) Wie ist Richterrecht zu bewerten?

170

2. Richtermachtrecht durch Unterstellung

171

a) Rechtsunterstellung

172

b) Wie ist der Normtext vorgegeben?

178

c) Die Rechtsquelle als normativer Kreislauf

179

d) Notwendiges und überschießendes Richterrecht

182

3. Richtermachtrecht durch Verbiegung

183

a) Rechtsverbiegung

184

b) Die Reduktion des Gesetzes auf den Autor

185

c) Die Reduktion des Gesetzes auf Werte

188

d) Gibt es eine Hierarchie von Kontexten?

190

4. Richtergesetzesrecht als Gesetzesbindung in Fallketten

193

a) Semantik als Fallrechtsystem

193

b) Fallrecht als Risiko für das Gesetz

196

c) Fallrecht als Chance für das Gesetz

202

d) Präjudiz als Argument

208

III. Wortlautgrenze ohne wörtliche Bedeutung

211

1. Sind Sprachregeln der Rechtsanwendung vorgeordnet?

213

2. Bedeutungsfestsetzung oder die Sprache als Beute

216

3. Bedeutungsfestlegung oder die Sprache als Überprüfungsinstanz

221

F. Schlussbetrachtung

227

I. Möglichkeiten und Grenzen korpusgestützter Zugänge zu juristischer Dogmatik

227

II. Was verrät die Korpuslinguistik dem Arbeitsrechtler?

229

1. Korpuslinguistische Software als Subsumtionsautomat?

232

2. Korpuslinguistik als Analysetool für Rechtspolitik

233

III. Im Wesentlichen frei? Begriffsbildung im Arbeitsrecht

234

Über die Autoren

236