Social & ethical issues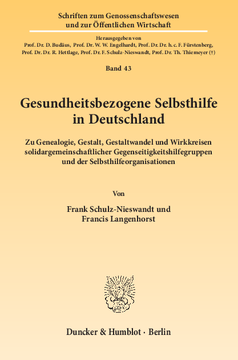 Additional Information
Book Details
ISBN

978-3-428-54679-4
978-3-428-14679-6 (print edition)

DOI

https://doi.org/10.3790/978-3-428-54679-4

Edition

1

Language

German

Pages

146

Collections

Subjects
Pricing
Institution

€ 58.00 (incl. local VAT if applicable)

Individual

€ 44.90 (incl. local VAT if applicable)
About The Author
Frank Schulz-Nieswandt, Sozialwissenschaftler; Univ.-Professur für Sozialpolitik, Methoden der qualitativen Sozialforschung und Genossenschaftswesen im Institut für Soziologie und Sozialpsychologie (ISS) an der Universität zu Köln, dort: Studiendekan; Honorarprofessur für Sozialökonomie der Pflege an der Philosophisch-Theologischen Hochschule Vallendar, derzeit Vorstandsvorsitzender des Kuratorium Deutsche Altershilfe. Er ist Ehrenvorsitzender der Gesellschaft für Sozialen Fortschritt, federführender Herausgeber der »Zeitschrift für öffentliche und gemeinwirtschaftliche Unternehmen«. Forschungsschwerpunkte: Ontologie und Anthropologie der Sozialpolitik und der genossenschaftlichen Form, Gemeinwirtschaftslehre, Altern/Gesundheit/Pflege. Francis Langenhorst arbeitet seit April 2016 als Dipl.-Gesundheitsökonomin im Seminarmanagement am Bildungsinstitut für Gesundheitsberufe im Rhein-Kreis Neuss. In der Zeit von 2011 bis 2016 war sie, nachdem sie als freiberufliche Veranstaltungsmanagerin im Gesundheitswesen tätig war, an der Universität zu Köln an der Professur für Sozialpolitik und Methoden der qualitativen Sozialforschung als Wissenschaftliche Mitarbeiterin angestellt. An der Uniklinik Aachen hat sie über zehn Jahre als Kinderkrankenschwester vor und während ihres Studiums der Gesundheitsökonomie an der Universität zu Köln gearbeitet. Seit 2010 arbeitet Sie nebenbei ferner immer wieder als Dozentin für die VWA Köln.
Abstract
Die Studie legt den Forschungsstand zur Gesundheitsselbsthilfebewegung als Teil des Dritten Sektors in Deutschland dar und berücksichtigt dabei auch die internationale Literatur. Im Rahmen einer Mehr-Ebenen-Analyse wird die Thematik auf einer Makro-, Meso- und Mikroebene entfaltet. Auf der Mikroebene werden die Selbsthilfegruppen thematisiert, die morphologisch als genossenschaftsartig definiert werden; auf der Mesoebene steht die Bedeutung des Gruppenleistungsgeschehens und der entsprechenden Förderung im Kontext sozialräumlicher Betrachtung; auf der Makroebene geht es um die verbandliche Selbstorganisation der Selbsthilfe sowie um die Beteiligung der Gesundheitsselbsthilfe an der untergesetzlichen Normierungsarbeit der gemeinsamen Selbstverwaltung der GKV. In der Wirkungsanalyse werden klinische und daseinsanalytische Perspektiven unterschieden. Die Daseinsanalyse des homo patiens verweist auf die Coping-Problematik »Wie leben mit dem Leiden?«. Ambivalenzen der Engagementförderpolitik werden angesprochen. »Health-Related Self-Help Movement in Germany«

The health-related self-help movement is important in Germany. In the context of a multi-level analysis different functionalities are to be observed: the coping-function of mutual help groups, the local role of the mutual logic (principle of reciprocity) of self-help groups and the health policy participation of the self-help organizations. Self-help groups and organizations are promoted by public financial support, not without ambivalences because of the conflict between autonomy and public control.
Table of Contents
Section Title
Page
Action
Price

Inhaltsverzeichnis

5

Orientierende Vorbemerkungen und Darlegung des Forschungszusammenhangs

7

A. Zugänge und Grundlagen

11

I. Aufgaben/Ziele der Analyse

11

Exkurs: Über die Bedeutung des anthropologischen Blicks

19

Exkurs: Laien und Professionen: Irritationen

34

II. Was meint Morphologie?

38

III. Zur Morphologie – die Nähe zu Sozialgenossenschaften

39

IV. Das Gierke'sche Referenzsystem

44

V. Terminologie-Kontroversen: mehr als ein Streit um Worte

46

Exkurs: Das Soziale – eine doppelte Semantik

47

VI. Ordnungspolitische Überformungen – von den Diskursen der 1980er/90er Jahre zu aktuellen Staatlichkeitsdebatten

51

B. Dimensionen und Aspekte einer Ambivalenzenanalyse des Feldes

55

I. Ambivalenzen im Feld

55

Exkurs: Grenzen wissenschaftlicher Wirksamkeitsforschung in diesem Feld

57

Exkurs: Strukturale Darstellung der vertikalen Ambivalenz in Verschachtelung mit den horizontalen Ambivalenzen (Grammatik der Feld-Ambivalenzen)

59

II. Wurzeln der Ambivalenzen

61

III. Selbsthilfe und Sozialraumentwicklung

63

C. Zur Wirkungsanalyse im Feld

68

I. Zur Analyse der Funktionalitäten der Gesundheitsselbsthilfegruppen mit Blick auf das Versorgungsprozessgeschehen

69

Exkurs: Eine psychodynamische Barriere der etablierten Professionen gegenüber der Laienpartizipation

73

1. Daseinsanalytische Wirkungssicht

75

2. Klinische Wirkungen

76

II. Die These der (verdeckten) Gemeinwirtschaftlichkeit von Genossenschaftsgebilden

78

III. Selbsthilfegruppen als Teil steuernder regionaler Pflegekonferenzen?

80

Exkurs: Eine sozialraumorientierte inklusive Kommune zwischen Wollen und Können

81

D. Aspekte rechtlicher Regime

85

I. Wettbewerbsrechtliche Aspekte

87

II. Sozialrechtliche Aspekte

88

E. Das Feld als empfindsame Kulturlandschaft

91

F. Zusammenfassung und Ausblick

93

I. Zusammenfassung ausgewählter Aspekte aus der Studie

94

II. Die Studie im Lichte der empirischen Befunde der anderen SHILD-Forschungs-Module

98

III. Fazit zur Ambivalenzproblematik

101

IV. Ausblick

102

Literaturverzeichnis

109

Stichwortverzeichnis

143