Company, commercial & competition law: general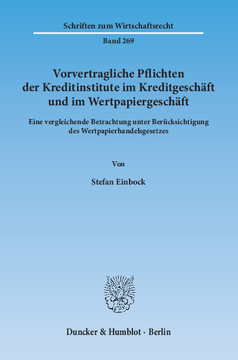 BOOK
Vorvertragliche Pflichten der Kreditinstitute im Kreditgeschäft und im Wertpapiergeschäft
Eine vergleichende Betrachtung unter Berücksichtigung des Wertpapierhandelsgesetzes
Schriften zum Wirtschaftsrecht, Vol. 269
(2015)
Additional Information
Book Details
ISBN

978-3-428-54682-4
978-3-428-14682-6 (print edition)

DOI

https://doi.org/10.3790/978-3-428-54682-4

Edition

1

Language

German

Pages

298

Collections

Subjects
Pricing
Institution

€ 104.00 (incl. local VAT if applicable)

Individual

€ 79.90 (incl. local VAT if applicable)
About The Author
Stefan Einbock studierte von 1995 bis 2000 Rechtswissenschaften an der Universität Leipzig und absolvierte in den Jahren 2000 bis 2002 sein Rechtsreferendariat beim LG Dresden. Als zugelassener Rechtsanwalt war er von 2003 bis 2006 in der Leipziger Kanzlei e/s/b Buck Rechtsanwälte mit Tätigkeitsschwerpunkt Bank- und Kapitalmarktrecht tätig, bevor er 2007 am King's College London ein Master of Laws Studium im Bereich Banking and Finance Law abschloss. Seit 2007 arbeitet er als Syndikusanwalt der DZ BANK AG, Deutsche Zentral-Genossenschaftsbank in Frankfurt am Main.
Abstract
Stefan Einbock untersucht, ob es de lege lata geboten ist, die vorvertraglichen Aufklärungspflichten von Kreditinstituten gegenüber Kreditnehmern an die entsprechenden Pflichten gegenüber Wertpapieranlegern anzugleichen. Ein Vergleich der Gemeinsamkeiten und Unterschiede sowie des Entwicklungsstands der vorvertraglichen Aufklärungspflichten beider Geschäftsfelder ergibt Parallelen hinsichtlich der Wertungen, mit denen die Pflicht zur anleger- und objektgerechten Information begründet wird. Nach Ablehnung einer Analogie zu den Wohlverhaltensregeln des WpHG untersucht und bejaht der Verfasser im Wege des Typenvergleichs und anhand der Theorie des Wertungstransfers im Ergebnis die Übertragbarkeit des für das Effektengeschäft entwickelten Richterrechts bzw. der diesem zugrunde liegenden Ordnungsgrundsätze auf vergleichbare Konstellationen im Kreditgeschäft. Rechtsänderungen infolge von MiFID, Verbraucherkreditrichtlinie und der Richtlinie über Wohnimmobilienkreditverträge wurden berücksichtigt. »Lender Liability and Liability of Financial Advisors«

The author compares German law principles of lender liability with the standard of care of financial advisors. While the German Securities Trading Act and judicial precedent established a banker's duty to know his customer and know his product when providing investment services, no comparable principles exist in the field of lending. After analysing the similarities and differences of both business types, the author considers whether a lender's duties should follow equivalent standards.
Table of Contents
Section Title
Page
Action
Price

Inhaltsverzeichnis

7

§ 1 Wirtschaftliche Bedeutung, Problemstellung und Gang der Untersuchung

13

I. Wirtschaftliche Bedeutung vorvertraglicher Aufklärungspflichten im Kreditgeschäft

13

II. Problemaufriss

16

1. Ausgangssituation

16

2. Ziel der Untersuchung

17

III. Gang der Untersuchung

18

§ 2 Abgrenzung der Themenbereiche und Erläuterung der Terminologie

19

I. Themenabgrenzung

19

II. Terminologie

20

1. Abgrenzung zwischen Aufklärung und Beratung

20

a) Aufklärungspflichten

20

aa) Unaufgefordert

22

bb) Vertragswesentliche Umstände

23

cc) Erkennbare Aufklärungsbedürftigkeit

23

(1) Informationsvorsprung

24

(2) Erkennbarkeit

26

b) Beratung

27

aa) Herkömmliche Definition

27

bb) Unterscheidung nach der Rechtsgrundlage

28

cc) Ergebnis

31

dd) Empfehlung als Untergruppe der Beratung?

31

ee) "Anlagevermittler" und "Anlageberater"

32

2. Warnpflicht?

33

3. Abgrenzung zur Auskunftspflicht

34

III. Zusammenfassung

37

§ 3 Rechtsgrundlagen der zivilrechtlichen Aufklärungs- und Beratungspflichten

38

I. Kodifizierte Informationspflichten

38

II. Rechtsgrundlage der ungeschriebenen Informationspflichten

39

1. (Beratungs-)‌Vertrag

39

2. Geschäftsverbindung

44

3. Die Lehre vom allgemeinen Bankvertrag

45

4. Gesetzliches Schuldverhältnis der Vertragsanbahnung

47

5. Vertrauenshaftung und Berufshaftung

48

6. Delikt

52

a) § 823 II BGB i.V.m. Schutzgesetz

53

b) § 826 BGB

54

III. Zusammenfassung

55

§ 4 Aufklärungs- und Beratungspflichten im Effektengeschäft

56

I. Die richterrechtlich entwickelten Pflichten

56

1. Anlegergerechte Information

59

a) Erfahrungen oder Kenntnisse des Kunden

61

b) Risikobereitschaft

62

c) Anlageziel

64

d) Finanzielle Verhältnisse

67

2. Objektgerechte Information

68

a) Allgemein

68

b) Rating

75

c) Organisationspflicht

77

d) Keine Beobachtungspflicht

78

3. Priorität des Kundeninteresses?

79

4. Form der Aufklärung

80

5. Nachforschungspflicht

83

a) Pflichtlektüre?

84

b) Umfang der Mitteilungspflicht

87

c) Adressatenkreis

89

II. § 31 WpHG

90

1. Verhältnis des § 31 WpHG zu den richterrechtlichen Aufklärungspflichten

91

a) Zivilrechtliche Anspruchsgrundlage oder Aufsichtsrecht?

91

b) Schutzgesetz i.S.d. § 823 II BGB

98

c) "Ausstrahlungswirkung"

101

2. Pflichteninhalt des § 31 III–V WpHG

103

a) Ausschluss zivilrechtlicher Aufklärungspflichten

105

aa) Disponibilität

106

bb) Verzicht auf Aufklärung

107

cc) Zwischenergebnis

109

dd) Erweiterung und Beschränkung der Pflichten durch ein Verhalten des Informationspflichtigen?

110

b) Stellungnahme

115

aa) Verweigerung der Auskünfte gem. § 31 IV, V WpHG

116

bb) Wiederholung der Befragung gem. § 31 III und IV WpHG?

118

III. Zusammenfassung

119

§ 5 Aufklärungs- und Beratungspflichten im Kreditgeschäft

120

I. Aufklärungspflichten bei Verbraucherdarlehensverträgen

120

1. § 491a BGB iVm Art. 247 EGBGB

120

a) Verbraucherkreditrichtlinie

120

b) § 491a BGB iVm EGBGB

120

aa) Mindestangabepflichten

121

bb) Erläuterungspflicht

122

2. Pflicht zur Kreditwürdigkeitsprüfung

125

3. Wohnimmobilienkreditverträge

126

a) Freiwilliger Verhaltenskodex

126

b) § 503 BGB iVm Art. 247 § 9 EGBGB

127

c) Richtlinie über Wohnimmobilienkreditverträge für Verbraucher

128

aa) Allgemeine Wohlverhaltenspflichten

129

bb) Koppelungsgeschäfte

130

cc) Allgemeine Basis-Informationen

130

dd) Vorvertragliche Informationen

131

ee) Angemessene Erläuterungen

132

ff) Spezielle Pflichten für Kreditvermittler

133

gg) Kreditwürdigkeitsprüfung

134

hh) Beratungsdienstleistungen

134

Zusammenfassung

135

4. Verhältnis der neuen vorvertraglichen Informationspflichten zu den richterrechtlichen Aufklärungspflichten

135

II. Aufklärungspflichten bei sonstigen Darlehensverträgen

136

1. Keine allgemeine Aufklärungspflicht

137

a) Keine allgemeine Aufklärungspflicht über Eignung der angebotenen Kreditform und Leistungsfähigkeit des Kunden

138

b) Keine allgemeine Aufklärungspflicht über die Kreditverwendung

141

2. Ausnahmen

145

a) Aufklärungspflichten

145

aa) Schwerwiegender Interessenkonflikt

147

Zusammenfassung

150

bb) Schaffung/Begünstigung eines besonderen Gefährdungstatbestandes

151

Zusammenfassung

154

cc) Überschreiten der Kreditgeberrolle

155

Zusammenfassung

160

dd) Konkreter Wissensvorsprung

160

(1) Sachliche Reichweite

161

(2) Erkennbarkeit

161

(3) Einzelfälle

163

Zusammenfassung

179

Exkurs: Pflichtenkreistheorie

180

ee) Fünfte Fallgruppe?

181

b) Verallgemeinerungsfähigkeit der anerkannten Aufklärungspflichten

182

c) Beratungspflichten

183

III. Besondere Pflichten bei einzelnen Kreditformen

188

1. Allgemeines

188

2. Kombination von Darlehen und Kapital-Lebensversicherung

191

3. Kombination von Darlehen und Bausparvertrag

195

4. Innovative Kreditformen

196

5. Fremdwährungskredit

197

6. Aufklärungspflichten bei Existenzgründungsfinanzierung

199

IV. Zusammenfassung

202

§ 6 Kreditfinanziertes Wertpapiergeschäft (§ 2 Abs. 3a Nr. 2 WpHG)

203

I. Zivilrechtliche Pflichten

203

II. Aufsichtsrechtliche Pflichten

205

III. Rechtslage nach MiFID II

210

IV. Zusammenfassung

211

§ 7 Übertragbarkeit der Grundsätze anleger- und objektgerechter Information auf das Kreditgeschäft

212

I. Methodische Herleitung der Verpflichtung zu kreditnehmer- und objektgerechter Aufklärung bei Anbahnung von Kreditgeschäften

212

1. Rechtsfortbildung durch Auslegung/Analogie zu § 31 WpHG

212

2. Rechtsfortbildung durch Analogie zu den zivilrechtlichen Aufklärungspflichten

214

a) Rechtsfortbildung des § 242 BGB

215

b) Rechtsfortbildung innerhalb einer Fallgruppe des § 242 BGB durch Typenvergleich und Wertungstransfer

216

Exkurs: Wertungstransfer und Bindung an Richterrecht

218

c) Ausstrahlungswirkung des § 31 WpHG

219

3. Ergebnis

221

II. Fehlen einer Pflicht zur kunden- und produktgerechten Aufklärung bei Darlehensanbahnung

221

III. Gleichbehandlung von Kredit- und Wertpapiergeschäften wertungsmäßig geboten?

222

1. Meinungsstand

223

2. Gleichbehandlung von Kredit- und Effektengeschäft gem. Art. 3 I GG geboten?

226

3. Grundlegende Wertungen der Bond-Rechtsprechung

227

a) Begründung der Pflicht zu anlegergerechter Information

228

Zwischenergebnis

230

b) Begründung der Pflicht zu objektgerechter Information

230

Zwischenergebnis

232

4. Erforderlichkeit kunden- und objektgerechter Information im Kreditgeschäft

232

a) Wirtschaftliche Analyse von Kredit- und Effektengeschäft

232

aa) Stellung der Bank – Finanzintermediation

233

Zwischenergebnis

235

bb) Wirtschaftliche Betrachtung des Kreditgeschäfts

236

cc) Wirtschaftliche Betrachtung des Effektengeschäfts

237

dd) Ergebnis

238

b) Vergleich nach weiteren Kriterien

240

aa) Prägende Wirkung der Sorgfaltspflichten

240

bb) Intensität der Interessenwahrungspflicht

240

Exkurs: Intensität der gegenseitigen Beziehungen

243

cc) Einbindung in Herstellung und Vertrieb

244

dd) Risikoträchtigkeit und Komplexität

244

ee) Technische, organisatorische und finanzielle Darstellbarkeit

246

5. Zumutbarkeit einer Pflicht zu kreditnehmer- und objektgerechter Aufklärung

247

a) Wissensstand der Kreditinstitute

247

Zwischenergebnis

249

b) Maß der Inanspruchnahme von Vertrauen

249

c) Aufwand zur Erfüllung der Pflichten

249

d) Unabdingbare Pflichten

251

6. Abwägung der widerstreitenden Interessen

251

a) Wertordnung der Grundrechte

251

Zwischenergebnis

255

Exkurs: generelle Kritik des "Informationsmodells"

255

b) Subjektive Elemente

257

Zwischenergebnis

261

c) Öffentliche Interessen

261

7. Gesamtergebnis

262

8. Konkretisierung: Was bedeutet kreditnehmergerechte Aufklärung?

263

a) Pflicht zur Erforschung des Anlageziels

264

b) Pflicht zur Erforschung der Erfahrungen oder Kenntnisse

266

c) Pflicht zur Erforschung der finanziellen Verhältnisse

267

IV. Kollision zwischen Aufklärungs- und Geheimhaltungspflichten

268

1. Bankgeheimnis

269

2. Insiderinformationen

273

V. Systemgerechtigkeit erweiterter Aufklärungspflichten

274

1. Verhältnis zu § 491a BGB

274

2. Verhältnis zu § 358 III 3 BGB

277

3. Fazit

279

§ 8 Zusammenfassung der Ergebnisse in Thesen

280

Literaturverzeichnis

282

Stichwortverzeichnis

295