Company law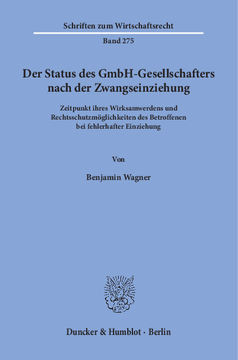 BOOK
Der Status des GmbH-Gesellschafters nach der Zwangseinziehung
Zeitpunkt ihres Wirksamwerdens und Rechtsschutzmöglichkeiten des Betroffenen bei fehlerhafter Einziehung
Schriften zum Wirtschaftsrecht, Vol. 275
(2015)
Additional Information
Book Details
ISBN

978-3-428-54760-9
978-3-428-14760-1 (print edition)

DOI

https://doi.org/10.3790/978-3-428-54760-9

Edition

1

Language

German

Pages

215

Collections

Subjects
Pricing
Institution

€ 92.00 (incl. local VAT if applicable)

Individual

€ 71.90 (incl. local VAT if applicable)
About The Author
Benjamin Wagner, LL.M., studierte Rechtswissenschaften an der WWU Münster. Die Erste Juristische Prüfung absolvierte er 2011. Anschließend verfasste er seine Dissertation. Promotionsbegleitend war Wagner tätig am Institut für Internationales Wirtschaftsrecht in Münster (Prof. Dr. Ingo Saenger), in der Rechtsanwaltskanzlei Streitbörger Speckmann in Hamm (dort im gesellschaftsrechtlichen Dezernat von Herrn RA Dr. Stephan Schmitz-Herscheidt) sowie bei Corinius LLP, Hamburg, in den Praxisgruppen Commercial und Corporate. Sein 2011 begonnenes Masterstudium (Mergers & Acquisitions) schloss er 2013 ab. Seit Anfang 2014 ist Wagner Referendar am Hanseatischen Oberlandesgericht Hamburg.
Abstract
Obwohl die Zwangseinziehung von GmbH-Geschäftsanteilen die Gerichte und Wissenschaft seit Jahrzehnten beschäftigt, sind immer noch Fragen offen. So ist bislang ungeklärt, wann und unter welchen Voraussetzungen die Amortisation wirksam wird und welchen Status der Betroffene anschließend, insbesondere bis zu einem rechtskräftigen obsiegenden Urteil, innehat.

Der Autor schließt diese Lücke, indem er zunächst untersucht, ob nach der Novellierung des GmbHG durch das MoMiG die Einhaltung des Konvergenzgebots eine Wirksamkeitsvoraussetzung der Zwangseinziehung ist. Dies verneinend widmet er sich sodann der Abhängigkeit von der Abfindungszahlung. Wagner belegt, dass die Rechtsfolgen der Zwangseinziehung unmittelbar mit Zugang der Beschlussmitteilung eintreten, es auf die Leistung der Abfindung weder bei anfänglicher noch nachträglicher Unterdeckung ankommt. Bezüglich des Status des betroffenen Gesellschafters zeigt er die Bedeutung der Gesellschafterliste und des einstweiligen Rechtsschutzes auf. »Shareholder's status after compulsory redemption of shares in the German Limited Liability Company (GmbH)«

According to Section 34 German Limited Liability Companies Act (GmbHG), shares may be redeemed without the consent of the person entitled under certain circumstances. When and under what conditions the compulsory redemption is taking effect and what status the concerned shareholder holds then, has not been elucidated. The present study answers these dogmatically and because of the wide spread of such clauses as well as actually quite important questions.
Table of Contents
Section Title
Page
Action
Price

Vorwort

7

Inhaltsverzeichnis

11

§ 1 Einführung

17

I. Untersuchungsgegenstand

18

II. Gang der Arbeit

19

Erster Teil: Grundlagen

21

§ 2 Das Institut der Zwangseinziehung

21

I. Historische Entwicklung

22

1. Entstehungsgeschichte des § 34 Abs. 2 GmbHG

22

a) Vom Gesetzesentwurf bis zur ersten Lesung im Reichstag

23

b) Die Beratung in der Kommission

23

c) Von der zweiten Lesung im Reichstag bis zum Inkrafttreten des GmbHG

24

2. Änderungsbestrebungen

25

II. Telos der Zwangseinziehung

26

1. Sinn und Zweck des Instituts der Zwangseinziehung

26

2. Telos der gesetzlichen Regelung in § 34 Abs. 2 GmbHG

27

III. Tatbestandliche Voraussetzungen

28

1. Satzungsregelung

29

a) Zulassung der Zwangseinziehung

29

b) Zwangseinziehungsgründe

30

aa) Zulässigkeit der Zwangseinziehung "aus wichtigem Grund"

31

bb) Anforderungen an den "wichtigen Grund"

32

2. Gesellschafterbeschluss

34

a) Beschlusskompetenz

34

b) Beschlussverfahren (speziell Stimmrecht des Betroffenen)

34

c) Beschlussinhalt

36

3. Einziehungserklärung gegenüber dem Gesellschafter

37

a) Erfordernis einer gesonderten Beschlussmitteilung

37

b) Zuständiges Organ

39

4. Kapitalschutz

39

a) Kapitalaufbringung

40

b) Kapitalerhaltung

40

IV. Rechtsfolgen für den Anteilsberechtigten

42

1. Vernichtung des Geschäftsanteils

42

a) Rechtslage bis zum MoMiG

42

b) Rechtslage nach Inkrafttreten des MoMiG

43

aa) Meinungsstand

44

(1) GmbH erwirbt eingezogenen Geschäftsanteil als eigenen

44

(2) Untergang des Geschäftsanteils

44

bb) Stellungnahme

45

(1) Wortlaut von § 34 GmbHG

45

(2) Wille des Gesetzgebers

46

(3) Systematik

47

(4) Telos von § 34 GmbHG

48

cc) Ergebnis

49

2. Abfindungsanspruch des Anteilsberechtigten

49

§ 3 Konkurrierende Rechtsbehelfe

51

I. Auflösung der Gesellschaft

51

II. Kaduzierung

52

III. Preisgaberecht der GmbH

54

IV. Zwangsabtretung

54

V. Ausschluss im engeren Sinne

55

1. Ausschließungsklage

56

2. Ausschließung per Beschluss

57

VI. Kapitalherabsetzung

58

Zweiter Teil: Zeitpunkt des Wirksamwerdens der Zwangseinziehung

59

§ 4 Einhaltung des Konvergenzgebots als Wirksamkeitsvoraussetzung?

60

I. Entstehen einer Divergenz

60

1. Divergenz als bloßes Scheinproblem?

60

2. Stellungnahme

61

II. Bedeutung der Divergenz für den Einziehungsbeschluss

63

1. Stand der Diskussion

63

a) Nichtigkeit des Einziehungsbeschlusses

64

b) (Aufschiebend) bedingte Wirksamkeit des Beschlusses

66

c) Vorläufige Wirksamkeit des Einziehungsbeschlusses

66

d) Anfechtbarkeit des Einziehungsbeschlusses

67

e) Rechtmäßigkeit des Einziehungsbeschlusses

67

2. Stellungnahme

68

a) Anwendungsbereich von § 5 Abs. 3 S. 2 GmbHG

68

aa) Grammatikalische Auslegung

68

bb) Bedeutungszusammenhang der Norm

69

cc) Wille des Gesetzgebers

70

dd) Telos von § 5 Abs. 3 S. 2 GmbHG

78

ee) Zwischenergebnis

80

b) Kritik an Nichtigkeitslösung

81

aa) Kein Verstoß gegen § 134 BGB

81

(1) Mangelnde Anwendbarkeit von § 134 BGB auf Beschlüsse

81

(2) Tatbestandsvoraussetzungen von § 134 BGB

83

(a) Verstoß gegen Verbotsgesetz

83

(b) Nichtigkeitsfolge

84

(3) Zwischenergebnis

87

bb) Keine Nichtigkeit aufgrund mangelnder Gestaltungsmacht

87

cc) Kein Nichtigkeitsgrund i.S.d. § 241 AktG analog

88

(1) § 241 Nr. 3 AktG

88

(a) Unvereinbarkeit mit dem Wesen der GmbH

89

(b) Verstoß gegen eine die Gläubiger oder sonst ein öffentliches Interesse schützende Vorschrift

89

(2) § 241 Nr. 4 AktG

90

dd) Zwischenergebnis

90

c) Wider der Suspensivbedingung

91

d) Kritik an der bloß vorläufigen Wirksamkeit des Beschlusses

91

III. Ergebnis

93

§ 5 Abfindungszahlung als Wirksamkeitserfordernis?

94

I. Das Auszahlungsverbot aus §§ 34 Abs. 3, 30 Abs. 1 GmbHG

94

1. Persönlicher Anwendungsbereich des Auszahlungsverbots

95

2. Rechtsfolge eines Verstoßes

96

II. Der Interessenkonflikt

96

1. Gläubigerinteresse am Erhalt des Haftkapitals der GmbH

96

2. Abfindungs- und Sicherungsinteresse des Betroffenen

97

3. Fortsetzungsinteresse der verbliebenen Gesellschafter

97

4. Bestandsinteresse der GmbH

98

III. Interessenausgleich

98

1. Nachträgliche Unterdeckung

99

a) Die Entscheidung des Reichsgerichts aus dem Jahre 1933

100

b) Der Bundesgerichtshof zur Ausschließung mittels Klage

100

c) Aufschiebend bedingte Wirksamkeit ("Bedingungslehre")

101

d) Sofortige Wirksamkeit der Zwangseinziehung

103

e) Stellungnahme

105

aa) Fehlende gesetzliche Grundlage

105

bb) Kein Anhaltspunkt in den Gesetzesmaterialien

107

cc) Dogmatischer Widerspruch

108

dd) Kein Vorrang des Abfindungsinteresses

109

(1) Fehlende Übertragbarkeit von BGHZ 9, 157ff.

109

(2) Völliges Ausblenden des Fortsetzungsinteresses

111

(3) Entstehen eines unzumutbaren Schwebezustandes

112

(4) Überschießende Tendenz

114

(5) Keine überragende Schutzbedürftigkeit des Abfindungsinteresses

115

f) Zwischenergebnis

116

2. Anfängliche Unterdeckung

118

a) Meinungsstand

118

b) Stellungnahme

120

aa) Kein Verstoß gegen gläubigerschützende Vorschrift

121

(1) Fehlende "Auszahlung" im Sinne des § 30 Abs. 1 S. 1 GmbHG

121

(2) Gläubigerschädigende Weisung als Tatbestandsmerkmal

124

(3) Unzulässige Einordnung als Gläubigerschutzproblem

125

(4) Zwischenergebnis

125

bb) Vereinbarkeit mit Wesen der GmbH

125

c) Zwischenergebnis

126

IV. Ergebnis

127

Dritter Teil: Gerichtlicher Rechtsschutz

128

§ 6 Rechtsschutz im Hauptsacheverfahren

128

I. Der fehlerhafte Einziehungsbeschluss

129

1. Allgemeine Erwägungen zum GmbH-Beschlussmängelrecht

129

2. Übertragung auf Einziehungsbeschlüsse

130

a) Nichtige Einziehungsbeschlüsse

132

aa) Einberufungsmängel

133

bb) Nichtvereinbarkeit mit dem Wesen der GmbH

133

cc) Verstoß gegen gläubigerschützende Vorschriften

134

(1) §§ 34 Abs. 3, 30 Abs. 1 GmbHG

135

(2) § 64 S. 3 GmbHG

135

(3) Einziehung eines nicht voll eingezahlten Geschäftsanteils

135

dd) Inhaltlicher Verstoß gegen die guten Sitten

137

ee) Heilung der Nichtigkeit

137

b) Anfechtbare Einziehungsbeschlüsse

138

aa) Satzungswidrige Zwangseinziehung

138

bb) Weitere Anfechtungsgründe

139

cc) Keine Anfechtbarkeit bei Unterdeckung

140

3. Gerichtliche Geltendmachung

141

a) Analoge Anwendung der §§ 246ff. AktG

141

b) Übertragbarkeit auf die Zwangseinziehung

142

aa) Anfechtungsklage

143

(1) Anfechtungsbefugnis des Betroffenen nach Einziehung

143

(2) Anfechtungsfrist

144

(3) Passivlegitimation und zuständiges Gericht

145

bb) Nichtigkeitsklage

146

cc) Darlegungs- und Beweislast

146

II. Die unwirksame Zwangseinziehung

148

III. Ergebnis

149

§ 7 Einstweiliger Rechtsschutz

150

I. Zeitraum vor Beschlussfassung

151

1. Untersagung der Beschlussfassung

151

a) Statthaftigkeit einstweiligen Rechtsschutzes

152

aa) Meinungsstand

152

bb) Stellungnahme

153

(1) Zulässige Hauptsachevorwegnahme

153

(2) Wider den Einwand des Eingriffs in die Verbandsautonomie

154

(3) Schutz der Mitgesellschafter durch vorläufigen Rechtsschutz

155

cc) Zwischenergebnis

156

b) Materiell-rechtliche Begründetheit des Antrages

156

aa) Verfügungsanspruch

156

bb) Verfügungsgrund

157

c) Ergebnis

159

2. Verhinderung der Gesellschafterversammlung

160

a) Verfügungsanspruch

160

b) Verfügungsgrund

161

c) Ergebnis

162

II. Untersagung des Vollzugs des Einziehungsbeschlusses

162

III. Schadensersatzpflicht des Betroffenen

164

IV. Ergebnis

165

Vierter Teil: Status des Betroffenen nach der Zwangseinziehung

166

§ 8 Materiell-rechtliche Gesellschafterstellung

166

§ 9 Formale Gesellschafterstellung

168

I. Legitimationswirkung der Gesellschafterliste

168

II. Wegfall der Legitimationswirkung in Folge der Einziehung

169

1. Einziehung als Veränderung i.S.d. § 16 Abs. 1 S. 1 GmbHG

169

2. Kompetenz zur Listeneinreichung und Voraussetzungen

170

3. Prüfungspflicht des Geschäftsführers

171

4. Ende der Legitimationswirkung durch Löschung aus Liste

173

III. Ergebnis

173

§ 10 Status bis zum rechtskräftigen obsiegenden Urteil

173

I. (Rückwirkende) Nichtigkeit als gesetzliche Ausgangslage

174

II. Korrektur über die Anwendung der Grundsätze der fehlerhaften Gesellschaft?

175

III. Stellungnahme

176

1. Rechtsprechung

176

2. Unanwendbarkeit der "Lehre der fehlerhaften Gesellschaft"

178

3. Interessenwidrigkeit der ex nunc-Wirkung

180

4. Umgehung der Wertung von §§ 241ff. AktG

182

5. Kein erhöhter Bestandsschutzbedarf der Gesellschaft

183

IV. Eigener Lösungsvorschlag

184

1. § 16 Abs. 1 S. 1 GmbHG als Ausgangslage

184

a) Die Legitimationswirkung der Listenlage

185

b) Entfall der Legitimationswirkung

185

2. Bedeutung des einstweiligen Rechtsschutzes

187

a) Zeitraum vor Einreichung der geänderten Liste

187

aa) Verfügungsanspruch

188

bb) Verfügungsgrund

188

b) Zeitraum nach Einreichung der geänderten Liste

190

V. Ergebnis

191

Fünfter Teil: Zusammenfassung der Ergebnisse in Thesen, Fazit und Ausblick

192

§ 11 Zusammenfassung der Ergebnisse in Thesen

192

§ 12 Fazit und Ausblick

195

Literaturverzeichnis

197

Stichwortverzeichnis

211