Criminal law: procedure & offences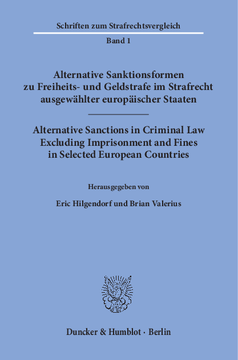 Additional Information
Book Details
ISBN

978-3-428-54711-1
978-3-428-14711-3 (print edition)

DOI

https://doi.org/10.3790/978-3-428-54711-1

Edition

1

Language

German

Pages

167

Collections

Subjects
Pricing
Institution

€ 80.00 (incl. local VAT if applicable)

Individual

€ 62.90 (incl. local VAT if applicable)
About The Author
Eric Hilgendorf habilitierte sich 1996 in Tübingen mit einer Arbeit über die Abgrenzung von Tatsachenaussagen und Werturteilen am Beispiel des Betrugstatbestands. 1997 wurde er zum Professor für Strafrecht und Nebengebiete in Konstanz ernannt. Seit 2001 ist Hilgendorf Inhaber des Lehrstuhls für Strafrecht, Strafprozessrecht, Rechtstheorie, Informationsrecht und Rechtsinformatik an der Universität Würzburg. Zu seinen Hauptarbeitsgebieten gehört das Technikrecht, insbesondere das Computer- und Internetstrafrecht, das Medizinstrafrecht sowie die juristische Grundlagenforschung. Weitere Hinweise sind zu finden unter www.rechtstheorie.de.

Brian Valerius, Jahrgang 1974, ist seit 2011 Inhaber des Lehrstuhls für Strafrecht, Strafprozessrecht und Medizinstrafrecht an der Universität Bayreuth. Er promovierte 2004 an der Julius-Maximilians-Universität Würzburg über »Ermittlungen der Strafverfolgungsbehörden in den Kommunikationsdiensten des Internet.« 2009 habilitierte er sich ebendort mit einer Arbeit über »Kultur und Strafrecht. Die Berücksichtigung kultureller Wertvorstellungen in der deutschen Strafrechtsdogmatik«. Außer dem Medizinstrafrecht zählen zu seinen Forschungsinteressen vor allem internationale und interkulturelle Fragestellungen anlässlich neuer Herausforderungen aus dem materiellen Strafrecht und Strafverfahrensrecht.
Eric Hilgendorf is professor of law at the Julius-Maximilians-Universität Würzburg and chairman of the Department of Criminal Law, Criminal Justice, Legal Theory, Information and Computer Science Law. He holds a degree in philosophy, modern history, and law at the University of Tübingen (BA/MA equivalent), attained a PhD in philosophy for a work entitled »Argumentation in Jurisprudence« and a PhD iur. in law for a work entitled »Criminal Law Liability for Producers in the Society of Risk«. In 1996 Hilgendorf habilitated in the fields of criminal law, criminal procedure, and legal philosophy with the publication »On the Distinction between Statements of Facts and Statements of Norms in Criminal Law«. From 2010 to 2012 he has served as the Dean of the Law Faculty in Würzburg.
Abstract
Der Tagungsband »Alternative Sanktionsformen zu Freiheits- und Geldstrafe im Strafrecht ausgewählter europäischer Staaten« enthält die Vorträge, die auf dem gleichnamigen internationalen Symposium junger Strafrechtswissenschaftlerinnen und Strafrechtswissenschaftler in Bayreuth im September 2014 gehalten wurden. Sechs Referentinnen und Referenten gewähren einen Einblick in das deutsche, italienische, niederländische, österreichische, schweizerische und spanische Sanktionenrecht und dessen aktuelle Entwicklung. Hierbei untersuchen sie insbesondere, ob mit Freiheits- und Geldstrafe sämtliche Möglichkeiten des Staates erschöpft sind, Straftaten zu sanktionieren, oder ob nicht andere, sinnvollere Alternativen zur Verfügung stehen. Die Beiträge sind teils in deutscher, teils in englischer Sprache verfasst. Der Tagungsband eröffnet die neue Schriftenreihe zum Strafrechtsvergleich, welche die länderübergreifende rechtswissenschaftliche Diskussion im Allgemeinen fördern und beleben soll. »Alternative Sanctions in Criminal Law Excluding Imprisonment and Fines in Selected European Countries«

The Proceedings includes texts of the presentations made at the Symposium Alternative sanctions in criminal law excluding imprisonment and fines in selected European countries (2014). The contributions of six international experts – some in English and some in German – examine from the perspectives of German, Italian, Dutch, Austrian, Swiss, and Spanish criminal sentencing law – whether there are other, more expedient criminal sanctions than fines or imprisonment available to the State.
Table of Contents
Section Title
Page
Action
Price

Geleitwort zur Schriftenreihe

5

Vorwort

7

Inhaltsverzeichnis

9

Laura Peters: Dutch Alternatives to Imprisonment and Fines

11

Abstract

11

I. Introduction

11

II. The Dutch Sanctions-System

12

1. Origins of the Dutch Sanctions-System

12

2. Three Main Characteristics of the Dutch Sanctions-System

14

a) A Double-Track System

14

b) Wide Judicial Sentencing Discretion

15

c) Prosecutorial Convictions and Sentencing Power

16

III. Alternatives to Imprisonment and Fines for Adult Offenders

16

1. The Suspended Sentence

17

2. Community Service and Court-Ordered Education

18

3. Accessory Penalties

20

4. Measures

21

a) Psychiatric Hospital Order

21

b) The Entrustment Order for Dangerous Offenders

22

c) The Persistent Offender Detention Order

24

d) The Order to Relinquish All Dangerous Criminal Instruments

25

e) Restorative Measures

25

f) Restraining Orders

25

IV. Alternatives to Imprisonment and Fines for Juvenile Offenders

26

1. Brief Historical Overview

26

2. Alternative Penalties

29

a) Suspended Sentence

29

b) Community Service and Court-Ordered Education

29

3. Measures

31

a) Committal to an Institution for Juveniles

31

b) Behavioral Measure

31

c) Restraining Orders

32

V. Concluding Observations

33

Christoph Zehetgruber: Spezifika des deutschen Sanktionenrechts

37

Zusammenfassung

37

I. Einführung

37

II. Schuldprinzip und Sanktionshöhe

38

III. Zwei- oder Dreispurigkeit des deutschen Sanktionenrechts?

39

IV. Zur Differenzierung der Strafarten – Haupt-‍, Nebenstrafen sowie Nebenfolgen

42

V. Besonderheiten und Alternativen der Sanktionierung im Jugendstrafrecht

45

1. Grundsätzliches

45

2. Das jugendstrafrechtliche Sanktionensystem in seiner Gesamtheit

47

3. Die jugendstrafrechtlichen Reaktionsmöglichkeiten in der Einzeldarstellung

48

a) Täter-Opfer-Ausgleich nach § 45 Abs. 2 S. 2 JGG und Absehen von der Verfolgung durch die Staatsanwaltschaft

48

b) "Diversion" als informelle Reaktion auf Jugendkriminalität

49

aa) Folgenlose Einstellung

50

bb) Einstellung nach Durchführung erzieherischer Maßnahmen

51

cc) Einstellung nach formlosem, jugendrichterlichen Erziehungsverfahren im Sinne des § 45 Abs. 3 JGG

52

dd) Einstellung nach Anklageerhebung

53

ee) Bedeutung der informellen Erledigung für die Sanktionspraxis

53

c) Erziehungsmaßregeln

54

Weisungen

55

d) Zuchtmittel

56

aa) Verwarnung

56

bb) Auflagen

57

cc) Jugendarrest

59

e) Jugendstrafe

60

f) Zusammenfassung

61

VI. Exkurs: Das Ringen um eine "echte Verbandsstrafe" in Deutschland

62

VII. Schluss

64

Viktoria Moser: Besonderheiten des österreichischen Sanktionenrechts

67

Zusammenfassung

67

I. Einleitung

67

II. Strafen

68

1. Freiheitsstrafe

68

2. Geldstrafe

69

III. Vermögensrechtliche Anordnungen

71

1. Konfiskation

71

2. Verfall

73

IV. Vorbeugende Maßnahmen

76

1. Einziehung

76

2. Vorbeugende Maßnahmen mit Freiheitsentzug

77

V. Diversion

79

1. Rücktritt von der Verfolgung nach Zahlung eines Geldbetrages

80

2. Rücktritt von der Verfolgung nach gemeinnützigen Leistungen

81

3. Rücktritt von der Verfolgung nach einer Probezeit

82

4. Rücktritt von der Verfolgung nach einem Tatausgleich

83

5. Kronzeugenregelung

85

VI. Verbandsverantwortlichkeitsgesetz

86

VII. Der elektronisch überwachte Hausarrest als Vollzugsalternative bei Freiheitsentzügen

88

Juan Carlos Ortiz Pradillo: Alternative Sanctions in Spanish Criminal Law, Excluding Imprisonment and Fines: Present and Future

93

Abstract

93

I. General Introduction: the Spanish Criminal Justice

93

II. The General System of Sanctions in Spain

95

Classification of Sanctions

99

III. Alternative Forms of Execution of Prison Sentences

100

1. Suspension of the Execution of Liberty-Depriving Penalties

103

2. Substitution of the Prison or Liberty-Depriving Penalties

107

IV. Community Services in Spain

109

Community Services Programs

111

V. Future Reforms in Spain

112

1. Hardening of Certain Penalties: Revisable Life Imprisonment in Spain

112

2. Principle of Opportunity (Discretionary Power) and Mediation in Criminal Proceedings

113

Cathrine Konopatsch: Geht es auch anders? Das Sanktionenrepertoire neben Freiheits- und Geldstrafe im Erwachsenenstrafrecht der Schweiz

117

Zusammenfassung

117

I. Einleitung: Von Sanktionsarmut zur Sanktionsvielfalt – und wieder zurück (?)

117

II. Das strafrechtliche Sanktionensystem der Schweiz in Recht und Praxis

120

1. Überblick

120

2. (Teil)‌Bedingte Nachsicht der Strafen

126

3. Die Verbindungsstrafe im Sinne des Art. 42 Abs. 4 StGB

127

4. Gesetzliche Sanktionenvielfalt und die Praxis

129

III. Alternativsanktion zu Geld- und Freiheitsstrafe: Die gemeinnützige Arbeit

131

1. Kriminalpolitischer Hintergrund und Zweck der gemeinnützigen Arbeit als eigenständige Hauptstrafe

131

2. Voraussetzungen und Inhalt

133

3. (Teil)‌Bedingte Nachsicht und Verbindungsstrafe

140

4. Die gemeinnützige Arbeit im Übertretungsstrafrecht

141

5. Vollzug der gemeinnützigen Arbeit

142

6. Die gemeinnützige Arbeit in der Praxis

143

7. Aktuellste Reformvorhaben

145

IV. Ausblick

147

Attilio Nisco: Alternativen zur Strafe im italienischen Recht

151

Zusammenfassung

151

I. Einführung

151

II. Der Begriff "Alternativen zur Strafe"

151

III. Grundzüge des italienischen Sanktionssystems

152

1. Ursprüngliche Regelung des Codice Rocco und republikanische Verfassung

152

2. Erweiterung des Anwendungsbereichs der bedingten Strafaussetzung

153

3. Einfluss sog. "besonderer Verfahren"

154

IV. Die wichtigsten alternativen Sanktionsformen

154

1. Alternative Maßnahmen zur Freiheitsstrafe des Strafvollzugsrechts ("misure alternative alla detenzione" gemäß Gesetz Nr. 354/1975)

154

2. Die "Überlassung zur Betreuung auf Probe an den Sozialdienst"

156

3. Ersatzsanktionen für kurze Freiheitsstrafen ("sanzioni sostitutive delle pene detentive brevi" gemäß Gesetz Nr. 689/1981)

157

4. Die strafrechtliche Zuständigkeit des Friedensrichters (gesetzvertretende Verordnung Nr. 274/2000)

158

5. Alternative Sanktionsformen für besondere Täter

159

V. Die jüngsten Reformen

160

1. Überfüllung der Gefängnisse

160

2. Rechtsprechung des Europäischen Gerichtshofes für Menschenrechte

160

3. Reformen aus den Jahren 2010 bis 2013

161

4. Geplante Reform des Sanktionssystems

162

VI. Fazit

163

Autorenverzeichnis

165