Criminal law: procedure & offences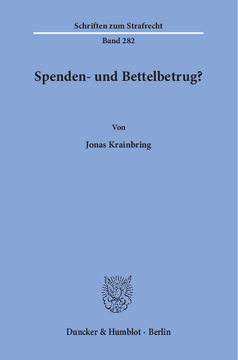 BOOK
Cite BOOK
Style
---
Krainbring, J. (2015). Spenden- und Bettelbetrug?. Duncker & Humblot. https://doi.org/10.3790/978-3-428-54502-5
Krainbring, Jonas. Spenden- und Bettelbetrug?. Duncker & Humblot, 2015. Book. https://doi.org/10.3790/978-3-428-54502-5
Krainbring, J (2015): Spenden- und Bettelbetrug?, Duncker & Humblot, [online] https://doi.org/10.3790/978-3-428-54502-5
---
Format
---
Spenden- und Bettelbetrug?
Schriften zum Strafrecht, Vol. 282
(2015)
Additional Information
Book Details
ISBN

978-3-428-54502-5
978-3-428-14502-7 (print edition)

DOI

https://doi.org/10.3790/978-3-428-54502-5

Edition

1

Language

German

Pages

222

Collections

Subjects
Pricing
Institution

€ 92.00 (incl. local VAT if applicable)

Individual

€ 69.90 (incl. local VAT if applicable)
About The Author
Jonas Krainbring, geb. 1983, ist Rechtsanwalt in Freiburg. Er hat von 2003 bis 2008 in Freiburg studiert und dort von 2008 bis 2010 sein Referendariat absolviert. Im Anschluss hieran war er bis 2013 als wissenschaftlicher Mitarbeiter am Lehrstuhl für Kriminologie und Wirtschaftsstrafrecht der Universität Freiburg als wissenschaftlicher Mitarbeiter von Herrn Professor Dr. Roland Hefendehl angestellt. Hierbei lag der besondere Tätigkeitsfokus auf dem Betrugsstrafrecht, worin der Autor auch 2014 promoviert wurde. Aktuell beschäftigt er sich vor allem mit den rechtlichen Fragen im Rahmen des Betriebs von Geldspielautomaten. Zudem ist er aktives Mitglied des Musikernetzwerks Omaha Records.
Abstract
Die Untersuchung befasst sich mit der Frage nach der Strafbarkeit des sogenannten Spenden- und Bettelbetrugs. Hierbei gibt sie zunächst einen umfassenden Überblick über die Vielfalt der bestehenden Ansichten. Vor allem aber bietet sie mit der objektiven Zurechnung und dort der Figur der eigenverantwortlichen Selbstschädigung einen Lösungsweg an, der die Verwendung ungeschriebener Tatbestandsmerkmale vermeidet und so versucht, eine klare Dogmatik zu fördern. Da das geschützte Rechtsgut des Betrugs allein im Vermögen gesehen wird und dem Spender auch bei einer Täuschung des Spendensammlers über den Verwendungszweck der Spende die eintretende Vermögensminderung stets bewusst ist – eine Kompensation durch Erreichung des Spendenzwecks wird abgelehnt –, wird eine Spende stets als eigenverantwortliche Selbstschädigung bewertet. Der Spendenbetrug wird somit entgegen der herrschenden Meinung nicht unter § 263 StGB subsumiert. Stattdessen wird eine Lösung über das UWG angeboten.»Charity Fraud?«For about one hundred years there have been discussions going on about how to deal with the so called charity fraud under German criminal law. While cunsensus appears to be that this behavior should be punished as fraud there is no common reasoning why. This paper tries to analyze the different argumentations and then goes on to try and find a solution that both is easy to comprehend and can be neatly integrated into the prevalent penal dogmatics.
Table of Contents
Section Title
Page
Action
Price

Vorwort

5

Inhaltsverzeichnis

7

A. Einleitung

11

I. Thema und Ziel der Arbeit

11

II. Darstellung

13

III. Anforderungen an eine Lösung

15

IV. Einführung in die Problematik

18

V. Gutachtenaufbau

20

B. Darstellung grundlegender Entscheidungen

22

I. BayObLG NJW 1952, 798

22

II. OLG Köln NJW 1979, 1419

22

III. OLG Düsseldorf NJW 1990, 2397

23

IV. LG Osnabrück MDR 1991, 468

23

V. BGH NJW 1995, 539

24

C. Das geschützte Rechtsgut beim Betrug

25

I. Relevanz für die weitere Untersuchung

25

II. Ermittlung des geschützten Rechtsguts

25

1. Vermögen

26

2. Dispositionsfreiheit

26

3. Recht auf Wahrheit

27

4. Treu und Glauben im Geschäftsverkehr/Sicherheit des Rechtsverkehrs

29

III. Ergebnis

30

D. Der Vermögens- und Schadensbegriff

31

I. Relevanz für die weitere Untersuchung

31

II. Der anzuwendende Vermögensbegriff

32

1. Juristischer Vermögensbegriff

32

2. Wirtschaftlicher Vermögensbegriff

33

a) Kommerzialisierung des angestrebten Zwecks

34

aa) Prestige und "warm glow"

34

bb) Hack / Gerhold

37

b) Stellungnahme

39

c) Folgen für den Spendenbetrug

42

3. Juristisch-ökonomischer Vermögensbegriff

42

4. Personaler Vermögensbegriff

43

5. Normativ-ökonomischer / integrierter Vermögensbegriff

44

6. Intersubjektiver Vermögensbegriff (Hoyer)

45

7. Funktionaler Vermögensbegriff (Kindhäuser)

46

8. Zwischenergebnis

47

III. Der anzuwendende Schadensbegriff

48

1. Juristischer (subjektiver) Schadensbegriff

48

2. Personaler Schadensbegriff

49

3. Intersubjektiver Schadensbegriff (Hoyer)

51

4. Intersubjektiver Schadensbegriff (Kindhäuser)

52

5. Materialer Schadensbegriff (Cramer)

53

6. Objektiver / objektiv-individueller Schadensbegriff

54

7. Stellungnahme

56

IV. Ergebnis

74

E. Tatspezifische Sonderprobleme

75

I. Täuschung trotz ausdrücklich richtiger Angaben

75

II. Beachtlichkeit der Verwaltungskosten des Spendensammlers

79

1. Maximale Kostenhöhe

80

2. Täuschung über die Kostenhöhe

82

3. Ergebnis

83

III. Zweifel als Irrtum

83

1. Grad des Zweifels

84

2. Folgen für den Spendenbetrug (im engeren Sinne)

90

3. Folgen für den Bettelbetrug

90

IV. Kein Schaden aufgrund möglicher Vertragsbeseitigung

91

1. Kompensation durch Anfechtungsrecht

91

2. Kompensation durch Widerrufsrecht

92

3. Bestehen eines zivilrechtlichen Widerrufsrechts

93

4. Ergebnis

95

F. Behandlung des Spendenbetrugs in Rechtsprechung und Literatur

96

I. Einführung in die Darstellung

96

II. Selbstschädigung und Zweckverfehlung

97

1. Erfordernis einer unbewussten Selbstschädigung

97

a) Darstellung der Ansichten

97

b) Kritik

100

c) Ergebnis

106

2. Die Zweckverfehlungslehre

106

a) Inhalt der Zweckverfehlungslehre und Begründungsansätze

107

b) Verfassungswidrigkeit der Zweckverfehlungslehre?

109

c) Kritik an der Zweckverfehlungslehre

115

d) Ergebnis

123

III. Systematisierung der diskutierten Ansätze

124

1. Unproblematische Annahme eines Betrugs

124

2. Ansätze über die Täuschung

125

a) Darstellung der Ansätze

125

b) Kritik

131

3. Regressverbot

136

4. Einschränkung über den Kreis der geschützten Verfügungen

138

5. Ansätze über den Schadensbegriff

141

6. Ansätze über die Zurechnung des Schadens

146

IV. Zusammenfassung

151

G. Eigener Ansatz

152

I. Täuschung

153

II. Irrtum

154

III. Schaden

155

1. Betrugsrelevante Vermögensminderung (Vermögensverfügung)

155

2. Ausbleiben einer hinreichenden Kompensation

156

IV. Objektive Zurechnung des Schadens

157

1. Grundsätzliche Anwendbarkeit der Figur der objektiven Zurechnung

158

2. Abweichende Regelung durch den Gesetzgeber

159

3. § 263 StGB als von der objektiven Zurechnung abweichende Norm

162

4. Schutz (auch) der Dispositionsfreiheit

164

5. Objektive Zurechenbarkeit des Erfolgs beim Spendenbetrug

165

a) Eigenverantwortlichkeit des Opfers

166

b) Mittelbare Täterschaft des Täters-hinter-dem-Täter

176

6. Ergebnis bezüglich der objektiven Zurechnung

176

V. Keine Betrugsstrafbarkeit des sog. Spendenbetrugs

177

VI. Systematische und kriminalpolitische Kontrolle des Ergebnisses

177

1. Systematische Kontrolle

177

2. Kriminalpolitische Kontrolle

178

a) Erfassung durch die Sammlungsgesetze

178

b) Erfassung durch Untreue

180

c) Erfassung durch das UWG

181

d) Ergebnis

188

3. Ergebnis der Kontrolle

188

H. Zusammenfassung der Ergebnisse

190

Literaturverzeichnis

196

Sachverzeichnis

219