Procurement law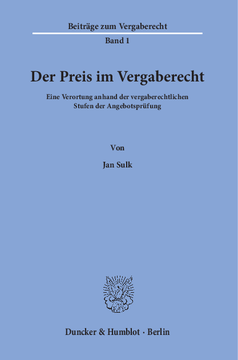 BOOK
Der Preis im Vergaberecht
Eine Verortung anhand der vergaberechtlichen Stufen der Angebotsprüfung
Beiträge zum Vergaberecht, Vol. 1
(2015)
Additional Information
Book Details
ISBN

978-3-428-54596-4
978-3-428-14596-6 (print edition)

DOI

https://doi.org/10.3790/978-3-428-54596-4

Edition

1

Language

German

Pages

264

Collections

Subjects
Pricing
Institution

€ 92.00 (incl. local VAT if applicable)

Individual

€ 71.90 (incl. local VAT if applicable)
About The Author
Jan Rolf Sulk studierte von 2003 bis 2008 an der Universität Trier Rechtswissenschaft und schloss das Studium mit der Ersten Juristischen Prüfung ab. Hiernach absolvierte er das Referendariat im Bezirk des Oberlandesgerichts Koblenz, welches er mit dem zweiten Staatsexamen 2010 abschloss. Im Anschluss daran studierte er Verwaltungswissenschaften an der Deutschen Universität für Verwaltungswissenschaften Speyer mit Abschluss des Magisters im Jahr 2011. Hieran knüpfte das Promotionsstudium mit der Arbeit »Der Preis im Vergaberecht« (Betreuer Prof. Dr. Jan Ziekow) an. Jan Rolf Sulk arbeitet als Justiziar bei der AOK Rheinland/Hamburg.
Abstract
Der Begriff des Preises ist im Vergaberecht häufig Ausgangspunkt einer Diskussion über Möglichkeiten, Pflichten und Rechte der Bieter und Auftraggeber im Umgang mit Vergabeunterlagen und Angeboten. Diskutiert werden beispielsweise der Umfang der Preisangaben im Angebot oder der Preis als Eignungs- und Wertungskriterium. Auch die Frage der Angemessenheit von Preisen und die entsprechende Prüfung auf der dritten Stufe der Angebotsprüfung ist Gegenstand vieler Kontroversen. Diese Fragen werden, verortet in der Struktur der vierstufigen Angebotsprüfung durch den Auftraggeber, im Rahmen der Arbeit behandelt. Diese versteht sich als Systematisierung bestehender Judikatur und Literatur, in der Argumentationswege zu möglichen Lösungen für die dargestellten Probleme aufgezeigt werden. »The Price in Public Procurement Law«

In public procurement law price is one of the initial points for discussions about possibilities, responsibilities and rights of bidders and purchasers in process of tender vetting. Examples for discussions in this context are the extent of prices in tenders, negotiations about the price as part of the verification of the suitability, contract award criteria or abnormally low tenders. Intent of the dissertation is to systemize existing German jurisprudence and case law in order to show solutions in discussed procurement law problems.
Table of Contents
Section Title
Page
Action
Price

Vorwort

7

Inhaltsverzeichnis

9

A. Einführung

21

B. Der Preis in der Wirtschaftswissenschaft und verschiedenen Rechtsgebieten

22

I. Der Preis in der Wirtschaftswissenschaft

22

1. Definition des Begriffes "Wirtschaftswissenschaft"

22

2. Der Begriff des Preises

23

3. Preisbildung

23

4. Preisfunktionen

24

a) Signalfunktion/Informationsfunktion

24

b) Koordinationsfunktion

24

c) Allokationsfunktion

24

d) Auslesefunktion

25

e) Preise als systemische Selbstreferenz/Selbstbeschreibung

25

II. Gesetzliche Regelungen des Preises außerhalb des Vergaberechts und ihre Begründung

25

1. Kartellrecht/Wettbewerbsrecht

26

a) Ziel des Kartellrechts

26

b) Gesetzliche Grundlagen

27

c) Behörden und Kompetenzen

28

d) Der Preis im Kartellrecht – insbes. Begriffe der "Preisbildungsfreiheit", der "Preisgestaltungsfreiheit" und des "Preismissbrauchs"

29

aa) Preisbildungsfreiheit

29

bb) Preisgestaltungsfreiheit

29

cc) Preismissbrauch/"predatory pricing"

30

2. Lauterkeitsrecht/UWG

30

a) Ziel des Lauterkeitsrechts

30

b) Gesetzliche Grundlagen

31

c) Die Durchsetzung des Lauterkeitsrechts

31

d) Der Preis im Lauterkeitsrecht in Bezug zum Preis im Vergaberecht

31

3. Haushaltsrecht

32

4. Beihilferecht

33

a) Ziel und gesetzliche Grundlagen des Beihilferechts

33

b) Behörden und deren Kompetenzen

33

c) Beihilferechtliche Regelungen und der Preis im Vergaberecht

34

5. Preisrecht

34

a) Ziel und Geschichte des Preisrechts

34

b) Gesetzliche Grundlagen und Prüfungen

35

c) Behörden und deren Kompetenzen

36

d) Zusammenhänge zwischen Preisrecht und Vergaberecht

37

III. Preis und Preisangabe: Begriffe

37

1. Preisbegriffe

37

2. Begriff der Preisangaben

39

C. Prüfungssystematik der Angebotsprüfung

41

I. Prüfungssystematik in VOL/A und VOB/A – 4-stufiger Prüfungsaufbau

41

II. Änderung aufgrund der Einfügung einer rechnerischen, technischen und wirtschaftlichen Überprüfung gemäß § 16 Abs. 3 bis 5 VOB/A 2009?

41

1. Veränderungen in der VOB/A 2009 und Rechtsfolgen

42

a) Einfügung der Abs. 3–5 in § 16 VOB/A 2009

42

b) Veränderungen aufgrund der Einfügung des § 16 Abs. 3–5 VOB/A5

42

aa) Neue Prüfungsstufe

42

bb) Prüfung der 4. Wertungsstufe in den Unterpunkten "Angemessenheit der Preise" und "Wirtschaftlichkeit"

43

cc) Trennung zwischen der Prüfung der Wertungsstufen und einer "Struktur im Umgang mit vorgelegten Angeboten"

43

dd) Abs. 3–5 als Prüfungsvorgabe für die Wertungsstufen 3 und 4

44

ee) Keine Einführung einer weiteren Prüfungsstufe

45

ff) Bewertung

45

2. Inhalte der rechnerischen, technischen und wirtschaftlichen Überprüfung

46

a) Inhalt der rechnerischen Prüfung

46

– Fehlende Plausibilität

47

b) Inhalt der technischen Prüfung

47

c) Inhalt der wirtschaftlichen Prüfung

48

III. Änderung aufgrund der Einfügung der Prüfung auf Vollständigkeit bzw. rechnerische und fachliche Richtigkeit gemäß § 16 Abs. 1 VOL/A, § 19 Abs. 1 VOL/A-EG?

48

1. Änderung der Prüfungssystematik

49

2. Inhalte der Prüfung auf Vollständigkeit, rechnerische und fachliche Richtigkeit

49

a) Prüfung auf Vollständigkeit

49

b) Prüfung der fachlichen Richtigkeit

50

c) Prüfung der rechnerischen Richtigkeit

50

– Fehlende Plausibilität

50

IV. Prüfungskanon für die VOF

51

D. Der Preis als Mindestabforderung und Mindestangabe

52

I. Die Möglichkeit des Auftraggebers, im Angebot Preise abzufordern

52

1. Gebot zur Abforderung von Preisen

53

a) Für eine Pflicht der umfassenden Abforderung von Preisen in Bezug auf wesentliche Leistungsteile

53

b) Gegen eine Pflicht der umfassenden Abforderung von Preisen in Bezug auf wesentliche Leistungsteile – insbes. Leistungsbestimmungsrecht des Auftraggebers

54

c) Ergebnis

56

2. Zwang zur Wertung der geforderten Angaben

56

3. Festlegung des Preises/des Honorars aufgrund einer Gebührenordnung

57

4. Vorgaben durch die Kalkulationsfreiheit

58

a) Begriff und Inhalt der Kalkulationsfreiheit

58

– Anknüpfung zu Preisgestaltungsfreiheit/Preisbildungsfreiheit

59

b) Auswirkungen der Kalkulationsfreiheit

59

c) Zulässigkeit von Kalkulationsvorgaben des Auftraggebers

61

d) Keine Änderung der Angaben des Bieters

62

e) Kein Zwang zur Angabe markt- oder ortsüblicher Preise

62

f) Keine Vorgabe der "tatsächlichen Bezahlung" auf der ersten Wertungsstufe

63

g) Ergebnis

64

5. Verschiedene Preisabforderungsmodelle

65

a) Preisabforderungsmodelle nach dem SGB V

65

aa) Preisrechtliche Zulässigkeit

65

bb) Preismodell nach § 129 Abs. 5 S. 3 SGB V– Rabattverträge bei Fertigarzneimitteln in der Onkologie

67

cc) Preismodelle nach § 130a Abs. 8 SGB V

67

dd) Preismodelle nach § 127 Abs. 1 SGB V

68

b) Mindestpreise und Maximalpreise

68

aa) Mindestpreise

68

(1) Unzulässigkeit der Abforderung von Mindestpreisen

68

(2) Bewertung

70

(a) Kalkulationsfreiheit

70

(b) Unzulässigkeit der Schaffung weiterer Ausschlussgründe

70

(c) Gestaltungsfreiheit des Auftraggebers

71

(d) Ergebnis

71

bb) Maximalpreise

71

cc) Vorgabe von Maximalpreisen und Mindestpreisen nach Ermittlung durch (Vor-)Ausschreibung einer Rahmenvereinbarung

72

c) Abforderung von Pauschalen und Stundensätzen statt Einheitspreisen – § 4 Abs. 1 Nr. 1 und 2 und Abs. 2 VOB/A

73

d) Gesetzliche Vorgaben

74

e) Andere Kalkulationsvorgaben

75

II. Vollständigkeit der Preisangaben im Angebot des Bieters

76

1. Begriffe

77

a) Fehlende Preise

77

b) Unvollständige Preisangaben

78

c) Widersprüchliche Preisangaben

78

2. Zulässigkeit einzelner Preisangaben

78

a) Cent-Preise (etwa 0,01 €)

79

b) Angabe von 0 €-Preisen und "keine Kosten"

79

c) Angabe von Negativpreisen

80

aa) "Fehlen" von Preisen bei Angabe von negativen Preisen

81

– Bewertung

82

bb) Änderung der Vergabeunterlagen

84

– Bewertung

84

cc) Umsatzsteuerproblematik

85

dd) Ausschluss eines negativen Preisangebotes bei Untersagung durch die Vergabeunterlagen

85

3. Fehlende Preise im Zusammenhang mit Mischkalkulationen

86

a) Unzulässige Kosten- und Preisverlagerung (Mischkalkulation)

86

b) Konnexität

88

c) Vorsatz der Bieter

90

d) Mischkalkulation durch den Nachunternehmer

90

e) Keine Mischkalkulation – Einzelfälle

91

aa) Preisnachlass

91

bb) Geringe Preisangaben

92

cc) Fehlerhafte Preisangaben aufgrund eines Kalkulationsirrtums

92

f) Mischkalkulationen als Voraussetzungen für fehlende Preise

92

g) Feststellung einer Mischkalkulation

93

III. Folgen von unvollständigen, fehlenden oder widersprüchlichen Preisangaben

94

1. Grundsatz

94

– Gleichbehandlungs- und Transparenzgebot

95

2. Ausnahmen

96

a) Möglichkeit der Auslegung von Preisangaben durch den Auftraggeber

96

aa) Begriff der Auslegung

96

bb) Möglichkeit der Auslegung von Preisen ("Ob" der Auslegung)

96

(1) Grundsatz

97

(2) Keine Auslegung bei fehlerhafter Preisangabe (an falscher Stelle in anderer Form)

97

(3) Auslegung des Einheitspreises in der VOB/A

98

(a) Für eine Auslegung von Einheitspreisen

98

(b) Gegen eine Auslegung von Einheitspreisen

100

(c) Lückenfüllung durch gegenüber § 16 Abs. 4 Nr. 1 VOB/A "umgekehrte" Rechenoperation

101

(4) Fälle der Zulässigkeit einer Auslegung und Korrektur des Preises

102

(a) 1000-fach überhöhter Angebotspreis/offensichtlicher Eintragungsfehler

102

(b) Erkennbar geringfügig fehlerhafter Gesamtpreis aufgrund eines Rundungsfehlers

103

(c) Korrektur im Rahmen einer rechnerischen Vorprüfung

104

– Pflicht zu Korrektur im Rahmen einer rechnerischen Vorprüfung

105

(d) Geringes Gewicht

107

(e) Durchführung der Korrektur

108

cc) Möglichkeit der Auslegung von Preisen ("Wie" der Auslegung)

109

b) Rechnerisches Nachvollziehen

109

aa) Abgrenzung zur Auslegung

109

bb) Grundsatz

110

– Bewertung

110

cc) Rechnerisches Nachvollziehen beim Fehlen von Preisangaben

111

(1) Keine Pflicht zur umfangreichen Nachberechnung/Ermessen bei Kontrollrechnungen

111

(2) Möglichkeit/Pflicht der Nachberechnung durch den Auftraggeber

112

(a) Eindeutigkeit und Unzweifelhaftigkeit der Preisangaben, Fehlen einer "rechnerischen Zwischengröße"

112

(b) Weitere Präzisierung durch EuG und OLG Düsseldorf

114

(aa) EuG, 10.12.2009 – T-195/08 – Preis in einer Parallelposition enthalten – Klarstellung/Auslegung

114

(bb) OLG Düsseldorf, 21.04.2010 – VII-Verg 53/09 – Klarstellung

115

(cc) Begriffe und Unterscheidung: Auslegung und Ableitung

116

(c) Korrekturen bei fehlenden Preisen

116

c) Fiktive Berechnung des höchsten Wettbewerbspreises – § 16 Abs. 1 Nr. 1 lit. c) VOB/A

116

aa) Abgrenzung zu Auslegung und rechnerischem Nachvollziehen

117

bb) Unwesentliche Position

117

cc) Einzelne Preisangaben

118

dd) Wertungsreihenfolge wird auch bei Wertung mit dem höchsten Wettbewerbspreis nicht beeinträchtigt

118

ee) "Lückenfüllung" der Preisangaben im Angebot

119

ff) Anwendung in der VOL/A

119

d) Grenzen der Auslegung, des rechnerischen Nachvollziehens und der Bewertung mit dem höchsten Wettbewerbspreis

119

aa) Eindeutige und zweifelsfreie Ermittlung des Bieterwillens nicht möglich

120

bb) Kein konkreter Anhaltspunkt für Ableitung im Angebot

120

cc) Empfängerhorizont des Auftraggebers

120

dd) Gleichbehandlungsgrundsatz

121

e) Kalkulationsirrtum

121

IV. Nachfordern von Preisen durch den Auftraggeber/Aufklärung

122

1. Abgrenzung zur Auslegung

122

2. Klarstellung

123

3. Aufklärung

123

4. Nachforderung von unwesentlichen Preisangaben nach § 16 Abs. 2 VOL/A und § 19 Abs. 2 VOL/A EG

125

a) Unwesentliche Einzelpositionen

125

b) Keine Veränderung des Gesamtpreises

125

c) Keine Beeinträchtigung der Wertungsreihenfolge und des Wettbewerbs

126

d) Ermessen

126

e) Keine Nachforderung von Preisen nach § 16 Abs. 1 Nr. 3 VOB/A

129

V. Unvollständigkeit der Angebote in der VOF

129

E. Der Preis als Eignungskriterium

131

I. Die Prüfung der Eignung und deren Anknüpfung zum Angebotspreis

131

1. Fachkunde

131

2. Leistungsfähigkeit

131

3. Zuverlässigkeit

132

a) Spekulationsangebote

132

b) Rechenfehler

134

c) Höhe des Preises

135

d) Gesetzliche Vorgaben

135

4. Gesetzestreue

136

II. Durchführung der Eignungsprüfung und Grenzen

136

F. Die Angemessenheit der Preise und der Ausschluss von unangemessenen Niedrig- und Hochpreisangeboten

137

I. Wortlaut der Regelungen, Systematik und Begründungen

137

1. Wortlaut der nationalen und europäischen Regelungen

137

2. Wortlaut der Regelungen der Bundesländer

141

3. Unangemessene Preise entsprechen offenbarem Missverhältnis

144

4. Systematik hinsichtlich der Prüfungsstufe

144

5. Erläuterungen zur VOL/A/Hinweise zur VOB/A

144

a) Erläuterungen zur VOL/A 2009 nach Anhang IV – § 16 Abs. 6 Satz 2 VOL/A

145

b) Hinweis zu § 16 Abs. 6 VOB/A

145

II. Schutzzweck

145

1. Schutz des Wettbewerbs

145

2. Schutz des öffentlichen Haushalts/sparsame Haushaltsführung

146

3. Ergebnis zum Schutzzweck

147

a) Kompetenzrechtliche Bedenken

148

b) Europarechtliche Bedenken

149

c) Methodische Probleme

149

d) Ergebnis

150

III. Annahme von unauskömmlichen Angeboten

150

1. Erreichen des Schutzzwecks (Schutz des öffentlichen Haushalts) durch den Ausschluss unauskömmlicher Angebote/Verhältnismäßigkeit

151

2. Wortlaut

152

3. Entscheidungen des Strafsenats des BGH

153

4. Andere Rechtsgebiete

153

a) Zulässigkeit von Unterkostenangeboten nach dem Preisrecht

154

b) Zulässigkeit von Unterkostenangeboten nach dem Lauterkeitsrecht und Kartellrecht

155

c) Zulässigkeit von Unterkostenangeboten aufgrund von gesetzlichen Preisbindungen

155

d) Ergebnis zu F. III. 4.

156

5. Ergebnis zu F. III.

156

IV. Prüfung anhand des Gesamtpreises

156

V. Notwendigkeit einer dezidierten Prüfung

158

1. Grundsätzlich kein Ausschluss ohne dezidierte Prüfung

158

2. Aufklärung bei unangemessen hohen Preisen oder sofortiger Ausschluss

161

VI. Vorprüfung des Erreichens einer Aufgreifschwelle bzw. eines Aufgreifmerkmals

163

1. Unterscheidung zu kontradiktorischer Prüfung

163

2. Feststellung eines Aufgreifmerkmals

165

a) Vergleich mit anderen Angeboten, der Kostenberechnung des Auftraggebers und einem Mittelpreis

165

b) Verwendung ausgeschlossener Angebote

166

c) Erfahrungswerte

168

3. Feststellung des Erreichens einer Aufgreifschwelle

168

a) Berechnung der Aufgreifschwelle

169

b) Festlegung der Aufgreifschwelle

169

aa) Festlegung in den Vergabeunterlagen

169

– Bekanntmachungspflicht hinsichtlich der festgelegten Aufgreifschwelle

170

(a) Gegenargument 1 – Kein Rechtsschutz, da kein Nachteil für Bieter

171

(b) Gegenargument 2 – Kein Verstoß gegen Transparenzgrundsatz

171

(c) Gegenargument 3 – Einzelfallprüfung erforderlich

171

bb) Festlegung durch Entscheidungen der Vergabekammern/Oberlandesgerichte

172

cc) Festlegung durch gesetzliche Regelungen

173

c) Möglichkeit des Auftraggebers, trotz Feststellung eines Aufgreifmerkmals/Erreichens einer Aufgreifschwelle keine weitere Prüfung durchzuführen

173

VII. Kontradiktorische Prüfung

174

1. Ziel der Prüfung

175

a) Marktverdrängungsabsicht

175

b) Schutz des öffentlichen Haushalts

176

aa) Gefahr der Abrechnung von Mehrmengen/Nachforderung von Kosten durch den Auftragnehmer

176

bb) Potenzielle Entstehung wirtschaftlicher Schwierigkeiten für Auftragnehmer

178

– Ruinöser Wettbewerb als Folge

178

cc) Zweifel an ordnungsgemäßer Vertragsdurchführung

179

dd) Besonderes Motiv des Bieters

180

ee) Ergebnis

180

c) Spekulationsangebote und Mischkalkulationen

181

2. Aufklärungsverlangen gegenüber dem Bieter

181

3. Darlegungspflicht des Bieters

182

4. Feststellung der Unangemessenheit durch den Auftraggeber

183

VIII. Unangemessen niedriger Preis aufgrund einer Beihilfe

184

IX. Gesamtpreis nach Aufklärung unangemessen hoch

184

1. Prüfungspflicht

185

2. Begriff des unangemessen hohen Preises

186

a) Aufhebungsgrund des Nichtvorliegens eines wirtschaftlichen Ergebnisses

187

b) Deutliche Überhöhung der Preise gegenüber einer objektiven Schätzung des Auftraggebers

187

c) Preisrecht

188

aa) Ausschreibung, bei der ein Marktpreis gebildet werden kann

188

bb) Ausschreibung, bei der kein Marktpreis gebildet werden kann – Selbstkostenpreise

188

3. Rechtsfolge

189

X. Rechtsschutz

189

1. Rechtsschutz des Bieters

189

a) Rechtsschutz des Bieters hinsichtlich der Festlegung einer Aufgreifschwelle

190

b) Rechtsschutz des Bieters bei Durchführung einer kontradiktorischen Prüfung

190

c) Kein Rechtsschutz des Bieters vor sich selber

191

2. Rechtsschutz dritter Bieter

191

XI. Die Angemessenheitsprüfung in der VOF

193

XII. Integration der preisrechtlichen Prüfung

194

1. Prüfung des Preisrechts im engeren Sinne (insbes. VO PR 30/53)

194

2. Prüfung des Preisrechts im weiteren Sinne (andere gesetzliche Vorgaben des Preises)

195

XIII. Spekulative Preise

196

G. Der Preis als Zuschlagskriterium

197

I. Die Begriffe "Preis" und "Wirtschaftlichkeit" und deren Verhältnis

198

1. Wirtschaftlichkeit im Vergaberecht und deren Folgen für den Preis

198

a) Inhalt der Wirtschaftlichkeitsbegriffe im Vergaberecht

198

aa) Einzelwirtschaftlichkeit

199

– Gerichtliche Überprüfbarkeit

200

bb) Gesamtwirtschaftlichkeit

201

cc) Wettbewerbsöffnende Komponente

201

b) Der Preis als Inhalt der vergaberechtlichen Wirtschaftlichkeit

202

2. Ergänzend: Wirtschaftlichkeit im Haushaltsrecht

203

a) Inhalt des Wirtschaftlichkeitsprinzips im Haushaltsrecht

203

b) Der Preis als Inhalt der haushaltsrechtlichen Wirtschaftlichkeit

204

c) Prüfung der Einhaltung des Wirtschaftlichkeitsprinzips im Haushaltsrecht

204

3. Zur Deckungsgleichheit des vergaberechtlichen und haushaltsrechtlichen Wirtschaftlichkeitsbegriffs

205

– Ergebnis zu G. I. 3.

206

II. Der Preis als nicht-zulässiges Zuschlagskriterium – gleichzeitig: Zulässigkeit der Ausblendung des Preises in der Bewertung

206

1. Bestimmungsrecht des Auftraggebers hinsichtlich der Zuschlagskriterien und Grenzen

207

2. Fehlender Preiswettbewerb als Konkretisierung des Bestimmungsrechts des Auftraggebers bei der Verwendung des Preises als Zuschlagskriterium

209

III. Der Preis als ein Zuschlagskriterium – Die Bewertung des Kriteriums "Preis"

211

1. Das Wirtschaftlichkeitsgebot als Konkretisierung des Bestimmungsrechts des Auftraggebers bei der Verwendung des Preises als Zuschlagskriterium

211

a) Prozentuale Mindestwertigkeit

212

b) Keine Bewertung nur am Rande

213

c) Keine Vorgabe der Bewertung durch Vergaberecht

213

d) Ergebnis

215

2. Überprüfungsmöglichkeiten

215

3. Bewertung des Preises

216

IV. Der Preis als einziges Zuschlagskriterium

216

1. Der Preis als originäres einziges Zuschlagskriterium aufgrund europarechtlicher Vorgaben

216

a) Inhalt der europarechtlichen Vorgaben – Wahlrecht des Auftraggebers

217

aa) Wortlaut der VKR

217

bb) Erwägungsgründe Nr. 1 und Nr. 46 VKR bzw. Nr. 55 SKR

217

cc) Vorschlag der EU-Kommission vom 20.12.2011

218

dd) Entscheidung des EuGH, C-247/02

218

ee) Feststellung, wem die Wahlmöglichkeit zusteht

219

ff) Neuerungen im Rahmen der Richtlinie 2014/24/EU

220

(1) Regelungen des Art. 67 der Richtlinie 2014/24/EU

220

(2) Erwägungsgründe Nr. (89) und Nr. (90) der Richtlinie 2014/24/EU

221

b) Umsetzung im Rahmen des GWB unter Geltung der europarechtlichen Vorgaben

222

c) Ausnahme Unterschwellenbereich

223

2. Der Preis als Unterkriterium der "Wirtschaftlichkeit" nach § 97 GWB

223

a) Wirtschaftlichkeit am besten durch Preis bestimmbar

225

b) Keine Bekanntgabe weiterer Kriterien

225

c) Dokumentationspflicht hinsichtlich der Gründe

226

3. Der Preis als einziges Zuschlagskriterium aufgrund nationaler haushaltsrechtlicher Vorgaben

226

4. Der Preis als einziges Zuschlagskriterium, soweit keine anderen Kriterien genannt werden

228

5. Der Preis als einziges Zuschlagskriterium in der VOF

228

6. Zulässigkeit von Nebenangeboten, wenn der Preis das einzige Zuschlagskriterium ist

229

a) OLG Düsseldorf 2010 – Wortlaut der VKR/SKR

229

b) OLG Schleswig 2011 – Systematik, Sinn und Zweck der VKR/SKR

230

c) BGH, Beschluss vom 07.01.2014 – X ZB 15/13

232

d) OLG Düsseldorf, Beschluss vom 27.11.2013 – VII Verg 20/13

232

e) Regelungen in der RL 2014/24/EU

233

V. Rechtsschutz

233

H. Die Änderung des Preises bei Verlängerung der Zuschlagsfrist und nach Zuschlag

235

I. Verlängerung der Zuschlagsfrist

235

II. Veränderungen des Preises nach Zuschlag

235

III. Vertragliche Anpassungsklauseln

236

1. Darstellung verschiedener Vertragsanpassungsklauseln

236

a) § 9 Abs. 9 VOB/A

236

b) Weitere (optionale) Regelungen der VOB/B und VOL/B

238

aa) § 2 VOB/B

238

bb) § 2 VOL/B

240

cc) Abgrenzung der Regelungen § 9 VOB/A – § 2 VOB/B – § 2 VOL/B

240

c) Andere (eigene) Preisanpassungsklauseln

242

2. Vergaberechtliche Zulässigkeit

242

a) Vorgaben des § 9 Abs. 9 VOB/A

242

aa) Zu erwartende Preisänderung

243

bb) Ungewisser Eintrittszeitpunkt oder ungewisses Ausmaß der Änderung

243

cc) Angemessenheit der Änderung der Vergütung

243

dd) Grundsätzliche Zulässigkeit einer vergleichbaren vertraglichen Regelung der Preisanpassung bei einer VOL- oder VOF-Vergabe

244

b) Vergaberechtliche Einschränkungen über § 9 Abs. 9 VOB/A hinaus

244

aa) Zulässigkeit im Zusammenhang mit Neuausschreibungspflicht

244

bb) Verhandlungsverbot

246

cc) Vergabegrundsätze

246

3. Weitere gesetzliche Vorgaben außerhalb des Vergaberechts – Preisrecht – AGB-Prüfung

247

IV. Störung der Geschäftsgrundlage

248

V. Nachträgliche Preisverhandlungen

248

1. Vertraglich festgelegte Verhandlungen

249

– Grenzen vertraglich festgelegter Verhandlungen

250

2. Nachträgliche Verhandlungen ohne vertragliche Festlegung

251

I. Fazit

252

I. Zum Preis als Mindestabforderung und Mindestangabe

252

II. Zum Preis als Eignungskriterium

253

III. Zur Angemessenheitsprüfung und dem Ausschluss von unangemessenen Niedrig- und Hochpreisangeboten

253

IV. Zum Preis als Zuschlagskriterium

253

V. Zur Änderung des Preises bei Verlängerung der Zuschlagsfrist und nach Zuschlag

254

Literaturverzeichnis

255

Sachwortverzeichnis

262