International law: arbitration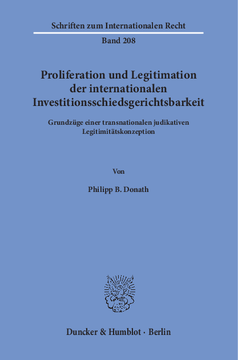 BOOK
Proliferation und Legitimation der internationalen Investitionsschiedsgerichtsbarkeit
Grundzüge einer transnationalen judikativen Legitimitätskonzeption
Schriften zum Internationalen Recht, Vol. 208
(2016)
Additional Information
Book Details
ISBN

978-3-428-54731-9
978-3-428-14731-1 (print edition)

DOI

https://doi.org/10.3790/978-3-428-54731-9

Edition

1

Language

German

Pages

323

Collections

Subjects
Pricing
Institution

€ 116.00 (incl. local VAT if applicable)

Individual

€ 89.90 (incl. local VAT if applicable)
About The Author
Philipp B. Donath studierte nach dem Wehrdienst Rechtswissenschaft, Geschichte und Französisch in Dresden und Frankfurt am Main. Nach Praktika-Stationen im Bundestag und bei der Deutschen Vertretung bei der UNESCO in Paris ist er seit 2009 am Lehrstuhl für Öffentliches Recht, Völker- und Europarecht (Prof. Dr. Dr. Rainer Hofmann) sowie am Wilhelm-Merton-Zentrum für Europäische Integration und Internationale Wirtschaftsordnung an der Goethe-Universität Frankfurt am Main tätig. Im Anschluss an Promotion und Referendariat mit Stationen im Regierungspräsidium Darmstadt (Dezernat für Soziales, Integration und Flüchtlinge) sowie bei der Deutschen Bundesbank arbeitet er an einer staatsrechtlichen Habilitation.
Abstract
Das Investitionsschutzrecht gestattet es ausländischen Investoren nicht erst seit TTIP und CETA, die jeweiligen Gaststaaten vor internationalen Schiedsgerichten auf Schadensersatz zu verklagen. Problematisch ist dabei besonders, dass den Schiedsgerichten ein großer Freiraum eingeräumt wird, da die Vorschriften, auf deren Grundlage sie entscheiden, oft sehr unbestimmt sind. Mit Hilfe einer neu entwickelten Rechtsprinzipientheorie der Legitimität, die auf die Abwägung zwischen dem Schutzinteresse der Investoren und dem effektiven Schutz der von einer Investition betroffenen Individuen abstellt, gelingt es Philipp B. Donath, die Normen des Investitionsschutzrechts präzise und einzelfallbezogen auslegen zu können. Damit konkretisiert der Autor sowohl verfahrens- als auch materiellrechtliche Bestimmungen des Investitionsschutzrechts. Er zeigt so Möglichkeiten einer ganzheitlichen inneren Reform der Investitionsschiedsgerichtsbarkeit auf, die nicht auf institutionelle Änderungen angewiesen ist. »Proliferation and Legitimation of International Investment Arbitration«

The debate about the legitimacy of international investment arbitration started even before TTIP and CETA called public attention. Philipp B. Donath sets the pattern for a novel legal theory of legitimacy, on which basis he concretises procedural as well as substantive investment law provisions. He hereby shows opportunities for an integrated reform of the investment arbitration system, which does not depend on institutional reforms.
Table of Contents
Section Title
Page
Action
Price

Danksagung

5

Inhaltsverzeichnis

7

A. Prolog – Innovative Konzeptionalisierung des völkerrechtlichen Investitionsschutzes

11

B. Proliferation und Kritik am Investitionsschutzsystem

14

I. Funktionsweise der Investitionsschiedsgerichtsbarkeit

15

II. Ursprung und Proliferation der Abkommen und Verfahren

20

III. Legitimitätsrelevante Kritik am System der Investitionsschiedsgerichtsbarkeit

31

IV. Machtausübung jenseits des Staates

42

C. Ein Legitimitätskonzept für die Investitionsschiedsgerichtsbarkeit

46

I. Einführung – Ein Legitimitätskonzept als Rechtsprinzip

46

II. Historisch-staatsrechtliche Konturierung des Legitimitätsbegriffs – strukturbildende Grundlagen für die Entwicklung eines neuen Legitimitätsmodells mit Fokus auf die Investitionsschiedsgerichte

52

1. Etymologie und Entwicklungsgeschichte des Legitimitätsbegriffs in Antike und Mittelalter

54

2. Das Aufkommen des Legitimitätsbegriffs als staatsrechtlicher Terminus in der frühen Neuzeit

56

3. Aufklärung und französische Denker

57

4. Ausfüllung des Begriffs von der Französischen Revolution bis zum Rechtspositivismus

61

5. Soziologisch-deskriptiver Ansatz

65

6. Diskurstheorie

69

7. Systemtheorie

70

8. Egalitärer Liberalismus und Verfahrensgerechtigkeit

71

9. Zusammenfassung

73

III. Zur Diskussion um Legitimität im Völkerrecht – die Debatte im übergreifenden Ordnungsrahmen

76

1. Voraussetzungen einer völkerrechtlichen Legitimitätskonzeption

78

2. Der Staatswille als primärer Anknüpfungspunkt

83

3. Konstitutionalisierungs- und Fragmentierungsprozesse

88

4. Normenhierarchische Systeme und "geologische Schichten"

93

5. Global Governance und Kooperationsvölkerrecht

96

6. Deliberative Ansätze

104

7. Gehorsamsmotivationsmodelle

108

8. Individuelle Verpflichtung gegenüber völkerrechtlichen Normen

112

9. Zusammenfassung

119

IV. Grundlagen einer Rechtsprinzipientheorie im Investitionsschutzrecht und Konturierung des Rechtsprinzips der Legitimität

122

1. Legitimität im Investitionsschutzrecht

123

2. Prämissen einer Prinzipientheorie des Rechts

127

3. Zur Ermittlung des Inhalts von Prinzipien

133

4. Die Antwort auf die "Grundfrage"

136

5. Eine neue Legitimitätskonzeption als Rechtsprinzip im Investitionsschutzrecht

139

a) Das subjektivierbare Allgemeinwohl

142

b) Proportionalität als dynamisches Element

144

6. Zur Ausgestaltung eines völkerrechtlichen subjektivierbaren Allgemeinwohlbegriffs

146

7. Nutzbarkeit der Konzeption in der Investitionsschiedsgerichtsbarkeit

151

V. Zusammenfassung: Gestaltung eines Rechtsprinzips der Legitimität für Investitionsschiedsgerichte

153

D. Konkretisierende Wirkung der dynamisch-gemeinwohlorientierten Legitimitätstheorie in den Verfahren der Investitionsschiedsgerichtsbarkeit

156

I. Einführung in die Problematik – der grundlegende materielle Interessenkonflikt und die Normdeterminierung durch ein ausgearbeitetes Legitimitätskonzept

156

II. Konkretisierung des Investitionsbegriffs sowie materieller Normen anhand der dynamisch-gemeinwohlorientierten Legitimitätstheorie

167

1. Definition der Investition

168

a) Einführung in die Problematik

168

b) Entwicklung der Anwendung durch die Investitionsschiedsgerichte

171

c) Lösungsvorschlag: Prüfung eines Elements der Gemeinwohlförderung bei der betreffenden Investition

178

2. Schutz vor Enteignungen

184

a) Einführung in die Problematik

184

b) Entwicklung der Anwendung durch die Investitionsschiedsgerichte

187

c) Lösungsvorschlag: Integration eines Proportionalitätsmoments

189

3. FET-Klausel

194

a) Einführung in die Problematik

195

b) Entwicklung der Anwendung durch die Investitionsschiedsgerichte

198

c) Lösungsvorschlag: Einführung eines Elements der Gemeinwohlförderung in der Bewertung der Eingriffsschwelle oder der Schadensersatzhöhe

204

III. Konkretisierung von Verfahrensnormen anhand der dynamisch-gemeinwohlorientierten Legitimitätstheorie durch Transparenz und Beteiligung Dritter in der Verfahrensausgestaltung

208

1. Einführung

209

2. Zur Kritik an vermeintlich fehlender Offenheit von Investitionsschiedsverfahren und zum ­spezifisch-transparenzrelevanten öffentlichen Interesse

213

a) Grundlagen

213

b) Vorläuferentwicklungen der Verfahrensöffnung

219

c) Implikationen eines besonderen öffentlichen Interesses

222

d) Kollidierende Entwicklungslinien

224

e) Der Fall Saipem und das spezifische öffentliche Interesse als Grundlage von Transparenzvorgaben

226

3. Bereits erfolgte Änderungen transparenzrelevanter Normen des Investitionsschutzrechts

229

a) Verfahrensordnungen

230

aa) ICSID

231

bb) UNCITRAL

233

b) Internationale Investitionsabkommen

236

4. Entwicklung der Anwendung durch die Investitionsschiedsgerichte

241

a) Aguas del Tunari S. A. gegen Bolivien

242

b) Methanex gegen die USA

243

c) Glamis Gold gegen die USA

247

d) Weitere Verfahren

248

5. Zu den Anforderungen, die die dynamisch-gemeinwohlorientierte Legitimitätstheorie an die Verfahrensausgestaltung stellt – der Amicus Causae

252

a) Grundlagen

252

b) Maßgaben der dynamisch-gemeinwohlorientierten Legitimitätstheorie

255

c) Umsetzung der dynamisch-gemeinwohlorientierten Legitimitätstheorie im Verfahrensbereich

257

d) Weitere Auswirkungen einer entsprechenden Verfahrensöffnung

268

IV. Zusammenfassung

271

E. Epilog – Ein konkretisiertes Rechtsprinzip der Legitimität im Investitionsschutzrecht

276

Literaturverzeichnis

279

Verzeichnis der zitierten Schiedsgerichtsentscheidungen

311

Stichwortverzeichnis

319