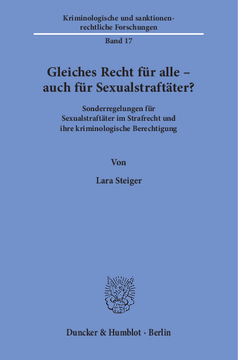 BOOK
Cite BOOK
Style
---
Steiger, L. (2016). Gleiches Recht für alle – auch für Sexualstraftäter?. Sonderregelungen für Sexualstraftäter im Strafrecht und ihre kriminologische Berechtigung. Duncker & Humblot. https://doi.org/10.3790/978-3-428-54890-3
Steiger, Lara. Gleiches Recht für alle – auch für Sexualstraftäter?: Sonderregelungen für Sexualstraftäter im Strafrecht und ihre kriminologische Berechtigung. Duncker & Humblot, 2016. Book. https://doi.org/10.3790/978-3-428-54890-3
Steiger, L (2016): Gleiches Recht für alle – auch für Sexualstraftäter?: Sonderregelungen für Sexualstraftäter im Strafrecht und ihre kriminologische Berechtigung, Duncker & Humblot, [online] https://doi.org/10.3790/978-3-428-54890-3
---
Format
---
Gleiches Recht für alle – auch für Sexualstraftäter?
Sonderregelungen für Sexualstraftäter im Strafrecht und ihre kriminologische Berechtigung
Kriminologische und sanktionenrechtliche Forschungen, Vol. 17
(2016)
Additional Information
Book Details
Publisher Name

Duncker & Humblot

ISBN

978-3-428-54890-3
978-3-428-14890-5 (print edition)

DOI

https://doi.org/10.3790/978-3-428-54890-3

Edition

1

Language

German

Pages

434

Collections

Subjects
Pricing
Institution

€ 146.00 (incl. local VAT if applicable)

Individual

€ 109.90 (incl. local VAT if applicable)
About The Author
Lara Steiger studierte von 2006 bis 2012 Rechtswissenschaft an der Universität Tübingen mit dem Schwerpunkt Rechtspflege in Strafsachen. Nach dem ersten Staatsexamen promovierte sie bei Prof. Dr. Jörg Kinzig, Direktor des Instituts für Kriminologie der Universität Tübingen, und arbeitete als akademische Mitarbeiterin an dessen Lehrstuhl für Kriminologie, Straf- und Sanktionenrecht. Seit 2015 ist sie Referendarin am Landgericht Stuttgart.
Abstract
Der Umgang mit Sexualstraftätern bildet immer wieder einen Schwerpunkt der kriminalpolitischen Diskussion. So kam es unter dem Eindruck medial geschürter Verbrechensfurcht in jüngerer Vergangenheit mehrfach zu Erweiterungen der auf diese Tätergruppe abzielenden strafrechtlichen Vorschriften. Dies gab Anlass, sich mit der Frage auseinanderzusetzen, inwieweit der Stand der kriminologischen Forschung derartige Sonderregelungen rechtfertigt, die auf ein spezielles Sicherungsbedürfnis der Gesellschaft gestützt werden. Zu eruieren war, ob dem eine reale von Sexualdelinquenten ausgehende Gefahr gegenübersteht, die über das anderen Straftätern innewohnende Gefahrenpotential hinausreicht, oder ob der Gesetzgeber weniger den wissenschaftlichen Forschungsstand berücksichtigt als vielmehr gesellschaftliche Bedürfnisse bedient.Die Autorin kommt zu dem Ergebnis, dass im Hinblick auf Sexualstraftäter nicht der Grundsatz »Gleiches Recht für alle« gilt. Ein Großteil der Sonderregelungen für Sexualdelinquenten ist aus kriminologischer Sicht nicht berechtigt. Vielmehr hat sich für diese Tätergruppe ein weitgehend symbolisches Sonderrecht etabliert.»Equal Rights for All – Also for Sex Offenders?«This doctoral thesis asks in what way the status quo of criminological research justifies special criminal law regulations for sex offenders, based on special social protection needs from this particular delinquent group. It answers the question if sex offenders are more dangerous than other delinquent groups, or if the legislator rather regards worries of society than scientific research results.
Table of Contents
Section Title
Page
Action
Price

Vorwort

7

Inhaltsübersicht

9

Inhaltsverzeichnis

13

Tabellen- und Abbildungsverzeichnis

23

Abkürzungsverzeichnis

25

Teil 1: Einleitung

29

A. Kriminalpolitische Ausgangslage und Ziel der Arbeit

29

B. Gang der Darstellung

31

Teil 2: Grundlagen

33

A. Begriffsbestimmungen

33

I. Sexualstraftäter

33

II. Rationale Kriminalpolitik

37

1. Kriminologie

37

2. Kriminalpolitik

38

3. Verhältnis zwischen Kriminologie und Kriminalpolitik

39

III. Symbolische Gesetzgebung

41

1. Definition

41

2. Erscheinungsformen

44

3. Anwendbarkeit im hiesigen Kontext

44

B. Rechtshistorische Entwicklung des Sexualstrafrechts

45

I. Liberalisierung seit 1871

46

II. Opferorientiertes Sicherheitsdenken seit 1998

48

III. Charakteristika der Gegenwart

53

1. Heterogenität

53

2. Lückenlose Kriminalisierung

54

3. Strafrahmenerhöhungen

57

IV. Zusammenfassung und Konsequenzen

59

C. Umfang, Struktur und Entwicklung der Sexualkriminalität

60

I. Hellfeld

61

1. Inhalt, Erfassungsmöglichkeiten und Vergleichbarkeit der Rechtspflegestatistiken

61

2. Sexualkriminalität im Spiegel der Statistiken

63

a) Umfang

63

b) Entwicklung ausgewählter Sexualdelikte

65

c) Täter-Opfer-Beziehung

67

d) Aufklärungsquote

71

e) Ausfilterungsprozess

71

f) Sanktionspraxis

73

II. Dunkelfeld

75

D. Legalbewährungsstudien

77

I. Untersuchungen mit üblichen Beobachtungszeiträumen von vier bis sechs Jahren

79

1. Die bundesweite Rückfallstatistik des BMJV

79

a) Allgemeine Rückfälligkeit

80

b) Einschlägige Rückfälligkeit

83

aa) Sexuelle Gewaltdelikte

83

bb) Sexuelle Missbrauchsdelikte

84

cc) Exhibitionistische Delikte

86

c) Vorstrafenbelastung

87

aa) Sexuelle Gewaltdelikte

87

bb) Sexuelle Missbrauchsdelikte

88

cc) Exhibitionistische Delikte

90

d) Zusammenfassung

91

e) Vergleich mit anderen Straftätergruppen

92

aa) Allgemeine Rückfälligkeit

92

bb) Einschlägige Rückfälligkeit und Vorstrafenbelastung

94

cc) Rückfallgeschwindigkeit

96

2. Die Untersuchungen der KrimZ

97

a) Sexuelle Gewaltdelikte

98

b) Sexuelle Missbrauchsdelikte

101

c) Sexuelle Belästigungsdelikte

103

II. Untersuchungen mit langen Beobachtungszeiträumen von mindestens zehn Jahren

105

III. Untersuchung über selbst berichtete Sexualdelinquenz

108

IV. Zusammenfassung

109

E. Zusammenfassung

110

Teil 3: Analyse der für Sexualstraftäter geltenden Sonderregelungen

115

A. Sanktionenrechtliche Sonderregelungen

116

I. Sicherungsverwahrung und Führungsaufsicht

116

1. Sicherungsverwahrung für Erwachsene

116

a) Inhaltlicher Überblick

117

b) Zielvorstellungen des Gesetzgebers

119

aa) Ausweitung der primären Sicherungsverwahrung

119

bb) Einführung der vorbehaltenen Sicherungsverwahrung

120

cc) Einführung der nachträglichen Sicherungsverwahrung

121

dd) Konsolidierung der primären, Ausbau der vorbehaltenen und Beschränkung der nachträglichen Sicherungsverwahrung sowie Verlängerung der Rückfallverjährung

123

c) Praktische Auswirkungen

126

aa) Anordnungspraxis

126

bb) Unterbringungspraxis

128

d) Kriminologische Erkenntnisse und Diskussion der Straftatenkataloge

130

aa) Primäre Sicherungsverwahrung

130

(1) Grundfall

130

(2) Erleichterte Anordnungsmöglichkeit für Sexualstraftäter

133

(a) Legalbewährung erwachsener Sexual- und Gewaltstraftäter

134

(b) Schwierigkeit der Prognoseerstellung auf geringer Tatasachenbasis

135

(c) Systematik des StGB und Sicherungsverwahrung als "ultima ratio"

137

bb) Erst- oder Einmaltäterregelung der vorbehaltenen Sicherungsverwahrung

138

cc) Rückfallverjährung

140

e) Reformvorschlag

141

2. Sicherungsverwahrung für Jugendliche und Heranwachsende

143

a) Inhaltlicher Überblick

144

b) Zielvorstellungen des Gesetzgebers

145

aa) Einführung der vorbehaltenen Sicherungsverwahrung für nach allgemeinem Strafrecht verurteilte Heranwachsende

145

bb) Einführung der nachträglichen Sicherungsverwahrung für nach allgemeinem Strafrecht verurteilte Heranwachsende

146

cc) Einführung der nachträglichen Sicherungsverwahrung für nach Jugendstrafrecht verurteilte Jugendliche und Heranwachsende

147

dd) Abschaffung der nachträglichen Sicherungsverwahrung für alle Fälle sowie Ausweitung der vorbehaltenen Sicherungsverwahrung für Heranwachsende und deren Einführung für Jugendliche

149

c) Praktische Auswirkungen

150

d) Kriminologische Erkenntnisse

151

aa) Legalbewährung jugendlicher und heranwachsender Sexualstraftäter im Vergleich zu erwachsenen Sexualstraftätern

152

bb) Legalbewährung jugendlicher und heranwachsender Sexualstraftäter mit anderen Straftätern derselben Altersgruppe

154

cc) Frühe Sexualdelinquenz in Form des sexuellen Kindesmissbrauchs als Risikomerkmal

156

e) Diskussion der Straftatenkataloge

158

aa) Grundfall

158

bb) Erleichterte Anordnungsmöglichkeit der vorbehaltenen Sicherungsverwahrung für Heranwachsende bei sexuellem Kindesmissbrauch

159

f) Reformvorschlag

161

3. Führungsaufsicht

161

a) Inhaltlicher Überblick

162

b) Zielvorstellungen des Gesetzgebers

163

aa) Richterlich angeordnete Führungsaufsicht bei Sexualstraftaten

163

bb) Kraft Gesetzes eintretende Führungsaufsicht für Sexualstraftäter schon nach einjähriger Verbüßungszeit

164

cc) Elektronische Aufenthaltsüberwachung für Sexual- und Gewaltstraftäter

164

dd) Unbefristete Verlängerung der Führungsaufsicht für Sexual- und Gewaltstraftäter

166

c) Praktische Auswirkungen

167

d) Kriminologische Erkenntnisse

169

e) Diskussion der Straftatenkataloge

172

f) Reformvorschlag

174

II. Polizeiliche Überwachungskonzepte

175

1. Übersicht

175

2. Praktische Auswirkungen

178

3. Diskussion der Straftatenkataloge unter Berücksichtigung der kriminologischen Erkenntnisse

178

a) Unterschiedliche Zielgruppen

178

b) Diskussion und Reformvorschlag

184

III. Verjährung

185

1. Inhalt des § 78 b I Nr. 1 StGB

186

2. Zielvorstellungen des Gesetzgebers

187

a) 30. StrÄndG vom 23.06.1994

187

b) SexdelÄndG vom 27.12.2003

189

c) 2. ORRG vom 29.07.2009

189

d) StORMG vom 26.06.2013

190

e) 49. StrÄndG vom 21.01.2015

191

3. Praktische Auswirkungen

192

4. Kriminologische Erkenntnisse

192

5. Vereinbarkeit der Sonderbehandlung mit Sinn und Zweck der Verfolgungsverjährung

195

a) Materielle Sicht

195

b) Prozessuale Sicht

197

c) Fazit

199

6. Diskussion des Straftatenkatalogs

200

a) Einbeziehung des § 182 StGB

200

b) Einbeziehung des § 180 III StGB

201

c) Überwiegende Beschränkung auf Sexualdelikte

202

7. Ergebnis

203

IV. Zusammenfassung und Fazit

203

B. Strafprozessuale Sonderregelungen

208

I. Eingriffsbefugnisse bzw. Zwangsmaßnahmen

208

1. DNA-Identitätsfeststellung

208

a) Inhalt des § 81 g I StPO

208

b) Zielvorstellungen des Gesetzgebers

209

c) Praktische Auswirkungen

211

d) Kriminologische Erkenntnisse

212

aa) Exhibitionismus als Einstiegsdelikt

212

bb) Deliktsübergreifende Phänomenologie bei sexuellen Gewaltstraftätern

214

e) Diskussion des Straftatenkatalogs

216

f) Reformvorschlag

218

2. Sicherungshaft

218

a) Inhalt des § 112 a I 1 Nr. 1 StPO

218

b) Zielvorstellungen des Gesetzgebers

219

c) Praktische Auswirkungen

222

d) Kriminologische Erkenntnisse

222

aa) Legalbewährung von Sexualstraftätern

222

bb) Besonders schutzbedürftiger Kreis der Bevölkerung

223

cc) Erhöhter Opferschutz durch die Aufnahme der Fälle qualifizierten Stalkings

225

e) Diskussion des Straftatenkatalogs

226

f) Reformvorschlag

229

3. Nicht primär auf Sexualstraftäter abzielende Eingriffsbefugnisse

229

II. Besonderheiten im Hauptverfahren

231

1. Vernehmung eines Sachverständigen

231

a) Inhalt und Zielvorstellungen des Gesetzgebers bei Einführung des § 246 a II StPO

231

b) Kriminologische Erkenntnisse

231

c) Diskussion des Straftatenkatalogs und Reformvorschlag

233

2. Verfahrensregelungen zur Stärkung der Rechte der Opfer von Sexualstraftaten und des staatlichen Strafverfolgungsinteresses

234

a) Vorführung einer aufgezeichneten Zeugenvernehmung

235

b) Befugnis zum Anschluss als Nebenkläger

237

III. Besonderheiten bei der Strafvollstreckung

238

1. Inhalt des § 454 II 1 Nr. 2 StPO

238

2. Zielvorstellungen des Gesetzgebers

238

3. Praktische Auswirkungen

239

a) Mangel an kriminalprognostisch geschulten Sachverständigen

239

b) Überbelegung des Strafvollzugs

240

4. Kriminologische Erkenntnisse

241

5. Diskussion des Straftatenkatalogs

244

IV. Zusammenfassung und Fazit

244

C. Vollzugsrechtliche Sonderregelungen

246

I. Verlegung in eine sozialtherapeutische Anstalt

246

1. Inhalt des § 9 I StVollzG

247

2. Zielvorstellungen des Gesetzgebers

248

3. Praktische Auswirkungen

250

4. Kriminologische Erkenntnisse

252

a) Ergebnisse ausgewählter deutscher Untersuchungen

253

b) Zusammenfassung

258

5. Diskussion des Straftatenkatalogs

259

a) Begrenzte Kapazitäten und Behandlungslücken

259

b) Deliktsübergreifende Phänomenologie und Legalbewährung

261

c) Gleichbehandlungsgrundsatz

261

6. Die Regelungen der Landesstrafvollzugsgesetze

262

a) 1. Gruppe: Anknüpfen an Anlasstat

267

b) 2. Gruppe: Ausschließlich prospektive Ausrichtung

269

7. Reformvorschlag

270

II. Vollzugsöffnende Maßnahmen

271

1. Inhaltliche Darstellung

271

2. Zielvorstellungen des Gesetzgebers

273

3. Praktische Auswirkungen

274

4. Kriminologische Erkenntnisse

275

5. Diskussion der Straftatenkataloge

277

III. Zusammenfassung und Fazit

278

D. Registerrechtliche Sonderregelungen

280

I. Inhaltlicher Überblick

280

II. Zielvorstellungen des Gesetzgebers

281

1. Geänderte Aufnahme- und Tilgungsfristen für Verurteilungen wegen Sexualstraftaten im einfachen Führungszeugnis

281

2. Einführung des erweiterten Führungszeugnisses und begleitende Regelungen

283

III. Praktische Auswirkungen

285

IV. Kriminologische Erkenntnisse und Diskussion der Straftatenkataloge

285

1. Schutz vor Wiederholungstaten

286

2. Schutz vor beruflich im Kinder- und Jugendbereich tätigen Sexualstraftätern

289

V. Reformvorschlag

290

1. Beibehalten der Differenzierung zwischen einfachem und erweitertem Führungszeugnis sowie der unterschiedlichen Straftatenkataloge

290

2. Stärkere Gewichtung des Resozialisierungsinteresses bei den Tilgungsfristen

291

Teil 4: Ergebnisse der Analyse und gesamtgesellschaftliche Einordnung

293

A. Ergebnisse der Einzelanalyse aller Sonderregelungen

293

I. Methodische Vorgehensweise des Gesetzgebers

293

1. Ad-hoc-Reaktionen auf aufsehenerregende Einzelfälle

293

2. Tertiäre Kriminalprävention

296

3. An der Gefährlichkeit orientiertes "Zusatzübel" neben der schuldangemessenen Strafe

296

4. Anknüpfung an die Verurteilung wegen einer Sexualstraftat

298

a) Heterogenität der Sexualstraftaten des 13. Abschnitts des Besonderen Teils des StGB

298

b) Durchbrechung der gesetzlichen Systematik durch die gleichwertige Einbeziehung von Vergehen und Verbrechen

299

c) Unterschiedliche Katalogtatensysteme als Regelungstechnik

301

II. Systematisierung inhaltlicher Begründungsmuster

302

1. "Emotion statt Empirie"

302

2. Opferorientierung

305

3. Sicherheitsorientierung

308

III. Zusammenfassung

311

B. Entstehungs- und Entwicklungsbedingungen eines Sonderrechts für Sexualstraftäter

313

I. Der gesellschaftliche Wandel vom Wohlfahrtsstaat über die Industrie- zur Risikogesellschaft

314

II. Kriminologisches Umdenken

318

III. Durch eine gesamtgesellschaftliche Verunsicherung und sensationsheischende Medienberichterstattung verursachte Kriminalitätsfurcht

320

IV. Zunehmende Politisierung der Kriminalpolitik

323

V. Zusammenfassung

326

C. Feindstrafrechtliche Tendenzen

327

I. Definition

328

II. Feindstrafrechtliche Elemente in Bezug auf Sexualstraftäter

331

1. Materiell-rechtliche Vorverlagerung der Strafbarkeit

331

2. Fehlende Proportionalität der Strafe zur Tatschuld

332

3. Einschränkung prozessualer Garantien und feindstrafrechtlicher "Zwang"

334

4. Bekämpfungsgesetzgebung

335

III. Symbolwirkungen

337

1. Abgrenzungsfunktion

338

2. Vereinfachungs- und Publizitätsfunktion

339

3. Sicherheitsfiktionsfunktion

340

IV. Kritische Auseinandersetzung

340

1. Erste Reaktionen in der Rechtswissenschaft

341

2. Vertiefung der kritischen Debatte

342

a) (Straf-)rechtliche Qualität des Feindstrafrechts

342

b) Verfassungsrechtliche Sicht

344

c) Materiell-strafrechtliche Sicht

345

d) Prozessuale Sicht

347

V. Fazit

348

Teil 5: Schlussbetrachtung

351

A. Berechtigung eines symbolischen Sonderrechts für Sexualstraftäter

351

I. Wirkungen

352

1. Positive Generalprävention

353

2. Demonstration von Handlungsfähigkeit

355

3. Zusammenfassung

356

II. Fazit

357

B. Überblick über mögliche Alternativen

361

I. Opferschutz durch den Ausbau vorhandener Therapiemöglichkeiten

361

II. Konsequente Umsetzung und Bekanntmachung staatlicher Präventionsprogramme

364

1. Aktionsplan 2011

365

2. Aktionsplan 2014

367

C. Fazit

369

Literaturverzeichnis

372

Literatur

372

Internetquellen

415

Drucksachen und Plenarprotokolle

422

Übersicht der polizeilichen Betreuungs- und Überwachungskonzepte

429

Sachverzeichnis

432