Legal history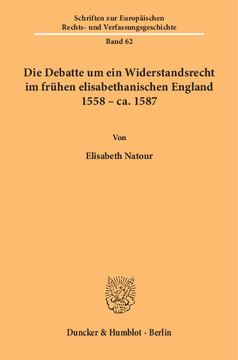 Additional Information
Book Details
ISBN

978-3-428-54707-4
978-3-428-14707-6 (print edition)

DOI

https://doi.org/10.3790/978-3-428-54707-4

Edition

1

Language

German

Pages

498

Collections

Subjects
Pricing
Institution

€ 116.00 (incl. local VAT if applicable)

Individual

€ 89.90 (incl. local VAT if applicable)
About The Author
Elisabeth Natour studierte in Heidelberg und Oxford Geschichte, Kunstgeschichte, Philosophie und Politikwissenschaft und wurde mit einer Arbeit zum elisabethanischen Widerstandsrecht 2008 in Heidelberg promoviert. Ihre Forschungsschwerpunkte liegen in der politischen Ideen- und Kulturgeschichte der Frühen Neuzeit.
Abstract
»Resistance Theory in Early Elizabethan England, 1558 – ca.1587«

Theological controversies are a well-known phenomenon of post-reformation Europe. However, the role those controversies played in Elizabethan England has so far been underestimated by scholars of political thought. The current study will show how theologians on either side of the confessional divide (namely conformist and nonconformist protestants and exiled catholic authors) used the context of confessional polemic to set out their religious-political outlook and communicate it within a premodern public sphere. This study seeks to decipher for the first time the messages of the controversies on the right to resist. The controversies emerge as a most valuable source category for understanding how contemporary notions of monarchy, resistance and obedience, power and conscience surfaced and evolved. Mit Beginn der elisabethanischen Herrschaft setzte zwischen den konfessionellen Gruppierungen Englands eine rege Debatte um die Ausrichtung der neuen Religionspolitik ein. In Hunderten von gedruckten Streitschriften rangen Exilkatholiken, konforme und nonkonforme Protestanten um Fragen der religiösen Doktrin und Praxis. Doch zugleich kommunizierten die Autoren in diesen Auseinandersetzungen mit dem jeweiligen konfessionellen Gegner ihre religionspolitischen Vorstellungen, sei es zum richtigen Verhältnis von Herrscher und Untertan, zu den Grenzen des Gehorsams- bzw. Widerstandsgebots oder zum Stellenwert von Gewissen, Macht und Recht. Die vorliegende Studie rekonstruiert diese oft verborgene und der Forschung bislang entgangene zweite Ebene der Schriften für die ersten drei Regierungsjahrzehnte als Debatte um ein Widerstandsrecht. Sie erschließt die kontroversliterarischen Quellen als Schlüsseltexte des zeitgenössischen politischen Denkens im Spannungsfeld von Universität, Geistlichkeit, Hofelite und einer sich entwickelnden vormodernen Öffentlichkeit.
Table of Contents
Section Title
Page
Action
Price

Vorwort

5

Inhaltsverzeichnis

7

Einleitung

13

I. Die Bedeutung des Widerstandsrechts im konfessionellen Zeitalter

13

II. Widerstandsdenken im elisabethanischen England: Forschungslage und Einordnung des Themas

16

III. Methodische Überlegungen

29

1. Erkenntnisziel und angrenzende Fragestellungen

29

2. Der Analysezeitraum (1558–ca. 1587)

30

3. Quellenlage und Quellenauswahl

33

4. Begriffe

37

a) Widerstandsrecht und Widerstandsdenken

37

b) Die verschiedenen konfessionellen Gruppierungen und ihre Kategorisierung

38

5. Zur Gliederung

41

A. 1558–1569

44

I. Einleitung

44

1. Der Analysezeitraum (1558–ca. 1569)

44

2. Der politikgeschichtliche Hintergrund (1558–1568)

48

3. Rahmenbedingungen der Meinungsäußerung

57

II. Die Erörterung von Widerstand und Gehorsam im Umfeld der Kontroversen

61

1. Die elisabethanische Gehorsamsdoktrin

61

2. Die Genfer Bibelausgabe (1560) und die ,Bishops' Bibleˋ (1568)

64

3. Drei frühe Werke remigrierter Theologen: John Aylmers Traktat ,A Harborowe for faithfull and afflicted subiectesˋ (1559) und Laurence Humphreys Traktate ,De Religionis conseruatione et reformatione veraˋ (1559) und ,Optimatesˋ (1560)

69

4. Übersetzungen kontinentaler protestantischer Schriften

75

5. Die königlichen Visitationen von Cambridge (1564) und Oxford (1566)

79

6. Parlamentsdebatten

85

7. Protestantische und katholische Geschichtsschreibung

88

8. Widerstandsdenken im unmittelbaren Regierungsumfeld

91

9. Katholische Schriften im unmittelbaren Umfeld der Kontroversen

93

10. Ergebnisse

101

III. Widerstandsdenken in der Kontroversliteratur

102

1. Die Auswahl der Kontroversen

102

2. Die anglikanische Herausforderung und ihre katholische Antwort (1560–1567)

104

a) Die Konferenz von Westminster und der ,Challenge-Sermonˋ John Jewels

104

b) Der Briefwechsel von Henry Cole und John Jewel

108

c) Thomas Coopers ,Apologie of priuate Masseˋ und das katholische Manuskript

109

d) John Jewels erste Kontroverse mit Thomas Harding

110

e) Einzelne katholische Repliken auf Jewels ,Challenge-Sermonˋ: Thomas Heskyns', Thomas Stapletons und John Rastells Schriften

114

f) Eine Nebenkontroverse des ,Challenge-Sermonˋ: Thomas Dorman und Alexander Nowell (1564–1567)

119

aa) Thomas Dormans Traktat ,A proufe of certeyne articles in religion, denied by M. Iuellˋ

119

bb) Alexander Nowells Antworttraktate ,A reproufe […] of a booke […] set furth by Thomas Dormanˋ (1565) und ,A reproufe […] continuedˋ (1566)

124

cc) Thomas Dormans Antwort auf die erste Schrift Nowells ,A disproufe of M. Novveles reproufeˋ

130

dd) Der Antworttraktat Alexander Nowells auf Thomas Dormans zweiten Traktat ,A confutation […] of M. Dormans last boke entituled a disproufe […]ˋ

132

3. Die Kontroverse zwischen John Jewel und Thomas Harding über die ,Apology of the Church of Englandˋ (1564–1570)

134

a) John Jewels Traktat ,An apologie … of the Church of Englandˋ

135

b) Thomas Hardings ,A confutation of a booke intituled An apologie of the Church of Englandˋ

138

c) Jewels erste Entgegnung: ,A Defence of the Apologieˋ

142

d) Hardings zweite Replik auf Jewel: ,A detection of sundrie foule errours […] practised by M. Iewelˋ

145

e) Jewels Antwort und Ergänzung: ,A defense of the Apologieˋ

148

f) Exkurs: Nicholas Sanders' Traktate ,The Images of Christˋ und ,The Rocke of the Churcheˋ

150

4. Die Kontroverse über das Kruzifix in der königlichen Kapelle (1564–1566)

153

a) John Martialls ,A Treatyse of the Crosseˋ

154

b) James Calfhills ,An avnsvvere to the Treatise of the crosseˋ

156

c) John Martialls ,A replie to M. Calfhills blasphemous answerˋ

160

5. Die Kontroverse über die Suprematsakte (ca. 1566–1567)

162

a) John Feckenhams Manuskript ,The Declaration of suche Scruples and Staies of Conscience touching the Othe of Supremacyˋ

164

b) Robert Hornes ,An answeare madeˋ

166

c) Thomas Stapletons ,A counterblast to M. Hornes vayne blaste against M. Fekenhamˋ

168

6. Die Kontroverse um die Adiaphora in den Druckschriften (1566)

172

a) Matthew Parkers ,Advertisments of the Church of Englandˋ

175

b) Der nonkonformistische Traktat ,A briefe discourseˋ

176

c) Der konformistische Antworttraktat ,A briefe examinationˋ

179

d) Die erste nonkonformistische Replik auf die ,Examinationˋ: ,Answere for the tymeˋ

181

e) ,The mynd and exposition of the excellent learnded man Martyn Bucerˋ als zweite nonkonformistische Replik auf die ,Examinationˋ

182

f) Der Traktat ,A pleasaunt dialogueˋ als dritte nonkonformistische Replik auf die ,Examinationˋ

184

g) Heinrich Bullinger als Autorität beider Seiten

186

h) Das nonkonformistische ,Fortresse of Fathersˋ

189

i) Der nonkonformistische Traktat ,To my lovynge brethrenˋ

191

IV. Ergebnisse

193

B. 1569–1579

198

I. Der Zeitraum der Analyse (1569–ca. 1579)

198

1. Politikgeschichtlicher Hintergrund

198

2. Rahmenbedingungen der Diskussion um ein Widerstandsrecht

203

II. Widerstandsdenken und politische Kritik im Umfeld der Kontroversen

219

1. Die Diskussion um das Widerstandsrecht im Parlament von 1572

220

2. Ratschlag und Kritik

230

a) John Leslies Traktat ,A Treatise of Treasons against Q. Elizabeth and the croune of Englandˋ (1572)

230

b) John Stubbs' Traktat ,The disoverie of a gaping gulfˋ (1579)

233

c) Edward Derings Predigt vor der Königin (1569)

237

3. Ausländische Traktate und Kommentare zur Außenpolitik

240

4. Übersetzungen von Werken der kontinentalen Theologen

245

5. Ergebnisse

248

III. Widerstandsdenken in der Kontroversliteratur

250

1. Auswahl der Kontroversen

250

2. Die Kontroversen

251

a) Ein Kontroversfragment um königliche Suprematie und päpstliche Macht (1571–1573)

251

aa) Nicholas Sanders' Schrift ,De Visibili Monarchia Ecclesiæˋ (1571)

251

bb) Die angeordnete Widerlegung von Sanders' ,De Visibili Monarchia Ecclesiaeˋ

263

cc) John Bridges' ,The Supremacie of Christian Princesˋ als Replik auf Nicholas Sanders' ,Monarchiaˋ und die Suprematieauffassung Thomas Stapletons

272

b) Die Kontroverse um die ,Admonition to the Parliamentˋ (1572–1577)

281

aa) ,An Admonition to the Parliamentˋ

281

bb) ,A Second Admonition to the Parliamentˋ

286

cc) ,Certaine Articlesˋ

291

dd) John Whitgifts Schrift ,An anwere to a certen Libel intituled, An admonition to the Parliamentˋ

293

ee) Thomas Cartwrights Traktat ,A replye to an anwere made of M. Doctor Whitgifteˋ

297

ff) Walter Travers' und Thomas Cartwrights Schrift ,A full and plain declaration of Ecclesiasticall Disciplineˋ

301

gg) John Whitgifts Replik auf Cartwrights ,Replyeˋ: ,The defense of the aunsvvere to the Admonitionˋ

307

hh) Henry Howards Schrift ,A Defense of the Ecclesiasticall Regiment in Englandeˋ

310

ii) Der anonyme Traktat ,An Examination of M. Doctor Whytgiftes Censuresˋ

312

jj) Thomas Cartwrights Traktat ,The second replie of Thomas Cartwrightˋ

314

kk) Thomas Cartwrights Traktat ,The rest of the second replieˋ

315

c) Der Beginn der Kontroverse um die katholischen Glaubensartikel von William Allen (ca. 1574–1579)

319

aa) Die erste Druckversion: Richard Bristows ,Motives vnto the Catholike faithˋ

321

bb) Die zweite Druckversion der Artikel: ,An Offer made by a Catholikeˋ

326

cc) Bristows überarbeitete Ausgabe der ,Motivesˋ: ,Demaundes to bee proponed of Catholickes to the Heretickesˋ

328

dd) Zwei Manuskriptversionen der Glaubensartikel, in ihrem Wiederabdruck durch die Protestanten

331

ee) William Fulkes ,An ansvver of a true Christian to the proude challenge of a counterset Catholikeˋ

332

ff) Oliver Carters Widerlegung derselben Manuskriptversion als ,An answer … unto certaine popish questions and demaundesˋ

335

gg) John Knewstubs ,An aunsvveare vnto certaine assertionsˋ

337

IV. Ergebnisse

340

C. 1580–1587

343

I. Einleitung

343

1. Der Zeitraum der Analyse (1580–ca. 1587)

343

2. Politikgeschichtlicher Hintergrund

344

3. Die Umstände des Publizierens und ihre Auswirkung auf die Kontroversliteratur

353

II. Die Argumentation zu einem Widerstandsrecht bei den einzelnen Gruppierungen im Kontext ihrer Schriften

357

1. Die katholischen Autoren

357

a) Lebensumstände und Gruppierungen

357

b) Themen und Tendenzen

362

aa) Religion oder Politik?

362

bb) Verfolgung, Märtyrertum, Unrecht: Die Katholiken als juristische Opfer

365

cc) Kritik an Ausführenden und Verantwortlichen als Herrschaftskritik

369

dd) Kritik an protestantischem Widerstandsdenken und widerständischem Handeln

370

ee) Die Superiorität des Papstes

375

ff) Exkurs: William Allens ,Admonition to the People and Nobilityˋ (1588)

376

2. Die puritanischen Autoren

379

a) Lebensumstände und Gruppierungen

379

b) Themen und Tendenzen

385

aa) Qualifizierter Gehorsam in den Schriften gegen die Katholiken

385

bb) Politische Loyalität

387

cc) Legalistische Einflüsse

388

dd) Die biblisch begründeten Grenzen herrscherlicher Macht

390

ee) Exkurs: Dudley Fenners ,Sacra Theologiaˋ (1585)

396

3. Die konformistischen Autoren

398

a) Lebensumstände und Gruppierungen

398

b) Themen und Tendenzen

402

aa) Säkularisierung und göttliche Fügung

402

bb) Offensiver Umgang mit protestantischen Formen von Widerstand und Widerstandsdenken

406

cc) Die Abgrenzung und Begrenzung des Bischofsamts

412

dd) Exkurs: Thomas Bilsons Traktat ,The true difference betweene Christian subiection and unchristian rebellionˋ (1585)

415

III. Ergebnisse

419

Schluss

422

Quellen und Zitierweise

432

Literaturverzeichnis

433

Namen- und Ortsregister

492