Criminal law: offences against the person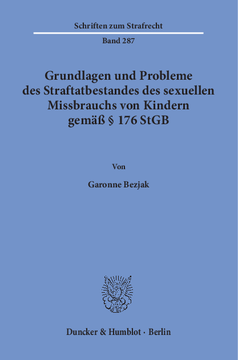 BOOK
Grundlagen und Probleme des Straftatbestandes des sexuellen Missbrauchs von Kindern gemäß § 176 StGB
Schriften zum Strafrecht, Vol. 287
(2015)
Additional Information
Book Details
ISBN

978-3-428-54709-8
978-3-428-14709-0 (print edition)

DOI

https://doi.org/10.3790/978-3-428-54709-8

Edition

1

Language

German

Pages

358

Collections

Subjects
Pricing
Institution

€ 104.00 (incl. local VAT if applicable)

Individual

€ 79.90 (incl. local VAT if applicable)
About The Author
Garonne Bezjak trat nach dem Studium in Göttingen und dem Referendariat in Hamburg im Jahr 2002 als Richterin in die ordentliche Gerichtsbarkeit in Schleswig-Holstein ein. In der Zeit von 2007 bis 2010 war Bezjak im Ministerium für Justiz, Arbeit und Europa des Landes Schleswig-Holstein im Strafrecht tätig. Daran anschließend war sie bis 2013 an das Bundesministerium der Justiz abgeordnet. Nach zwischenzeitlicher richterlicher Tätigkeit ist Garonne Bezjak seit Januar 2015 erneut an das BMJV abgeordnet. Wissenschaftlich war sie von 2000 bis 2002 und von 2005 bis 2006 an der Universität Hamburg als akademische Tutorin bzw. als Lehrbeauftragte im Bereich des öffentlichen Rechts und des Strafrechts beschäftigt.
Abstract
Die Arbeit befasst sich mit dem Straftatbestand des sexuellen Missbrauchs von Kindern. Im Fokus stehen der Strafzweck der Vorschrift des § 176 StGB und die Frage, inwieweit die einzelnen Tatbestandsvarianten dazu geeignet sind, den Strafzweck zu erfüllen. Auf diese Weise wird der Reformbedarf für die Vorschrift ermittelt und beschrieben. Im ersten Teil der Arbeit wird zunächst die Historie des Schutzes von Kindern vor sexuellem Missbrauch sowie die Entwicklungsgeschichte von § 176 StGB dargestellt. Im zweiten Teil der Arbeit werden das geschützte Rechtsgut und die Deliktsnatur der Vorschrift herausgearbeitet. Auf dieser Grundlage werden die einzelnen Tatbestandsvarianten daraufhin überprüft, ob sie als abstraktes Gefährdungsdelikt geeignet und ausreichend sind, um die ungestörte sexuelle Entwicklung des Kindes zu schützen. Die Arbeit kommt zu dem Ergebnis, dass § 176 StGB zum einen Strafbarkeitslücken aufweist. Zum anderen gibt es Tathandlungen, die von § 176 StGB erfasst werden, ohne dass sie eine Rechtgutsbeeinträchtigung hervorrufen können. Die Arbeit schließt im dritten Teil mit einem konkreten Reformvorschlag. »Foundations and Problems of the Offence of Sexual Abuse of Children Pursuant to Section 176 of the German Criminal Code«

Child sex abuse, a criminal offence under section 176 of the German Criminal Code (Strafgesetzbuch, StGB), often evokes a strong emotional response. By way of contrast, Garonne Bezjak applies rational criteria in order to examine what this provision seeks to protect, and whether such protection is fully achieved under section 176 StGB. The author concludes with a set of specific reform proposals.
Table of Contents
Section Title
Page
Action
Price

Inhaltsverzeichnis

7

Einleitung

15

1. Teil: Die historische Entwicklung des sexuellen Missbrauchs von Kindern und ihrer Bestrafung

17

A. Der sexuelle Missbrauch von Kindern im römischen Recht

18

I. Das Zwölftafelgesetz

18

II. Die Hausgewalt des pater familias

19

III. Die Ehegesetzgebung des Prinzeps Augustus

21

1. Eherechtliche Vorgaben unter Augustus

22

2. Materiell strafrechtliche Regelungen des Augustus

23

IV. Hinweise aus den Digesten

25

V. Der sexuelle Missbrauch in der Lebenswirklichkeit der Kinder

27

VI. Ergebnis

28

B. Der sexuelle Missbrauch von Kindern in der germanischen Zeit

29

I. Das frühe Recht der Germanen

29

II. Der Umgang mit sexuellen Verfehlungen im frühen germanischen Recht

30

1. Die Ahndung von Rechtsbrüchen durch die Stammesgemeinschaft

31

2. Die Ahndung von Rechtsbrüchen durch die Sippe

32

3. Die väterliche Hausgewalt

34

III. Die Leges Barbarorum

36

IV. Ergebnis

42

C. Der sexuelle Missbrauch von Kindern im Mittelalter

43

I. Die Rechtsquellen des Mittelalters

44

II. Die Sexualstraftaten im Mittelalter

46

III. Ergebnis

50

D. Der sexuelle Missbrauch von Kindern in der Frühen Neuzeit

50

I. Die wesentlichen strafrechtlichen Bestimmungen der Frühen Neuzeit

52

1. Die Constitutio Criminalis Carolina

52

2. Der Codex Juris Bavarici Criminalis

54

3. Das Preußische Allgemeine Landrecht von 1794

57

a) Die Ehegesetzgebung

58

b) Die Sexualstraftaten des Preußischen Allgemeinen Landrechtes

58

II. Ergebnis

64

E. Der sexuelle Missbrauch von Kindern in der neueren Zeit

65

I. Die wesentlichen strafrechtlichen Bestimmungen in der neueren Zeit

67

1. Das Strafgesetzbuch für das Königreich Bayern von 1813

68

2. Das Strafgesetzbuch für die Preußischen Staaten von 1851

71

3. Das Reichsstrafgesetzbuch von 1871

72

II. Ergebnis

76

F. Der sexuelle Missbrauch von Kindern in der Gegenwart

76

I. Die strafrechtlichen Bestimmungen der Gegenwart

78

1. Das 4. Strafrechtsreformgesetz vom 23. November 1973

79

2. Das 6. Strafrechtsreformgesetz vom 26. Januar 1998

82

3. Das Gesetz zur Änderung der Vorschriften über die Straftaten gegen die sexuelle Selbstbestimmung und zur Änderung anderer Vorschriften vom 27. Dezember 2003

85

4. Das Gesetz zur Umsetzung des Rahmenbeschlusses des Rates der Europäischen Union zur Bekämpfung der sexuellen Ausbeutung von Kindern und der Kinderpornographie vom 31. Dezember 2008

89

II. Ergebnis

89

G. Internationale Vorgaben mit Einfluss auf § 176 StGB

90

I. Pornographische Live-Darbietungen durch Kinder

90

II. Verabredung mittels Informations- und Kommunikationstechnologie

91

III. Ergebnis

93

H. Das Gesamtergebnis des ersten Teils

93

2. Teil: Die Straftatbestände des sexuellen Missbrauchs von Kindern gemäß § 176 StGB

96

A. Das geschützte Rechtsgut des Straftatbestandes des sexuellen Missbrauchs von Kindern

96

I. Der Begriff des Rechtsgutes

99

II. Das konkrete Rechtsgut des § 176 StGB

101

1. Der Schutz der ungestörten sexuellen Entwicklung

101

2. Der Schutz des Kindes vor Fremdbestimmung

102

3. Der Schutz der ungestörten Gesamtentwicklung

103

4. Der Schutz der sexuellen Selbstbestimmung

103

5. Schutz des öffentlichen Friedens

105

6. Eigene Auffassung

106

a) Die Systematik der für § 176 StGB benannten Rechtsgüter

106

b) Die Rechtsgüter im Einzelnen

108

aa) Die sexuelle Selbstbestimmung

108

bb) Die ungestörte sexuelle Entwicklung

112

cc) Die ungestörte Gesamtentwicklung

116

dd) Der öffentliche Friede

117

III. Ergebnis

120

B. Die Deliktsnatur des § 176 StGB

121

I. Die Kategorisierung als Verletzungs- oder Gefährdungsdelikt

121

1. § 176 StGB als abstraktes Gefährdungsdelikt

123

2. § 176 StGB als Verletzungs- und abstraktes Gefährdungsdelikt

123

3. § 176 StGB als Risikodelikt

124

4. Eigene Auffassung

125

II. Die Legitimität der Strafbarkeit der abstrakten Gefährdungsdelikte des § 176 Abs. 4 Nr. 3 und Abs. 5 StGB

127

1. Die Heranziehung der Zurechnungskriterien der Erfolgsdelikte

130

2. Der Legitimationsansatz nach Jakobs

131

3. Der Legitimationsansatz nach Wohlers

132

4. Der Legitimationsansatz nach Hörnle

133

5. Eigene Auffassung

134

a) Die Legitimität des § 176 Abs. 4 Nr. 3 StGB

137

b) Die Legitimität des § 176 Abs. 5, 1. Variante StGB

139

c) Die Legitimität des § 176 Abs. 5, 2. Variante StGB

140

d) Die Legitimität des § 176 Abs. 5, 3. Variante StGB

144

III. Ergebnis

146

C. Tathandlungen mit Körperkontakt gemäß § 176 Abs. 1 und Abs. 2 StGB

147

I. Der objektive Tatbestand

147

1. Die Tätereigenschaft

147

2. Die Opfereigenschaft

151

a) Der vierzehnte Geburtstag

152

b) Die starre Altersgrenze

152

3. Sexuelle Handlungen

158

a) Der Bezugspunkt der sexuellen Handlung

159

b) Die Erheblichkeit der sexuellen Handlung

164

4. Der Körperkontakt

169

a) Sexuelle Handlungen, die der Täter an einem Kind vornimmt (§ 176 Abs. 1, 1. Variante StGB)

169

aa) Die Intensität des Körperkontaktes

169

bb) Die Eigenhändigkeit der Vornahme der sexuellen Handlung

171

b) Sexuelle Handlungen, die der Täter an sich von dem Kind vornehmen lässt (§ 176 Abs. 1, 2. Variante StGB)

173

aa) Die Abgrenzung zu § 176 Abs. 1, 1. Variante StGB

173

bb) Das "An sich vornehmen Lassen" der sexuellen Handlung durch Unterlassen

174

c) Sexuelle Handlungen, die das Kind an einem Dritten vornimmt (§ 176 Abs. 2, 1. Variante StGB)

180

d) Sexuelle Handlungen, die das Kind von einem Dritten an sich vornehmen lässt (§ 176 Abs. 2, 2. Variante StGB)

181

5. Das Bestimmen des Kindes gemäß § 176 Abs. 2 StGB

182

6. Ergebnis

188

II. Der subjektive Tatbestand

188

III. Die Rechtswidrigkeit

191

1. Die Einwilligung des Opfers

191

2. Das sozialadäquate Verhalten

191

IV. Die Schuld

194

1. Der entschuldigende Notstand gemäß § 35 StGB

194

2. Der Verbotsirrtum gemäß § 17 StGB

195

3. Die Schuldfähigkeit gemäß §§ 20, 21 StGB

197

a) Die Schuldunfähigkeit und die verminderte Schuldfähigkeit im Rahmen des § 176 StGB

199

b) Die actio libera in causa

201

V. Täterschaft und Teilnahme

202

1. Die allgemeinen Grundsätze der Täterschaft und Teilnahme bei § 176 StGB

203

2. Die Veranlassung zur Bestimmung

204

3. Die Beihilfe durch das Verschreiben von Verhütungsmitteln

206

VI. Der Versuch

212

VII. Die Strafzumessung

215

1. Der minder schwere Fall

216

2. Strafzumessungsaspekte

218

a) Das Doppelverwertungsverbot gemäß § 46 Abs. 3 StGB

218

b) Das Alter des Kindes

220

c) Die Häufigkeit von Sexualkontakten

222

d) Homosexuelle Handlungen

223

e) Psychische Folgeschäden aufgrund des Verhaltens des sozialen Nahbereiches

224

f) Die Anwendung von Nötigungsmitteln

225

g) Moralisierende Ausführungen

225

h) Das Ausnutzen einer besonderen Vertrauensstellung

225

i) Das Ergreifen der Initiative durch das Kind

226

j) Das Geständnis

226

k) Der Zeitablauf zwischen Tat und Verurteilung

226

l) Weitere Strafzumessungserwägungen

227

3. Der besonders schwere Fall gemäß § 176 Abs. 3 StGB

227

VIII. Ergebnis

229

D. Tathandlungen ohne Körperkontakt gemäß § 176 Abs. 4 und Abs. 5 StGB

230

I. Der objektive Tatbestand

230

1. Die Vornahme sexueller Handlungen vor einem Kind gemäß § 176 Abs. 4 Nr. 1 StGB

232

a) Das "An sich vornehmen Lassen" der sexuellen Handlung durch einen Dritten

232

b) Die räumliche Nähe zwischen Täter und Opfer

234

c) Die akustische Vornahme sexueller Handlungen

235

d) Der Besuch von kinderpornographischen Live-Darbietungen

236

e) Ergebnis

240

2. Das Bestimmen eines Kindes zu sexuellen Handlungen gemäß § 176 Abs. 4 Nr. 2 StGB

240

a) Das Bestimmen des Kindes

240

b) Die Vornahme der sexuellen Handlung durch das Kind

242

aa) Das Vorliegen einer Handlung durch akustisches Agieren

242

bb) Das Vornehmen einer Handlung durch die Einnahme sexuell aufreizender Posen

243

cc) Das Vorliegen einer sexualisierten Handlung

244

dd) Die Erheblichkeit der sexuellen Handlung

246

ee) Die Wahrnehmbarkeit der sexuellen Handlung

246

c) Ergebnis

248

3. Das Einwirken auf ein Kind durch Schriften gemäß § 176 Abs. 4 Nr. 3 StGB

248

a) Die Hartnäckigkeit der Einwirkung

249

b) Die Konkretisierung des Kindes

250

c) Die Darstellungen nach § 11 Abs. 3 StGB

251

aa) Das Einwirken auf das Kind über einen Chatraum

253

bb) Die Sexualbezogenheit der Darstellung

260

d) Ergebnis

262

4. Das Einwirken durch pornographische Darstellungen gemäß § 176 Abs. 4 Nr. 4 StGB

262

a) Das Vorzeigen pornographischer Darstellungen und Abbildungen gemäß § 176 Abs. 4 Nr. 4, 1. Variante StGB

263

aa) Das Vorzeigen

263

bb) Die Abbildungen und Darstellungen

265

(1) Das Erfordernis einer körperlichen Darstellung

266

(2) Der unbebilderte geschriebene Text

267

cc) Die Pornographie

269

(1) Die Entwicklung des Pornographiebegriffs

270

(2) Die modifizierenden Auffassungen

273

(3) Eigene Auffassung

275

(4) Die Aufklärungsschriften

278

dd) Ergebnis

279

b) Das Abspielen von Tonträgern pornographischen Inhalts gemäß § 176 Abs. 4 Nr. 4, 2. Variante StGB

280

c) Das Einwirken mit entsprechenden Reden gemäß § 176 Abs. 4 Nr. 4, 3. Variante StGB

280

5. Das Anbieten eines Kindes gemäß § 176 Abs. 5, 1. Variante StGB

283

a) Der Bezug zu einer Tat nach § 176 Absätze 1 bis 4 StGB in Verbindung mit § 176a StGB oder mit § 176b StGB

283

b) Die Bezugnahme auf § 176 Abs. 4 Nr. 3 und Nr. 4 StGB

284

c) Das Anbieten des Kindes

285

aa) Die Empfangsbedürftigkeit des Angebots

286

bb) Die Ernsthaftigkeit des Angebotes

289

d) Ergebnis

294

6. Das Versprechen des Nachweises eines Kindes gemäß § 176 Abs. 5, 2. Variante StGB

294

a) Die Kettenvermittlung

295

b) Das Versprechen des Täters

295

c) Die Ernsthaftigkeit des Nachweises eines Versprechens

297

d) Ergebnis

298

7. Die Verabredung zu der Begehung einer Tat nach § 176 Abs. 1 bis Abs. 4 StGB gemäß § 176 Abs. 5, 3. Variante StGB

298

a) Das Verabreden

299

b) Die Konkretisierung der verabredeten Tat

300

c) Die Ernsthaftigkeit der Verabredung

302

aa) Das Erfordernis der Ernstlhaftigkeit von mindestens zwei Personen

303

bb) Kein Erfordernis der Ernsthaftigkeit von mindestens zwei Personen

304

cc) Differenzierende Ansicht

305

dd) Eigene Auffassung

305

d) Die durch Drohung erzwungene Verabredung

307

e) Die Verabredung mit einer schuldunfähigen Person

308

f) Ergebnis

310

8. Das Ergebnis des objektiven Tatbestandes

310

II. Der subjektive Tatbestand

311

1. Die subjektive Einbeziehung des Kindes in das sexuelle Geschehen des § 176 Abs. 4 Nr. 1 StGB

311

2. Das Absichtserfordernis gemäß § 176 Abs. 4 Nr. 3 StGB

317

3. Die Absicht des § 176 Abs. 4 Nr. 3 StGB bei der Einwirkung mit Aufklärungsschriften

319

4. Ergebnis

319

III. Die Rechtswidrigkeit und die Schuld

320

IV. Täterschaft und Teilnahme

320

V. Der Versuch

321

VI. Die Strafzumessung

322

E. Das Gesamtergebnis des zweiten Teils

323

3. Teil: Der Reformvorschlag

326

A. Die Änderungen in § 11 Abs. 3 StGB-E

326

B. Die Änderungen in § 176 StGB

328

I. Die Duldung der sexuellen Handlung eines Kindes gemäß § 176 Abs. 1, 3. Variante StGB-E

329

II. Der minder schwere Fall gemäß § 176 Abs. 1 StGB-E

329

III. Die Änderungen des § 176 Abs. 4 Nr. 1 StGB-E

330

1. Die Vornahme sexueller Handlungen vor einem Kind von einem Dritten an dem Täter gemäß § 176 Abs. 4 Nr. 1, 2. Variante StGB-E

330

2. Das Betrachten einer dargestellten sexuellen Handlung eines Kindes vor dem Kind gemäß § 176 Abs. 4 Nr. 1, 3. Variante StGB-E

330

IV. Die Änderungen des § 176 Abs. 4 Nr. 3 StGB-E

332

V. Die Änderungen des § 176 Abs. 4 Nr. 4 StGB-E

332

VI. Die Änderungen des § 176 Abs. 5 StGB-E

333

1. Die Herausnahme von § 176 Abs. 4 Nr. 3 und Nr. 4 StGB aus den Bezugstaten des § 176 Abs. 5 StGB

333

2. Das Erfordernis der Ernstlichkeit der Tathandlung

334

VII. Die Einführung des § 176 Abs. 7 StGB-E

335

Schlussbetrachtung

336

Literaturverzeichnis

338

Stichwortverzeichnis

352