Methods, theory & philosophy of law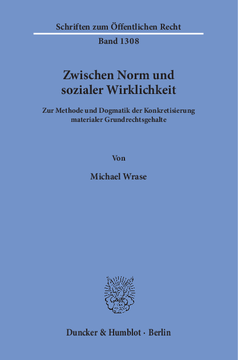 BOOK
Zwischen Norm und sozialer Wirklichkeit
Zur Methode und Dogmatik der Konkretisierung materialer Grundrechtsgehalte
Schriften zum Öffentlichen Recht, Vol. 1308
(2016)
Additional Information
Book Details
ISBN

978-3-428-54255-0
978-3-428-14255-2 (print edition)

DOI

https://doi.org/10.3790/978-3-428-54255-0

Edition

1

Language

German

Pages

543

Collections

Subjects
Pricing
Institution

€ 116.00 (incl. local VAT if applicable)

Individual

€ 89.90 (incl. local VAT if applicable)
About The Author
Michael Wrase ist Mercator Fellow am Wissenschaftszentrum Berlin für Sozialforschung (WZB) in der Projektgruppe der Präsidentin. Im Frühjahr 2015 war er Visiting Research Fellow an der University of Oxford. Zuvor hat er den Lehrstuhl für Öffentliches Recht, Rechtsphilosophie und Rechtssoziologie an der Westfälischen Wilhelms-Universität Münster vertreten und war Lehrbeauftragter an der Universität Bielefeld. Seine Dissertation zur Grundrechtsinterpretation an der Humboldt-Universität zu Berlin wurde von Bundesverfassungsrichterin Prof. Dr. Susanne Baer, LL.M., betreut. Seine Arbeits- und Forschungsschwerpunkte umfassen das Verfassungsrecht, das Bildungs- und Sozialrecht, die Rechtssoziologie und das Antidiskriminierungsrecht.
Abstract
Vor dem Hintergrund der historischen Methodendiskussion in der deutschen Staatsrechtswissenschaft betrachtet die Arbeit die Entwicklung der Grundrechtsinterpretation in der Bundesrepublik Deutschland. Die substantielle Bindung aller Staatsgewalten an die Grundrechte und die Einführung eines Bundesverfassungsgerichts durch das Grundgesetz von 1949 waren beispiellos. Innerhalb der ersten acht Jahre seines Bestehens entwickelte das Bundesverfassungsgericht – auf verfassungstheoretisch und dogmatisch bis dahin weitgehend unbestelltem Terrain – methodische und dogmatische Grundlinien, die das moderne Verständnis der Grundrechte in Deutschland geprägt haben. Das Gericht fordert seither im Sinne eines materialen Verfassungsverständnisses, die Grundrechte so auszulegen, dass sie unter Einbeziehung der sozialen Wirklichkeit die größtmögliche juristische Wirkungskraft entfalten. Unter Auswertung der Rechtsprechung und Methodenliteratur werden die aktuellen methodischen Grundsätze der Grundrechtsinterpretation dargestellt und beleuchtet. »Between Norm and Social Reality«

Subordinating all state authority to fundamental rights and establishing a Federal Constitutional Court through the new Constitution (Grundgesetz) were unprecedented in German history. During its first years of existence, the Constitutional Court developed methodological principles for the interpretation of fundamental rights. The Court demands an interpretation which promises the greatest juridical efficacy, while simultaneously taking full account of social reality. In the monograph the principles of the interpretation of fundamental rights will be brought to light through an evaluation of the relevant case law and jurisprudential literature.
Table of Contents
Section Title
Page
Action
Price

Vorwort\r

5

Inhalt

7

Abkürzungsverzeichnis\r

14

A. Einleitung

17

I. Grundrechtsinterpretation unter Rationalitätsanspruch

17

II. Von 'Dienern' und 'Pianisten': Juristische Methodenlehre und gerichtliche Praxis

26

III. Gang der Untersuchung

36

B. Vom staatsrechtlichen Positivismus zur methodischen Neuorientierung unter dem Bonner Grundgesetz

42

I. Juristische Methode und staatsrechtlicher Positivismus

42

1. Die Entstehung der juristischen Methode und ihre Übertragung auf das Staatsrecht

43

a) Die Ursprünge der juristischen Methode im Privatrecht des 19. Jahrhunderts bei C. F. Savigny

44

b) Die Übertragung der juristischen Methode auf das Öffentliche Recht durch Gerber und Laband

50

c) 'Aufbruch' in der Methodenlehre am Anfang des 20. Jahrhunderts: Freirechtsschule und Interessenjurisprudenz

57

d) Zwischenfazit: Positivismus und Leerlauf der Grundrechte

60

2. Wandel des staatsrechtlichen Methodenverständnisses in Weimar

61

a) Die positivistische und die antipositivistische Strömung im sogenannten Methodenstreit

64

aa) Die positivistische Richtung, insbesondere die Rechtslehre Kelsens

65

bb) Die antipositivistische Richtung, am Beispiel von Kaufmann und Heller

70

cc) Zwischenfazit: Die methodische Öffnung im Denken der Weimarer Staatsrechtslehre

74

b) Ansätze für eine Aktualisierung der Grundrechtsbindung – Die Grundrechte bei Schmitt und Smend

76

aa) Die Grundrechte bei Schmitt

77

bb) Die Grundrechte in der Integrationslehre Smends

81

c) Richterliches Prüfungsrecht und Grundrechtsbindung des Gesetzgebers

85

d) Zwischenfazit: Die Ablösung des Positivismus und das 'Rätsel' der Grundrechtsbindung

88

II. Der Bruch mit dem Positivismus und die Entwicklung einer Methode aus dem Selbstverständnis des Bonner Grundgesetzes und seines 'Hüters', des Bundesverfassungsgerichts

89

1. Der Bruch mit dem methodischen Positivismus unter dem Grundgesetz

90

a) Der grundrechtstheoretische Paradigmenwechsel

90

b) Das fortbestehende 'Rätsel' der Grundrechtsbindung

94

2. Die Einrichtung des Bundesverfassungsgerichts: Ungewissheit über Status und Methode

95

a) Die Entscheidungen des Parlamentarischen Rats und das Bundesverfassungsgerichtsgesetz von 1951

96

b) Die Erstbesetzung des Bundesverfassungsgerichts

102

c) Das methodische Vorverständnis der ersten Richtergeneration

107

3. Die Begründung von Autorität und Deutungsmacht

114

a) Deutungsmacht und Methode

115

b) Kämpfe um Autorität gegenüber der Regierung

120

aa) Auseinandersetzung um den Status des Bundesverfassungsgerichts

120

bb) Der Streit um die Wiederbewaffnung

123

c) Kämpfe um Deutungsmacht gegenüber den Bundesgerichten, speziell dem Bundesgerichtshof: Der Gutachtenstreit

126

4. Weichenstellungen der Grundrechtsdogmatik durch den Ersten Senat

130

a) Die Verfassungsbeschwerde als prozessualer 'Entwicklungsmotor' der Grundrechtsdogmatik

131

b) Die Elfes-Entscheidung vom 16. Januar 1957

133

aa) Das wertbezogene Grundrechtsverständnis bei Wintrich und Dürig

133

bb) Das Elfes-Urteil

136

c) Der Beschluss zur steuerlichen Zusammenveranlagung von Eheleuten vom 7. Mai 1957

141

d) Das Lüth-Urteil vom 15. Januar 1958

145

aa) Sich zuspitzende Entwicklungen

148

bb) Die Grundlinien des Lüth-Urteils

150

e) Das Apotheken-Urteil vom 11. Juni 1958

152

5. Die Konstitutionalisierung der Rechtsordnung

157

III. Die Methodendebatte in der Bundesrepublik

160

1. Die Neuformierung der Staatsrechtslehre in der Nachkriegszeit

160

a) Die Staatsrechtslehre und die Bewältigung der NS-Vergangenheit

160

b) Staatsrechtslehre und Bundesverfassungsgericht

162

2. Die Diskussion um die "Methoden der Verfassungsinterpretation" und die Bedeutung der Schmitt- und der Smend-Schule

165

a) Die Smend-Schule

167

b) Die Schmitt-Schule

168

c) Der Beitrag Forsthoffs zur "Umbildung des Verfassungsgesetzes"

170

3. Der topische Ansatz in der verfassungsrechtlichen Methodendiskussion

176

a) Die Topik nach Viehweg

177

b) Die "Prinzipien der Verfassungsinterpretation" von Ehmke

181

4. Praktisch-hermeneutische Interpretationskonzepte

184

a) Einfluss der Neuen Hermeneutik in der juristischen Methodik

184

aa) "Normstruktur und Normativität" von F. Müller

190

bb) Fortentwicklung des Normbereichskonzepts in den "Grundzügen des Verfassungsrechts" von Hesse

194

b) "Die offene Gesellschaft der Verfassungsinterpreten" von Häberle

198

aa) Die institutionelle Grundrechtstheorie nach Häberle

198

bb) Die offene Gesellschaft der Verfassungsinterpreten

200

cc) Kritik

202

5. "Bestandsaufnahme und Kritik" zur Methodendiskussion

207

6. Zwischenfazit: Neuorientierung in der verfassungsrechtlichen Methodendebatte unter dem Grundgesetz

211

C. Konkretisierung der Grundrechte durch Methodik, Dogmatik und Grundrechtstheorie

214

I. Die klassischen Methoden der Grundrechtsinterpretation in der Rechtsprechung des Bundesverfassungsgerichts

214

1. Wortlaut

217

2. Entstehungsgeschichte

220

3. Historische Interpretation im weiteren Sinn

227

4. Systematik, insbesondere Einheit der Verfassung

231

a) Wertsystem

231

b) Einheit der Verfassung als zentrales Auslegungsprinzip

232

c) Systematik der Grundrechtsvorbehalte?

234

d) Grundrechtsbeschränkung durch kollidierendes Verfassungsrecht

236

5. Teleologische Auslegung

237

6. Zwischenfazit: Leistungsfähigkeit der herkömmlichen Interpretationsmethoden

239

II. Rechtstheoretische (Vor-)Überlegungen zur Norminterpretation

240

1. Normkonkretisierung

242

2. Fachsprache

244

3. Verwendungskontext

245

4. Juristischer Diskurs und Selbstreferenz

247

5. Zwischenfazit: Grundrechtsinterpretation ist schöpferische ­Konkretisierung in institutionellen Kontexten

254

III. (Grundrechts-)Dogmatik als Mittel der Grundrechtskonkretisierung

255

1. Zum Begriff der Rechtsdogmatik

255

2. Funktionen der (Grund-)Rechtsdogmatik

259

a) Stabilisierungs- und Rationalisierungsfunktion

259

b) Entlastungsfunktion

260

c) Systematisierungsfunktion

261

d) Wertungs- und Steuerungsfunktion

261

e) Kritik- und Fortbildungsfunktion

263

3. Dogmatik und 'System' – am Beispiel des staatlichen Informationshandelns

264

IV. Rationalisierung der Grundrechtsinterpretation durch eine übergreifende Grundrechtstheorie \rdes Grundgesetzes?

273

1. Die 'Suche' nach einer Grundrechtstheorie des Grundgesetzes

273

a) Das Petitum Böckenfördes

273

b) Systematisierung auf der Grundlage einer einheitlichen Grundrechtstheorie?

275

2. Die Abwehrrechtstheorie

276

a) Die Abwehrfunktion als 'klassische' Grundrechtsfunktion?

276

b) Abwehrfunktion als Hauptfunktion des Grundrechtsschutzes?

279

c) Rückkehr zum abwehrrechtlichen Grundrechtsverständnis? Die Position Böckenfördes

282

d) 'Rekonstruktion' des Abwehrrechts? Der dogmatische Ansatz bei Schlink

286

e) Erweiterung des Eingriffsbegriffs und reflexives Grundrechtsverständnis, insbesondere mit Blick auf Privatrechtskonstellationen

291

f) Abwehrrechtliches Grundrechtsverständnis und soziale Bedingungen der Möglichkeit individueller Freiheit

295

3. Grundrechte als Prinzipien

301

a) Prinzipien als Optimierungsgebote

302

b) Freiheitsbegriff und weite Tatbestandslösung

304

c) Kritik

305

4. Zwischenfazit: Von den Problemen einer übergreifenden Grundrechtstheorie

309

D. Die Konkretisierung materialer Grundrechtsgehalte und ihre funktionell-rechtlichen Grenzen

311

I. Mehrdimensionales Grundrechtsverständnis

311

1. Multifunktionalität des Grundrechtsschutzes

311

a) Multifunktionalität des Grundrechtsschutzes

311

b) Gefahr der Ubiquität des Grundrechtsschutzes

312

2. Die subjektive und die objektive Dimension der Grundrechte

314

a) Objektive Normgehalte und subjektive Rechtsposition(en)

315

b) Grundrechte als Sicherung grundlegender subjektiver Belange durch objektive Ausgestaltungsaufträge

317

c) Speziell: Rundfunk-, Presse- und Wissenschaftsfreiheit

320

3. Grundrechtsfunktionen

327

a) Abwehrfunktion

328

b) Ausstrahlungswirkung

329

c) Schutzpflichten

331

d) Leistungs- und Teilhaberechte

338

e) Einrichtung und Ausgestaltung

343

f) Organisation und Verfahren

352

g) Allgemeiner Gleichheitssatz und Diskriminierungsverbote

356

4. Zwischenfazit: Multifunktionalität als Ausdruck eines materialen Grundrechtsverständnisses

362

II. Gewährleistungsgehalt und funktionale Grenzen der verfassungsrechtlichen Kontrolle

364

1. Gewährleistungsgehalt der Grundrechte

364

a) Weites Tatbestandsmodell und allgemeine Abwägungsregel

366

b) Enges Tatbestandsmodells und generelle Vorrangsregel

370

c) Abwägung: Rationalität der Kontrolle durch Verhältnismäßigkeitsprüfung

375

aa) Legitimer Zweck und Geeignetheit

376

bb) Erforderlichkeit

378

cc) Erforderlichkeitskontrolle bei Einschätzungs- und Prognoseentscheidungen

379

dd) Überprüfungs- und Kontrollaufträge – am Beispiel der Rechtsprechung zur gemeinsamen elterlichen Sorge bei nichtehelichen Kindern

385

ee) Zwischenfazit: Rationale Kontrolle durch Prüfung von gesetzgeberischen Wirklichkeitsannahmen im Rahmen der Verhältnismäßigkeit

389

2. Funktionell-rechtliche Grenzen der verfassungsrechtlichen Kontrolle

393

a) Einschätzungs- und Gestaltungsspielraum des Gesetzgebers

395

b) Verfassungskonforme Auslegung

398

c) Folgenverantwortung

399

d) Prüfung spezifischen Verfassungsrechts

400

3. Zwischenfazit: Funktionelle Aufgabenverteilung und Grenzen der verfassungsgerichtlichen Kontrolle

402

E. Grundrechtsinterpretation als Konkretisierung zwischen Norm und sozialer Wirklichkeit

404

I. Normkonkretisierung und Steuerung durch problembezogene Entwicklung von Grundrechtsdogmatik

404

1. Steuerung in der Rechtsprechungspraxis des Bundesverfassungsgerichts

405

a) Steuerung der Rechtsordnung als Mittel der Sozialsteuerung

405

b) Steuerung der fachgerichtlichen Rechtsprechung \nund (mittelbar) der Verwaltung

408

aa) Steuerung der Verwaltung über die Steuerung der Fachgerichtsbarkeit

408

bb) Steuerung der Fachgerichtsbarkeit

410

c) Dogmatische Maßstäbebildung als Mittel der problemorientierten Steuerung

413

aa) Dogmatische Maßstabsbildung im Rahmen spezifischen Verfassungsrechts

413

bb) Problembezogene Entwicklung von dogmatischen Maßstäben am Beispiel der Rechtsprechung zur Meinungsfreiheit

413

cc) Verfassungsgerichtliche Interventionen und ihre Fortentwicklung in der fachgerichtlichen Rechtsprechung

418

dd) 'Nachfassen' bei Nichtumsetzung durch die Fachgerichte

420

d) Direkte Steuerung der Gesetzgebung über Normenkontrolle

422

aa) Abstrakte Normenkontrolle

422

bb) Konkrete Normenkontrolle

423

cc) Unmittelbare und mittelbare Überprüfung von Gesetzen im Verfassungsbeschwerdeverfahren

426

dd) Praxis der Steuerung durch verfassungsgerichtliche Normenkontrolle

428

e) Weitergehende Steuerung: Gesetzgebungsaufträge und Vorwirkungen im parlamentarischen Verfahren

431

aa) Primär- und Sekundäradressaten von Gesetzgebungsaufträgen

431

bb) Vorwirkungen im politischen Prozess

432

f) Zwischenfazit: Die spezifische Steuerungsfunktion gegenüber Fachgerichten und Gesetzgebung

434

2. Normkonkretisierung als Vermittlungsaufgabe zwischen Normdeutung und dogmatischer Steuerung – am Beispiel der Rechtsprechung zur Privatautonomie

436

a) Semantische Kämpfe um das 'richtige Verständnis' der Privatautonomie in der Zivilrechtswissenschaft

437

b) Die Handelsvertreter-Entscheidung vom 7. Februar 1990

439

c) Die Bürgschaftsentscheidung vom 19. Oktober 1993

444

d) Die Unterhaltsverzichtsentscheidung vom 6. Februar 2001

451

e) Zwischenfazit: Problembezogene (Fort-)Entwicklung der Rechtsprechung zur Privatautonomie

456

II. Grundrechtsinterpretation als problembezogene Konkretisierung unter Einbeziehung des sozialen Kontextes

457

1. Die Einbeziehung von Sozialwirkungen in die Interpretation: Theoretische (Re-)Konstruktion des Verhältnisses von Recht und Wirklichkeit

457

2. Juristische Mediatisierung grundrechtlicher Problemlagen

463

a) Transformation in einfach-rechtliche Rechtskonflikte

465

b) Mediatisierung und sozialer Bezug der Grundrechte

465

c) Problembezogene Entwicklung des Gewährleistungsbereichs – am Beispiel zweier Gewährleistungen des allgemeinen Persönlichkeitsrechts

468

3. Soziologische Verfassungsrechtswissenschaft?

472

a) Problembezogene Grundrechtsinterpretation und soziale Wirkungsanalysen

472

b) Zum Vergleich: Die sozialwissenschaftliche und interdisziplinäre Öffnung der Rechtswissenschaften in den Vereinigten Staaten von Amerika

475

c) Arbeitsteiliger und integrativer Ansatz

480

d) Sollen und Sein in der Grundrechtsinterpretation

484

F. Fazit

487

Literatur

492

Sachwortverzeichnis

538