Law of torts, damages & compensation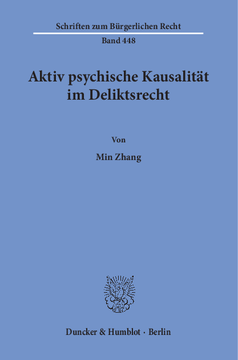 Additional Information
Book Details
ISBN

978-3-428-54847-7
978-3-428-14847-9 (print edition)

DOI

https://doi.org/10.3790/978-3-428-54847-7

Edition

1

Language

German

Pages

181

Collections

Subjects
Pricing
Institution

€ 80.00 (incl. local VAT if applicable)

Individual

€ 62.90 (incl. local VAT if applicable)
About The Author
Min Zhang schloss 2002 das Studium der Rechtswissenschaften an der Renmin-Universität China ab. Von 2002 bis 2004 setzte er sein Masterstudium des Zivil- und Handelsrechts an derselben Universität fort. 2004 bestand er das chinesische juristische Staatsexamen. Anschließend arbeitete er für drei Jahre als betrieblicher Rechtsberater in einem transnationalen Energieunternehmen. 2009 begann er das LL.M.-Studium an der Georg-August-Universität Göttingen. Von 2011 bis 2015 promovierte er dort im Fach der Rechtswissenschaften. Danach wurde er von der Anhui-Universität als Dozent eingestellt.
Abstract
Aktiv psychische Kausalität gilt als eine außergewöhnliche Form des deliktsrechtlichen Kausalzusammenhangs. In den Verfolgungs-, Rettungs- oder Grünstreifenfällen, welche die typischen Fallgruppen des vorliegenden Untersuchungsgegenstands bilden, erweist sich die Prüfung der haftungsbegründenden Kausalität oft als schwierig. Die richterrechtliche »Herausforderungsformel« findet zwar auf eine Zahl von den Fällen der psychisch vermittelten Kausalität Anwendung, ihre Merkmale, dogmatischer Standort sowie Anwendungsbereich aber bleiben umstritten. Um die Herausforderungsformel zu einem handhabbaren Kriterium zu machen, ist die aktiv psychische Kausalität zunächst von den andersartigen Formen des Kausalverlaufs infolge psychischer Vermittlung zu unterscheiden. Als neuer Lösungsweg ist das Kriterium der Pflichtverletzung dort empfehlenswert, wo die Herausforderungsformel versagt. »Active Psychical Causality in Tort Law«

Active psychical causality is an extraordinary sort of causation in tort law. In cases of chase, rescue and »green stripe« the causality is viewed as a complicated problem. It is recommended, that the rule of challenge and the criterion of breached obligation be applied in their respective scopes.
Table of Contents
Section Title
Page
Action
Price

Vorwort

5

Inhaltsverzeichnis

7

§ 1 Einleitung

13

A. Streitige Fälle

13

B. Untersuchungsgegenstand

14

C. Problemstellung

17

D. Gang der Untersuchung

21

§ 2 Grundlagen der aktiv psychischen Kausalität

22

A. Die haftungsbegründende Kausalität

22

I. Zurechnung und haftungsbegründende Kausalität

22

II. Grundlegende Theorien

25

1. Äquivalenztheorie

25

2. Adäquanztheorie

26

3. Lehre vom Schutzzweck der Norm

27

III. Zwischenergebnis

29

B. Einteilung der Kausalität

29

I. Naturgesetzlich vermittelte Kausalität

29

II. Psychisch vermittelte Kausalität

30

C. Zwischenergebnis

32

§ 3 Einordnung der aktiv psychischen Kausalität

33

A. Arten der psychisch vermittelten Kausalität

33

I. Absichtlich vermittelte Kausalität

33

1. Typische Fallgruppen

33

a) Fallgruppe der Täuschung

33

b) Fallgruppe der Drohung

34

c) Fallgruppe der Anstiftung

35

2. Zwischenergebnis

36

II. Unabsichtlich vermittelte Kausalität

36

B. Arten der unabsichtlich vermittelten Kausalität

37

I. Passiv psychische Kausalität

38

1. Allgemeines

38

2. Typische Fallgruppen

38

a) Fallgruppe des Schockschadens

38

b) Fallgruppe des Kettenunfalls

39

3. Zwischenergebnis

41

II. Aktiv psychische Kausalität

41

C. Zwischenergebnis

42

§ 4 Begriff und Fallgruppen der aktiv psychischen Kausalität

44

A. Allgemeines

44

B. Typische Fallgruppen

45

I. Verfolgungsfälle

45

II. Rettungsfälle

46

III. Grünstreifenfälle

47

C. Einteilung der aktiv psychischen Kausalität

48

I. Aktiv psychische Kausalität im Zweipersonenverhältnis

49

II. Aktiv psychische Kausalität im Dreipersonenverhältnis

50

1. Herausforderungsfälle

51

2. Übrige Fälle

52

D. Zwischenergebnis

53

§ 5 Aktiv psychische Kausalität im Zweipersonenverhältnis

54

A. Einführung

54

B. Rechtsprechung

54

I. Verfolgungsfälle

55

1. Psychische Vermittlung

55

2. Billigenswerte Motivation

57

3. Gesteigertes Risiko

57

4. Verhältnismäßigkeit

59

5. Zwischenergebnis

60

II. Rettungsfälle

60

1. Einführung

60

2. Anwendbarkeit der Herausforderungsformel

61

3. Erfordernisse der Herausforderungsformel

62

a) Psychische Vermittlung

62

b) Motivation

63

c) Gesteigertes Risiko

64

d) Verhältnismäßigkeit

65

4. Zwischenergebnis

66

III. Sonstige Fälle

66

1. Fälle des schlechten Beispiels

66

2. Fälle des Fluchtschadens

67

IV. Zwischenergebnis

68

C. Lösungsansätze in der Lehre

69

I. Alternative Lösungsansätze

69

1. Gesichtspunkt der Risikobereiche

69

2. Gesichtspunkt der Interessenabwägung

70

3. Theorie der Unterbrechung der Haftung

72

4. Lehre vom Schutzzweck der Norm

74

5. Modell der mittelbaren Verursachung

77

6. Zwischenergebnis

79

II. Das Kriterium der Herausforderung

81

1. Die Merkmale des Kriteriums der Herausforderung

81

a) Herausforderung

81

b) Billigenswerte Motivation

83

c) Gesteigertes Risiko

85

d) Verhältnismäßigkeit

86

aa) Zu vergleichende Gegenstände

86

bb) Personenbezogene Faktoren

87

cc) Systematische Stellung

88

2. Dogmatischer Standort des Kriteriums der Herausforderung

89

a) Lösungsansätze außerhalb der Ebene der haftungsbegründenden Kausalität

90

aa) Rechtswidrigkeit

90

bb) Objektive Zurechnung

91

b) Lösungsansätze auf der Ebene der haftungsbegründenden Kausalität

93

aa) Adäquanztheorie

93

bb) Lehre vom Schutzzweck der Norm

95

cc) Spezielles Kriterium

97

dd) Zusätzliches Kriterium

98

ee) Ergänzendes Kriterium

99

D. Zwischenergebnis

101

§ 6 Aktiv psychische Kausalität im Dreipersonenverhältnis: Herausforderungsfälle

103

A. Einleitung

103

B. Rechtsprechung

103

I. Verfolgungsfälle

103

1. Entscheidung des OLG Köln v. 10.6.1999 ("Beifahrerin-Fall")

103

2. Äußerungen des BGH

104

II. Rettungsfälle

105

1. Fallgruppen

105

a) Ärztliche Behandlung

105

aa) Nachbehandlung

106

bb) Behandlung der Unfallverletzung

107

b) Rettungsdienst

108

c) Sonstiges

109

2. Weitere Äußerungen des BGH

110

III. Sonstige Fälle

110

IV. Zwischenergebnis

111

C. Meinungsstand in der Lehre

112

I. Gesichtspunkt der Risikobereiche

112

II. Lehre vom Schutzzweck der Norm

113

III. Modell der mittelbaren Verursachung

114

IV. Gesichtspunkt des allgemeinen Lebensrisikos

114

V. Gesichtspunkt der Gefahrerhöhung

116

VI. Kriterium der Herausforderung

117

D. Stellungnahme

118

I. Einführung

118

II. Begründung

118

1. Vereinbarkeit mit der Rechtsprechung

118

2. Gewährleistung zumutbarer Ergebnisse

119

3. Umfassender Anwendungsbereich

120

4. Vorteile dieses Kriteriums gegenüber der Risikolehre

120

5. Vorteil dieses Kriteriums gegenüber der Lehre vom Schutzzweck der Norm

121

6. Vorteile dieses Kriteriums gegenüber dem Modell der mittelbaren Verursachung

121

III. Zwischenergebnis

122

§ 7 Aktiv psychische Kausalität in den übrigen Fällen des Dreipersonenverhältnisses

123

A. Einführung

123

B. Rechtsprechung

123

I. Vorsätzliches Delikt

123

1. Grünstreifenfälle

123

2. Weidezaunfall

126

3. Geldtransporter-Fall

127

4. Fallgruppe der Schwarzfahrt

128

5. Fallgruppe des Veranstalters

130

6. Sonstiges

131

II. Fahrlässiges Delikt

132

1. Fallgruppe der Schwarzfahrt

132

2. Fallgruppe des Veranstalters

133

3. Sonstiges

134

III. Zwischenergebnis

135

C. Lösungsansätze in der Lehre

136

I. Lehre des Verschuldens

136

II. Lehre der Rechtswidrigkeit

137

III. Ansatz im Sinne der objektiven Zurechnung

138

IV. Ansätze im Rahmen der haftungsbegründenden Kausalität

140

1. Kriterium der Herausforderung

140

2. Adäquanztheorie

142

3. Lehre vom Schutzzweck der Norm

143

4. Risikolehre

145

a) Gesichtspunkt der Risikobereiche

145

b) Gesichtspunkt des allgemeinen Lebensrisikos

145

c) Gesichtspunkt der Gefahrerhöhung

146

d) Zwischenergebnis

147

5. Theorie der Unterbrechung der Haftung

147

6. Modell der fahrlässigen Verursachung

148

7. Gesichtspunkt des Fehlverhaltens

150

V. Zwischenergebnis

151

D. Eigener Lösungsweg

152

I. Aufbau des Kriteriums der Pflichtverletzung

152

1. Merkmale

152

2. Arten der Pflichtverletzung

153

a) Verletzung der ausdrücklichen gesetzlichen Pflicht

153

b) Verletzung der Verkehrspflicht

153

c) Verletzung der rechtsgeschäftlichen Pflicht

154

d) Zwischenergebnis

154

3. Anwendungsbereich

155

II. Begründung des Kriteriums der Pflichtverletzung

157

1. Vorteile gegenüber den Ansätzen außerhalb der Ebene der haftungsbegründenden Kausalität

157

a) Verhältnis zur Lehre der Rechtswidrigkeit

157

b) Verhältnis zur Lehre des Verschuldens

158

c) Verhältnis zum Lösungsansatz im Sinne der objektiven Zurechnung

159

2. Vorteile gegenüber den Ansätzen auf der Ebene der haftungsbegründenden Kausalität

160

a) Verhältnis zu grundlegenden Kausalitätstheorien

160

aa) Verhältnis zur Äquivalenztheorie

161

bb) Verhältnis zur Adäquanztheorie

161

cc) Verhältnis zur Lehre vom Schutzzweck der Norm

162

b) Verhältnis zum Kriterium der Herausforderung

165

c) Verhältnis zur Risikolehre

166

d) Vorteile gegenüber sonstigen Ansätzen

167

III. Zwischenergebnis

168

§ 8 Zusammenfassung

170

Literaturverzeichnis

174

Sachwortregister

178