Public administration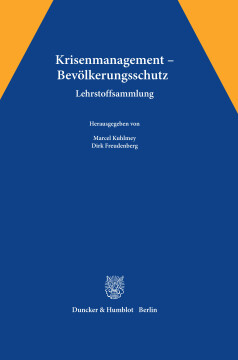 Additional Information
Book Details
ISBN

978-3-428-54619-0
978-3-428-14619-2 (print edition)

DOI

https://doi.org/10.3790/978-3-428-54619-0

Edition

1

Language

German

Pages

568

Collections

Subjects
Pricing
Institution

€ 179.00 (incl. local VAT if applicable)

Individual

€ 62.90 (incl. local VAT if applicable)
About The Author
Dirk Freudenberg ist Politikwissenschaftler und promovierter Staats- und Sozialwissenschaftler. Er war mehrere Jahre Senior Consultant und Operationsmanager in einer Unternehmungsberatung für Krisen- und Sicherheitsmanagement. Seit 2002 ist er Dozent an der Akademie für Krisenmanagement, Notfallplanung und Zivilschutz (AKNZ) im Bundesamt für Bevölkerungsschutz und Katastrophenhilfe (BBK); derzeit im Referat »Strategische Führung und Leitung, Notfallvorsorge und -planung, Pädagogische Grundlagen und Qualitätsmanagement«. Dirk Freudenberg hat am Manfred-Wörner-Seminar des Streitkräfteamtes wie auch am Seminar »Sicherheitspolitik« BAKS teilgenommen. Als Oberstleutnant der Fallschirmjägertruppe hat er an mehreren Auslandseinsätzen der Bundeswehr teilgenommen (KFOR 1999, ISAF 2004 und 2011/12). Einen weiteren Auslandseinsatz leistete Dirk Freudenberg 2015 in Abordnung zur Bundespolizei (GPPT) zur Beratung/Ausbildung des afghanischen stv. Innenministers und der Abteilung »Strategy and Policy«. Er ist Lehrbeauftragter u.a. an der HWR und veröffentlichte mehrere Monographien sowie zahlreiche Aufsätze zu sicherheitspolitischen und wehrwissenschaftlichen Fragestellungen als auch zum Bevölkerungsschutz und zur Unternehmenssicherheit. Marcel Kuhlmey, 1984 Eintritt in den Polizeidienst, 1994 bis 1997 Studium des gehobenen Polizeivollzugsdienstes an der FHVR Berlin, 1997 bis 2001 Verwendung bei den unterschiedlichsten Gliederungseinheiten der Berliner Polizei wie Polizeiabschnitt, Einsatzhundertschaft und in diversen Stabsdienststellen, 2001 bis 2003 Studium für den höheren Polizeivollzugsdienst an der Polizei-Führungsakademie Münster, 2003 bis 2006 Referent für Personalangelegenheiten im Stab des Polizeipräsidenten, 2006 bis 2007 Pressesprecher und Leiter der Pressestelle der Berliner Polizei, 2007 bis 2009 Gastprofessor für Risikomanagement und Verkehrslehre an der FHVR Berlin, seit 2009 Professor für Risiko- und Krisenmanagement / Einsatzlehre an der HWR Berlin, 2009 bis 2011 Pro- und Studiendekan des Fachbereichs Polizei und Sicherheitsmanagement der HWR Berlin, 2011 bis 2016 Dekan des Fachbereichs Polizei und Sicherheitsmanagement der HWR Berlin, seit 1.4.2016 Vizepräsident der HWR Berlin.
Abstract
Der vorliegende Band versammelt Texte von Lehrenden verschiedener Universitäten und Hochschulen, welche ihren jeweiligen wissenschaftlichen Fokus und Schwerpunkt im weiten Bereich des Bevölkerungsschutzes verorten. Dementsprechend beabsichtigen die Herausgeber mit diesem Band, Dozenten und Studierenden einen Überblick über die wissenschaftlichen Inhalte und den einschlägigen Theorie- und Meinungsstand zu verschaffen. Die in der akademischen Praxis durchaus vorhandenen Unterschiede und Widersprüche zwischen den Lehrmeinungen und Instituten und die damit verbundenen Schwierigkeiten werden dabei bewusst aufgezeigt. Es soll ein Beitrag zu einer Vereinheitlichung von Begriffen und Verfahren in der akademischen Lehre geleistet werden. Darüber hinaus will das Werk für die handlungsorientierte Praxis theoretische Grundlagen und gedankliche Anstöße für die berufsbezogene Anwendung außerhalb des akademischen Bereichs liefern. »Public Protection Emergency Prepardness and Crisis Management«

In the broad field of academic studies of Public Protection Emergency Prepardness and Crisis Management there is a broad field of different opinions in Germany. But there is no combined understanding for professional exchange and discussion to establish joint academic doctrins. The editors want to help closing this gap. Some of the articles are discussing the same issue from different perspectives, some writers have different and controversial academic opinions about the same issue.
Table of Contents
Section Title
Page
Action
Price

Vorwort der Herausgeber

5

Inhaltsverzeichnis

7

Zusammenfassende Kurzdarstellung der Beiträge

11

Arne Jansch: Akteure des Bevölkerungsschutzes in Bedrohungslagen (Amok und Terrorismus) – Möglichkeiten zur Ausbildung des Personals und Vorbereitung auf strategischer Ebene

17

I. Begriffsbestimmungen und Begriffsreichweite

17

II. Herausforderungen für die Einsatzkräfte

19

III. Vorbereitungsmöglichkeiten der Einsatzkräfteund präventive Gefährdungsanalysen

20

1. Ausbildung der Einsatzkräfte

20

2. Möglichkeiten zur präventiven Gefährdungsanalyse im Bereich Terrorismus für die Gefahrenabwehr

24

3. Modified CARVER als Möglichkeit für eine differenziertere Gefährdungsbeurteilung

28

4. Gefährdungsbeurteilungen bei politischen Großveranstanstungen: Bedeutung des Umlandes

32

IV. Zusammenfassung und Ausblick

36

Literatur

36

Uwe Becker: Wissenschaftliches Arbeiten und qualitative Darstellung ausgesuchter statistischer Methoden rund um Themen des Bevölkerungsschutzes

39

I. Einleitung

39

II. Grundlagen

40

1. Aufbau einer wissenschaftlichen Arbeit

40

III. Statistische Methoden

41

1. Deskriptiv statistische Methoden

41

2. Ausgewählte inferenzstatistische Methoden

43

a) Schließen von der Stichprobe auf eine Gesamtheit

43

b) Zusammenhänge messen

45

c) Vorhersagen treffen

45

d) Die Logik des t-Tests

46

IV. Daten

52

1. Skalenniveaus

52

2. Datenbeschaffung

53

Literatur

55

Dieter Franke: Aufbau und Entwicklung des Bevölkerungsschutzes in Deutschland – Historische Grundlagen mit Blick auf die Entwicklung nach 1945

57

I. Bevölkerungsschutz als staatliche Aufgabe

57

II. Die Bundesrepublik Deutschland

59

1. Das Kriegsbild bestimmt den Bevölkerungsschutz

59

2. Die Aufgaben der Länder

64

3. Ergänzung und Verstärkung

66

III. Die Deutsche Demokratische Republik

67

1. Luftschutz in der DDR

67

2. Zivilverteidigung der DDR innerhalb der Landesverteidigung

68

3. Die Überleitung der Zivilverteidigung zum Zivilschutz

70

IV. Deutschland heute

70

1. Abbau und Aufbau

70

2. Eine neue Strategie

72

Klaus-Dieter Tietz: Krisen- und Sicherheitsmanagement am Beispiel der polizeilichen Gefahrenabwehr

75

I. Die Polizeien von Bund und Ländern

75

II. Organisation der Landespolizeien

76

III. Organisation der Bundespolizeien

77

IV. Spezielle Tätigkeiten der Polizei

77

V. Allgemeine Aufbauorganisation (AAO)

79

VI. Besondere Aufbauorganisation (BAO)

79

VII. Der Planungs- und Entscheidungsprozess der Polizei

81

VIII. Der Polizeiführungsstab

85

IX. Stab- / Einlinienorganisation

86

X. Die Bewältigung von Größeren Gefahren- und Schadenslagen, Katastrophen (GGSK) (1999)

87

XI. Übergang in die Phase zwei

95

1. Welche Aufgaben haben nun die Einsatzabschnitte im Einzelnen?

97

a) Aufgaben des Einsatzabschnittes Schadensort

97

b) Aufgaben des Einsatzabschnittes Absperrung / Verkehr

97

c) Aufgaben des Einsatzabschnittes Ermittlungen

97

d) Aufgaben des Einsatzabschnittes Einsatzbegleitende Presse- und Öffentlichkeitsarbeit (EPÖA)

98

XII. Fazit

98

Literatur

99

Frank Meurer / Stefan Martini: Auftrag des Rettungsdienstes

103

I. Module des Rettungswesens

103

II. Die Prozesskette des Rettungswesens

104

1. Notfallrettung

105

2. Krankentransport

105

3. Besondere Transporte

105

4. Leitstellen als Kontaktpunktezwischen Hilfesuchenden und Hilfeleistenden

106

a) Unterscheidungsmerkmal "disponierte Ressourcen"

107

b) Unterscheidungsmerkmal "regionale Zuständigkeit"

109

c) Aufbauorganisation: Bearbeitung durch einen Case-Agent oder zwei Mitarbeiter

110

d) Ablauforganisation: Die Notrufabfrageals Kernprozesse der Leitstelle

112

5. Rettungsdienst Personal

114

a) Rettungshelfer / Rettungssanitäter

114

b) Rettungsassistent

115

c) Notfallsanitäter

116

d) Notärzte

116

e) Führungskräfte

117

6. Fahrzeuge des Rettungsdienstes

119

a) Notarztwagen (NAW)

119

b) Notarzteinsatzfahrzeug (NEF)

119

c) Intensivtransportwagen (ITW)

119

III. Historische Entwicklung von Versorgungsstrategien

120

IV. Qualitätskriterien des deutschen RD

121

Literatur

123

Markus Schrader: Zivil-Militärische Zusammenarbeit – Risikovorsorge der Bundesrepublik Deutschland

125

I. Grundlagen der Zivil-Militärischen Zusammenarbeitin Deutschland

126

1. Rahmenbedingungen für die Zivil-Militärische Zusammenarbeit

126

2. Rechtsgrundlagen für das Zusammenarbeiten in Deutschland

127

3. Entwicklung der Zivil-Militärischen Zusammenarbeitin Deutschland

128

II. Exkurs CIMIC / CMI

131

1. Deutsches Verständnis von CMI und CIMIC

131

2. Zivil-Militärische Zusammenarbeit in und mit der EU

133

3. Zivil-Militärische Zusammenarbeit in und mit der NATO

134

III. Akteure moderner Interorganisationaler Zusammenarbeit

136

IV. Schnittstellen der Zivil-Militärischen Zusammenarbeit

138

V. Strukturen der Zivil-Militärischen Zusammenarbeit

141

VI. Prozesse und Weiterentwicklung

142

VII. Fazit und Zusammenfassung

143

Literatur

144

Harald Schaub: Subjektive Sicherheit und Subjektives Risiko. Die Psychologie kritischer Situationen und Lagen

147

I. Einleitung

147

II. Wie kann das Handeln und Denkenin komplexen Situationen verbessert werden?

153

Literatur

155

Harald Schaub: Resilienz: Menschen und Organisationen widerstandsfähig machen. Gemeinsames Lageverständnis als Basis der Resilienz von Stäben und Organisationen

161

I. Einleitung

161

II. Fokus Forschung

161

1. Situational Awareness-Modell von Endsley

162

2. Gemeinsames Wissen und Situationsverständnis: Shared-Mental-Model und Shared-Situational-Awareness

164

III. Schlussfolgerungen: das gemeinsame Lageverständnis als kognitive Ressource für resilientes Handeln

166

Literatur

167

Harald Schaub: Die Bevölkerung als Akteur? Krisenmanagement als eine ganzheitliche Aufgabe aller Beteiligter

171

I. Die Bedeutung des Menschen

171

II. Krisenmanagement als Komplexes Problemlösen

174

III. Menschliche Handlungsorganisation

175

Dieter Franke: Bevölkerungsschutzbildung / Erziehungswissenschaftliche Überlegungen

179

I. Nur der ist ein geborener Lehrer, welcher die Begeisterung seiner Schüler erwecken kann

179

II. Lehren heißt zweimal lernen

180

III. Lehre tut viel, aber Aufmunterung tut alles

181

IV. Das große Ziel der Bildung ist nicht Wissen, sondern Handeln

182

V. Bilde dich selbst, und dann wirke auf andere durch das, was du bist

184

VI. Es ist nicht genug zu wissen, man muss auch anwenden. Es ist nicht genug zu wollen, man muss auch tun

186

VII. Die Wurzeln der Bildung sind bitter, ihre Früchte aber sind süß

189

Peter Lauwe / Wolfram Geier: Kritische Infrastrukturen: Schutzbedarfe – Schutzkonzepte, Bestandsaufnahme und Perspektiven (2020)

191

I. Einführung

191

II. Grundlagen

193

III. Umsetzungsbeispiel Stromversorgung

197

IV. Fazit und Erkenntnisse

199

V. Handlungsbedarf

201

1. Kategorie 1 – Grundsätzlicher Handlungsbedarf

201

2. Kategorie 2 – Zielsetzung (Schutzziele)

203

3. Kategorie 3 – Komplexitätsproblematik

204

4. Kategorie 4 – Regelungsbedarf

205

5. Kategorie 5 – Ausbau der Notfallplanung

206

6. Kategorie 6 – Nachhaltigkeit

206

Literatur

207

Frank Sauer / Thomas Glade: Kritische Infrastruktur Gesundheitswesen – Die Handlungsfähigkeit von Krankenhäusern und Rettungsdienst bei einem Stromausfall

209

I. Einleitung

209

II. Die Kritische Infrastruktur Gesundheitswesen

213

1. Definitionen

213

2. Beteiligte Strukturen und Organisationen

215

a) Krankenhäuser

215

b) Rettungsdienst

216

3. Abhängigkeiten der Kritischen Infrastruktur Gesundheitswesen

218

4. Risikoabschätzung und Vulnerabilitätsbewertung

220

III. Strom im Fokus der Politik und Wirtschaft

221

IV. Der europäische Strommarkt

224

V. Auswirkungen eines Stromausfalls auf Krankenhäuser und Rettungsdienst

226

VI. Anforderungen an eine effiziente Notstromversorgung

230

VII. Konsequenzen und Ausblick

232

Literatur

234

Internetquellen

237

Dirk Freudenberg: Unternehmenssicherheit im Kontext eines modernen Bevölkerungsschutzes

239

I. Einleitung

239

II. Unternehmenssicherheit

241

III. Unternehmenskultur und Sicherheitskultur

245

IV. Wechselwirkungen von Unternehmenssicherheit und Sicherheitspolitik

246

V. Angriffspunkte und Verletzbarkeit moderner Industriegesellschaften

248

VI. Bedeutung von Sicherheitspartnerschaften

253

VII. Unternehmenssicherheit im staatlichen Machtvakuum

257

VIII. Konzeptionelle Erfordernisse der Unternehmenssicherheit

259

IX. Zusammenfassung und Schluss

260

Literatur

261

Peter Berger / Peer Rechenbach: Führung in der Krise – Wie machen wir unsere Führungskräfte krisenstabfähig?

269

I. Führung in der Stabsarbeit

269

1. Führungskräfte – Wer führt im Krisenstab?

269

2. Führung – wie geht das eigentlich?

271

a) Führen und Leiten

271

b) Aufgaben und Patentrezepte

271

c) Taylorismus und Bürokratie

272

d) Menschenbilder und Wertewelten

273

II. Arbeit im Stab – Führungs-Defizite und ihre Auswirkungen auf die Krisenbewältigung

273

1. Fixierung auf angestammte Wertemuster undbewährte Führungsinstrumente aus dem Regeldienst

275

2. Festhalten am Ressortdenken –Kein gemeinsames Verständnis der Situation

276

3. Statusdenken

278

4. Defizite bei Anwesenheit und Zusammenarbeit im Stab

280

III. Notwendige Führungskompetenzen

281

1. Erforderliche Kompetenzen: Flexibilität, Entscheidungsfreude und Veränderungsbereitschaft

281

2. Erforderliche Kompetenzen: Entscheidungen unter Unsicherheit treffen, Fehlertoleranz und Fehlerfreundlichkeit

283

IV. Erforderliche Kompetenzen: Kommunikation, Teamarbeit und Kreativität

284

V. Beispiel: Führungskräfteentwicklungsprogramm für erfahrene Führungskräfte

286

Literatur

288

Andrea Berger-Klein: Neue Herausforderungen für die Mitarbeiterführung im Bevölkerungsschutz

289

I. Vorbemerkung

289

II. Veränderte Rahmenbedingungen

291

III. Führung in und von verschiedenen Organisationen des Bevölkerungsschutzes

294

IV. Zusammenfassung

302

Literatur

303

Dirk Freudenberg: Grundsätzliche Anmerkungen zur Strategie, zur nationalen Führungsphilosophie und zum Führen in Stäben im Kontext des Bevölkerungsschutzes

307

I. Vorbemerkung

307

1. Zweck des Beitrages

309

2. Klarheit der Begriffe und einheitliches Führungsverständnis

311

II. Zum Begriff der Strategie

313

III. Strategie und Führungsebenen

315

1. Wechselwirkungen zwischen den Führungsebenen

318

2. Transformation von Ebenen und Begriffen

319

3. Das Wesen von Führung

321

4. Der Führungsbegriff und Führungsverständnis

322

5. Management, Leitung versus Führung

325

6. Führen in der Krise

326

IV. Der Begriff "Auftragstaktik"

328

1. Das Wesen der Auftragstaktik als Kern des deutschen Führungsdenkens

329

2. Auftragstaktik und Verantwortung

330

3. Schlüsselbegriffe für das Führen mit Auftrag

331

a) Die Absicht der übergeordneten Führung als erster Schlüsselbegriff

331

b) Die Selbstständigkeit als zweiter Schlüsselbegriff

332

c) Das Können als dritter Schlüsselbegriff

332

d) Das gegenseitige Vertrauen als vierter Schlüsselbegriff

332

4. Das Spannungsverhältnis zwischen Gehorsam und Initiative

335

5. Grenzen und Herausforderungen der Auftragstaktik

337

V. Stäbe und Stabsorganisation

337

1. Die strategische Ebene

340

2. Risikoreduzierung durch strategisches Krisenmanagement

341

3. Der Führungsstab gemäß DV 100

342

4. Das administrativ-organisatorische Stabsmodell

343

5. Die Zusammenarbeit von Verwaltungsstab und Führungsstab gemäß DV 100

344

6. Auswahl der Stabsstruktur

345

VI. Zusammenfassung und Schluss

346

Literatur

347

Frank Ehl: Krisenmanagement auf kommunaler Ebene

357

I. Einleitung

357

II. Aufgaben und Aufbau der Kommunalverwaltung

357

III. Verwaltung im Krisenmanagement

360

IV. Operativ-taktische Komponente

361

V. Der Verwaltungsstab

363

VI. Die Koordinierungsgruppe als geschäftsführende Stelle

365

VII. Umsetzung der Entscheidung durch die Alltagsorganisation

366

VIII. Gesamtstäbe

366

IX. Entwicklungen und Unklarheiten im Krisenmanagement

367

X. Empfehlungen zur Vorbereitung für die kommunale Ebene

369

Literatur

370

Nicole Becker: Betriebliche Gesundheitsförderung – die Rolle der Führungskraft

373

I. Betriebliche Gesundheitsförderung

374

II. Einflüsse von Arbeit auf die psychische Gesundheit

375

III. Herausforderungen für die Führungskraft

377

IV. Ausblick

384

Literatur

387

Stefan Voßschmidt: Rechtsgrundlagen des Bevölkerungsschutzrechtes unter besonderer Berücksichtigung der Bundeskompetenzen im Bevölkerungsschutz

389

I. Einleitung

389

II. Der Begriff des Bevölkerungsschutzes

391

III. Ausgewählte Rechtsquellen

392

IV. Gesamtgesellschaftlicher Ansatz

394

1. Katastrophe

394

2. Rechtliche Einordnung von Großschadensereignissen / Katastrophen / Katastrophenfall

395

3. Betroffene sind Beteiligte, auch in Katastrophenlagen

398

4. Bundesrelevanz von Krisen

401

V. Grundsätze der deutschen Rechtsordnung

404

1. Daseinsvorsorge / Hilfeleistungspflicht des Staates

404

2. Notwendigkeit einer Ermächtigungsgrundlage

406

3. Zuständigkeit im Rahmen der nichtpolizeilichen Gefahrenabwehr

409

4. Weisungsbefugnis

412

VI. Rechtsfragen im Hinblick auf Risiken und Katastrophen aus dem Blickwinkel der Bundeskompetenz: Ansatz aus dem Zivilschutz

413

VII. Besonderheiten des Katastrophenschutzrechtes der Länder

418

1. Hilfspflichten der Bürger nach den Landesgesetzen

422

2. Katastrophenschutzbehörden bzw. vergleichbare Behörden nach den Landesgesetzen

427

VIII. Organisation / Allgemeines zu Stabsarbeit

428

1. Stabsarbeit

428

2. Beispiel Feuerwehr

429

3. Stabsarbeit in Großschadenslagen

429

IX. Sicherstellung der Versorgung: Die Sicherstellungs- und Vorsorgegesetze

430

1. Allgemeines

430

2. Zusammenhang der Sicherstellungs- und Vorsorgegesetze

432

a) Gesetze für den Spannungs- oder Verteidigungsfall (Sicherstellungsgesetze)

432

b) Gesetze für sonstige Versorgungskrisen (Vorsorgegesetze)

436

c) Sicherstellung der Wasserversorgung

438

d) Sicherstellung der Ernährung

439

e) Sicherstellung der Energieversorgung

440

f) Sicherstellung von Post- und Telekommunikationsdienstleistungen

442

g) Sicherstellung von Transport und Verkehr

443

h) Wirtschaftssicherstellung / Sicherstellung nach dem Bundesleistungsgesetz

445

i) Sicherstellung der Deckung des Arbeitskräftebedarfs / Arbeitssicherstellung

446

3. Gesamtkonzeption

447

X. Neue Entwicklungen – Bevölkerungsschutz 2015

449

1. Social Media / Neue Forschungen

450

2. Informationsgewinnung durch Social Media z. B. im Rahmen der Risiko- bzw. Krisenkommunikation

451

3. Risikokommunikation im Sinne der Rechtsprechung

453

4. Social Media, Spontanhelfer und Versicherungsfragen

459

XI. Zusammenfassung

461

Literatur

461

Thomas Kutschker / Thomas Glade: Unwetter! – Starkregen als Herausforderung für den anwendungsbezogenen Bevölkerungsschutz. Auswirkungen von Starkregenereignissen und deren Anforderungen an die Gefahrenabwehr

465

I. Einleitung

465

II. Anwendungsbezogene Umsetzung

467

1. Starkniederschlag – Definition und Charakteristik

467

a) Gewinnung von Niederschlagsdaten

469

b) Auswirkungen von Starkregenereignissen

474

c) Zuständigkeiten und Ressourcenmanagement der Gefahrenabwehr

477

d) Möglichkeiten der Anpassung im Bevölkerungsschutz

480

III. Zusammenfassung

482

IV. Ausblick

484

Abkürzungen

485

Literatur

486

Internetquellen

488

Christian Friedrich Matzdorf: Die Kriminalpolizeiliche Katastrophenkommision (KrimKatKom)

491

I. Grundlagen

491

II. Aufbau und Struktur der KrimKatKom

493

III. Zentrale Aspekte der Maßnahmen am Schadensort

495

IV. Abschluss

496

Marc Schütte: Grundbegriffe des Bevölkerungsschutzes –Zusammenhänge zwischen Gefahr, Risiko, Krise und Desaster

497

I. Einleitung

497

II. Gefahr, Gefährdung

500

1. Allgemeine Annäherung an die Begriffe der Gefahr und Gefährdung

500

2. Unterschiede und Besonderheiten bezüglich Gefahr und Gefährdung im Bevölkerungsschutz

505

III. Risiko

508

1. Objektives Risiko:Verknüpfung von Häufigkeit und Schaden

509

2. Subjektives Risiko: Sozialpsychologische Determinanten der Risikowahrnehmung

517

IV. Desaster, Krise

522

1. Desaster (Katastrophe)

522

2. Krise

526

V. Zusammenfassung

528

Literatur

530

Tobias Heisterkamp / Benni Thiebes / Thomas Glade: Frühwarnsysteme vor Naturgefahren für den Bevölkerungsschutz – Beispiele für Unwetter und gravitative Massenbewegungen

533

I. Frühwarnsysteme

533

1. Ziele von Frühwarnsystemen

534

2. Struktur von Frühwarnsystemen

535

3. Warnprozess und Warnbotschaft

537

4. Probleme von Frühwarnsystemen

538

II. Unwetter und das Warnmanagement des Deutschen Wetterdienstes

540

1. Einführung Meteorologische Extremereignisse

540

2. Warnmanagement des Deutschen Wetterdienstes

541

3. Wetterinformationssystem für den Katastrophenschutz (FeWIS)

544

4. Probleme der Wetterwarnung

545

5. Ausblick und Erfahrungen aus dem WEXICOM-Projekt

547

III. Frühwarnung gravitativer Massenbewegungen

549

1. Frühwarnung gravitativer Massenbewegungen

549

a) Einführung zu gravitativen Massenbewegungen

550

b) Analyse und Vorhersage von gravitativen Massenbewegungen

551

c) Beispiele von Frühwarnsystemen für gravitative Massenbewegungen

552

2. Erfahrungen aus dem ILEWS-Projekt

553

a) Aufbau des Projekts

553

b) Untersuchungsgebiet

553

c) Monitoringsystem

554

d) Modellintegration

555

e) Schwellenwert-System

556

f) Frühwarnkette und Kommunikation der Warnung

557

IV. Fazit

558

Danksagung

559

Literatur

559