Private or civil law: general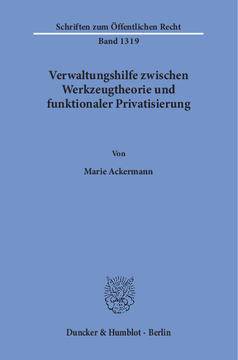 Additional Information
Book Details
ISBN

978-3-428-54875-0
978-3-428-14875-2 (print edition)

DOI

https://doi.org/10.3790/978-3-428-54875-0

Edition

1

Language

German

Pages

262

Collections

Subjects
Pricing
Institution

€ 80.00 (incl. local VAT if applicable)

Individual

€ 62.90 (incl. local VAT if applicable)
About The Author
Marie Ackermann, Studium der Rechtswissenschaft an der Universität Hamburg; 2012–2013 LL.M. an der Université Panthéon-Assas, Paris II; 2013–2015 Referendariat am Hanseatischen Oberlandesgericht Hamburg; 2015 Promotion; seit 2015 Rechtsanwältin in Hamburg.
Abstract
Die Verwaltungshilfe führt in der rechtswissenschaftlichen Diskussion ein Zwitterdasein. Zum einen ist sie eine Figur des öffentlich-rechtlichen Staatshaftungsrechts, zum anderen wird sie als zivilrechtliches Ergebnis funktionaler Privatisierungen gesehen. Dabei geht es im Kern um die Abgrenzung von privatem und öffentlichem Recht. Die Analyse der verschiedenen Ansätze und der verfassungsrechtlichen Grenzen sowie die Abgrenzung zur Beleihung und zur Privatisierung führen zu dem Ergebnis, dass Verwaltungshilfe die Unterstützung der Verwaltung bei der Erfüllung von Staatsaufgaben ist. Der Verwaltungshelfer leistet eine schlichte Handlung zu einem öffentlich-rechtlichen Rechtsverhältnis zwischen der Verwaltung und dem Bürger. Diese Handlung ist rechtsverhältnisakzessorisch zu beurteilen. Da sich die Verwaltungshilfe in zwei Rechtsverhältnissen – dem privatrechtlichen Bedarfsdeckungsgeschäft zwischen Verwaltung und ihrem Helfer, sowie dem öffentlich-rechtlichen zwischen Verwaltung und Bürger – auswirkt, gelten jeweils unterschiedliche Maßstäbe. »›Administrative Assistance‹ between ›Tool Theory‹ and ›Functional Privatization‹«

In the jurisprudential debate the »Administrative Assistance« is a janiformed hybrid. On the one hand it is a form of liability of public authorities as well as state liability in public law; on the other hand it is seen as the result of »Functional Privatization« in civil law. In both constellations the »Administrative Assistance« is a form of cooperation between public authorities and private persons, but in the end it is a question of the applicable law.
Table of Contents
Section Title
Page
Action
Price

Vorwort

5

Inhaltsverzeichnis

7

1. Kapitel: Einleitung

13

I. Verwaltungshilfe zwischen Werkzeugtheorie und funktionaler Privatisierung

14

II. Das Grundproblem der Verwaltungshilfe: die Einordnung in das öffentliche oder in das private Recht

17

III. Aktueller Diskussionsstand

18

IV. Ziele der Bearbeitung

21

2. Kapitel: Begriffliche Grundlagen

23

I. Öffentliche Aufgaben, Staatsaufgaben und Private

23

1. Die Aufgaben

24

a) Das angestrebte Handlungsziel: öffentliche und private Aufgaben

25

b) Die normierte Verantwortung: Staatsaufgaben

27

c) Zusammenfassung des Verhältnisses der Aufgabenbegriffe zueinander

30

2. Der "Private"

31

3. Kompetenz, Zuständigkeit, Befugnisse und Verantwortung

33

a) Kompetenz und Zuständigkeit

34

b) Befugnisse

37

c) Verantwortung

38

d) Zusammenfassung zu Kompetenz, Zuständigkeit, Befugnisse und Verantwortung

40

II. "Privatisierung"

41

1. Materielle Aufgabenprivatisierung

43

2. Formelle Organisationsprivatisierung

45

3. Vermögensprivatisierung

46

4. Funktionale Vollzugsprivatisierung

47

5. Verfahrensprivatisierung

51

6. Das Verhältnis der Privatisierungskategorien zueinander

54

III. Darstellung der Diskussion um die Einbeziehung Privater in die Erfüllung von Staatsaufgaben

58

1. Gesetzliche Indienstnahme

59

2. Beleihung

60

a) Beleihungstheorien

61

aa) Aufgabentheorie

62

bb) Rechtsstellungstheorie

65

cc) Kombinationstheorie

66

b) Faktische Beleihung

67

c) Die Beleihung nach derzeitigem Stande des allgemeinen Diskurses

68

3. Verwaltungshilfe

69

a) Die Verwaltungshilfe in der älteren Literatur

70

b) Die Verwaltungshilfe in der Rechtsprechung: die Werkzeugtheorie

72

c) Verwaltungshilfe und funktionale Privatisierung

73

d) Zusammenfassung des gegenwärtigen Standes der Verwaltungshilfediskussion

75

4. Verwaltungssubstitut und Verwaltungsmittler

75

5. Public-Private-Partnerships

80

IV. Zusammenfassung

81

3. Kapitel: Kritik am gegenwärtigen Diskussionsstand und eigener Ansatz

82

I. Kritik

82

1. Funktionale Privatisierung und Verwaltungshilfe

83

2. Werkzeugtheorie und Verwaltungshilfe

87

3. Die (faktische) Beleihung und Verwaltungshilfe

92

II. Eigener Definitionsansatz öffentlich-rechtlicher Verwaltungshilfe

94

1. Vorüberlegungen

95

2. Eigene Definition: die rechtsverhältnisakzessorische öffentlich-rechtliche Verwaltungshilfe

97

3. Abgrenzungen

97

a) Beleihung

98

b) Tätigkeit Privater nach funktionaler Privatisierung

98

c) Private als Vertragspartner im Rahmen der Bedarfsdeckungsverwaltung

98

d) Private als Angestellte im öffentlichen Dienst

99

4. Kapitel: Die Rechtsverhältnisakzessorietät schlichter Handlungen, zugleich die Qualifikation des Verwaltungshelferhandelns

100

I. Qualifikation von Entscheidungen und Handlungen

100

1. Regelnde Entscheidungen: zivilrechtliche Willenserklärungen und Rechtsformen des Verwaltungshandelns

101

2. Schlichtes Verwaltungshandeln

105

a) Tathandlungen, Realakte

106

b) Nicht-regelnde Äußerungen: nicht-regelnde Entscheidungen, Warnungen, Willenserklärungen der Verwaltung, informelles Verwaltungshandeln

108

aa) Informales Verwaltungshandeln

109

bb) Nicht-regelnde Entscheidungen

111

cc) Verwaltungsrechtliche Willenserklärung

113

c) Zwischenergebnis

116

3. Rechtshandlungen

117

4. Die Handlungsform des Verwaltungshelferbeitrags

117

II. Rechtsnatur schlichter Tathandlungen

118

1. Dualismus von öffentlichem und privatem Recht

119

a) Vorgefundene Differenzierung

119

b) Notwendigkeit der Zuordnung

120

2. Die Neutralität schlichter Tathandlungen

121

3. Der Grundsatz der Formenwahlfreiheit der Verwaltung

124

a) Organisationsform

125

b) Handlungsform

126

c) Normierte Wahlfreiheit

128

4. Normen- und Regelungsakzessorietät

129

5. Vermutungen

130

6. Sachzusammenhang

131

III. Die Rechtsverhältnisakzessorietät des schlichten Verwaltungshandelns und der Verwaltungshelferbeiträge

132

1. Das (konkrete) Rechtsverhältnis

134

2. Die Begründung von Rechtsverhältnissen: Regelungsakzessorietät

135

3. Die Rechtsnatur von Rechtsverhältnissen

140

4. Das Wesen von Rechtsverhältnissen

141

a) Binnendifferenzierungen bei Rechtsverhältnissen

141

b) Gestufte Rechtsverhältnisse

142

IV. Sonstige Akzessorietätstheorien

145

V. Die Gültigkeit der Rechtsverhältnisakzessorietät schlichter Handlungen im Allgemeinen

145

VI. Zusammenfassung

147

5. Kapitel: Die Rechtsverhältnisakzessorietät des Verwaltungshelferbeitrags – die hybriden Rechtsbeziehungen des Verwaltungshelfers und seines Umfeldes

148

I. Das Außenrechtsverhältnis zwischen Verwaltung und Bürger

148

II. Das Innenrechtsverhältnis zwischen Verwaltung und Verwaltungshelfer

149

1. Vertragliche Grundlage

149

2. Bestimmung der Rechtsnatur von Verträgen

151

3. §§ 54 Abs. 3, 56a VwVfG n.F.: der Kooperationsvertrag

155

4. Bedarfsdeckungsverwaltung

158

5. Die Rechtsnatur des Verwaltungshelfervertrages

160

III. Doppelte Zuordnung von Maßnahmen: hybrides (Verwaltungs-)Handeln

161

IV. Die "Rechtsnatur" der Verwaltungshilfe

170

6. Kapitel: Grenzen der Zulässigkeit der Verwaltungshilfe

172

I. Verfassungsrechtliche Grenzen

172

1. Staatsorganisatorischer Gesetzesvorbehalt

172

a) Der institutionelle Gesetzesvorbehalt

173

aa) Beleihung

176

bb) Verwaltungshilfe

177

cc) Verwaltungshilfe als institutionalisierte Einrichtung

178

dd) Fälle normierter Verwaltungshilfe

181

ee) Privatisierung

181

ff) Zusammenfassung zum institutionellen Gesetzesvorbehalt

182

b) Der rechtsstaatliche Vorbehalt des Gesetzes aus Art. 20 Abs. 3 GG als Ausfluss des Grundsatzes der Gesetzmäßigkeit der Verwaltung

183

c) Allgemeiner grundrechtlicher Gesetzesvorbehalt und Grundrechtsschutz durch Organisation und Verfahren

185

2. Demokratische Legitimation Art. 20 Abs. 2 GG

186

3. Die Ausführung der Bundesgesetze und die Bundesverwaltung Art. 83 ff. GG

188

4. Der Funktionsvorbehalt Art. 33 Abs. 4 GG

189

5. Die Grundrechtsbindung der vollziehenden Gewalt Art. 1 Abs. 3 GG

191

6. Grundrechtliche Gesetzesvorbehalte und Beschränkungen im Einzelnen

194

a) Der allgemeine Gleichheitssatz Art. 3 Abs. 1 GG

194

b) Freiheitsgrundrechte

195

II. Verwaltungsrechtliche Grenzen

200

1. Die organisationsrechtliche Einordnung der Beteiligung Privater an der Erfüllung von Staatsaufgaben

201

2. Anwendung des VwVfG

205

3. Der Untersuchungsgrundsatz § 24 Abs. 1 Satz 1 VwVfG

209

III. Zusammenfassung

211

7. Kapitel: Verantwortung und Haftung

215

I. Die Amtshaftung nach § 839 BGB i.V.m. Art. 34 GG

215

1. Der Amtsträger

216

a) Der Beamte im staatshaftungsrechtlichen Sinn und seine Amtspflicht

216

b) Der öffentlich-rechtliche Verwaltungshelfer als Beamter im staatshaftungsrechtlichen Sinn

221

c) Ein praktisches Beispiel

223

2. Die konkrete Amtspflichtverletzung und das Verschulden

225

3. Die übergeleitete Haftung der anvertrauenden Körperschaft

228

4. Die Haftungsprivilegierung des Art. 34 Satz 2 GG

229

5. Zusammenfassung

231

II. Verwaltungshilfe und Amtsträgerschaft im Sinne des StGB

231

8. Kapitel: Zusammenfassung und Ergebnis

234

Literaturverzeichnis

242

Sachverzeichnis

258