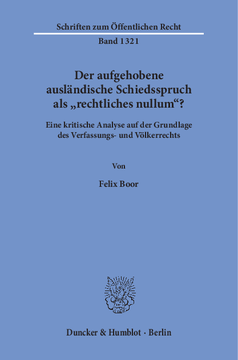 BOOK
Cite BOOK
Style
---
Boor, F. (2016). Der aufgehobene ausländische Schiedsspruch als »rechtliches nullum«?. Eine kritische Analyse auf der Grundlage des Verfassungs- und Völkerrechts. Duncker & Humblot. https://doi.org/10.3790/978-3-428-54869-9
Boor, Felix. Der aufgehobene ausländische Schiedsspruch als »rechtliches nullum«?: Eine kritische Analyse auf der Grundlage des Verfassungs- und Völkerrechts. Duncker & Humblot, 2016. Book. https://doi.org/10.3790/978-3-428-54869-9
Boor, F (2016): Der aufgehobene ausländische Schiedsspruch als »rechtliches nullum«?: Eine kritische Analyse auf der Grundlage des Verfassungs- und Völkerrechts, Duncker & Humblot, [online] https://doi.org/10.3790/978-3-428-54869-9
---
Format
---
Der aufgehobene ausländische Schiedsspruch als »rechtliches nullum«?
Eine kritische Analyse auf der Grundlage des Verfassungs- und Völkerrechts
Schriften zum Öffentlichen Recht, Vol. 1321
(2016)
Additional Information
Book Details
Publisher Name

Duncker & Humblot

ISBN

978-3-428-54869-9
978-3-428-14869-1 (print edition)

DOI

https://doi.org/10.3790/978-3-428-54869-9

Edition

1

Language

German

Pages

357

Collections

Subjects
Pricing
Institution

€ 132.00 (incl. local VAT if applicable)

Individual

€ 99.90 (incl. local VAT if applicable)
About The Author
Nach dem Abschluss des 2. Staatsexamens am OLG Frankfurt a.M. 2006 zunächst Wissenschaftlicher Mitarbeiter in einer international tätigen Rechtsanwaltskanzlei in Göttingen, ab Dezember 2007 Wissenschaftlicher Mitarbeiter am Lehrstuhl für Öffentliches Recht, insbesondere Europarecht, Völkerrecht und Internationales Wirtschaftsrecht, Frau Prof. Dr. Puttler, LL.M., an der Ruhr-Universität Bochum, ab September 2013 Wissenschaftlicher Mitarbeiter an der Professur für Öffentliches Wirtschaftsrecht mit Schwerpunkt Europäisches und Internationales Wirtschaftsrecht, Prof. Dr. Karsten Nowrot, LL.M., an der Universität Hamburg; Oktober 2015 Promotion an der Ruhr-Universität.
Abstract
Das UN-Übereinkommen zur Anerkennung und Vollstreckung ausländischer Schiedssprüche von 1958 gilt zu Recht als eine verlässliche Grundlage für die Durchsetzung von Handelsschiedssprüchen. Eine der wenigen Ausnahmen, die eine Vollstreckung verhindern können, ist die Aufhebung des Schiedsspruchs im Ursprungsstaat. Die deutschen Gerichte verweigern die Anerkennung, da der Schiedsspruch mit der nationalen Rechtsordnung des Sitzstaates soweit verknüpft ist, dass er nach der Aufhebung als »rechtliches nullum« betrachtet wird. Das UN-Übereinkommen muss jedoch verfassungskonform ausgelegt werden. Nicht nur der allg. Justizgewährleistungsanspruch, sondern auch das Eigentumsrecht und der allg. Gleichheitssatz verlangen, dass eine Überprüfung des fremdstaatlichen Aufhebungsurteils vorgenommen werden muss. Im Übrigen spielen sowohl das Völkerrecht als auch die in Art. 6 Abs. 1 EMRK festgesetzten Mindestjustizrechte im Rahmen der dazu vorzunehmenden ordre public-Prüfung eine entscheidende Rolle.»The Annulled Foreign Arbitral Award as a »legal nullum«?«German courts regard annulled foreign arbitral awards as being rooted in the national legal system of the State of origin and therefore as »legal nullum«. But the German fundamental Rights make it necessary to develop another view on the New York Convention of 1958. The foreign annulment decision has to be checked if it is compatible with the national public order. Decisive roles in this analysis play the minimum juridical standard stated by Art. 6 ECHR and the International Public Law.
Table of Contents
Section Title
Page
Action
Price

Vorwort

7

Inhaltsverzeichnis

9

Kapitel 1: Das Rechtsproblem aus deutscher und internationaler Sicht

21

A. Einführung

21

I. Das Anerkennungs- und Vollstreckungssystem von aufgehobenen Schiedssprüchen

21

1. Das New Yorker UN-Übereinkommen von 1958

21

2. Das Genfer Europäische Übereinkommen von 1961

22

3. Die Aufhebung im Sitzstaat als Schwachstelle der Handelsschiedsgerichtsbarkeit

24

4. Forschungsstand und vertretene Lösungsansätze

26

II. Ziel, Gegenstand und Methode der Untersuchung

30

B. Die deutsche Anerkennungspraxis zu fremdstaatlichen Aufhebungsurteilen

36

I. Rechtsprechung der deutschen Oberlandesgerichte

37

1. OLG München, Urteil v. 13.02.1995, Az.: 17 U 6591/93 – Kajo-Erzeugnisse Essenzen GmbH v. Zdravilisce Radenska

37

2. OLG Rostock, Beschluss v. 29.10.1999, Az.: 1 Sch 3/99

38

3. KG Berlin, Beschluss v. 18.05.2006, Az.: 20 Sch 13/04

40

4. OLG Dresden, Beschluss v. 31.01.2007 – 11 Sch 18/05

41

a) Streitgegenstand

41

b) Das Anerkennungs- und Vollstreckungsverfahren in Dresden

42

c) Fazit

43

II. Die deutschen Literaturansichten

43

C. Die "Gretchenfrage" der internationalen Handelsschiedsgerichtsbarkeit

46

I. Die Aufhebung als anerkennungsbedürftiger fremdstaatlicher Hoheitsakt?

46

1. Die "territoriale" Theorie

48

2. Die "internationalistische" Theorie

50

II. Die internationale Vollstreckungspraxis zu aufgehobenen Schiedssprüchen

52

1. Uneinheitliche Vollstreckungspraxis und "forum shopping"

52

2. Die Anerkennungs- und Vollstreckungspraxis in anderen Staaten

54

a) Frankreich

54

(1) Hilmarton Ltd. ./. Omnium de Traitement et de Valorisation (OTV)

55

(a) Der Streitgegenstand

56

(b) Der erste (aufgehobene) Schiedsspruch zu Gunsten OTV

56

(aa) Der Schiedsspruch v. 09.08.1988

56

(bb) Die Aufhebung durch die schweizerischen Gerichte

57

(cc) Anerkennungs- und Vollstreckungsverfahren in Frankreich

57

(c) Zweiter Schiedsspruch zu Gunsten der Hilmarton Ltd.

58

(aa) Der Schiedsspruch v. 10.04.1992

58

(bb) Gescheitertes Anerkennungs- und Vollstreckungsverfahren in Frankreich

58

(cc) Erfolgreiches Anerkennungs- und Vollstreckungsverfahren im Vereinigten Königreich

59

(d) Fazit

59

(2) PT Putrabali Adyamulia ./. Rena Holding

59

(a) Der Streitgegenstand

59

(b) Die Schiedssprüche und das Aufhebungsverfahren vor dem englischen High Court

60

(c) Das Anerkennungs- und Vollstreckungsverfahren in Frankreich

61

(aa) Der aufgehobene Schiedsspruch von 2001

61

(bb) Der zweite Schiedsspruch von 2003

61

(d) Fazit

61

b) Belgien: Sonatrach ./. Ford, Bacon and Davos, Inc.

62

c) USA: Chromalloy Aeroservices ./. Arab Republic of Egypt

62

d) Österreich: Radenska ./. Kajo

63

e) Russland: Ciments Français ./. Sibirskiy Cement Holding Company

64

(1) Streitgegenstand

64

(2) Schieds- und Aufhebungsverfahren in der Türkei

64

(3) Das russische Anerkennungs- und Vollstreckungsverfahren

65

f) Die niederländischen und englischen Entscheidungen zu Yukos Capital S. A. R. L. ./. OAO Rosneft

65

(1) Der Streitgegenstand

66

(2) Das Anerkennungs- und Vollstreckungsverfahren in den Niederlanden

67

(3) Das Anerkennungs- und Vollstreckungsverfahren in England

70

(a) Der veränderte Streitgegenstand vor den englischen Gerichten

70

(b) Das erste Urteil des High Court of Justice zur Zulässigkeit

70

(aa) Die Frage der Präklusion (Issue estoppel)

70

(bb) Die Anwendung der Act of State-Doktrin auf fremdstaatliche Urteile

71

(cc) Ergebnis

72

(c) Das Urteil des England and Wales Court of Appeal

72

(aa) Die Erweiterung der Act of State-Doktrin

73

(bb) Die Frage der Präklusion

73

(d) Das zweite Urteil des High Court of Justice zur Zulässigkeit

73

(aa) Ex nihilo nil fit?

74

(bb) Auf den Zinsanspruch anwendbares Recht?

74

(e) Fazit

74

III. Zusammenfassung des Abschnitts zur internationalen Vollstreckungspraxis und Literatur

75

D. Die historische Entwicklung der Vollstreckung von Schiedssprüchen als Grundlage für die unterschiedliche Vollstreckungspraxis

77

I. Die actio ex compromisso der Antike

77

II. Die Rezeption des römischen Rechtsinstituts

78

III. Die französische Rechtsentwicklung und die internationalistische Theorie

80

IV. Die deutsche Rechtsentwicklung bis zum New Yorker UN-Übereinkommen

81

V. Die Vollstreckungsübereinkommen des 19. Jahrhunderts

82

VI. Das Genfer Abkommen von 1927

84

E. Zusammenfassung des 1. Kapitels

85

Kapitel 2: Hat das deutsche Anerkennungs- und Vollstreckungsgericht nach den beiden Vollstreckungsübereinkommen ein Ermessen?

87

A. Das Anerkennungs- und Vollstreckungsermessen bei der Vollstreckung eines aufgehobenen Schiedsspruchs gemäß Art. V Abs. 1 lit. e) UN-Übereinkommen

87

I. Der Begriff "Ermessen"

87

II. Historische Bedeutung des UN-Übereinkommens durch eine erhebliche Vollstreckungserleichterung

89

III. Verfassungsrechtliche Integration in das deutsche Recht und Auswirkungen auf das Anerkennungs- und Vollstreckungsermessen

91

1. Das Zustimmungsgesetz und die Verweisung des § 1061 Abs. 1 ZPO

91

a) Keine Vorgaben des Völkerrechts über Art und Weise der Vertragserfüllung

91

b) Die Verweisungstechnik des § 1061 Abs. 1 ZPO

91

(1) Keine "beschränkte Verweisung"

92

(2) Keine statische Verweisung

93

2. Ermessensausschluss wegen fehlender Äußerung des deutschen Gesetzgebers

96

IV. Interpretationsmaßstab

98

1. Wiener Vertragskonvention als Völkergewohnheitsrecht

98

2. Auslegung gem. Art. 31 ff. Wiener Übereinkommen über das Recht der Verträge

98

3. Keine authentische Auslegung durch die Mitgliedstaaten gem. Art. 31 Abs. 3 lit. b) WVK

99

V. Analyse des Art. V Abs. 1 lit. e) UN-Übereinkommen

100

1. Widerspruch zwischen den authentischen Texten

100

a) Wortlaut der verschiedenen Sprachfassungen

101

(1) Die englische Sprachversion

101

(2) Die französische Sprachfassung

103

(3) Die spanische Sprachfassung

104

(4) Die chinesische und russische Sprachfassung

105

(5) Zwischenergebnis

105

2. Systematischer Vergleich der Sprachfassungen

106

a) Der Gebrauch von "may" und "shall" in der englischen Sprachfassung

106

(1) "may"

106

(2) "shall"

107

b) Der Gebrauch von "poder" im spanischen Text

108

c) Der Gebrauch von "pouvoir" im französischen Text

108

3. Der sich aus der übrigen Systematik ergebene Sinn und Zweck des UN-Übereinkommens

109

a) Die Förderung der Vollstreckbarkeit ausländischer Schiedssprüche

109

b) Harmonisierung internationaler Vollstreckungsstandards

113

c) Die Begrenzung des Einflusses des Sitzstaats

114

d) Die "doppelte Funktion der Doppelkontrolle"

115

4. Dynamische Auslegung des Art. V Abs. 1 UN-Übereinkommen – UNCITRAL-Schiedsregeln und UNCITRAL-Modellgesetz

118

a) Die begrenzte Anwendungsmöglichkeit einer dynamischen Auslegung

119

b) Die UNCITRAL-Schiedsregeln von 1976

120

c) Das UNCITRAL-Modellgesetz zur Handelsschiedsgerichtsbarkeit von 1985

120

5. Die "engere Textversion" nach der Rechtsprechung des StIGH

123

VI. Ergebnis

124

B. Art. IX Europäisches Übereinkommen von 1961

125

I. Dynamische Interpretation des UN-Übereinkommens?

126

II. Wortlautauslegung

129

1. Keine Abweichungen der authentischen Sprachfassungen

129

a) Die englische Sprachfassung

129

b) Französische Sprachfassung

130

c) Russische Sprachfassung

130

2. Wortlautanalyse

131

III. Teleologische Auslegung

132

1. "Internationalisierung" des Schiedsspruchs

132

2. Standardisierung des nationalen Aufhebungsverfahrens

133

IV. Zwischenergebnis

133

C. Ergebnis des 2. Kapitels

134

Kapitel 3: Verfassungsrechtliche und weitere völkervertragliche Kriterien der Ermessensausübung

135

A. Das Anerkennungs- und Vollstreckungsverfahren als überprüfbarer staatlicher Akt

136

I. Anwendungsbereich des GG bei Handeln eines fremden Hoheitsträgers – keine Entscheidung über die Rechtmäßigkeit des Aufhebungsakts

136

II. Die (konkludente) Anerkennung der Aufhebungsentscheidung als überprüfbarer Grundrechtseingriff

138

III. Zwischenergebnis

139

B. Der grundrechtliche Schutzstandard im Rahmen des Anerkennungs- und Vollstreckungsverfahrens

140

I. Richterlicher Ermessensnichtgebrauch als Rechtsschutzverkürzung im Sinne des Art. 19 Abs. 4 GG/ allgemeinen Justizgewährungsanspruchs?

141

1. Die Anerkennungsverpflichtung über den Justizgewährungsanspruch

141

2. Der Streit um den Schutzbereich des Art. 19 Abs. 4 GG

142

a) Die behördliche Anerkennung eines fremdstaatlichen Hoheitsakts

142

b) Die richterliche Anerkennungs- und Vollstreckungsentscheidung als "Akt der öffentlichen Gewalt"?

143

3. Die Verlagerung des Rechtsschutzes auf den allgemeinen Justizgewährungsanspruch durch das BVerfG

145

a) Vorgaben für den Gesetzgeber

146

b) Die Vorgaben für das Anerkennungs- und Vollstreckungsgericht

147

4. Zwischenergebnis

148

II. Eigentumsschutz gemäß Art. 14 Abs. 1 GG

149

1. Der sachliche Schutzbereich des Art. 14 Abs. 1 GG

149

a) Der Schiedsspruch als Vermögenswerte Rechtsposition

149

b) Das UN-Übereinkommen als Inhalts- und Schrankenbestimmung des Art. 14 Abs. 1 S. 2 GG

151

2. Verfassungsrechtliche Schranken hinsichtlich der Auslegung des Art. V Abs. 1 lit. e) UN-Übereinkommen

152

a) Die abgewandelte Verhältnismäßigkeitsprüfung im Rahmen des Art. 14 GG

153

(1) Verfassungsrechtlich vorgegebene Kriterien

154

(2) Legitimer Zweck der Regelung

155

(3) Geeignetheit der Regelung

156

(4) Erforderlichkeit der Regelung

156

(5) Angemessenheit der Regelung

157

(6) Zwischenergebnis

158

b) Ergebnis zu Art. 14 GG

158

III. Gleichheitsgrundsatz, Art. 3 Abs. 1 GG

158

1. Grundsätzliche Anwendbarkeit des Gleichheitsgrundsatzes auf die Anerkennungs- und Vollstreckungsübereinkommen

159

a) Das Verhältnis des Gleichheitssatzes zu Art. 14 Abs. 1 GG

159

b) Das Verhältnis der beiden Vollstreckungsübereinkommen als Ausgangspunkt für die Gleichheitsprüfung

159

2. Ungleichbehandlung

161

3. Rechtfertigung der Ungleichbehandlung

161

a) Willkürkontrolle

161

b) Anwendbarkeit der sog. "neuen Formel"

162

c) Kritik an der "neuen Formel"

164

d) Verhältnismäßigkeitsprüfung

166

(1) Höherer Kontrollstandard für europäische Staaten zum Schutze der eigenen Rechtsordnung

167

(2) Gegenseitigkeitskriterium als Unterscheidungsgrund

167

(3) Missbrauchsschutz des Schiedsgläubigers

168

4. Zwischenergebnis

168

IV. Der personenbezogene Prüfungsmaßstab bei der Ermessensausübung

169

1. Die natürliche Person als Schiedsgläubiger

169

2. Der Schutz der "inländischen" juristischen Person

170

3. Die ausländische juristische Person als Problemfall

172

a) Der Ausschluss des Grundrechtsschutzes über Art. 19 Abs. 3 GG

172

b) Der ergänzende Schutz über das Rechtsstaatsprinzip, Art. 20 Abs. 3 GG

174

c) Prüfungsmaßstab für juristische Personen aus dem EU-Raum

175

4. Die Gleichstellung ausländischer juristischer Personen über Völkervertragsrecht

178

a) Europäische Menschenrechtskonvention und die Völkerrechtsfreundlichkeit des Grundgesetzes

179

(1) Görgülü-Entscheidung

181

(2) Sicherungsverwahrung

183

(3) Zwischenergebnis

184

(a) Die Beachtung der Entscheidungen des EGMR für die nationalen Gerichte

184

(b) Auswirkungen für die Anwendung des Art. 19 Abs. 3 GG

185

b) Erweiterung über bilaterale Investitionsschutzverträge (BITs)?

186

5. Ergebnis

187

V. Ergebnis der grundrechtlichen Prüfung

188

C. Der Schutzstandard der Europäischen Menschenrechtskonvention

189

I. Die drei Anknüpfungspunkte der EMRK im Rahmen der deutschen Anerkennungs- und Vollstreckungsentscheidung

190

II. Auslegungskriterien der EMRK und die Bedeutung der Rechtsprechung des EGMR

192

1. Effet utile

193

2. Dynamische Auslegung – die Konvention als "living instrument"

194

3. "Law-making treaty" und autonome Begriffsinterpretation

194

4. "margin of appreciation"

195

5. Einbeziehung der Vollstreckungsübereinkommen im Rahmen einer dynamischen Auslegung

195

III. Die Justizgarantien des Art. 6 Abs. 1 S. 1 EMRK

198

1. Art. 6 EMRK und die Anforderungen an einen ausländischen Schiedsspruch gem. Art. V Abs. 2 lit. b) UN-Übereinkommen

198

2. Auswirkungen des Art. 6 EMRK auf die Anerkennung des Aufhebungsverfahrens (§ 328 Abs. 1 Nr. 4 ZPO)

199

3. Auswirkungen auf die Beurteilung des Anerkennungs- und Vollstreckungsverfahrens

201

IV. Eigentumsschutz gemäß Art. 1 Abs. 1 ZP I EMRK

202

1. Die "vorsichtig tastende" Rechtsprechung zum Eigentumsschutz

202

2. Der personelle Schutzbereich der Konvention

205

3. Der materielle Schutzbereich

205

a) Die Regelungsstruktur nach der EGMR-Rechtsprechung

205

b) Forderungen als geschütztes Eigentum

206

V. Art. 14 EMRK

207

VI. Schiedssprüche in der Rechtsprechung des EGMR

208

1. Der Schiedsspruch als geschützte Forderung – Der Fall Stran Greek Refineries ./. Greece

208

a) Sachverhalt

208

b) Der Schiedsspruch

209

c) Das Aufhebungsverfahren

209

d) Die Entscheidungen der Konventionsorgane

210

e) Fazit

212

2. "Regent Company" und "Kin-Stib & Majkić": Die Vollstreckungsverzögerung als Konventionsverstoß

213

a) Regent Company ./. Ukraine

213

(1) Sachverhalt

213

(2) Entscheidung des EGMR

213

b) Kin-Stib and Majkić ./. Serbia

214

(1) Sachverhalt

214

(2) Entscheidung des EGMR

215

3. Ergebnis der EMRK-Prüfung

215

D. Die Wirkung von Meistbegünstigungsklauseln im Investitionsschutzrecht

217

E. Die justizielle Zusammenarbeit in Zivilsachen der Europäischen Union und die Schiedsgerichtsbarkeit

220

F. Ergebnis des 3. Kapitels

223

Kapitel 4: Die Rolle des Völkergewohnheitsrechts im Rahmen des Art. 25 GG bei der Beurteilung der ausländischen Aufhebungsentscheidung

227

A. Die Verbindlichkeit des Völkergewohnheitsrechts für die deutschen Gerichte über Art. 25 GG

228

I. Die Entwicklung der Rechtsprechung zum Inhalt des Art. 25 GG

228

II. BVerfGE 112, 1 ("Bodenreform III") – Die Theorie der Korrekturverpflichtung völkerrechtlichen Unrechts

231

1. Sachverhalt und Entscheidung

231

2. Kritik am Vorgehen des BVerfG

235

a) Art. 46 Haager Landkriegsordnung als ius cogens?

235

b) Prüfungsmaßstab und obiter dictum

236

3. Fazit und Kritik zur Korrekturverpflichtung der deutschen Hoheitsträger für fremdstaatliches Handeln

238

B. Relevantes Völkergewohnheitsrecht im Rahmen des deutschen Anerkennungs- und Vollstreckungsverfahrens

240

I. Das völkergewohnheitsrechtliche Fremdenrecht

241

1. Die notwendige restriktive Auslegung des Art. 25 GG

241

2. Das Problem der weitgehenden inhaltlichen Unbestimmtheit des Fremdenrechts

242

3. Der "Fair and equitable treatment"-Standard der Investitionsschutzverträge

245

II. Verstöße gegen erga omnes-Verpflichtungen/ius cogens

246

C. Ergebnis des 4. Kapitels

248

Kapitel 5: Die Prüfung der ordre public-Klausel des § 328 Abs. 1 Nr. 4 ZPO

249

A. Der ordre public-Vorbehalt des § 328 Abs. 1 Nr. 4 ZPO im Rahmen der Anerkennung von ausländischen Aufhebungsurteilen

251

B. Der Schutzbereich des ordre public-Vorbehalts

253

I. Der materiellrechtliche ordre public als Einfallstor der Grundrechte in das Internationale Privatrecht

253

1. Die Spanier-Entscheidung des Bundesverfassungsgerichts zu Art. 30 EGBGB a. F.

253

2. Der abgeschwächte materiellrechtliche ordre public bei der Überprüfung einer fremdstaatlichen Aufhebungsentscheidung

256

II. Der verfahrensrechtliche ordre public anhand des Rechtsstaatsprinzips und des Art. 6 EMRK

259

III. Die Relativität der ordre public-Vorbehaltsklauseln

261

1. Das Kriterium der Offensichtlichkeit

261

2. Das Kriterium des Gegenwartsbezugs

262

3. Das Kriterium des Inlandsbezugs

262

4. Die verfassungskonforme Auslegung der Relativitätskriterien

264

C. Die grundgesetzlichen Einfallsnormen für das Völkerrecht und die Prüfung der ordre public-Vorbehaltsklausel des § 328 Abs. 1 Nr. 4 ZPO

265

I. Der völkerrechtliche ordre public international

265

II. Die Zurückhaltung der deutschen Gerichte bei der Anwendung eines völkerrechtlichen ordre public anhand von Beispielsfällen

268

1. Der indonesische Tabakstreit

268

a) Verfahren vor dem Landgericht Bremen

269

b) Entscheidung des Hanseatischen OLG Bremen

269

c) Zwischenfazit

271

2. Der chilenische Kupferstreit

272

a) Sachverhalt und Antrag auf Sequestrierung

272

b) Die Entscheidung im Widerspruchsverfahren

272

c) Zwischenfazit

274

3. Der "Hamburger Kaffeestreit"

275

a) Sachverhalt

275

b) Entscheidung des Landgerichts Hamburg

275

c) Entscheidung des Oberlandesgerichts Hamburg

275

d) Kritik und Zwischenfazit

277

4. Fazit zur Rechtsprechungsübersicht

279

D. Ergebnis des 5. Kapitels

279

Ergebnis und Schlussthesen

281

Annex A: Internationale Verträge

287

I. UN-Übereinkommen (New York Convention) über die Anerkennung und Vollstreckung ausländischer Schiedssprüche vom 10. Juni 1958

287

II. Europäisches Übereinkommen (Geneva Convention) zur Internationalen Handelsschiedsgerichtsbarkeit vom 21. April 1961

292

Annex B: Internationale Rechtsprechung

298

I. Arbitrazh Court of Kemerovo Oblast, Urteil vom 20.07.2011, Case No. A27–781/2011, Ciments Français ./. Open Joint Stock Company Sibirskiy Cement Holding Company, Kemerovo

299

II. Amsterdam Court of Appeal, Urteil vom 28.04.2009, case number 200.005.269/01, Yukos Capital S. A. R. L., Luxembourg ./. OAO Rosneft

310

III. Landgericht Hamburg, Beschluss vom 11.11.2004, Az. 327 O 639/04 ("Hamburger Kaffeestreit I")

320

IV. OLG Hamburg, Urteil vom 07.01.2005, Az. 1 W 78/04 ("Hamburger Kaffeestreit II")

323

Literaturverzeichnis

328

Verzeichnis der verwendeten Rechtsprechung

345

Sachwortverzeichnis

352

Abkürzungsverzeichnis

19