Sales & marketing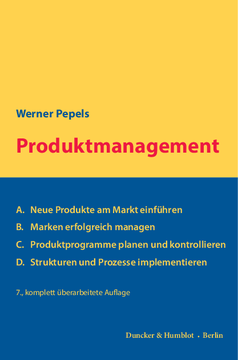 BOOK
Produktmanagement
A. Neue Produkte am Markt einführen – B. Marken erfolgreich managen – C. Produktprogramme planen und kontrollieren – D. Strukturen und Prozesse implementieren
(2016)
Additional Information
Book Details
ISBN

978-3-428-54943-6
978-3-428-14943-8 (print edition)

DOI

https://doi.org/10.3790/978-3-428-54943-6

Edition

7

Edition Statement

7., komplett überarb. Aufl.

Language

German

Pages

1087

Collections

Subjects
Pricing
Institution

€ 699.00 (incl. local VAT if applicable)

Individual

€ 71.90 (incl. local VAT if applicable)
About The Author
Werner Pepels studierte nach kaufmännischer Berufsausbildung Wirtschaft und Wirtschaftswissenschaften mit den Abschlüssen Diplom-Betriebswirt und Diplom-Kaufmann. Anschließend war er zwölf Jahre als Werbeberater im Dienstleistungsvertrieb tätig, davon neun Jahre als Key Accounter für B-to-B-Großkunden und davon wiederum drei Jahre als Geschäftsführender Gesellschafter (Partner) einer der seinerzeit größten deutschen Kommunikationsberatungen. 1989 wurde er zum Professor für Betriebswirtschaftslehre berufen und war von 1995 bis 2016 an der Westfälischen Hochschule im Studienschwerpunkt Marketing tätig. Er hat zahlreiche Beiträge zu Themen aus Marketing, Vertrieb und Werbung sowie Management in Monografie-, Sammelwerk-, Lexikon- und Aufsatzform veröffentlicht und zählt mit über 175.000 Auflage zu den meistverkauften Fachautoren in diesem Bereich im deutschsprachigen Raum.
Abstract
»Produktmanagement« erscheint auch in der siebten Auflage mit den bewährten vier Kapiteln: Neue Produkte am Markt einführen, Marken erfolgreich managen, Produktprogramme planen und kontrollieren sowie Strukturen und Prozesse implementieren. Dies bietet einen umfassenden und fundierten Überblick über die Themeninhalte sowohl im Studium (meist in der Vertiefung Marketing) als auch im Management. Das Buch richtet sich dementsprechend an Studierende an wissenschaftlichen und anwendungsbezogenen Hochschulen sowie anspruchsvollen Weiterbildungseinrichtungen. Darüber hinaus an Manager in Marketing-, Vertriebs- und Werbeabteilungen als Update auf den Stand der Technik oder als Informationsbasis bei Quereinstieg. Das Buch besteht aus vier Teilbänden und ist in seiner Konzeption einzigartig auf dem deutschsprachigen Markt. Es ist mit sehr vielen Beispielen und Abbildungen versehen. Der Autor verfügt über jahrzehntelange berufspraktische und hochschuldidaktische Erfahrung. »Product management«

Product management is concerned with the planning, organization, implementation and control of all activities for establishing, maintaining, replacing and eliminating products. It is primarily concerned with the development and expansion of branded products as personalities, the design of the product ranges in their width and depth, as well as the control of internal processes up to their market maturity and sales success. Product management is a central function in all market-oriented controlled companies.
Table of Contents
Section Title
Page
Action
Price

Vorwort

5

Inhaltsübersicht

7

Inhaltsverzeichnis

11

Abbildungsverzeichnis

25

Abkürzungsverzeichnis

31

Marken-/Firmenverzeichnis

33

A. Neue Produkte am Markt einführen

35

1. Neuproduktkonzept

35

1.1 Innovation

35

1.1.1 Innovationsarten

35

1.1.2 Innovationsneigung

38

1.1.2.1 Pionier

38

1.1.2.2 Früher Folger

43

1.1.2.3 Modifikator

44

1.1.2.4 Nachzügler

46

1.2 Ideenfindung

47

1.2.1 Ideenquellen

47

1.2.2 Kreativitätstechniken

48

1.2.2.1 Anforderungen an Kreativität

48

1.2.2.2 Logisch-diskursive Verfahren

51

1.2.2.2.1 Morphologischer Kasten

51

1.2.2.2.2 Funktional-Analyse

53

1.2.2.2.3 Verwandte Verfahren

54

1.2.2.3 Intuitiv-laterale Verfahren

55

1.2.2.3.1 Brainstorming

55

1.2.2.3.2 Methode 6 3 5

57

1.2.2.3.3 Synektik

60

1.2.2.3.4 Bionik

65

1.2.2.3.5 Sonstige Verfahren

66

1.2.2.4 Systematische Verfahren

68

1.2.2.4.1 Eigenschaftsliste

68

1.2.2.4.2 Fragenkatalog

69

1.2.2.4.3 Mind Map/Metaplan

70

1.2.3 Ideenauswertung

71

1.3 Forschung und Entwicklung

74

1.3.1 Technischer Fortschritt

75

1.3.2 Bereiche des FuE-Managements

80

1.3.3 Technologieentwicklung

85

1.3.4 Technologielebenszyklus

88

1.3.5 Technologiebewertung

90

1.3.6 FuE-Portfolio-Analysen

92

1.3.7 Innovations-Positionen

95

1.4 Markterwartungen

97

1.4.1 Testverfahren

97

1.4.2 Absatzprognosen

101

1.4.2.1 Intuitive Prognoseverfahren

102

1.4.2.2 Systematische Prognoseverfahren

108

1.4.2.2.1 Grundlagen

108

1.4.2.2.2 Deskriptive Prognose

110

1.4.2.2.3 Analytische Prognose

113

1.5 Einführungsprozess

116

1.6 Produktbesonderheiten

119

1.6.1 Dienstleistungen

119

1.6.1.1 Begriffsabgrenzung

120

1.6.1.2 Besonderheiten

121

1.6.1.2.1 Immateralität

121

1.6.1.2.2 Externer Faktor

124

1.6.1.2.3 Individualität

124

1.6.1.3 Kundendienst

126

1.6.2 Industriegüter

130

1.6.2.1 Begriffsabgrenzung

130

1.6.2.2 Marktkennzeichen

132

1.6.2.3 Vermarktungsobjekte

134

1.6.2.3.1 Rohstoffe

135

1.6.2.3.2 Systeme

137

1.6.2.3.3 Anlagen

139

1.6.2.3.4 Produkte

143

1.6.2.3.5 Sonstige Marktarten

144

2. Produkterfolgsfaktoren

146

2.1 Packung

146

2.1.1 Begriffsabgrenzung

146

2.1.2 Packungsfunktionen

150

2.1.2.1 Rationalisierung

150

2.1.2.2 Kommunikation

152

2.1.2.3 Verwendungserleichterung

153

2.1.3 Packungsansprüche

153

2.1.4 Entsorgung

154

2.1.4.1 Kreislaufwirtschaft

154

2.1.4.2 Verpackungsverordnung

158

2.1.4.3 "Grüner Punkt"

161

2.2 Gewerbliche Schutzrechte

163

2.2.1 Schutzrechtspolitik

164

2.2.2 Patentschutz

167

2.2.3 Gebrauchsmusterschutz

169

2.2.4 Geschmacksmusterschutz

171

2.2.5 Urheberrechtsschutz und andere Schutzarten

171

2.2.6 Produzentenhaftung

172

2.2.6.1 Gewährleistungshaftung

173

2.2.6.2 Produkthaftung

174

2.2.7 Produktrückruf

178

2.2.7.1 Inhalte

178

2.2.7.2 Rückrufe speziell in der Automobilbranche

183

2.2.7.3 Sicherheitskommunikation

185

2.2.7.4 Rückrufdurchführung

185

2.2.7.5 Kommunikationsaktion

188

2.2.7.6 Rückrufkommunikation im Absatzkanal

189

3. Wirtschaftlichkeitsrechnung

193

3.1 Budgetierung

193

3.1.1 Budgetsystem

193

3.1.2 Analytische Verfahren

194

3.1.3 Nicht-analytische Verfahren

197

3.1.4 Rechenrichtung

197

3.1.5 Zeitperspektive und -dauer

198

3.1.6 Zero Base Budgeting

198

3.2 Vorgangsorientierte Kostenrechnung

204

3.2.1 Prozesskostenrechnung

204

3.2.1.1 Darstellung

205

3.2.1.2 Anwendung

207

3.2.3 Lebenszykluskostenrechnung

219

3.2.4 Differenzzahlungsrechnung

221

3.2.5 Transaktionskostenrechnung

222

3.2.6 Deckungsbeitragsflussrechnung

223

3.2.2.2 Anwendung

215

3.3 Break even-Analyse

224

3.3.1 Darstellung

224

3.3.2 Bewertung

226

3.4 Effizienzsteigerung

229

3.4.1 Wertanalyse

229

3.4.2 Gemeinkosten-Wertanalyse

232

3.4.3 Benchmarking

235

3.4.3.1 Konzept

235

3.4.3.2 Arten

236

3.4.3.3 Umsetzung

240

4. Überwachung im Produktmanagement

245

4.1 Produktmarketing-Controlling

245

4.1.1 Inhalt

246

4.1.2 Element Planung

249

4.1.2.1 Netzplantechnik

249

4.1.2.2 Sonstige Planungstechniken

255

4.1.2.3 Optimierungsverfahren

259

4.1.3 Element Information

260

4.1.3.1 Informationsbasis

260

4.1.3.2 Datenbasierte Systeme

266

4.1.3.3 Wissensbasierte Systeme

268

4.1.4 Element Prüfung

269

4.1.5 Element Kontrolle

273

4.1.5.1 Formen von Kennzahlen

273

4.1.5.2 Kennzahlenbeispiele

277

4.1.5.3 Kennzahlensysteme

290

4.1.5.4 Balanced Scorecard

294

4.2 Proaktive Gegensteuerung

296

4.2.1 Krisenbewusstsein

296

4.2.2 Prävention

298

4.2.3 Erfassung und Auswertung

301

B. Marken erfolgreich managen

305

1. Idee der Markentechnik

305

1.1 Darstellung

305

1.1.1 Markenphänomen

305

1.1.2 Definition

309

1.2 Bedeutung der Marke

310

1.2.1 Markeninhalte

310

1.2.2 Markeneigenschaften

315

1.3 Markenpersönlichkeit

317

1.4 Markenpositionierung

320

1.4.1 Verfahrensstufen

321

1.4.2 Positionsbestimmung

323

1.4.3 Positionierungsanlässe

324

1.4.4 Positionierungsrichtung

325

1.5 Markenereignisse

327

1.5.1 Markenlebenszyklus

327

1.5.2 Markenaktualisierung

329

1.5.3 Markenablösung

331

1.5.4 Markenverkauf

333

2. Markenarchitektur

336

2.1 Horizontale Markentypen

337

2.1.1 Markensegmentierung

338

2.1.1.1 Einzelmarke

338

2.1.1.2 Mehrmarken

340

2.1.2 Markendifferenzierung

342

2.1.2.1 Monomarke

342

2.1.2.2 Rangemarken

344

2.1.3 Markenanzahl

348

2.1.3.1 Solitärmarke

349

2.1.3.2 Multimarken

350

2.1.4 Markenidentität

355

2.1.4.1 Dachmarke

355

2.1.4.2 Singulärmarken

358

2.1.5 Kombinationen

359

2.2 Vertikale Markentypen

361

2.2.1 Erstmarke

363

2.2.2 Markenaufwertung

363

2.2.2.1 Premiummarke

363

2.2.2.2 Luxusmarke

365

2.2.3 Markenabwertung

368

2.2.3.1 Zweitmarke

368

2.2.3.2 Drittmarke

370

2.2.4 Gattungsware

371

2.3 Absenderbezogene Markentypen

373

2.3.1 Markenhalter

374

2.3.1.1 Herstellermarke

374

2.3.1.2 Handelsmarke

375

2.3.2 Markenumfang

381

2.3.2.1 Individualmarke

381

2.3.2.2 Kollektivmarke

381

2.3.3 Markenreichweite

385

2.3.3.1 Fertigproduktmarke

385

2.3.3.2 Vorproduktmarke

385

2.3.4 Markendiversifikation

389

2.3.4.1 Transfermarke

390

2.3.4.1.1 Hauptnutzung

390

2.3.4.1.2 Nebennutzung

393

2.3.4.2 Lizenzmarke

395

2.3.4.2.1 Begriff

395

2.3.4.2.2 Arten

397

2.3.4.2.3 Formen

401

2.3.4.2.4 Bewertung

404

2.3.4.2.5 Lizenzmittler

405

2.3.5 Markengebiet

407

2.3.5.1 Intranationale Verbreitung

407

2.3.5.2 Supranationale Verbreitung

408

2.3.6 Markenverbund

409

2.3.6.1 Systemmarke

409

2.3.6.2 Geschäftsstättenmarke

410

3. Markenerfolgsfaktoren

412

3.1 Strategiebasis

412

3.2 Marktstellung

414

3.2.1 Markenführer

415

3.2.2 Markenherausforderer

418

3.2.3 Markenmitläufer

421

3.2.4 Markennischenanbieter

422

3.3 Marktstimulierung

424

3.3.1 Markenpolarisierung

425

3.3.2 Präferenz-Position

427

3.3.3 Preis-Mengen-Position

429

3.4 Marktverhalten

431

3.4.1 Statische Sichtweise

431

3.4.2 Dynamische Sichtweise

434

3.5 Markterfassung

438

3.5.1 Dimensionen

438

3.5.2 Bewertung

440

3.6 Strategiekombinationen

442

4. Markenführung

445

4.1 Markeneinführung

447

4.1.1 Markierung von Produkten

448

4.1.2 Namensentwicklung

451

4.1.3 Branding-Probleme

455

4.2 Abwendung von Markenschaden

456

5. Markenschutz

461

5.1 Markenwert

461

5.1.1 Begriffsbestimmungen

462

5.1.2 Messkriterien

464

5.1.3 Darlegungsanlässe

466

5.1.4 Markenwertmodelle

468

5.1.4.1 Kommerzielle Messprodukte

470

5.1.4.2 Wissenschaftliche Ansätze

471

5.1.5 Markenstärkemodelle

473

5.1.5.1 Kommerzielle Messprodukte

473

5.1.5.2 Wissenschaftliche Ansätze

474

5.1.6 Kombinationsmodelle

475

5.1.6.1 Kommerzielle Messprodukte

475

5.1.6.2 Wissenschaftliche Ansätze

478

5.1.7 Markenkernprodukte

479

5.1.8 Kritische Würdigung

484

5.2 Markenangriffe

485

5.2.1 Piraterie

486

5.2.2 Spionage

491

5.2.3 Erpressung

493

5.3 Schutzrechte an Marken

495

5.3.1 Modalitäten

496

5.3.2 Entstehung

497

5.3.3 Markengesetz

499

5.3.4 Schutzrechtsmanagement

505

C. Produktprogramme planen und kontrollieren

509

1. Programmstruktur

509

2. Programmanalyse

514

2.1 Marktfeld-Abgrenzung

514

2.1.1 Kernkompetenz

514

2.1.2 Strategisches Geschäftsfeld

522

2.1.3 Geschäftsmodell

527

2.1.4 Strategische Geschäftseinheit

532

2.1.5 Branchen-Analyse

535

2.1.5.1 Lieferanten

536

2.1.5.2 Abnehmer

537

2.1.5.3 Substitutionsgutanbieter

538

2.1.5.4 Potenzielle Konkurrenten

539

2.1.5.5 Aktuelle Konkurrenten

540

2.2 Einfache Analyseverfahren

544

2.2.1 Struktur-Analyse

544

2.2.1.1 Umsatzanteil

545

2.2.1.2 Altersquerschnitt

547

2.2.2 Umfeld-Analyse

548

2.2.3 Ressourcen-Analyse

550

2.2.4 Potenzial-Analyse

552

2.2.5 Abweichungs-Analyse

554

2.2.6 Engpass-Analyse

555

2.2.7 Profit Pool-Diagramm

557

2.3 Komplexe Analyseverfahren

558

2.3.1 SPACE-Analyse

558

2.3.2 Wertketten-Analyse

563

2.3.3 Lebenszyklus-Analyse

567

2.3.3.1 Phasen

568

2.3.3.2 Bewertung

571

2.4 Programmanalyse mittels Portfolios

574

2.4.1 Portfolio-Vorläufer

574

2.4.1.1 Programmerfolgs-Portfolio

575

2.4.1.2 Stärken-Schwächen-Chancen-Risiken-Portfolio

577

2.4.1.3 Risiken-Chancen-Schwächen-Stärken-Portfolio

583

2.4.2 Vier-Felder-Portfolio

585

2.4.2.1 Darstellung

585

2.4.2.2 Konsequenzen

588

2.4.2.3 Bewertung

591

2.4.3 Neun-Felder-Portfolio

593

2.4.3.1 Darstellung

593

2.4.3.2 Konsequenzen

596

2.4.3.3 Bewertung

599

2.4.4 Sonstige Portfolio-Ansätze

600

2.4.5 Gesamtbewertung

603

2.4.6 Ziel-Portfolio

605

2.4.7 Neues BCG-Portfolio

607

3. Programmstrategie

611

3.1 Programmbreite

612

3.1.1 Programmdiversifizierung

612

3.1.1.1 Diversifizierungsbegriff

612

3.1.1.2 Markteintrittsschranken

616

3.1.1.3 Homogene Diversifizierung

619

3.1.1.3.1 Horizontale Ausrichtung

619

3.1.1.3.2 Vertikale Ausrichtung

623

3.1.1.4 Heterogene Diversifizierung

625

3.1.2 Programmunifizierung

630

3.1.2.1 Inhalt

630

3.1.2.2 Marktaustrittsschranken

631

3.1.2.3 Größeneffekte der Produktion

632

3.1.2.3.1 Statischer Größeneffekt

633

3.1.2.3.2 Dynamischer Größeneffekt

635

3.1.2.3.3 Bewertung

640

3.1.2.4 Komplexität

644

3.1.2.5 Mass Customization

648

3.1.3 Programmumfang

652

3.2 Programmtiefe

656

3.2.1 Programmdifferenzierung

656

3.2.1.1 Marktsegmentierung

659

3.2.1.1.1 Inhalt

659

3.2.1.1.2 Segmentierungskriterien

663

3.2.1.1.3 Bewertung

665

3.2.1.2 Produktbündelung

667

3.2.2 Programmstandardisierung

673

3.2.2.1 Baukastenprinzip

673

3.2.2.2 Produktionsprogramm

675

3.2.2.3 Bewertung

676

3.3 Programmbereinigung

679

3.3.1 Programmaustausch

679

3.3.1.1 Innovation

679

3.3.1.1.1 Einführungsplanung

680

3.3.1.1.2 Entscheidungssituation

684

3.3.1.2 Elimination

690

3.3.1.2.1 Inhalt

690

3.3.1.2.2 Kriterien

693

3.3.1.2.3 Verbundeffekte

694

3.3.2 Programmvariation

697

3.3.2.1 Ausprägungen

697

3.3.2.2 Veränderungsrichtung

702

3.3.3 Programmkonstanz

703

3.3.3.1 Produktart

704

3.3.3.2 Produktform

709

3.3.3.3 Produktgrafik

711

3.3.3.4 Produktgeruch

713

3.3.3.5 Produktsound

715

4. Strategische Programmgestaltung

717

4.1 Programmgestaltungsziel

717

4.1.1 Formale Zieldimensionen

717

4.1.2 Materielle Zieldimensionen

721

4.1.2.1 Vision

722

4.1.2.2 Business Mission

724

4.1.2.3 Kulturelle Werte

726

4.1.2.3.1 Konstrukterklärung

726

4.1.2.3.2 Kritische Bewertung

730

4.1.2.3.3 Kultureller Wandel

733

Exkurs: Unternehmensleitsätze

736

4.1.3 Zielbildungsverfahren

745

4.1.3.1 Nutzwert-Analyse

745

4.1.3.2 AHP-Analyse

748

4.1.3.3 Netzwerk-Analyse

750

4.2 Bestimmung des Marktfelds

754

4.2.1 Strategische Lücke

754

4.2.1.1 Darstellung

754

4.2.1.2 Bewertung

756

4.2.2 Marktdurchdringung

758

4.2.3 Markterweiterung

762

4.2.4 Produkterweiterung

769

4.3 Wertkettengestaltung

773

4.3.1 Denkmodell der Wertkette

773

4.3.2 Gliederung der Wertkette

776

4.3.3 Verkürzung der Wertkette

780

4.3.4 Verlängerung der Wertkette

783

4.4 Wettbewerbsposition

784

4.4.1 Dimensionen und Optionen

784

4.4.2 Generalisierungsposition

787

4.4.3 Involvierungsposition

790

4.4.4 Individualisierungsposition

792

4.4.5 Spezialisierungsposition

796

4.5 Wettbewerbsdynamik

799

4.5.1 Strategische Gruppen

799

4.5.1.1 Konzept

799

4.5.1.2 Dominanz innerhalb der eigenen Strategischen Gruppe

802

4.5.1.3 Wechsel in eine günstigere Strategische Gruppe

803

4.5.1.4 Gründung einer neuen Strategischen Gruppe

805

4.5.1.5 Stärkung der eigenen Strategischen Gruppe

809

4.5.2 Outpacing-Konzept

811

4.5.3 Hyper Competition

814

4.5.4 Blue Ocean-Konzept

816

4.6 Strategiebewertung

817

4.6.1 Auswertungsverfahren

817

4.6.2 Erkenntnisse des PIMS-Projekts

827

4.6.2.1 Untersuchungsanlage

828

4.6.2.2 Schlüsselfaktoren

829

4.6.2.3 Haupterkenntnisse für bestehende Geschäftseinheiten

833

4.6.2.4 Haupterkenntnisse für neue Geschäftseinheiten

834

4.6.2.5 Haupterkenntnisse für Klein- und Mittelstand

835

4.6.2.6 Sonderauswertungen

837

4.6.2.7 Bewertung

839

4.7 Produkt-Markt-Strategie

843

4.7.1 Begrifflichkeiten

844

4.7.2 Gewinn- vs. Sicherheits-Präferenz

848

4.7.3 Chancen- vs. Risiken-Präferenz

851

4.7.4 Multinationale Multiprodukt-Unternehmen

855

4.7.5 Gestaltung des Programms

856

4.7.6 Programmoptimum

859

4.8 Marktmechanik

860

D. Strukturen und Prozesse implementieren

867

1. Strukturorganisation

867

1.1 Elemente der Organisation

867

1.2 Konfiguration der Organisation

870

1.2.1 Einlinienaufbau im Produktmanagement

871

1.2.2 Mehrlinienaufbau im Produktmanagement

873

1.2.3 Stablinienaufbau im Produktmanagement

874

1.2.4 Kreuzlinienaufbau im Produktmanagement

876

1.3 Koordination der Organisation

878

1.3.1 Teamausrichtung im Produktmanagement

879

1.3.2 Projektausrichtung im Produktmanagement

881

1.3.3 Zentralbereichsausrichtung im Produktmanagement

884

1.3.4 Gremienausrichtung im Produktmanagement

886

1.3.5 Reale Mischformen des Organisationsaufbau

887

1.4 Spezialisierung der Organisation

893

1.4.1 Objektorientierung

893

1.4.2 Stellenplanung im Produktmanagement

896

2. Prozessorganisation

899

2.1 Prozessorientierung

899

2.1.1 Geschäftsprozesse

899

2.1.1.1 Element Prozesssteuerung

899

2.1.1.2 Element Kundenorientierung

903

2.1.2 Business Process Reengineering

905

2.2 Produktionsverschlankung

908

2.2.1 Ansatz

908

2.2.2 Maßnahmen

912

2.3 Produktionssteuerung

914

2.3.1 Fertigungsbegriffe

916

2.3.2 Fertigungsabläufe

919

3. Qualitätspolitik

923

3.1 Leitlinien

923

3.1.1 Qualitätsbegriff

923

3.1.2 Total Quality Management

927

3.1.2.1 Konzept

927

3.1.2.2 Umsetzung

931

3.2 Qualitätsproduktion

934

3.2.1 Qualitätszirkel

934

3.2.2 Quality Function Deployment

936

3.2.3 Statistische Mess- und Prüfverfahren

940

3.2.3.1 Statistische Versuchsplanung

941

3.2.3.2 Statistische Prozessregelung

944

3.2.3.3 Versuchsanlage

946

3.2.4 Fehlervermeidung

949

3.2.4.1 Null-Fehler-Produktion

949

3.2.4.2 Fehler-Eintritts- und -Einfluss-Analyse

950

3.2.4.3 Fehlerkosten

954

3.2.5 Qualitätswerkzeuge

955

3.2.6 Managementwerkzeuge

960

3.3 Zertifizierung

963

3.3.1 Intention der Qualitätsnormenreihe

963

3.3.2 Elemente der Zertifizierung

965

3.3.3 Vorgehen der Zertifizierung

969

3.3.4 Abweichungen

977

3.3.5 Beurteilung

978

3.3.6 Einteilung der DIN EN ISO-Normenreihe

980

3.3.6.1 Qualitätsnorm 9000:2015

981

3.3.6.2 Qualitätsnorm 9001:2015

982

3.3.6.3 Qualitätsnorm 9004:2009

992

3.4 Qualitätsauszeichnungen

993

4. Preispolitik

997

4.1 Bedeutung des Preises

997

4.2 Preis-Leistungs-Verhältnis

998

4.3 Beeinflussung der Kaufwahrscheinlichkeit

1000

4.4 Wettbewerbsorientierte Preisgestaltung

1004

4.4.1 Preiselastizitäten als Kenngrößen

1004

4.4.2 Preisführerschaft und -folgerschaft

1007

4.5 Nachfrageorientierte Preisgestaltung

1008

4.5.1 Elemente des Preisinteresses

1008

4.5.2 Hybrides Kaufverhalten

1010

4.5.3 Nachfrage- und Einkommenseffekte

1012

4.5.4 Kaufkraft als Preisbasis

1013

4.6 Betriebszielorientierte Preisgestaltung

1015

4.6.1 Elemente

1015

4.6.2 Leitlinien im Zeitablauf

1016

4.6.2.1 Preiskonstanz

1016

4.6.2.1.1 Prämienpreissetzung

1017

4.6.2.1.2 Diskontpreissetzung

1018

4.6.2.2 Preisvariation

1019

4.6.2.2.1 Penetrationspreissetzung

1019

4.6.2.2.2 Abschöpfungspreissetzung

1021

4.6.2.2.3 Aktionspreissetzung

1023

4.6.2.3 Preisinnovation

1025

4.7 Verringerung der Preistransparenz

1027

4.7.1 Preislinien

1027

4.7.2 Preisbaukästen

1030

4.7.3 Preisbündel

1031

4.7.4 Yield Management

1033

4.8 Interne Steuerungsfunktion des Preises

1034

4.8.1 Preispolitischer Ausgleich

1034

4.8.2 Lenkpreise

1035

4.8.3 Marktstörungen

1037

4.9 Administrierte Preissetzung

1038

Literaturhinweise

1040

Stichwortverzeichnis

1075

Über den Autor

1086