Religious law & concordats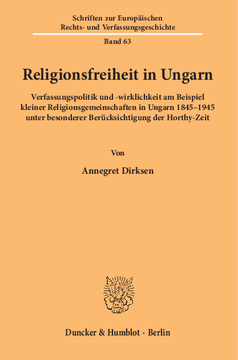 Additional Information
Book Details
ISBN

978-3-428-54820-0
978-3-428-14820-2 (print edition)

DOI

https://doi.org/10.3790/978-3-428-54820-0

Edition

1

Language

German

Pages

705

Collections

Subjects
Pricing
Institution

€ 162.00 (incl. local VAT if applicable)

Individual

€ 125.90 (incl. local VAT if applicable)
Abstract
Schon vor über tausend Jahren soll der ungarische Staatsgründer König Stephan in weiser Voraussicht seinem Sohn aufgetragen haben, Fremde offen aufzunehmen und ihnen anständig zu begegnen. Denn »ein Land, das nur einerlei Sprache und einerlei Sitten hat, ist schwach und gebrechlich«. Sich für Fremdes, ungewohnte Sitten, Gebräuche und Ansichten zu öffnen, klingt stark nach realpolitischer Diskussion – dabei ist vieles dieser liberalen Sicht in Europa und besonders auch in Ungarn verloren gegangen. Hat man aus der Geschichte nichts gelernt?

Was lehrt die wechselhafte ungarische Geschichte der letzten zweihundert Jahre über den Umgang verschiedener politischer Systeme mit Freiheitsrechten, insbesondere mit Religionsfreiheit? Welcher Stellenwert kam dabei der Verfassung zu? Die vorliegende Arbeit schildert, wie deutlich sich die allgemeinen politischen und verfassungspolitischen Perioden der ungarischen Geschichte im staatlichen Umgang mit kleinen Religionsgemeinschaften widerspiegeln. Deutlich wird auch, dass gerade Religionsfreiheit ein Prüfstein für die Garantie von Menschenrechten ist und mit Blick auf die zunehmende Globalisierung ein grundlegender Marker für ein funktionierendes Miteinander von Kulturen und Völkern in einer wachsend pluralistischen Gesellschaft bleiben wird. »Religious Freedom in Hungary«

What about the thousand year old tradition of being open to foreign people, their habits and customs displayed by the ancient Hungarian kings? What does a glimpse, from a contemporary point of view, throughout the changing Hungarian history of the last two hundred years teach us on dealing with small religious communities? The studies show that religious freedom can serve as an essential touchstone for the respect of human rights and for a functioning society in an increasingly pluralistic world.
Table of Contents
Section Title
Page
Action
Price

Geleitwort

3

Inhaltsverzeichnis

7

Abbildungsverzeichnis

12

Einleitung

13

Forschungsstand und Quellenlage

15

Kapitel 1: Historischer Überblick

21

A. Staatsgründung und religiöse Bindung

21

B. Goldene Bulle

24

C. Religionsgesetze in Siebenbürgen

25

D. Gegenreformation und Einfluss der Habsburger

30

Kapitel 2: Reformzeitalter und Religionsgesetze

35

A. Reformzeitalter und seine Auswirkungen

35

B. Gesetzesartikel XLIII/1895 zur Religionsfreiheit

51

I. Bestimmungen

51

II. Verordnung zur Umsetzung des Gesetzesartikels

56

Kapitel 3: Umsetzung von GA XLIII/1895 im 19. Jahrhundert und zu Beginn des 20. Jahrhunderts

58

A. Situation in Ungarn vor dem Ersten Weltkrieg

58

B. GA XLIII/1895 und die Religionsgemeinschaften vor dem Ersten Weltkrieg

62

I. Tätigkeit der Siebententags-Adventisten

63

II. Gotteshäuser der Nazarener

66

III. Gesetzliche Anerkennung der Baptisten

75

IV. Publikationen der Bibelforscher

77

Kapitel 4: Erster Weltkrieg und Wehrdienstverweigerung

80

Kapitel 5: Umgang mit Religionsfreiheit in der Zwischenkriegszeit

88

A. Politische Situation nach dem Ersten Weltkrieg

88

B. Trianon und das Streben nach Erhalt des Ungarntums in der Zwischenkriegszeit

99

I. Militärische Ausrichtung

101

II. Politik und die Rolle der historischen Kirchen im multireligiösen Kontext

104

C. Handhabung der Religionsfreiheit ab 1920 (in der Bethlen-Ära)

112

I. Gesetzliche Grundlagen in Verbindung mit der Religionsfreiheit

112

1. Geltende Gesetze zur Religionsfreiheit

112

2. Ordnungsgesetz: GA III/1921

114

3. Pressefreiheit

116

4. Versammlungsrecht

117

II. Erste Auseinandersetzung der Behörden mit den Gemeinschaften

120

III. Erste Maßnahmen und Entwicklungen zur polizeilichen Überwachung

126

1. Einrichtung einer Zentralen Ermittlungsbehörde beim Innenministerium

126

2. Kontroll-VO 1.670/1923 des Innenministers in Sachen "antimilitaristische Propaganda"

127

3. Restriktiver Umgang bei der Genehmigung von Presseerzeugnissen durch VO 60.002/1923

128

IV. Verstärkte Zusammenarbeit mit historischen Kirchen

129

V. Weitere Auseinandersetzung mit den Gemeinschaften

139

1. Rechtlicher Stand/Rechtssubjektivität

139

2. Anwesenheit Minderjähriger

147

3. Anmeldung eines ständigen Geistlichen

153

VI. Erstes Resultat: VO 208.458/1924

159

VII. Weiteres Resultat: Geheime Verordnung des Innenministers 14.700/1924 zur Überwachung der "Sektenbewegung"

161

VIII. Auswirkung der IM-VO 14.700/1924

166

1. Zusammenkünfte

166

a) Position der bischöflich methodistischen Kirche

166

b) Zusammenkünfte der Baptisten

173

c) Zusammenkünfte der STA

178

2. Weitere Versuche zur Koordination der lokalen Behörden in Verbindung mit Zusammenkünften

184

3. Presseerzeugnisse

193

4. Kommunismusvorwurf

204

IX. Ergänzungsverordnung 3.100/1926 und ihre Auswirkung

210

1. Inhalt von VO 3.100/1926

210

2. Tagung der Ministerien zum Thema "Sektenbewegungen"

213

3. Beschwerde der Baptisten

216

4. Antrag der Methodisten auf gesetzliche Anerkennung

219

X. Geheime Verordnung des Innenministers 6.200/1928

222

XI. Zusammenfassung der Bethlen-Ära

229

D. Rechtsruck der 1930er-Jahre

234

I. Maßnahmen zur Durchsetzung der Verordnungen und Haltung der Gemeinschaften

245

1. Stärkung der Gendarmerie und Polizeibehörden bei der "Sekten-Bekämpfung"

245

2. Verbot der Ibrányer Glaubensgemeinschaft

250

3. Reaktion der Bibelforscher auf die Repressionen

260

a) Anerkennungsbemühungen und Verbindungen nach Deutschland

260

b) Druckerzeugnisse

268

4. Turaner Monotheisten (Turáni Egyistenhivők)

272

II. Geheime Verordnung 8.300/1936 zur Einhaltung von Verordnungen

274

III. Auswirkungen der VO 8.300/1936

283

1. In Verbindung mit Druckschriften

283

2. In Verbindung mit den Turaner Monotheisten

284

3. Auf den Umgang mit den Nazarenern und deren Reaktion

286

4. Auf Adventisten

287

5. Auf Baptisten und Methodisten

289

6. Weitere Entwicklungen in Verbindung mit der Heilsarmee

291

7. Zeugen Jehovas: Kommunismusvorwürfe – Großaktion – Presseprodukte

293

IV. Weitere Maßnahmen

315

1. Geheime VO 14.485/1937

315

2. Maßnahmen zu Presseprodukten

316

V. Waffen- und Militärdienstverweigerung

323

1. Zwangsrekrutierungen und inoffizielle allgemeine Wehrpflicht

323

2. Maßnahmen durch Ministerpräsident Gyula Gömbös

325

3. VO 5.431/1938 und weitere Maßnahmen des Innenministers

328

4. VO 8.769/1938 des Verteidigungsministers

330

5. VO 92.518/1939 des Verteidigungsministers

331

6. VO 32.816/1939 des Oberbefehlshabers und weitere Entwicklungen

338

7. VO 43.008/1939 des Verteidigungsministers

341

8. Reaktionen

342

VI. Gesetzesartikel II/1939

345

VII. Verbotsverfügung des Innenministers

348

1. Weiterer Aufschluss über die Hintergründe der Verbotsverfügung

355

2. Zuordnungsprobleme

359

VIII. Zusammenfassung der 1930er-Jahre

360

Kapitel 6: Kriegsjahre

364

A. Umgang mit der israelitischen Religion

368

B. Ungarische Bibelnachfolger alias Siebenten-Tags-Adventisten

378

C. Wege der Pfingstgemeinde und Auswirkungen auf die Methodistische Gemeinschaft

390

D. Schwierigkeiten der Baptisten und weitere Zuordnungsprobleme

393

E. Weiteres Vorgehen gegen Zeugen Jehovas und Nazarener

397

I. Engere Zusammenarbeit der Behörden – Konzertierte Aktionen

397

II. Aktionen gegen die Nazarener

402

III. Sonderaktion gegen Zeugen Jehovas in Budapest

404

IV. Aktionen in der Karpato-Ukraine, Oberungarn und Siebenbürgen

415

F. Folgen für die "Pokait"

426

G. Auswirkungen der Verbotsverfügung 151.997/1940 in Verbindung mit 363.500/1939

428

I. Folgen für die "Pokait"

428

II. Entwicklungen bei der Heilsarmee

439

H. Internierungen und Untreue-Verfahren

439

I. Verwaltungstechnische Entwicklungen

439

II. Fallbeispiele und Entwicklungen

445

III. VO 13.400/1942 des Innenministeriums

459

IV. Staatssicherheitszentrale

462

V. Landesermittlungen gegen Zeugen Jehovas und Nazarener

465

VI. Untreue-Verfahren

472

J. Militärdienstverweigerung während der Kriegszeit

516

I. Verfahrensweise

521

II. Unterschied im Umgang mit Nazarenern und Zeugen Jehovas

527

III. Urteilsauswertungen und Strafvollzug

534

1. Ausgewählte erstinstanzliche Urteile

535

2. Ausgewählte Urteile des Obersten Militärgerichts

542

3. Strafvollzug und Haftbedingungen

549

K. Arbeitslager Bor

559

L. Besetzung Ungarns und das Szálasi-Regime

568

M. Zusammenfassung der Kriegsjahre

574

Kapitel 7: Weitere Entwicklungen

579

A. In der Kommunismuszeit

579

B. Nach dem Systemwechsel

603

Kapitel 8: Resümee – Thesen – Entwicklungen

613

A. Auswirkungen des Vertrages von Trianon

618

B. Verfassungswirklichkeit oder der Umgang mit Verfassungsgesetzen

620

C. Techniken im Vorgehen gegen die Gemeinschaften

629

D. Militärdienstverweigerung

634

E. Schlussfolgerungen in Verbindung mit der Haltung der Gemeinschaften

639

F. Erfolg der Maßnahmen im Horthy-Regime

643

G. Einordnung der Horthy-Zeit in das europäische Gesamtgeschehen

646

H. Schlussgedanken

648

Anhang

651

Quellen- und Literaturverzeichnis

656

I. Unveröffentlichte Quellen

656

1. Archive und Bestände

656

2. Unterlagen aus Privatbesitz

657

3. Interviews

657

II. Literatur

657

1. Aufsätze, Sammelbände, Monographien, online-Quellen

657

2. Periodika

661

3. Zusätzliche Websites

661

4. Tondokumente

662

III. Literaturverzeichnis

662

1. Aufsätze, Sammelbände, Monographien, online-Literatur

662

2. Periodika

689

3. Zusätzliche Websites

689

Sachwortregister

691