Financial administration & public finance law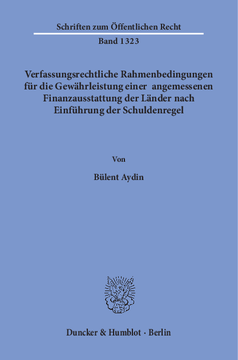 BOOK
Verfassungsrechtliche Rahmenbedingungen für die Gewährleistung einer angemessenen Finanzausstattung der Länder nach Einführung der Schuldenregel
Schriften zum Öffentlichen Recht, Vol. 1323
(2016)
Additional Information
Book Details
ISBN

978-3-428-54704-3
978-3-428-14704-5 (print edition)

DOI

https://doi.org/10.3790/978-3-428-54704-3

Edition

1

Language

German

Pages

328

Collections

Subjects
Pricing
Institution

€ 92.00 (incl. local VAT if applicable)

Individual

€ 71.90 (incl. local VAT if applicable)
About The Author
Bülent Aydin studierte Rechtswissenschaft an der Universität Frankfurt am Main. Nach dem ersten Staatsexamen war er dort als wissenschaftlicher Mitarbeiter am Lehrstuhl für Öffentliches Recht und Steuerrecht (RiBVerfG a.D. Prof. Dr. Lerke Osterloh) tätig. Das Referendariat absolvierte Bülent Aydin in Frankfurt am Main. Nach Promotion und zweitem Staatsexamen im Jahr 2014 ist er derzeit als juristischer Mitarbeiter in einer BGH-Kanzlei in Karlsruhe tätig.
Abstract
Im Zuge der Föderalismusreform II wurde die sog. Schuldenbremse im Grundgesetz verankert. Neben dem Bund schreibt diese auch den Ländern vor, ihre Haushalte grundsätzlich ohne Einnahmen aus Krediten auszugleichen. Weil Art. 79 Abs. 3 GG die Eigenstaatlichkeit der Länder garantiert, wirft die Erstreckung der Schuldenregel in der Verfassung des Bundes auf die Länder die Frage auf, ob darin verfassungswidriges Verfassungsrecht zu erblicken ist. Hiervon ausgehend wird der Schutzgehalt der sog. Ewigkeitsklausel im Hinblick auf die Kreditautonomie der Gliedstaaten und auf die Gewährleistung einer aufgabenadäquaten Finanzausstattung der Länder herausgearbeitet. Der gefundene Maßstab wird sodann an die durch die Einführung der Schuldenbremse veränderte Rechtslage angelegt: Determiniert der Bund die Landeshaushalte durch seine Steuer- und Sachgesetzgebung in hohem Maße, schneidet den Ländern aber zugleich die Möglichkeit zur strukturellen Verschuldung ab, muss er eine angemessene Finanzausstattung seiner Glieder nötigenfalls unter Aufwendung eigener Mittel gewährleisten. »Framework Conditions in Constitutional Law Ensuring Appropriate Funding for the German States (Laender) after the Introduction of the Debt Rule«

As part of the »Federalism Reform II«, the so called Debt Brake was incorporated in Germany's Basic Law. It requires both the Federal Government and the Laender to balance their budgets without the receipts from loans. As article 79 para 3 GG (Basic Law) guarantees the sovereignty of the Laender, the extension of the federal debt rule to the Laender gives rise to the question whether such an extension is so be considered unconstitutional, bearing in mind, in particular, the requirement to provide the Laender with appropriate funding.
Table of Contents
Section Title
Page
Action
Price

Vorwort

7

Inhaltsübersicht

9

Inhaltsverzeichnis

11

Abkürzungsverzeichnis

21

Erster Teil: Problemaufriss

25

Zweiter Teil: Das neue Schuldenregime der Art. 109 Abs. 3, 115, 143d GG

28

Erstes Kapitel: Darstellung der neuen Länderschuldenregel

28

Zweites Kapitel: Vor diesem Hintergrund: Präzisierung der Fragestellung

29

Dritter Teil: Der Prüfungsmaßstab: Art. 79 Abs. 3 GG

30

Erstes Kapitel: Grundlegendes

30

§ 1 Bindungswirkung der Bestandsklausel für den verfassungsändernden Gesetzgeber

31

A. Das Verhältnis von verfassungsgebender und -ändernder Gewalt nach dem Grundgesetz

31

I. Verfassungsändernde Gewalt als vom Verfassungsgeber eingesetzte Gewalt?

32

II. Verfassungsgebende und -ändernde Gewalt als unterschiedliche, aber gleichrangige Erscheinungsformen einer einheitlichen verfassungserzeugenden Gewalt?

33

III. Stellungnahme

34

IV. Ergebnis zu A.

38

B. Wirksamkeit des Art. 79 Abs. 3 GG gegenüber der Revisionsgewalt

38

I. Unmöglichkeit der in Art. 79 Abs. 3 GG angeordneten Bindung?

38

II. Kompetenzüberschreitung des Verfassungsgebers?

39

C. Ergebnis zu § 1

43

§ 2 Art. 79 Abs. 3 GG: Einziger materieller Prüfungsmaßstab für Verfassungsänderungen

43

§ 3 Reichweite des Bestandsschutzes

44

A. Grundsätze

46

I. Wortlaut

46

II. Systematik

48

1. Art. 23 Abs. 1, 28 Abs. 1 Satz 1 GG u.a.

48

2. Art. 19 Abs. 2 GG

49

III. Genese

51

IV. Telos

52

V. Auslegungsergebnis zum Merkmal "Grundsätze" und Schlussfolgerungen für die Anwendung des Art. 79 Abs. 3 GG

53

B. Berühren

55

I. Wortlaut

55

II. Systematik

57

III. Genese

57

IV. Telos

58

V. Ergebnis zu B.

59

C. Ergebnis zu § 3

59

§ 4 Ergebnis zum ersten Kapitel

60

Zweites Kapitel: Mit Blick auf die Aufgabenstellung: Föderative Schutzgüter

60

§ 1 Grundlegendes zur Föderativklausel

60

A. Übertragbarkeit der allgemeinen Befunde auf die Bundesstaatsgarantie

61

I. Allgemeine Absicherung der föderativen Verfassungssubstanz über Art. 79 Abs. 3 Var. 3 i.V.m. Art. 20 Abs. 1 GG?

62

II. Einheitlicher bundesstaatlicher Schutzbereich?

66

III. Ergebnis zu A.

68

B. Anwendung der allgemeinen Maßgaben zur Tragweite des Art. 79 Abs. 3 GG auf den einheitlichen bundesstaatlichen Schutzbereich

68

C. Föderativer Garantiebereich des Art. 79 Abs. 3 GG: Typusbestimmende Merkmale der Bundesstaatlichkeit grundgesetzlicher Prägung

69

I. Integrales Verständnis vom Bundesstaatsbegriff

69

II. Direkter Rekurs auf ältere verfassungsrechtliche Ausformungen des deutschen Bundesstaates?

70

1. Reichsverfassung von 1871

70

2. Weimarer Reichsverfassung

71

3. Fazit

72

III. Anknüpfung an verfassungsübergreifende geschichtliche Entwicklungsstränge bis 1949?

73

IV. Rückgriff auf ältere Bundesstaatslehren?

73

V. Bedeutung theoretischer Begriffsbestimmungen?

73

VI. Ergebnis zu C.

74

§ 2 Länderstaatlichkeit: Wesensmerkmal der bundesstaatlichen Ordnung des Grundgesetzes

74

A. Ausgangspunkt: Systematische Wechselwirkungen zwischen bundesstaatlicher Ordnung, demokratischem und sozialem Rechtsstaat

74

I. Bedenken gegen eine funktionale Typusbestimmung

74

II. Verflechtungen mit dem demokratischen Rechtsstaat

76

1. Gewaltengliederung

76

2. Sonstige demokratiekomplementäre Aspekte

78

3. Schlussfolgerung in Bezug auf etwaige Länderfinanzgarantien des Art. 79 Abs. 3 GG

79

III. Verflechtungen mit dem Sozialstaat

80

1. Sozial-föderative Homogenität oder Vielfalt?

81

a) Perspektive eins: Individualleistungen

82

b) Perspektive zwei: Infrastruktur- und kollektive Sozial(dienst)leistungen

85

2. Ergebnis zu III. und Schlussfolgerungen in Bezug auf etwaige Länderfinanzgarantien des Art. 79 Abs. 3 GG

88

IV. Ergebnis zu A.

89

B. Länderstaatlichkeit als Ausprägung (vornehmlich) vertikaler Gewaltengliederung

90

I. Materielle Voraussetzung der Länderstaatlichkeit: unentziehbarer Kern eigener Aufgaben ("Hausgut")

92

1. Im Besonderen: Kreditautonomie als Essentiale der Länderstaatlichkeit?

93

a) Organisationshoheit

93

aa) Terminologische Betrachtung

94

bb) Verfassungssystematische Betrachtung

96

(1) Landesverfassungen

96

(2) Bundesverfassung

100

(a) Art. 28 Abs. 1 GG Uf.

101

(b) Normen der bundesstaatlichen Finanzordnung

102

(aa) Art. 105, 106 GG Uf.

103

(bb) Art. 107 Satz 3 i.V.m. 29 Abs. 1 Satz 1 GG Uf.

106

(cc) Art. 109 GG Uf.

107

(c) Zwischenergebnis zu (2)

109

(3) Zwischenergebnis zu bb)

110

cc) Teleologische Betrachtung

110

(1) (Vertikale) Gewaltengliederung

110

(2) Unitarischer Bundesstaat

111

dd) Verfassungsgeschichtliche Betrachtung

112

ee) Zwischenergebnis zu a)

115

b) Sonstiges Hausgut

115

c) Zwischenergebnis zu 1.

117

2. Im Besonderen: Angemessene Finanzausstattung als Essentiale der Länderstaatlichkeit

117

a) Grundlegendes

118

aa) Mit Blick auf das Referenzjudikat (BVerfGE 34, 9): Abstimmung der Begrifflichkeiten

119

bb) Ausgangspunkt für die Konkretisierung des Garantieumfangs: Kategorisierung der Landesaufgaben anhand der föderativen Typusmerkmale

120

cc) Weichenstellung bezüglich der Konkretisierung des Garantieumfangs: Lediglich typussichernde oder (prinzipiell) aufgabenkongruente Garantie?

121

b) Grundanforderung an die Angemessenheit der Finanzausstattung: Gewährleistung der verfassungskonformen Erfüllung verfassungsmäßiger Aufgaben

123

aa) Extern determinierte Landesaufgaben

124

bb) Landesunmittelbare Aufgaben, im Besonderen: Gestaltungsaufgaben

128

cc) Sonderfall hybrider Beschaffenheit: Garantie der kommunalen Finanzausstattung

128

(1) Berücksichtigungspflichtigkeit etwaiger Einstandspflichten der Länder für ihre Kommunen?

130

(a) . . . hinsichtlich der Ausführung von Bundesgesetzen (ohne substantiellen kommunalen Entscheidungsspielraum)?

131

(aa) Ausnahme: Fortgeltendes Bundesrecht gemäß Art. 125a Abs. 1 Satz 1 Var. 2, 3 GG (Bundesdurchgriffszuweisung)

132

(bb) Regelfall: Landesrechtliche Zuweisung

135

(b) . . . hinsichtlich der Ausführung von Landesgesetzen (ohne substantiellen kommunalen Entscheidungsspielraum)?

135

(c) . . . hinsichtlich der Wahrnehmung von Selbstverwaltungsaufgaben?

136

(aa) Abgrenzung zu den anderen Kommunalaufgabenkategorien

136

(bb) Existenz und gegebenenfalls Umfang einer Einstandspflicht

138

(cc) Adressat der Einstandspflicht

139

(dd) Umfang der Berücksichtigungspflichtigkeit der Einstandspflicht im vorliegenden Zusammenhang

141

(2) Zwischenergebnis zu cc)

143

dd) Zwischenergebnis zu b)

144

ee) Verbleib der Möglichkeit zur Verschuldung in Ausnahmesituationen

145

ff) Conditio sine qua non nicht nur der bundesstaatlichen Ordnung des Grundgesetzes: Mindesthomogenität zentraler Lebensverhältnisse im Bundesgebiet

145

(1) Grundlegendes

146

(a) Klärung der Grundbegriffe 1: Lebensverhältnisse

146

(b) Grundgesetzlicher Textbefund

147

(aa) Aktuelle Rechtslage

147

(bb) Grundgesetz-Urfassung

150

(α) Unmittelbare Bekundung

151

(β) Mittelbare Bekundung

151

(αα) Art. 29 Abs. 1 Sätze 1, 2 GG Uf.

151

(ββ) Art. 106 Abs. 3 GG Uf.

153

(γγ) Art. 106 Abs. 4 GG Uf.

154

(δδ) Übergreifende Ergänzungen zu (ββ) und (γγ)

156

(γ) Resümee zu (bb)

157

(cc) Übergreifende Schlussfolgerung zu den Textbefunden

157

(c) Klärung der Grundbegriffe 2: Einheitlichkeit/Gleichwertigkeit

158

(2) Enthält Art. 79 Abs. 3 GG ein Homogenitätspostulat bezüglich der Lebensverhältnisse im Bundesgebiet?

159

(a) Umfassender Unitarisierungsauftrag

159

(b) Mindestsicherung

160

(aa) Verankerung über einfache Verfassungssätze?

160

(bb) Verankerung über Art. 1 Abs. 1 i.V.m. Art. 3 Abs. 1 GG?

160

(cc) Verankerung über den sozialstaatlichen Teil des Verfassungskerns?

161

(α) Mindesthomogenität: Gebot der Sozialstaatlichkeit?

162

(αα) Bildung

163

(ββ) Weitere Lebensverhältnisse

164

(γγ) Bindung des finanzstaatlichen Leistungsangebots an den Bundesdurchschnitt

165

(δδ) Lebensverhältnisse, die in den Regelungsbereich der Länder fallen – Verfassungssystematische Überlegungen

166

(εε) Sonderfall nach derzeitigem Verfassungsrecht: Kommunen in Ausübung ihres Selbstverwaltungsrechts (ohne Fälle des Gesetzesvollzugs im engeren Sinn)

171

(ζζ) Ergebnis zu (α)

177

(β) Sperrwirkung des Befunds zu Art. 79 Abs. 3 Var. 3 i.V.m.Art. 1 Abs. 1 i.V.m. Art. 3 Abs. 1 GG?

177

(γ) Mindesthomogenitätspostulat: Zugehörigkeit zum Kerngehalt der Sozialstaatlichkeit?

178

(dd) Verankerung über den bundesstaatlichen Teil des Verfassungskerns?

181

(α) Mindestharmonisierung zentraler Lebensverhältnisse: Voraussetzung für die Wahrung/Herstellung der inneren Einheit im Bundesstaat

181

(αα) Eindämmung von Wanderungsbewegungen

181

(ββ) Sicherung der sozialen Stabilität

185

(γγ) (Verfassungs-)Geschichtliche Besonderheiten des deutschen Bundesstaatstypus'

187

(β) Ergebnis zu (dd)

191

(ee) Verankerung über den freiheitlich-demokratischen Teil des Verfassungskerns?

192

(ff) Im Konkreten: Verknüpfung des Bestands der bundesstaatlichen und der demokratischen Ordnung des Grundgesetzes: Niederschlag auf Ebene der Verfassungsvoraussetzungen

196

(gg) Staatliche Garantenstellung für materielle Verfassungsvoraussetzungen?

198

(hh) Abstrakter/konkretisierungsbedürftiger Mindesthomogenitätsstandard

202

(ii) Zugrundelegung der jeweiligen Homogenitätsbedürfnisse in der Bevölkerung: keine unzulässige ex-post Modifizierung des Schutzbereichs von Art. 79 Abs. 3 GG

203

(jj) Ergebnis zu (b) und Schlussfolgerungen

204

(c) Ergebnis zu (2)

206

(3) Konsequenzen aus der Mindesthomogenitätsgarantie in Bezug auf das in Art. 79 Abs. 3 GG verankerte Postulat der Gewähr angemessener Landesfinanzausstattungen

207

(a) Anknüpfungspunkte bei den bisherigen Befunden

207

(b) Relevante Verpflichtungstatbestände

209

(c) Schlussfolgerungen

212

(d) Ergebnis zu (3)

214

gg) Ergebnis zu b)

214

c) Gemeinschafts- bzw. völkerrechtliche Einwirkungen auf den Schutzgehalt des Art. 79 Abs. 3 GG?

216

d) Maßgaben für die Generierung der Finanzausstattung

216

aa) Modalitäten der Bereitstellung angemessener Länderfinanzausstattungen

216

bb) Normierungsverantwortung und Einstandspflicht des Bundes

217

cc) Subsidiäre Einstandspflicht der Länder(-gesamtheit)?

219

dd) Bei Eintritt des Sicherungsfalles: Notwendigkeit, die Bundeseinstandspflicht in (finanz-)verfassungsrechtlichen Handlungsinstrumenten verorten zu können

219

ee) Folgerungen mit Blick auf das derzeitige Bundesverfassungsrecht

225

e) Ergebnis zu 2.

225

II. Ergebnis zu B.

226

C. Ergebnis zu § 2

228

§ 3 Gebot des bundesfreundlichen Verhaltens

228

Vierter Teil: Anwendung auf die neue Rechtslage

230

Erstes Kapitel: Vorüberlegungen

230

§ 1 Prüfungsgegenstand

230

§ 2 Beurteilungszeitpunkt

232

Zweites Kapitel: Prognosen

233

§ 1 Zeitraum ab dem 1. Januar 2020

233

A. Hohe Determiniertheit der Länderhaushalte

234

I. Weitreichender Bundeseinfluss auf die gliedstaatliche . . .

234

1. . . . Einnahmenstruktur

234

2. . . . Ausgabenstruktur

237

II. Kaum Einflussnahmemöglichkeiten der Länder selbst auf ihre . . .

237

1. . . . Einnahmen

237

2. . . . Ausgaben

239

a) Kosten der Erfüllung fremddeterminierter Aufgaben (im Besonderen: Ausführung von Bundesgesetzen)/hoher zeitlicher Bindungsgrad der Personalkosten

239

b) Ausgaben im Zusammenhang mit der fiskalischen Gewährleistungsverantwortung hinsichtlich einer aufgabenadäquaten kommunalen (Mindest-)Finanzausstattung

241

aa) Unmittelbare Einflussnahmemöglichkeiten

241

bb) Mittelbare Einflussnahmemöglichkeiten

244

c) Kosten der Erfüllung landesunmittelbarer Aufgaben

245

III. Resümee und verfassungsrechtliche Würdigung zu A.: Aufgabenangemessene Finanzausstattung (insbesondere finanzschwacher) Länder ohne Einnahmen aus Krediten möglicherweise nicht gewährleistet

245

1. Ländereinnahmen

245

2. Länderausgaben

246

a) Kosten der Erfüllung fremddeterminierter Aufgaben, Länderausgabenautonomie

246

b) Ausgaben im Zusammenhang mit der fiskalischen Gewährleistungsverantwortung hinsichtlich einer aufgabenadäquaten kommunalen (Mindest-)Finanzausstattung

246

aa) Kernbereich der kommunalen Selbstverwaltung gemäß Art. 28 Abs. 2 GG

246

bb) Bundesweite Mindesthomogenität zentraler Lebensverhältnisse gemäß Art. 20 Abs. 1, 2 GG

248

c) Kosten der Erfüllung landesunmittelbarer Aufgaben

250

aa) Erhalt der Länder als politische Entscheidungszentren

250

bb) Bundesweite Mindesthomogenität zentraler Lebensverhältnisse gemäß Art. 20 Abs. 1, 2 GG

252

3. Fazit

253

B. Lösungsansätze: Kompensationsmöglichkeiten für das Verbot struktureller (Neu-)Verschuldung . . .

255

I. . . . im Rahmen der Novelle?

255

1. Keine expliziten Ausgleichsinstrumente vorgesehen

255

2. Art. 79 Abs. 3-konforme Interpretation der Art. 109 Abs. 3 Sätze 2, 3 GG/Bedarfsorientierte Ausgestaltung der Ausnahmetatbestände durch den Landes(verfassungs)gesetzgeber gemäß Art. 109 Abs. 3 Satz 5 GG

256

II. . . . im Rahmen des hergebrachten Instrumentariums der bundesstaatlichen Finanzverfassung?

258

1. Vorüberlegungen

258

2. Abhilfe über die Wahrnehmung von Steuergesetzgebungsbefugnissen gemäß Art. 105 Abs. 2 GG?

258

3. Abhilfe im Rahmen der Primärverteilung der Steuererträge?

259

a) Vertikal: Art. 106 Abs. 4 Satz 1 bzw. Abs. 3 Sätze 3, 4 GG (Umsatzsteuerverteilung zwischen Bund und Ländergesamtheit)

259

b) Horizontal: Art. 107 Abs. 1 Satz 4 Ts. 2 GG (Ergänzungsanteile aus dem Länderanteil am Umsatzsteueraufkommen)

260

4. Abhilfe im Rahmen des horizontalen Finanzausgleichs gemäß Art. 107 Abs. 2 Sätze 1, 2 GG?

261

5. Abhilfe durch Ausgleichszahlungen des Bundes?

263

a) Art. 106 Abs. 4 Sätze 2, 3 GG (Mehrbelastungsausgleich)

263

b) Art. 106 Abs. 8 GG (Sonderbelastungsausgleich)

264

c) Art. 91a; 91b Abs. 1, 3; Art. 104b GG (Mischfinanzierungstatbestände)

264

d) Art. 104a Abs. 3 GG (Fakultative Beteiligung des Bundes an den Zweckkosten seiner Geldleistungsgesetze)

269

e) Art. 107 Abs. 2 Satz 3 GG (Ergänzungszuweisungen des Bundes)

270

aa) Normzweck und Einordnung in das föderative Finanzverteilungssystem

270

bb) Tatbestand der Leistungsschwäche

271

cc) Primär einschlägig: Allgemeine Tatbestandsvariante des Art. 107 Abs. 2 Satz 3 GG

272

dd) Im Ernstfall: Notwendigkeit einer Auslegung des Art. 107 Abs. 2 Satz 3 GG, die in Einklang mit Art. 79 Abs. 3 GG steht

273

ee) Grenzen einer Lösung über Art. 107 Abs. 2 Satz 3 GG

274

ff) Möglicherweise entgegenstehende Wertungen aus BVerfGE 116, 327?

277

(1) Haushaltsnotlagen in der Rechtsprechung des Bundesverfassungsgerichts bis zum Berlin-Urteil

278

(a) BVerfGE 72, 330

278

(b) BVerfGE 86, 148

278

(c) BVerfGE 101, 158

280

(2) Zugrunde liegender Sachverhalt gemäß dem Normenkontrollantrag des Senats von Berlin vom 4. September 2003

282

(3) Kernaussagen des Urteils (mit Blick auf die hiesige Problemstellung)

283

(a) Grundsatzteil

284

(b) Ausführungen zum konkreten Fall

286

(4) Gegenüberstellung der Sachverhalte/Inhaltliche und dogmatische Rahmenbedingungen für die Übertragbarkeit von Wertungen aus BVerfGE 116, 327 auf die hiesige Problemstellung

287

(5) Auf dieser Grundlage: Eventuell auf den vorliegenden Sachverhalt übertragbare Wertungen aus dem Judikat

289

(6) Ergebnis zu ff)

291

gg) Ergebnis zu e)

291

f) Ungeschriebene bundesstaatsrechtliche Grundlage für Hilfszahlungen des Bundes?

292

g) Ergebnis zu 5.

292

6. Ergebnis zu II.

293

III. Ergebnis zu B.

294

C. Ergebnis zu § 1

294

§ 2 Zeitraum vom 1. Januar 2011 bis zum 31. Dezember 2019

295

Fünfter Teil: Gesamtergebnis in Thesen

296

Literatur- und Quellenverzeichnis

305

Sachverzeichnis

322