Criminal law: procedure & offences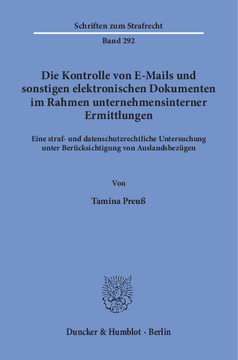 BOOK
Die Kontrolle von E-Mails und sonstigen elektronischen Dokumenten im Rahmen unternehmensinterner Ermittlungen
Eine straf- und datenschutzrechtliche Untersuchung unter Berücksichtigung von Auslandsbezügen
Schriften zum Strafrecht, Vol. 292
(2016)
Additional Information
Book Details
ISBN

978-3-428-54762-3
978-3-428-14762-5 (print edition)

DOI

https://doi.org/10.3790/978-3-428-54762-3

Edition

1

Language

German

Pages

654

Collections

Subjects
Pricing
Institution

€ 138.00 (incl. local VAT if applicable)

Individual

€ 107.90 (incl. local VAT if applicable)
About The Author
Tamina Preuß studierte von 2006 bis 2011 Rechtwissenschaft mit Schwerpunkt »Strafrecht und Kriminalpolitik in Europa« an der Universität Bremen. Während ihrer Promotionszeit von August 2011 bis Januar 2014 war sie als Wissenschaftliche Mitarbeiterin am Lehrstuhl für Internationales Strafrecht an der Julius-Maximilians-Universität Würzburg bei Prof. Dr. Frank Peter Schuster, Mag. iur., tätig. Im Anschluss absolvierte sie von 2014 bis 2016 ihr Rechtsreferendariat im OLG-Bezirk Frankfurt a.M. (Landgericht Fulda). Seit Januar 2016 ist Tamina Preuß wiederum am Lehrstuhl für Internationales Strafrecht und bei der Koordinationsstelle der Examensvorbereitung an der Universität Würzburg beschäftigt.
Abstract
Das Phänomen der unternehmensinternen Ermittlungen zur Aufklärung von Wirtschaftsstraftaten ist spätestens seit der »Siemens-Affäre« in den Fokus der Öffentlichkeit gerückt. Da elektronische Medien in hohem Maße Einzug in den Geschäftsverkehr der Unternehmen gehalten haben, haben die Sichtung, Auswertung und Weitergabe von E-Mails und sonstigen elektronischen Dokumenten hierbei einen herausragenden Stellenwert. Damit die positiven Effekte unternehmensinterner Ermittlungen – wie etwa die Vermeidung und Milderung unternehmensbezogener Sanktionen und die Aufrechterhaltung der Unternehmensreputation – erreicht werden, müssen diese sich innerhalb der Grenzen des materiellen Rechts bewegen. Neben den aus dem Kernstrafrecht zu beachtenden Straftatbeständen – insbesondere der Verletzung des Fernmeldegeheimnisses (§ 206 StGB) und des Ausspähens von Daten (§ 202a StGB) – sind auch die einschlägigen Vorschriften des Nebenstraf- und Ordnungswidrigkeitenrechts in die Überlegung miteinzubeziehen. Die Autorin hat es sich zur Aufgabe gemacht, praktisch handhabbare Lösungsansätze für eine gesetzeskonforme Kontrolle zu finden. »Monitoring E-Mails and Other Electronic Documents as Part of a Company's Internal Investigations«

The public spotlight has been on the phenomenon of internal investigations in companies at the very least since the ›Siemens Affair‹. As electronic media have made significant inroads into business transactions between companies, the sorting, analysis and forwarding of email and other electronic documents are of prominent importance. To enable the positive effects of companies' internal investigations to be obtained, such as mitigating sanctions, these have to be exercised within the limits of substantive law. The authoress has set herself the task of finding practically manageable solutions for legally compliant controls.
Table of Contents
Section Title
Page
Action
Price

Vorwort

7

Inhaltsverzeichnis

9

Abkürzungsverzeichnis

20

Einführung

35

1. Teil: Grundlagen

40

A. Unternehmensinterne Ermittlungen

40

I. Ermittelnde Personen

41

II. Die einzelnen Ermittlungsmaßnahmen

43

III. Der Anlass unternehmensinterner Ermittlungen

45

IV. Motive für unternehmensinterne Ermittlungen

46

V. Typischer Ablauf

51

VI. Zusammenhang mit Compliance

54

B. Grundsätzliche Zulässigkeit privater Sachverhaltsaufklärungen

57

I. Zulässigkeit privater Ermittlungen im Allgemeinen

57

1. Zivilrechtrechtliche Ermittlungen

58

2. Strafrechtliche Ermittlungen

59

a) Im Vorfeld oder nach Abschluss eines Strafverfahrens

59

b) Neben dem Strafverfahren

59

aa) Ermittlungen des Beschuldigten

60

bb) Ermittlungen des Verletzten

63

3. Zusammenfassung

70

II. Zulässigkeit unternehmensinterner Ermittlungen im Besonderen

70

C. Bedeutung der Kontrolle von E-Mails und sonstigen elektronischen Dokumenten

73

2. Teil: Verstöße gegen Strafnormen des StGB

77

A. Verletzung des Post- oder Fernmeldegeheimnisses, § 206 StGB

78

I. Strafbarkeit des Arbeitgebers

78

1. Inhaber eines Unternehmens, das geschäftsmäßig Telekommunikationsdienste erbringt

79

a) Begriffsbestimmung

79

b) Einordnung des Arbeitgebers bei Verbot und Erlaubnis privater Nutzung

83

aa) Abgrenzung von dienstlicher und privater Nutzung

83

bb) Einordnung des Arbeitgebers bei verbotener privater Nutzung

86

cc) Einordnung des Arbeitgebers bei erlaubter privater Nutzung

89

(1) Rechtsprechung

90

(2) Literatur

93

(3) Zusammenfassung

106

c) Regelungsmöglichkeiten des Arbeitgebers

106

aa) Ausdrückliche Regelung

107

bb) Konkludente Regelung

109

cc) Regelung durch betriebliche Übung

112

(1) Entstehungsvoraussetzungen und Folgen der betrieblichen Übung

112

(2) Private Internet- und E-Mail-Nutzung als Gegenstand einer betrieblichen Übung

115

dd) Fehlende Regelung

123

ee) Regelung bei Betriebsübergang

126

d) Reichweite des Fernmeldegeheimnisses bei Mischnutzung

126

e) Zusammenfassung

129

2. Tatbestandsvarianten

130

a) Mitteilung einer dem Post- oder Fernmeldegeheimnis unterliegenden Tatsache, § 206 Abs. 1 StGB

131

aa) Tatsachen

131

bb) Dem Post- oder Fernmeldegeheimnis unterliegend

132

(1) Grundsätzliche Einordnung von E-Mails und sonstigen elektronischen Dokumenten

132

(2) Kein Ausschluss bei Missbrauch des Fernmeldegeheimnisses

134

(3) Differenzierung nach Speicherungsphase und -ort der E-Mails

134

(a) Technische Unterschiede beim Einsatz verschiedener E-Mail-Systeme

135

(b) Anwendbarkeit des Fernmeldegeheimnisses in den unterschiedlichen Speicherungsphasen

137

(aa) Strafprozessuale Reichweite des Fernmeldegeheimnisses

137

(bb) Materiell-rechtliche Reichweite des Fernmeldegeheimnisses

147

(cc) Zusammenfassung

152

cc) Als Inhaber bekannt gewordene Tatsache

152

dd) Einer anderen Person Mitteilung machen

155

b) Öffnen einer zur Übermittlung anvertrauten und verschlossenen ­Sendung oder Kenntnisverschaffung auf sonstige Weise, § 206 Abs. 2 Nr. 1 StGB

156

aa) Sendung

157

bb) Verschlossen

159

cc) Zusammenfassung

160

c) Gestatten oder Fördern einer Handlung nach § 206 Abs. 1 oder Abs. 2 Nr. 1, 2 StGB, § 206 Abs. 2 Nr. 3 StGB

160

d) Zusammenfassung

161

3. Gestattung durch den Betroffenen

161

a) Einordnung der Gestattung in den Deliktsaufbau

162

aa) Grundsätzliche Einordnung der Gestattung

162

bb) Einordnung der Gestattung der Verletzung des Fernmeldegeheimnisses

165

cc) Zusammenfassung

167

b) Voraussetzungen der Gestattung

168

aa) Dispositionsbefugnis über das betroffene Rechtsgut

168

(1) Disponibilität des Rechtsguts

168

(2) Erforderlichkeit einer Einwilligung aller am Kommunikationsvorgang beteiligten Personen

173

(a) Meinungsstand

173

(b) Stellungnahme

177

bb) Gegenstand der Einwilligung

179

cc) Erklärung der Gestattung

179

dd) Beachtlichkeit von Formerfordernissen

181

(1) Auswirkungen von Formverstößen auf die Wirksamkeit der Einwilligung

181

(2) Verstöße gegen die Formvorschriften aus § 4a BDSG und § 94 TKG

182

ee) Berücksichtigung AGB-rechtlicher Unwirksamkeit

185

ff) Freiheit von Willensmängeln sowie Freiwilligkeit

188

gg) Möglichkeit einer Gestattung der Totalüberwachung

190

hh) Maßgeblicher Zeitpunkt

191

c) Zusammenfassung

192

4. Rechtswidrigkeit

193

a) Rechtfertigungsgründe nach dem TKG

193

aa) Zweckgebundene Verwendung von Kenntnissen, § 88 Abs. 3 S. 2 TKG

193

bb) Vorrang der Nichtanzeige geplanter Straftaten, § 88 Abs. 3 S. 4 TKG i.V.m. § 138 StGB

194

cc) Erhebung von Verkehrsdaten nach §§ 96ff. TKG

195

(1) Entgeltermittlung und Entgeltabrechnung, § 97 TKG

197

(2) Störungen und Fehler an Telekommunikationsanlagen und Missbrauch von Telekommunikationsdiensten, § 100 TKG

198

dd) Technische Schutzmaßnahmen, § 109 TKG

202

ee) Zusammenfassung

203

b) Allgemeine Rechtfertigungsgründe

203

aa) Anwendbarkeit der allgemeinen Rechtfertigungsgründe

203

(1) Meinungsstand

204

(2) Stellungnahme

206

bb) Die allgemeinen Rechtfertigungsgründe im Einzelnen

210

(1) Notwehr, § 32 StGB

210

(2) Selbsthilfe, § 229 BGB

214

(3) Rechtfertigender Notstand, § 34 StGB

215

(4) Mutmaßliche Einwilligung

219

(5) Rechtfertigende Pflichtenkollision

220

cc) Zusammenfassung

223

c) Rechtfertigung durch Betriebsvereinbarungen

223

d) Rechtfertigung durch Gewohnheitsrecht

227

e) Rechtfertigung durch § 32 Abs. 1 S. 2 BDSG

228

aa) Subsidiarität des BDSG, § 1 Abs. 3 S. 1 BDSG

229

bb) Sperrwirkung des § 88 Abs. 3 S. 3 TKG

229

cc) Anwendbarkeit der datenschutzrechtlichen Rechtfertigungsgründe auf Strafnormen aus dem StGB

230

dd) Zusammenfassung

232

f) Rechtfertigung durch Wahrnehmung berechtigter Interessen nach § 193 StGB analog

233

g) Rechtfertigung durch Grundrechte des Arbeitgebers

236

h) Rechtfertigung durch Verwirkung

238

i) Zusammenfassung

239

5. Irrtumskonstellationen

239

a) Tatbestandsirrtum

240

b) Unvermeidbarer Verbotsirrtum

242

aa) Annahme, nicht Inhaber eines geschäftsmäßig ­Telekommunikationsdienste erbringenden Unternehmens zu sein

242

bb) Annahme einer Kontrollbefugnis

250

c) Zusammenfassung

251

6. Beachtlichkeit von Mitbestimmungsrechten des Betriebsrats

251

a) Voraussetzungen und Folgen eines Mitbestimmungsrechtes nach § 87 BetrVG

252

b) Mögliche Mitbestimmungsrechte bei der Kontrolle von E-Mails

256

c) Strafrechtliche Beachtlichkeit von Mitbestimmungsrechten

261

7. Zusammenfassung

261

II. Strafbarkeit interner und externer Ermittler

262

1. Strafbarkeit als Täter

262

a) Beschäftigter eines geschäftsmäßig Telekommunikationsdienste ­erbringenden Unternehmens, § 206 Abs. 1 Alt. 2 StGB

262

b) Aufsichtswahrnehmung über das Unternehmen, § 206 Abs. 3 Nr. 1 StGB

263

c) Betrauung mit dem Erbringen von Telekommunikationsdiensten, § 206 Abs. 3 Nr. 2 StGB

264

d) Betrauung mit Serviceeinrichtungen, § 206 Abs. 3 Nr. 3 StGB

264

e) Zusammenfassung

264

2. Strafbarkeit als Teilnehmer

265

a) Anstiftung, § 26 StGB

265

b) Beihilfe, § 27 Abs. 1 StGB

266

c) Akzessorietätslockerung nach § 28 StGB

266

aa) Täterqualifikation des § 206 StGB als besonderes persönliches Merkmal

267

bb) Strafschärfende oder strafbegründende Wirkung der Täterqualifikation des § 206 StGB

269

cc) Obligatorische Strafmilderung nach § 28 Abs. 1 StGB i.V.m. § 49 Abs. 1 StGB

270

3. Zusammenfassung

271

B. Verstoß gegen Strafnormen zum Schutz des Geheimhaltungsinteresses

271

I. Verletzung des Briefgeheimnisses, § 202 Abs. 1 StGB, oder der Vertraulichkeit des Wortes, § 201 StGB

272

II. Ausspähen von Daten, § 202a Abs. 1 StGB

273

1. Daten

273

2. Zugang verschaffen

275

3. Nicht für den Täter bestimmt

276

a) Inhaber der Verfügungsberechtigung

276

aa) Bestimmung des Inhabers der Verfügungsberechtigung

277

(1) Kriterium des Eigentums am Datenträger

277

(2) Kriterium der inhaltlichen Betroffenheit

278

(3) Kriterium des berechtigten Geheimhaltungsinteresses

279

(4) Kriterium der Urheberschaft

280

(5) Kriterium der Kenntnis des Passworts

280

(6) Kriterium des Skripturaktes

280

(7) Ergänzende Kriterien

282

(a) Kombination des Kriteriums des Datenträgereigentums mit dem des Skripturaktes

282

(b) Kriterien der förderlichen und der direkten Beteiligung

283

(8) Zusammenfassung

284

bb) Verfügungsberechtigung im Arbeitsverhältnis

284

(1) Unterscheidung zwischen dienstlichen und privaten Dateien

284

(2) Verfügungsberechtigung bei dienstlichen Dateien

285

(3) Verfügungsberechtigung bei privaten Dateien

286

(4) Schwierigkeiten bei der Abgrenzung privater und dienstlicher Dateien und bei Mischnutzung

287

b) Der Wille des Verfügungsberechtigten

287

4. Gegen unberechtigten Zugang besonders gesichert

288

a) Sicherung über das allgemeine Benutzerpasswort

290

b) Einrichtung eines separaten Zugangsschutzes durch den Arbeitnehmer

291

aa) Anforderungen an die besondere Zugangssicherung

292

bb) Verstecken von Dateien als besondere Zugangssicherung

294

cc) Datenverschlüsselung als besondere Zugangssicherung

295

c) Zusammenfassung

298

5. Unter Überwindung einer Zugangssicherung

298

6. Irrtumskonstellationen

299

7. Rechtswidrigkeit

300

8. Ergebnis und Konkurrenzen

300

III. Abfangen von Daten, § 202b StGB

300

IV. Vorbereiten des Ausspähens und Abfangens von Daten, § 202c StGB

307

1. Verschaffen von Passwörtern, § 202c Abs. 1 Nr. 1 StGB

308

2. Verschaffen von Computerprogrammen, § 202c Abs. 1 Nr. 2 StGB

308

3. Zusammenfassung

313

C. Weitere Strafbarkeiten nach dem StGB

314

I. Datenveränderung, § 303a Abs. 1 StGB

314

II. Computersabotage, § 303b StGB

319

III. Datenunterdrückung, § 274 Abs. 1 Nr. 2 StGB

321

IV. Strafvereitelung, § 258 Abs. 1 StGB

324

1. Strafvereitelung durch Löschung von Dateien

325

2. Nichtweitergabe von Untersuchungsergebnissen

327

V. Sonstige Begleitstrafbarkeiten

327

1. Amtsanmaßung, § 132 StGB

328

2. Untreue, § 266 Abs. 1 StGB

329

3. Teil: Verstöße gegen Gesetze aus dem Nebenstrafrecht \rund Ordnungswidrigkeitenrecht

336

A. Verstoß gegen Straf- und Bußgeldnormen des TKG

336

I. Ordnungswidrigkeit nach § 149 TKG

336

II. Strafbarkeit nach § 148 Abs. 1 TKG

337

1. Tauglicher Täter

337

2. Tatmodalitäten

338

a) Verstoß gegen das Abhörverbot aus § 89 S. 1 TKG

338

aa) Nicht für den Täter bestimmte Nachricht

338

bb) Abhören mit einer Funkanlage

341

b) Verstoß gegen das Mitteilungsverbot aus § 89 S. 2 TKG

344

3. Zusammenfassung

345

III. Zusammenfassung

345

B. Verstoß gegen Bußgeldnormen des TMG

345

I. Anwendungsbereich des TMG, § 1 TMG

346

II. Ordnungswidrigkeit nach § 16 TMG

347

III. Zusammenfassung

349

C. Verstoß gegen Straf- und Bußgeldnormen des BDSG

349

I. Anwendungsbereich des BDSG, § 1 BDSG

351

1. Erhebung, Verarbeitung oder Nutzung personenbezogener Daten

351

2. Stelle nach § 1 Abs. 2 Nr. 1–3 BDSG

358

3. Subsidiarität des BDSG, § 1 Abs. 3 S. 1 BDSG

359

II. Ordnungswidrigkeit nach § 43 Abs. 2 BDSG

359

1. Tauglicher Täter

360

2. Tatobjekt

360

3. Tathandlungen

361

4. Unbefugt

362

a) Rechtfertigung aufgrund anderer Rechtsvorschriften

362

aa) Betriebsvereinbarungen

363

bb) Rechtfertigungsgründe des StGB und OWiG

366

b) Rechtfertigungsgründe des BDSG

367

aa) Rechtfertigung nach § 32 BDSG

368

(1) Der Erlaubnistatbestand des § 32 Abs. 1 S. 1 BDSG

371

(2) Der Erlaubnistatbestand des § 32 Abs. 1 S. 2 BDSG

378

(a) Verdacht der Begehung einer Straftat im Beschäftigungsverhältnis

378

(b) Rechtfertigung präventiver Kontrollmaßnahmen

380

(c) Rechtfertigen von Kontrollmaßnahmen gegen unverdächtige Beschäftigte

383

(d) Erforderlichkeit und Verhältnismäßigkeit der Datenverwendung

383

(e) Einhaltung der Dokumentationspflicht

385

bb) Rechtfertigung nach § 28 BDSG

386

cc) Zusammenfassung

389

c) Einwilligung des Betroffenen

389

aa) Freie Entscheidung des Betroffenen

389

(1) Grundsätzliche Möglichkeit einer freien Entscheidung im Arbeitsverhältnis

390

(2) Möglichkeit einer freien Entscheidung bei Kontrollen im Rahmen unternehmensinterner Ermittlungen

393

(3) Verstoß gegen ein Koppelungsverbot

394

(4) Zusammenfassung

395

bb) Einwilligungsfähigkeit

395

cc) Mögliche Wirksamkeitshindernisse

395

(1) AGB-rechtliche Unwirksamkeit

396

(2) Verstoß gegen zwingende Schutznormen

397

(3) Rückgriff auf die gesetzlichen Erlaubnistatbestände bei deklaratorischer Einwilligung

397

(4) Verhältnis zwischen Einwilligung und Betriebsvereinbarung

398

dd) Maßgeblicher Zeitpunkt

399

ee) Bestimmtheit der Einwilligung

401

ff) Formerfordernisse und Hinweispflichten

401

gg) Zusammenfassung

404

d) Informationspflichten nach § 4 Abs. 3 BDSG

404

e) Datenschutzrechtliche Beachtlichkeit von Mitbestimmungsrechten

405

5. Irrtumskonstellationen

406

6. Höhe der Geldbuße

407

III. Strafbarkeit nach § 44 Abs. 1 BDSG

408

1. Begehung gegen Entgelt, Bereicherungs- oder Schädigungsabsicht

409

2. Strafantragserfordernis, § 44 Abs. 2 BDSG

411

3. Zusammenfassung

411

IV. Konkurrenzen

412

1. Zusammentreffen von § 43 Abs. 2 BDSG und § 44 Abs. 1 BDSG

412

2. Zusammentreffen von § 43 Abs. 2 BDSG mit Straftaten des StGB

412

3. Zusammentreffen von § 44 Abs. 1 BDSG mit Straftaten des StGB

413

V. Zusammenfassung

414

D. Verstoß gegen Straf- und Bußgeldnormen der Landesdatenschutzgesetze

415

E. Verstoß gegen Straf- und Bußgeldnormen des BetrVG

416

I. Ordnungswidrigkeit nach § 121 BetrVG

416

II. Strafbarkeit nach § 119 Abs. 1 Nr. 2 BetrVG

417

4. Teil: Besonderheiten bei Sachverhalten mit Auslandsbezug

421

A. Sachverhalte mit Auslandsbezug

422

I. Kooperation mit den US-amerikanischen Ermittlungsbehörden

422

II. Vorlage von elektronischen Dokumenten im Rahmen eines "Pre-Trial Discovery"-Verfahrens

431

III. Kooperation mit den britischen Ermittlungsbehörden

443

B. Anwendbarkeit des deutschen Strafrechts

449

I. Anwendbarkeit des deutschen Strafrechts nach §§ 3–7, 9 StGB

450

II. Schutzbereich der deutschen Straftatbestände

456

1. Schutzbereich des § 202a StGB

458

2. Schutzbereich des § 206 StGB

458

3. Schutzbereich des § 44 Abs. 1 BDSG

459

4. Zusammenfassung

460

III. Zusammenfassung

460

C. Anforderungen an die Übermittlung personenbezogener Daten ins Ausland nach dem BDSG

460

I. Geltungsbereich des BDSG

461

II. Zulässigkeit der Datenübermittlung nach dem BDSG

463

1. Allgemeine datenschutzrechtliche Zulässigkeit der Übermittlung

463

2. Spezielle Anforderungen an die Übermittlung personenbezogener Daten ins Ausland, §§ 4b, 4c BDSG

467

a) Übermittlung personenbezogener Daten ins Ausland nach § 4b BDSG

468

aa) Datenübermittlungen innerhalb der EU und des EWR, § 4b Abs. 1 BDSG

468

bb) Datenübermittlungen in Drittstaaten, § 4b Abs. 2 BDSG

469

b) Datenübermittlung in Drittstaaten ohne angemessenes ­Datenschutzniveau nach § 4c BDSG

475

aa) Ausnahmetatbestände, § 4c Abs. 1 BDSG

475

(1) Einwilligung, § 4c Abs. 1 S. 1 Nr. 1 BDSG

475

(2) Übermittlung zur Wahrung eines wichtigen öffentlichen Interesses, § 4c Abs. 1 S. 1 Nr. 4 Alt. 1 BDSG

476

(3) Übermittlung zur Geltendmachung, Ausübung oder Verteidigung von Rechtsansprüchen vor Gericht, § 4c Abs. 1 S. 1 Nr. 4 Alt. 2 BDSG

477

bb) Genehmigung durch die Aufsichtsbehörde, § 4c Abs. 2 BDSG

487

III. Zusammenfassung

490

5. Teil: Reformbemühungen

491

A. Gesetzliche Regelungsvorschläge für unternehmensinterne Ermittlungen

491

B. Entwurf eines Gesetzes zur Regelung des Beschäftigtendatenschutzes

493

I. Chronologischer Überblick

493

1. Erste Reformbemühungen

493

2. Erlass des § 32 BDSG als "Zwischenstadium"

495

3. Fortführung und Stagnation der Reformbemühungen

496

II. Wesentliche Neuerungen des Regierungsentwurfs vom 15.12.2010

500

1. Inhaltlicher Überblick

501

2. Auswirkungen auf die Kontrolle von E-Mails und sonstigen elektronischen Dokumenten

510

a) Datenerhebung, -verarbeitung und -nutzung im Beschäftigungsverhältnis, §§ 32c, 32d BDSG-E

510

aa) Kontrolle der laufenden Kommunikation

510

bb) Kontrollen bereits abgeschlossener Kommunikationsvorgänge

511

(1) Kontrollen mit Kenntnis der Beschäftigten

511

(2) Kontrollen ohne Kenntnis der Beschäftigten

511

(a) Datenerhebung

512

(b) Datenverarbeitung und -nutzung

512

cc) Kontrolle sonstiger elektronischer Dokumente

513

dd) Zusammenfassung

513

b) Datenerhebung ohne Kenntnis des Beschäftigten, § 32e BDSG-E

514

c) Rechtfertigung durch Einwilligung des Betroffenen

517

d) Rechtfertigung durch Betriebsvereinbarungen

520

e) Nutzung von Telekommunikationsdiensten, § 32i BDSG-E

520

f) Sanktionierung von Verstößen

521

g) Zusammenfassung

522

C. Entwurf einer EU-Datenschutz-Grundverordnung

522

I. Rechtliche Wirkung und Rechtsschutzmöglichkeiten

524

II. Europäisches Gesetzgebungsverfahren

527

III. Wesentliche Neuerungen

531

1. Inhaltlicher Überblick

531

2. Auswirkungen der EU-Datenschutz-Grundverordnung auf die nationalen Regelungen zum Beschäftigtendatenschutz

539

a) Möglichkeit abweichender nationaler Regelungen durch die Öffnungsklausel aus Art. 82 Abs. 1 DS-GVO-E

540

b) Vereinbarkeit des Regierungsentwurfs vom 15.12.2010 mit der EU-Datenschutz-Grundverordnung

541

aa) Weitgehender Ausschluss der Einwilligung, § 32l Abs. 1 BDSG-E

542

bb) Nutzung von Telekommunikationsdiensten, § 32i BDSG-E

543

cc) Datenerhebung, -verarbeitung und -nutzung ohne Kenntnis des Beschäftigten, § 32e Abs. 2, 5 S. 1 BDSG-E

543

c) Auswirkungen auf die Kontrolle von E-Mails und sonstigen elektronischen Dokumenten nach aktueller Rechtslage

544

aa) Rechtfertigung der Kontrolle von E-Mails und sonstigen ­elektronischen Dokumenten nach §§ 28, 32 BDSG

544

bb) Rechtfertigung der Übermittlung personenbezogener Daten in Drittstaaten

545

cc) Der Arbeitgeber als Inhaber eines geschäftsmäßig ­Telekommunikationsdienste erbringenden Unternehmens i.S.d. § 206 Abs. 1 StGB

546

d) Zusammenfassung

547

Schlussbeurteilung und Ausblick

548

Literaturverzeichnis

551

Stichverzeichnis

648