Diplomacy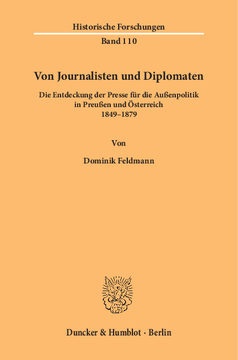 BOOK
Von Journalisten und Diplomaten
Die Entdeckung der Presse für die Außenpolitik in Preußen und Österreich 1849–1879
Historische Forschungen, Vol. 110
(2016)
Additional Information
Book Details
ISBN

978-3-428-54828-6
978-3-428-14828-8 (print edition)

DOI

https://doi.org/10.3790/978-3-428-54828-6

Edition

1

Language

German

Pages

250

Collections

Subjects
Pricing
Institution

€ 104.00 (incl. local VAT if applicable)

Individual

€ 79.90 (incl. local VAT if applicable)
About The Author
Dominik Feldmann studierte von 2006 bis 2010 Neuere und Neueste Geschichte, Neuere Deutsche Literaturwissenschaft und Soziologie an der Universität Augsburg. 2015 wurde er dort im Fachbereich Neuere und Neueste Geschichte promoviert. Zwischen 2010 und 2013 arbeitete er als Lehrbeauftragter an der Universität Augsburg sowie als freier Mitarbeiter für die Zeitschrift »G/Geschichte«. Er ist Stipendiat des Deutschen Akademischen Austauschdienstes sowie des Elitenetzwerks Bayern. 2013 fand er seinen jetzigen Wirkungskreis im Stadtarchiv Augsburg.
Abstract
In der seit dem ausgehenden 18. Jahrhundert immer größer werdenden Öffentlichkeit entwickelte sich die Presse in der zweiten Hälfte des 19. Jahrhunderts zu einem machtpolitischen Instrument. Dieses neue Medium versuchten die Regierungen von Preußen und Österreich für ihr politisches Handeln zu nutzen, insbesondere während ihrer Auseinandersetzung um die Vormachtstellung in Deutschland zwischen 1849 und 1871.

Beide Regierungen bauten nach der Revolution 1848 systematisch Strukturen auf, um auf die Presse einzuwirken. Anstatt zu zensieren, war es nun wichtiger Journalisten und Zeitungen für sich zu gewinnen und die eigenen politischen Ansichten öffentlich kursieren zu lassen. Diese Pressepolitik entwickelte sich zu einem neuen, aber unbekannten machtpolitischen Faktor in der Außenpolitik. Er veränderte die diplomatischen Spielregeln und entlud sich in diplomatischen Spannungen. Erst mit Gründung des Deutschen Reiches beruhigte sich die Lage. Statt eines Konfliktes warben die beiden Staaten öffentlich für eine Annäherung zueinander, die schließlich im Zweibund von 1879 mündete. »About Journalists and Diplomats«

After the revolution in 1848 Prussia and Austria strived for international predominance and began systematically to use the press to strengthen their political position. During the following years and with a view to the foreign policy of both countries this new way of using the press became an important and powerful parameter. As a result the diplomatic rules changed and diplomatical tensions arised. Only the formation of the German Empire changed this situation, so that both countries could approach each other socially in a new way.
Table of Contents
Section Title
Page
Action
Price

Vorwort

5

Inhaltsverzeichnis

7

A. Einleitung

9

B. Die Entwicklung von Presse und Staat im 19. Jahrhundert

26

I. Der Ausbau des Pressemarktes

26

1. Verbesserung der Kommunikationsmöglichkeiten durch technischen Fortschritt

26

2. Veränderung und Ausbau von Zeitungen und der Zeitungslandschaft

29

3. Die Entstehung des Journalistenberufs und seine Wahrnehmung durch Politiker

32

II. Liberalisierung der repressiven Pressegesetzgebung im 19. Jahrhundert

36

III. Die ersten Ansätze zur Beeinflussung der Presse bis 1848

40

1. Von Friedrich dem Großen bis zum Wiener Kongress

40

2. Vom System Metternich bis zum Vormärz

43

C. Beginn der institutionalisierten und aktiven Pressepolitik in Deutschland 1848 bis 1859

47

I. Neues Verständnis von Pressepolitik und ihre Institutionalisierung

47

1. Die Revolution von 1848/49 als Beginn einer neuen Öffentlichkeit

47

2. Institutionalisierung neuer pressepolitischer Methoden in Österreich 1848 bis 1859

50

3. Institutionalisierung neuer pressepolitischer Methoden in Preußen 1848 bis 1859

64

II. Ein erstes Antesten: Pressepolitik als Mittel der Diplomatie 1849 bis 1859

74

1. Zaghafte pressepolitische Aktivitäten 1849 bis 1853

74

2. Der erste pressepolitische Ernstfall: Der Krimkrieg

86

3. Die Diskussionen um die Bundesreformfrage 1854 bis 1859

95

4. Den "Rhein am Po" verteidigen. Österreichs pressepolitische Versuche während des Sardinischen Krieges 1859

100

III. Zehn Jahre aktive Pressepolitik – Eine kurze Zwischenbilanz

106

D. Pressepolitische Eskalation und die Lösung der Deutschen Frage 1859 bis 1866

109

I. Gescheiterte Reformversuche: Presseorganisation von der "Neuen Ära" bis zur Lösung der Deutschen Frage

109

1. Unzufriedenheit mit dem Erzielten: Umstrukturierungen und Reformen in Österreich

109

2. Von der "Neuen Ära" zur Pressepolitik Bismarcks

117

II. Pressepolitische Eskalation zwischen 1860 und 1866

126

1. Wiederaufflammen der Bundesreformfrage 1860 bis 1865

126

2. Presse als Mittel zur Forcierung eines Krieges? Der öffentliche Kampf in und um Schleswig-Holstein 1865 bis 1866

139

E. Nach der Deutschen Frage: Vom offenen Konflikt zum öffentlichen Bündnis

159

I. Kleine Veränderungen in Preußen, große in Österreich: Die endgültige Verortung der Organisationsstrukturen in den Außenministerien 1867 bis 1879

160

II. Arbeit im Staatsdienst. Journalisten und ihre Kontakte zu den Presseleitungen

167

III. Das Ende der Deutschen Frage als Beginn neuer Konflikte 1867 bis 1870

175

1. Gescheiterte pressepolitische Versuche in Süddeutschland 1867 bis 1870

175

2. Frankreich im Fokus preußischer und österreichischer Pressepolitik

181

3. Die Frage nach Geheimdiplomatie und Publizität: Der Konflikt um das Rothbuch

191

IV. Die Wende: Vom Kontrahenten zum (fast) öffentlichen Bündnisvertrag

204

F. 30 Jahre Pressepolitik – Ein Resümee

221

Literatur- und Quellenverzeichnis

234

Archivalische Quellen

234

Gedruckte Quellen

235

Verwendete Zeitungen der jeweiligen Jahrgänge 1849 bis 1879

236

Literatur

236

Sachwortverzeichnis

248