Public international law: territory & statehood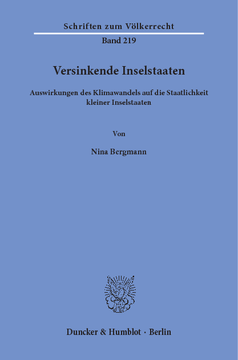 BOOK
Versinkende Inselstaaten
Auswirkungen des Klimawandels auf die Staatlichkeit kleiner Inselstaaten
Schriften zum Völkerrecht, Vol. 219
(2016)
Additional Information
Book Details
ISBN

978-3-428-54776-0
978-3-428-14776-2 (print edition)

DOI

https://doi.org/10.3790/978-3-428-54776-0

Edition

1

Language

German

Pages

207

Collections

Subjects
Pricing
Institution

€ 80.00 (incl. local VAT if applicable)

Individual

€ 62.90 (incl. local VAT if applicable)
About The Author
Nina Bergmann studierte von 2005 bis 2011 Rechtswissenschaften an der Universität Passau und der Kyoto Sangyo Universität (Japan). Von 2011 bis 2013 war sie als wissenschaftliche Mitarbeiterin am Lehrstuhl von Prof. Hans-Georg Dederer an der Universität Passau tätig. Seit 2014 ist sie Rechtsreferendarin im Bezirk des Landgerichts Flensburg.
Abstract
Der Klimawandel wird die Basis der modernen Territorialstaaten grundlegend verändern. Für kleine Inselstaaten wirft die Verringerung der Landmasse durch den Meeresspiegelanstieg und die Küstenerosion existenzielle Fragen auf. Die Unbewohnbarkeit infolge extremer Wetterbedingungen und fehlender Süßwasserreserven sowie die erforderliche externe Unterstützung führen erst zu einem Verlust der Hoheitsgewässer und schließlich zum völkerrechtlichen Untergang des Staates, bevor ein faktischer Untergang der Landmasse erfolgt. Die Staatengemeinschaft trifft aufgrund ihrer gemeinsamen Verantwortung für die Folgen des Klimawandels eine Fürsorgepflicht für das Inselvolk. Die zur Verfügung stehenden Völkerrechtssubjekte tragen den Interessen des Volkes nach einem Fortbestand ihrer souveränen Rechte nicht hinreichend Rechnung. Es bedarf der Schaffung eines neuen, aus einem souveränen Personenverband bestehenden Völkerrechtssubjektes – dem entterritorialisierten souveränen Personenverband (ESPV). »Sinking Island States«

Climate change will pose an existential challenge to small island states with minimal land area. The basic elements of a state – defined territory, permanent population, government and independence – will be affected by rising sea levels and progressive coastal erosion. This raises questions of the impact on statehood and territorial waters, but also people's self-determination and responsibilities of the international community.
Table of Contents
Section Title
Page
Action
Price

Vorwort

5

Inhaltsverzeichnis

7

Erster Teil: Einführung

11

§ 1 Einführung

11

A. Einleitung

11

B. Rechtliche Problemstellung

13

C. Gang der Untersuchung

14

Zweiter Teil: Grundlagen des Klimawandels

17

§ 2 Ursachen des Klimawandels

17

§ 3 Folgen des Klimawandels

20

A. Globale Veränderungen

20

B. Konkrete Veränderungen für kleine Inselstaaten

22

C. Beispiel Tuvalu

26

Dritter Teil: Grundlagen des Staates

29

§ 4 Herkunft des Begriffes

29

§ 5 Historische Entwicklung

30

A. Personenbezogene Herrschaftsverbände

30

I. Antike Stadtstaaten

30

II. Mittelalterliche Personenverbandsstaaten

32

B. Territoriumsbezogene Herrschaftsverbände

34

I. Großreiche des Altertums

34

II. Territorialisierung im Heiligen Römischen Reich

35

III. Absolutistische Zentralstaaten

37

C. Zusammenfassung

38

§ 6 Die Souveränität des Staates

39

A. Entwicklung

39

B. Innere und äußere Souveränität

41

C. Begrenzung durch die UN-Charta

42

D. Territoriale Souveränität

44

I. Eigentums- oder Objekttheorie

44

II. Eigenschafts- oder Raumtheorie

45

III. Kompetenztheorie

46

Vierter Teil: Der moderne Staat

48

§ 7 Definition

48

A. Erste Begriffsbestimmungen

48

B. Drei-Elemente-Lehre

49

C. Montevideo-Konvention

50

§ 8 Das Problem der Anerkennung

53

A. Konstitutive Theorie

53

B. Deklaratorische Theorie

55

C. Neue Tendenzen

58

§ 9 Weitere Kriterien

59

A. Souveränität

59

B. Legalität und Legitimität

60

§ 10 Heutige Bedeutung

62

Fünfter Teil: Auswirkungen des Klimawandels auf die grundlegenden Elemente des Staates

63

§ 11 Staatsgebiet

63

A. Allgemeines

63

I. Umfang des Staatsgebietes

63

II. Anforderungen an das Staatsgebiet

69

B. Verringerung der Landmasse

72

I. Auswirkungen auf das terrestrische Staatsgebiet

73

1. Beeinträchtigung der Außengrenzen

73

2. Aufspaltung des Territoriums

74

3. Reduzierung des Umfangs

74

II. Auswirkungen auf das maritime Staatsgebiet

76

1. Anpassung der Basislinien

76

2. Verschiebung der Hoheitsbereiche

78

3. Verlust der AWZ und des Festlandsockels

78

4. Verlust des Küstenmeeres

82

III. Schutzmaßnahmen

82

1. Deiche und Schutzwälle

82

2. Aufschüttung

83

a) Erhöhung der Insel

83

b) Erweiterung der Insel

85

3. Nutzung von Stelzen

87

4. Fixierung der Basislinien

88

C. Dauerhafte Überflutung des Gebietes

91

I. Auswirkungen auf das Staatsgebiet

91

II. Ersatzgebiete

92

1. Kauf oder Pacht neuen Landgebietes

92

2. Künstliche Landfläche

94

D. Zusammenfassung

95

§ 12 Staatsvolk

96

A. Allgemeines

96

I. Kriterium der Staatangehörigkeit

97

II. Kriterium der Verbundenheit

98

B. Verringerung des Gebietes

101

C. Dauerhafte Überflutung des Gebietes

104

D. Zusammenfassung

105

§ 13 Staatsgewalt

106

A. Allgemeines

106

I. Effektivität

106

II. Unabhängigkeit

108

B. Verringerung des Gebietes

110

I. Delegierung staatlicher Zuständigkeiten

110

1. Protektorat

110

2. Das Problem der Mikrostaaten

112

II. Ausländische Unterstützung

116

1. Dauerhafte Hilfslieferungen

117

2. Treuhandgebiet

119

C. Dauerhafte Überflutung des Gebietes

121

D. Zusammenfassung

122

Sechster Teil: Auswirkungen auf die Staatlichkeit

123

§ 14 Kontinuität der Staaten

123

§ 15 Failed States

123

§ 16 Untergang des Staates

127

A. Keine Präzedenzfall für Untergang ohne Rechtsnachfolger

127

B. Fortbestand bei fehlendem Nachfolger

128

I. Existenzrecht des Staates

128

II. Anerkennung

129

C. Rückgriff auf die Drei-Elemente-Lehre

131

D. Wiederaufleben der Staatlichkeit

133

E. Bestandteil der Hohen See und des Meeresbodens

136

Siebter Teil: Neues Völkerrechtssubjekt

138

§ 17 Notwendigkeit eines neuen Völkerrechtssubjekts

138

A. Wandel der Völkerrechtssubjektivität

138

B. Existierende Völkerrechtssubjekte ohne Territorium

140

I. Souveräner Malteserorden

140

II. Heiliger Stuhl

142

III. Aufständische und De-facto-Regime

145

IV. Individuen

146

V. Völker

147

1. Ursprung des Selbstbestimmungsrechts

148

2. Träger des Selbstbestimmungsrechts

149

3. Inhalt des äußeren Selbstbestimmungsrechts

150

4. Inhalt des inneren Selbstbestimmungsrechts

152

C. Vergleichbarkeit mit der Situation versinkender Inselstaaten

154

I. Souveräner Malteserorden

154

II. Heiliger Stuhl

155

III. Aufständische und De-facto-Regime

155

IV. Individuen

155

V. Völker

156

§ 18 Schaffung eines neuen Völkerrechtssubjekts

159

A. Solidarische Verantwortung der Staatengemeinschaft

159

B. Idee eines neuen Völkerrechtssubjekts

162

C. Name des neuen Völkerrechtssubjekts

164

D. Konzept des neuen Völkerrechtssubjekts

164

I. Hoheitsgebiet

165

1. Souveränität über Ressourcen

165

2. Historische Rechte

168

3. Präferentielle Rechte

171

II. Verwaltung

172

1. Ausübung von fremdem Staatsgebiet aus

172

2. Aufgaben der Verwaltung

174

III. Mitglieder

176

E. Stellungnahme

177

Achter Teil: Schlusswort

179

§ 19 Zusammenfassung und Ausblick

179

Literaturverzeichnis

182

Dokumentenverzeichnis

196

Stichwortverzeichnis

204