Law of torts, damages & compensation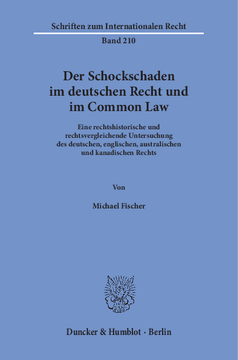 BOOK
Der Schockschaden im deutschen Recht und im Common Law
Eine rechtshistorische und rechtsvergleichende Untersuchung des deutschen, englischen, australischen und kanadischen Rechts
Schriften zum Internationalen Recht, Vol. 210
(2016)
Additional Information
Book Details
ISBN

978-3-428-54877-4
978-3-428-14877-6 (print edition)

DOI

https://doi.org/10.3790/978-3-428-54877-4

Edition

1

Language

German

Pages

244

Collections

Subjects
Pricing
Institution

€ 92.00 (incl. local VAT if applicable)

Individual

€ 71.90 (incl. local VAT if applicable)
About The Author
Michael Fischer studierte Rechtswissensschaften an der Albert-Ludwigs-Universität Freiburg i. Br. und an der University of Aberdeen, Schottland. Nach der Ersten Juristischen Prüfung im Jahr 2010 absolvierte er ein LL.M.-Studium (LL.M. in Comparative Law) an der McGill University in Montreal, Kanada. Den juristischen Vorbereitungsdienst leistete er im Bezirk des Kammergerichts Berlin von 2011 bis 2013 mit Stationen u.a. im Bundesjustizministerium und an der Deutschen Botschaft Pretoria, Südafrika. Von 2014 bis 2015 war er Lehrbeauftragter für Bürgerliches Recht an der Dualen Hochschule Baden-Württemberg in Mosbach und Bad Mergentheim. Im Jahr 2015 erfolgte dann die Promotion an der Universität Bayreuth. Seit 2016 ist er Staatsanwalt in Offenburg.
Abstract
Psychische Beeinträchtigungen infolge eines Unfalls oder eines sonstigen schrecklichen Ereignisses sind häufig Gegenstand von Schadensersatzprozessen. Eine ersatzfähige psychische Verletzung wird im deutschen Recht als Schockschaden bezeichnet. Nach Analyse der rechtsgeschichtlichen Entwicklung untersucht der Autor Problemkreise, die bei der Haftung für Schockschäden im deutschen Recht und im Common Law auftreten, wie etwa die Anforderungen an eine solche psychische Verletzung, den Kreis der ersatzberechtigten Personen und die näheren Umstände des schockauslösenden Ereignisses. Dabei werden Kriterien für die angemessene Ausgestaltung einer Haftung herausgearbeitet. Insbesondere wird die Problematik vor dem Hintergrund der Diskussion um die Einführung eines gesetzlichen Angehörigenschmerzensgeldes im deutschen Recht beleuchtet. »Liability for Nervous Shock under German Law and under Common Law«

Mental harm caused by witnessing an accident or some other terrible event often forms the basis of actions for damages. The author examines different issues in relation to this subject, both under German law and under common law, and draws together criteria for what is an adequate concept of liability. In particular, he sheds light on the possibility of a new Statute for a solatium in the event of the loss of a close relative under German law.
Table of Contents
Section Title
Page
Action
Price

Vorwort

7

Inhaltsverzeichnis

9

Abkürzungsverzeichnis

16

A. Einleitung

21

I. Einführung

21

1. Problematik

22

2. Fragestellung

23

II. Methode

24

III. Gang der Untersuchung

26

1. Rechtliche Ausgangslage

26

2. Geschichtliche Entwicklung der Schockschadensproblematik

26

3. Problemkreise

27

a) Besondere Verletzung

28

b) Anspruchsteller

28

c) Umstände des schockauslösenden Ereignisses

28

d) Berücksichtigung des Mitverschuldens des Primäropfers bei dem Anspruch des schockgeschädigten Opfers

28

4. Gesamtergebnis

29

IV. Forschungsstand

29

1. Überblick des Forschungsstandes

29

2. Forschungsbedarf

31

V. Medizinische und psychologische Grundlagen

32

1. Überblick über die historische Entwicklung in Medizin und Psychologie

33

2. Posttraumatische Belastungsstörung

34

3. Komplizierte Trauer

36

4. Rechtlich relevante Neurosen bzw. Krankheiten

37

a) Aktualneurose oder Unfallneurose

37

b) Begehrensneurose

37

B. Rechtliche Ausgangslage im deutschen Recht und im Common Law

39

I. Deutschland

39

1. § 823 Abs. 1 BGB

39

a) Rechtsgutsverletzung

39

b) Haftungsbegründende Kausalität

40

aa) Äquivalenztheorie

40

bb) Adäquanztheorie

41

cc) Lehre vom Schutzzweck der Norm

41

c) Rechtswidrigkeit

42

d) Verschulden

43

e) Schaden

43

f) Haftungsausfüllende Kausalität

45

g) Beweislast

46

2. Angehörigenschmerzensgeld

46

a) § 253 BGB

46

b) Weiterentwicklung zu einem Anspruch auf Angehörigenschmerzensgeld

47

c) Gesetzliche Regelung eines Angehörigenschmerzensgeldes

48

II. Common Law

51

1. Negligence

51

a) Duty of Care

51

aa) Besonderheiten in Australien

52

bb) Besonderheiten in Kanada

53

b) Breach of Duty

54

c) Remoteness of Damage

54

d) Besondere Schadensanfälligkeit

54

e) Schaden

55

f) Beweislast

56

2. Fatal Accidents Legislation

56

a) England

57

aa) Ersatzberechtigter Personenkreis

57

bb) Vermögensschäden

57

cc) Nichtvermögensschäden

58

dd) Mitverschulden

58

b) Australien

59

c) Kanada

59

3. Civil Liability Statutes in Australien

60

III. Fazit

61

C. Geschichtliche Entwicklung der Schockschadensproblematik

63

I. Deutschland

63

1. Psychische Beeinträchtigungen in der Entstehung des BGB

63

2. Schadensersatzpflicht bei Handlungen, die final zu einer psychischen Verletzung führen

64

3. Schadensersatzpflicht bei psychischen Verletzungen mit weiteren körperlichen Verletzungen

66

4. Keine Schadensersatzpflicht bei Handlungen, die mittelbar zu einer psychischen Beeinträchtigung führen

67

5. Anerkennung einer Gesundheitsverletzung durch Fernwirkung

70

a) Fernwirkung (RGZ 133, 270)

70

b) Die Haftung für Schockschäden als ständige Rechtsprechung des Reichsgerichts und die weitere Ausdifferenzierung der Haftung

71

6. Zwischenfazit

72

II. Common Law

76

1. Im Vorfeld der Haftung für nervous shock

76

a) Grundsätzliche Ablehnung der Haftung bei psychischen Leiden (Victorian Railways Commissioners v Coultas)

76

aa) Chester v Municipality of Waverly

77

bb) Pennman v Winnipeg Electric Railway

78

b) Ausnahmen für Schadensersatzpflicht bei psychischen Verletzungen

78

aa) Schadensersatzpflicht bei vertraglicher Einstandspflicht (Pugh v London, Bristol and South Coast Railway Co)

78

bb) Vorsätzliche Verursachung eines Nervenzusammenbruchs (Wilkinson v Downton)

79

2. Schadensersatzpflicht bei fahrlässiger Verursachung einer psychischen Verletzung

80

a) Schadensersatzpflicht bei Verursachung der psychischen Verletzung durch Angst um die eigene körperliche Sicherheit (Dulieu v White)

80

b) Schadensersatzpflicht bei Verursachung der psychischen Verletzung durch Angst um eine andere nahestehende Person (Hambrook v Stokes)

81

c) Schadensersatzpflicht bei Verursachung einer psychischen Verletzung ohne Gefahr für Personen (Owens v Liverpool Corporation)

82

d) Keine Schadensersatzpflicht für die psychischen Beeinträchtigungen eines unbeteiligten Unfallzeugen (Bourhill v Young)

83

III. Fazit

84

D. Besondere Verletzung

86

I. Deutschland

86

1. Besondere Gesundheitsverletzung nach der Verkehrsauffassung

86

2. Einzelne Elemente einer solchen Gesundheitsverletzung

90

II. Common Law

99

1. England

99

2. Australien

102

3. Kanada

103

III. Fazit

106

1. Die Entscheidungskompetenz bei besonderen Anforderungen an eine Gesundheitsverletzung

106

2. Harte und weiche Kriterien

108

a) Harte Kriterien

109

b) Weiche Kriterien

109

3. Begründung für besondere Anforderungen an die Gesundheitsverletzung

110

E. Anspruchsteller

114

I. Deutschland

114

1. Personale Sonderbeziehung (nahe Angehörige)

114

2. Unfallbeteiligte

118

3. Retter

120

a) Nothelfer

120

b) Berufsretter

121

aa) Polizisten, Feuerwehrleute und Notärzte

122

bb) Weitere Berufsgruppen

123

II. Common Law

125

1. England

125

a) Primary Victims

126

b) Unterkategorien der Primary Victims

128

aa) Involuntary Participants

128

bb) Retter

129

c) Secondary Victims

131

2. Australien

134

a) Tame v New South Wales

134

b) Häufige Anspruchsteller

136

c) Retter

137

3. Kanada

138

a) Häufige Anspruchsteller

139

b) Retter

141

III. Fazit

143

1. Primary Victims und Unfallbeteiligte

143

2. Secondary Victims

145

3. Retter

146

4. Harte und weiche Kriterien

147

a) Harte Kriterien

148

b) Weiche Kriterien

150

F. Umstände des schockauslösenden Ereignisses

151

I. Deutschland

151

1. Nachvollziehbarer Anlass

151

a) Tod eines Menschen

151

b) Körperverletzung

152

c) Gefährdung eines anderen Menschen

153

d) Ehrverletzung (Aufregung durch Auseinandersetzungen oder polizeiliche Ermittlungen)

154

e) Verletzung eines Tieres, Sachschaden

155

f) Sonstige Ereignisse mit vermögensrechtlichen Auswirkungen

156

2. Räumliche und zeitliche Nähe zum Unfall

157

a) Benachrichtigung

158

b) Unmittelbare Anwesenheit am Unfallort

159

II. Common Law

160

1. England

161

a) Besonderer Anlass des nervous shock

161

aa) Tod und schwere Körperverletzung

162

bb) Bloße Gefährdung des Unfallopfers

162

cc) Sachschaden

163

dd) Sonstige Anlässe

164

b) Räumliche und zeitliche Nähe zum Unfall

165

aa) Benachrichtigung

167

bb) Shock-induced Prinzip

168

2. Australien

171

a) Anlass des nervous shock

171

aa) Tod oder schwere Körperverletzung

172

bb) Bloße Gefährdung

172

cc) Sachschaden

173

dd) Ehrverletzung

174

b) Räumliche und zeitliche Nähe zum Unfallort

174

aa) Benachrichtigung

175

bb) Shock-induced Prinzip

176

3. Kanada

177

a) Anlass des nervous shock

177

aa) Tod oder schwere Verletzung

177

bb) Bloße Gefährdung

178

cc) Sachschaden

180

dd) Sonstige Anlässe

180

b) Räumliche und zeitliche Nähe zur Unfallstelle

181

aa) Benachrichtigung

182

bb) Shock-induced Prinzip

183

III. Fazit

184

1. Anlass des nervous shock

184

2. Räumliche und zeitliche Nähe

187

G. Berücksichtigung des Mitverschuldens des Primäropfers bei dem Anspruch des Schockgeschädigten

190

I. Deutschland

191

1. Schock wegen einer selbstverschuldeten Verletzung des beklagten Primäropfers

191

2. Berücksichtigung des Mitverschuldens des Primäropfers bei dem Anspruch des schockgeschädigten Opfers (Drei-Personen-Konstellation)

192

a) Rechtsprechung des Bundesgerichtshofs

192

b) Kritik an der Rechtsprechung in der Literatur

194

c) Zwischenfazit

196

aa) Voraussetzungen einer Analogie

196

bb) Schockschaden als Angehörigenschmerzensgeld

198

II. Common Law

199

1. England

200

a) Nervous shock des Klägers durch selbstverschuldete Verletzung des Beklagten (Greatorex v Greatorex)

200

b) Berücksichtigung des Mitverschuldens des Primäropfers bei dem Anspruch des schockgeschädigten Opfers

201

2. Australien

202

a) Nervous shock des Klägers durch selbstverschuldete Verletzung des Beklagten

202

b) Berücksichtigung des Mitverschuldens des Primäropfers bei dem Anspruch des schockgeschädigten Opfers

204

3. Kanada

205

a) Nervous shock des Klägers durch selbstverschuldete Verletzung des Beklagten

205

b) Berücksichtigung des Mitverschuldens des Primäropfers bei dem Anspruch des schockgeschädigten Opfers

206

III. Fazit

207

1. Schock wegen einer selbstverschuldeten Verletzung des beklagten Primäropfers

207

2. Berücksichtigung des Mitverschuldens des Primäropfers bei dem Anspruch des schockgeschädigten Opfers

207

H. Gesamtergebnis

209

I. Der Ersatz für Schockschäden als deutsche Form eines Angehörigenschmerzensgeldes

209

1. Die Entstehung der Haftung für Schockschäden als Rechtsfortbildung des Reichsgerichts

209

2. Die besonderen Anforderungen an die Gesundheitsverletzung als eine nähere Ausgestaltung der Rechtsfortbildung

210

3. Die Begrenzung auf bestimmte Anspruchsteller

210

4. Die Verletzung von Leib oder Leben des Primäropfers als Ursache für einen Schockschaden

211

5. Die Mitberücksichtigung des Mitverschuldens

212

II. Eigener Vorschlag zur Ausgestaltung der Haftung bei psychischen Gesundheitsverletzungen

213

1. Psychische Gesundheitsverletzungen bei unmittelbar geschädigten Opfern

213

2. Mittelbar geschädigte Opfer durch Erlebnis oder Benachrichtigung

214

III. Die weitere Entwicklung der Haftung für Schockschäden

216

Literaturverzeichnis

219

Verzeichnis der Gerichtsentscheidungen

231

Gesetzesverzeichnis

241

Stichwortverzeichnis

242