Financial administration & public finance law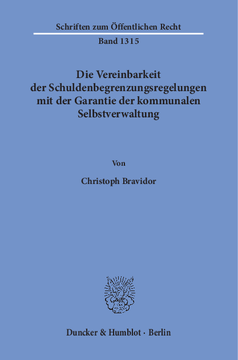 Additional Information
Book Details
ISBN

978-3-428-54695-4
978-3-428-14695-6 (print edition)

DOI

https://doi.org/10.3790/978-3-428-54695-4

Edition

1

Language

German

Pages

399

Collections

Subjects
Pricing
Institution

€ 92.00 (incl. local VAT if applicable)

Individual

€ 71.90 (incl. local VAT if applicable)
About The Author
Christoph Bravidor studierte Architektur an der Bauhaus-Universität Weimar mit einem Stipendiatenaufenthalt in London; anschließend Studium der Rechtswissenschaften und des Europäischen Rechts an den Universitäten Jena und Würzburg. Nach dem ersten Staatsexamen wurde er Doktorand und wissenschaftlicher Mitarbeiter von Prof. Dr. Kyrill-A. Schwarz. Während des Referendariats am Oberlandesgericht Düsseldorf erfolgte 2014 die Promotion und 2015 das zweite Staatsexamen. Seitdem arbeitet er im Raum Köln-Aachen mit dem Schwerpunkt kommunaler Beratung.
Abstract
Dürfen Kommunen von den Ländern in die Schuldenfalle gedrängt werden? Die Finanzen der Kommunen werden maßgeblich von den Landesgesetzgebern bestimmt. Mit der Föderalismusreform II wurde im Grundgesetz eine neue Schuldenbegrenzungsregelung verankert, um den finanziellen Defiziten in den öffentlichen Haushalten entgegenzuwirken. Demnach sind die Haushalte von Bund und Ländern in der Regel ohne die Einnahmen aus Krediten auszugleichen. Es wird untersucht, welche Bedeutung die neuen Schuldenbegrenzungsregelungen für die Kommunen haben. Die Garantie der kommunalen Selbstverwaltung gewährt einen unantastbaren Kernbereich der Finanzausstattung, der nicht unter dem Vorbehalt der Leistungsfähigkeit des jeweiligen Landes steht. Im Ergebnis wird dargelegt, dass trotz der Einführung der neuen Schuldenbegrenzungsregelungen die Kommunen finanzverfassungsrechtlich davor geschützt werden, zu Opferlämmern des Schuldenberges zu werden. »The Compatibility of Balanced-Budget Rules with the Right of Local Self-Government«

Similar to the federal government and the federal states, local borough governments in Germany continuously increased their financial deficit in the previous years. In order to counteract indebtedness, the German constitution now sets forth that public budgets of the federation and the federal states are to be financed without loans. The legal consequences of those balanced-budget rules for the right of local self-government are reviewed in this paper.
Table of Contents
Section Title
Page
Action
Price

Vorwort

5

Inhaltsübersicht

7

Inhaltsverzeichnis

9

Tabellen- und Abbildungsverzeichnis

19

Abkürzungsverzeichnis

20

Einleitung und Problemaufriss

27

§ 1 Neuverschuldung als Haushaltskonzept

27

§ 2 Schuldenbremse als selbst gewählte Schranke

28

§ 3 Kommunen als mögliche Opferlämmer des Schuldenberges

30

§ 4 Gang der Untersuchung

32

1. Teil: Verfassungsrechtliche Grundlagen

34

§ 1 Die Kommunen im Bundesstaat

34

A. Kompetenzverteilung zwischen Bund, Ländern und Kommunen: Zweistufiger Staatsaufbau bei dreistufigem Verwaltungsaufbau

34

I. Gesetzgebungskompetenzen zwischen Bund, Ländern und Kommunen

35

II. Verwaltungskompetenzen zwischen Bund, Ländern und Kommunen

35

B. Die Kommunen in der bundesstaatlichen Finanzverfassung

36

I. Bedeutung und Begriff der Finanzverfassung im Bundesstaat

37

1. Die finanzielle Ausstattung als maßgebliche Funktionsvoraussetzung

37

2. Das Finanzwesen

39

a) Die Finanzverfassung (im engeren Sinne), Art. 104a bis 108 GG

40

b) Die Haushaltsverfassung, Art. 109 bis 115 GG

42

II. Das Konnexitätsprinzip gem. Art. 104a I GG

43

1. Grundsatz der Ausgabenlast

43

2. Durchbrechungen des Konnexitätsprinzips

44

a) Geldleistungsgesetze nach Art. 104a III GG

44

b) Bundesfinanzhilfen

45

aa) Investitionshilfekompetenz nach Art. 104b I GG

46

bb) Gemeinschaftsaufgaben nach Art. 91 a, b GG

55

c) Bedeutung der Durchbrechungen des Konnexitätsprinzips des Art. 104a GG für die Kommunen

56

III. Unmittelbare Gewährleistungen durch das System kommunaler Einnahmen

59

1. Die eigenständigen Einnahmequellen der Kommunen

59

2. Der allgemeine kommunale Finanzausgleich

61

IV. Mittelbare Gewährleistungen durch die Revisionsansprüche des Art. 106 GG

62

V. Zwischenergebnis

65

C. Schutz der Kommunen durch die landesverfassungsrechtlichen Finanzordnungen

66

I. Anwendbarkeit von Art. 104a I und II GG

66

II. Sicherung einer angemessenen kommunalen Finanzausstattung durch die Länderverfassungen

68

III. Zwischenergebnis

71

D. Die finanzverfassungsrechtlichen Abhängigkeiten der Kommunen

72

I. Die Beteiligung der Kommunen am Steueraufkommen

72

II. Die Mitverantwortung des Bundes für die Finanzausstattung der Kommunen

73

III. Die Abhängigkeit der Finanzausstattung der Kommunen von den Entscheidungen des Landesgesetzgebers

74

1. Fehlendes kommunales Steuererfindungsrecht (Steuergesetzgebungshoheit)

75

2. Die unmittelbare Steuerverwaltungshoheit der Landesfinanzbehörden

77

3. Großteil kommunaler Einnahmen muss über staatliche Finanzzuweisungen abgedeckt werden

78

IV. Existiert eine Bestandsgarantie bezüglich bestimmter Steuerquellen?

78

1. Bestandsgarantie zumindest bezüglich der Umsatzsteuer

79

2. Grund- und Gewerbesteuergarantie: Bestandsgarantie versus bloße Ertragszuweisung

80

a) Grund- und Gewerbesteuer werden in ihrem Bestand geschützt

80

b) Realsteuern werden höchstens in ihrem Ertrag geschützt

82

c) Stellungnahme

83

3. Anteile der Gemeinde an der Einkommenssteuer

84

E. Fazit: Zweistufiger Staatsaufbau als Risikofaktor für die Kommunen

86

§ 2 Die verfassungsrechtliche Garantie der kommunalen Selbstverwaltung

88

A. Überblick über die verfassungsrechtliche Garantie der kommunalen Selbstverwaltung

88

I. Wesen und Inhalt der kommunalen Selbstverwaltung

88

1. Wesen der kommunalen Selbstverwaltungsgarantie

89

2. Inhalt und Garantieebenen der kommunalen Selbstverwaltung

90

a) Die institutionelle Rechtssubjektsgarantie

90

b) Die objektive Rechtsinstitutsgarantie

91

c) Die subjektive Rechtsstellungsgarantie

93

II. Verpflichtungsadressaten der kommunalen Selbstverwaltungsgarantie

94

III. Einschränkbarkeit der kommunalen Selbstverwaltungsgarantie (Schranken)

96

IV. Grenzen des Gesetzesvorbehalts (Schranken-Schranken)

97

1. Schutz des Kernbereichs

98

2. Schutz des Randbereichs

99

B. Der finanzverfassungsrechtliche Schutz und die finanzielle Eigenverantwortung der Garantie der kommunalen Selbstverwaltung

100

I. Bedeutung der angemessenen Finanzausstattung: Ohne Geld keine kommunale Selbstverwaltung

100

II. Die verfassungsrechtliche Verortung der finanziellen Eigenverantwortung

101

1. Rechtsprechung des Bundesverfassungsgerichts

103

2. Rechtsprechung des Bundesverwaltungsgerichts

104

3. Rechtsprechung der Landesverfassungsgerichte

106

4. Literatur

107

III. Der verfassungsrechtlich gewährleistete Umfang der angemessenen Finanzausstattung

108

1. Das Kern-Randbereichsmodell als Maßstabsgeber zur Umschreibung der Finanzausstattung

108

a) Der eingriffsoffene Randbereich in Form einer angemessenen Finanzausstattung

109

b) Schutz des Kernbereichs durch Garantie einer finanziellen Mindestausstattung

110

c) Mögliche Relativität der Grenze zwischen Kernbereich und Randbereich

112

2. Gemeinsamer Ausgangspunkt zur Bestimmung einer angemessenen Finanzausstattung durch gleichartige Bezüge zum Kern-Randbereichsmodell

113

3. Finanzausstattung nach den strikten Vorgaben des Kern-Randbereichsmodells

115

4. Finanzausstattung nach der Maßgabe des Leistungsfähigkeitsvorbehaltsmodell

118

a) Lösung vom unantastbaren Kernbereich

118

b) Argumentative Untermauerung durch den Grundsatz der Verteilungssymmetrie

124

aa) Normativer Standort des Grundsatzes der Verteilungssymmetrie

124

bb) Anwendung des Grundsatzes der Verteilungssymmetrie im Randbereich

125

cc) Übertragung des Grundsatzes der Verteilungssymmetrie auf den Kernbereich

125

dd) Verfassungsrechtlich gebotene Wertung bei Anwendung des Grundsatzes der Verteilungssymmetrie

126

5. Kritische Auseinandersetzung mit der Maßstabsbildung zur Bestimmung der kommunalen Finanzausstattung

127

a) Fehlende Trennschärfe der Begriffe

128

b) Bruch mit der bisherigen Rechtsprechung

130

c) Grenzen des Grundsatzes der Verteilungssymmetrie

131

d) Generelle Gefährdung der kommunalen Finanzausstattung

132

6. Schlussfolgerungen

133

C. Fazit: Garantie der kommunalen Selbstverwaltung schützt eine von der finanziellen Leistungskraft des Landes unabhängige Mindestausstattung

134

§ 3 Gesetzliche Regelungen der Schuldenbegrenzung

136

A. Grundlagen des Staatsschuldenrechts

136

I. Staatsschulden als rechtliches Problem

136

II. Herkunft, Idee und Entwicklung der Schuldenbegrenzungsregelungen

138

1. Die Entstehungsgeschichte und Theorienbildung des Staatsschuldenrechts

138

2. Regelung der Staatsverschuldung bei Erlass des Grundgesetzes

141

3. Umfassende Reformen der Haushaltsordnung 1967 und 1969

142

a) Einbringung des gesamtwirtschaftlichen Gleichgewichts im Jahr 1967

143

b) Reform der Haushaltsordnung und Haushaltsverfassung im Jahr 1969

144

4. Änderungen bis zum Jahr 2009

146

III. Ursachen und Motive der Föderalismusreform II

147

1. Die Vorgaben aus dem Europarecht

147

2. Probleme und Auswirkungen der bisherigen Rechtslage

148

a) Unbestimmtheit des Investitionsbegriffs

149

aa) Orientierung am Bruttoinvestitionsbegriff

149

bb) Verbuchung von Darlehen und Gewährleistungen als Investitionen

151

b) Unbestimmtheit des Begriffs der Störung des gesamtwirtschaftlichen Gleichgewichts

152

c) Fehlende Vorgaben für den Schuldenabbau und für die Gesamtverschuldung

153

d) Keine Einbeziehung des Haushaltsvollzugs

154

e) Aufnahme von Sondervermögen nicht von der Kreditbegrenzung erfasst

154

f) Fehlen von Sanktionsmechanismen

155

g) Regelung entsprach nicht den Vorgaben des europäischen Stabilitäts- und Wachstumspaktes

156

h) Zwischenergebnis: Grundlegende Steuerungsschwäche

156

3. Zweck der Neuregelung

157

a) Überwindung der Schwächen der alten Schuldenregelung

157

b) Anpassung der Rechtslage an die veränderten Rahmenbedingungen

159

B. Neuregelung im Grundgesetz im Zuge der Föderalismusreform II

161

I. Regelungssystem der Schuldenbremse im Zuge der Föderalismusreform II

161

1. Die Erfüllung der Vorgaben des Europäischen Stabilitäts- und Wachstumspaktes, Art. 109 II GG

162

2. Der reguläre Verschuldungsrahmen für "Normallagen"

163

a) Die strukturelle Verschuldungskomponente

163

aa) Begrenzte strukturelle Neuverschuldung für den Bund

163

bb) Striktes Neuverschuldungsverbot für die Länder

164

b) Die konjunkturelle Verschuldungskomponente zur Orientierung am "gesamtwirtschaftlichen Gleichgewicht"

165

aa) Der Grund der konjunkturbedingten Kreditaufnahme

166

bb) Das Maß der veränderten Höchstgrenze der Kreditaufnahme

167

c) Die Abweichungen im Haushaltsvollzug oder in Nachtragshaushalten

168

3. Die Ausnahmeregelung für außergewöhnliche Notsituationen, Art. 109 III 2 zweiter Hs., 3 und Art. 115 II 6 und 7 GG

170

4. Begleitende Maßnahmen und Übergangsregelungen

172

a) Die verfahrensrechtliche Absicherung: Vermeiden von Sanierungsfällen

172

b) Die Übergangsregelungen mit Konsolidierungshilfen

173

5. Zwischenergebnis

174

II. Bewertung der Neuregelung auf Bundesebene

175

1. Fortschritte durch Berücksichtigung des Haushaltsvollzugs und des Wegfalls der Ausnahmeregelung für Sondervermögen

175

2. Defizite durch bestehende Schlupflöcher, Auslegungsschwierigkeiten, unzureichende Kontrolle und den langen Übergangszeitraum

176

a) Die Ausgrenzung anderer öffentlich-rechtlicher Körperschaften

176

b) Die Auslegungsbedürftigkeit der kreditreglementierenden Begriffe

177

c) Eine Kontrollinstanz ohne Kontrollinstanzen

180

d) Der lange Übergangszeitraum als Risikofaktor

181

C. Schuldenbegrenzungsregelungen in den Ländern

182

I. Normative Bestandsaufnahme der Schuldenbegrenzungsregelungen der Länder

182

1. Länder mit strikter Schuldenbegrenzungsregelung in der Verfassung

186

2. Länder mit strikter Schuldenbegrenzungsregelung in der Haushaltsordnung

188

3. Länder mit einer am Investitionsbegriff orientierten Schuldenbegrenzung

190

II. Der Einfluss der Normenhierarchie auf die Schuldenbegrenzungsregelungen

191

1. Die europarechtlichen Überlagerungen durch Art. 109 II, V GG

191

2. Die Einflüsse des Homogenitätsgebots, Art. 28 I GG

192

3. Die Anwendbarkeit des Art. 31 GG

193

a) Bricht Art. 31 GG auch inhaltlich übereinstimmendes Landesrecht?

193

b) Die Bedeutung des Art. 31 GG für die Grundsatzgesetzgebung des Art. 109 IV GG

195

4. Die bundesrechtlichen Beschränkungsmöglichkeiten der Haushaltsautonomie der Länder

196

a) Ausgangslage: der Regelungsgehalt der Haushaltsautonomie der Länder, Art. 109 I GG

196

b) Mögliche Einschränkung durch Art. 115 GG im Rahmen des Homogenitätsgebots

197

c) Kompetenzgrundlage zur Durchbrechung gem. Art. 109 III 5 GG

198

d) Vorgaben des Art. 109 IV GG i. V. m. dem Haushaltsgrundsätzegesetz

199

III. Die Durchschlagskraft der landesrechtlichen Normen zur Kreditbegrenzung

202

1. Der Einfluss landesverfassungsrechtlicher Verschuldungsregelungen ab dem Jahr 2020

203

a) Konsequenzen für inhaltsgleiches Landesverfassungsrecht

203

b) Konsequenzen für die landesverfassungsrechtlichen Regelungen mit abweichendem Inhalt und ohne striktes Neuverschuldungsverbot

204

aa) Generelle Anwendbarkeit des Art. 31 GG

204

bb) Konkrete Anwendung des Art. 31 GG

208

c) Zwischenergebnis

210

2. Entfalten die Übergangsregelungen im Grundgesetz eine Vorwirkung vor dem Jahr 2020

210

a) Die allgemeinen Vorgaben der Übergangsregelungen des Art. 143d I 3 und 4 GG

211

b) Vorgaben für die Länder mit Konsolidierungshilfe, Art. 143 d II, III GG

213

c) Zwischenergebnis

215

IV. Der Sonderfall der "extremen Haushaltsnotlage"

215

1. Begründung des ungeschriebenen Ausnahmetatbestandes der "extremen Haushaltsnotlage"

216

a) Der ungeschriebene verfassungsrechtliche Tatbestand

216

b) Die Rechtsfolgen der "extremen Haushaltsnotlage"

218

aa) Die bundesstaatliche Einstandspflicht nach dem Bundesverfassungsgericht

218

bb) Die "extreme Haushaltsnotlage" als Ausnahmetatbestand zur erhöhten Kreditaufnahme nach Ansicht der Landesverfassungsgerichte

220

2. Bewertung des ungeschriebenen Tatbestandes der "extremen Haushaltsnotlage"

223

a) Zur Erforderlichkeit der "extremen Haushaltsnotlage"

223

b) Verführungen und Fehlinterpretationen der "extremen Haushaltsnotlage"

226

3. Stellungnahme

229

V. Bewertung der Schuldenbegrenzungsregelungen auf Länderebene

232

D. Fazit

235

2. Teil: Die Beziehungen der Schuldenbegrenzungsregelungen zur Garantie der kommunalen Selbstverwaltung

237

§ 4 Die Verfassungsmäßigkeit von Verfassungsänderungen

238

A. Der Prüfungsmaßstab bei Verfassungsänderungen

238

I. Die Besonderheiten der Verfassungsinterpretation

239

II. Zur Auslegungsmethodik der Verfassungsinterpretation

243

1. Die klassisch-hermeneutische Methode

244

2. Die hermeneutisch-konkretisierende Methode

247

3. Die Anwendbarkeit der hermeneutisch-konkretisierenden Methode

249

III. Die Bedeutung der Verfassungsgerichtsrechtsprechung und ihre Beziehung zum Verfassungsgesetzgeber

252

1. Verfassungsinterpretation unter Maßgabe einer Verfassungsgerichtsbarkeit

252

a) Die Rolle der Verfassungsgerichtsbarkeit und das Selbstverständnis des Bundesverfassungsgerichts

252

b) Das Spannungsverhältnis zwischen Bundesverfassungsgericht und verfassungsänderndem Gesetzgeber

255

2. Die Interpretationsmethode des Bundesverfassungsgerichts

258

IV. Die funktionell-rechtlichen Grenzen der Verfassungsinterpretation

260

1. Grundsatz des "judicial self-restraint"

260

2. Die Wahrung der Einheit der Verfassung

261

a) Zur Problematik der Systemgerechtigkeit und verfassungsimmanenten Interpretation

262

b) Zur Problematik der verfassungskonformen Auslegung von Verfassungsänderungen

263

3. Zwischenergebnis

265

V. Der verfassungsändernde Gesetzgeber und die Entwicklungsgrenzen der Verfassung

266

1. Die Allgemeinheit und grundsätzliche Offenheit der Verfassung

267

a) Die Rahmenordnung als Maßstab für gesetzgeberischen Gestaltungsspielraum und für verfassungsgerichtliche Kontrolle

267

b) Die gute Verfassung im Widerspruch von Allgemeinheit und Bestimmtheit

269

c) Das Rollenverständnis der Finanzverfassung als Rahmen- und Verfahrensordnung

270

2. Die Entwicklungsgrenzen der Verfassung in der Ewigkeitsgarantie des Art. 79 III GG

270

a) Art. 79 III GG im Spannungsfeld zwischen Änderungsverbot und Entwicklungsoffenheit

271

b) Die inhaltliche Reichweite der Ewigkeitsgarantie

274

aa) Die restriktive Auslegung des Art. 79 III GG

275

bb) Die Kritik an der restriktiven Auslegung

276

cc) Stellungnahme

277

VI. Schlussfolgerungen für den Prüfungsmaßstab

279

B. Die Verfassungsmäßigkeit der Schuldenbegrenzungsregelungen

280

I. Die Verfassungsmäßigkeit der Schuldenbegrenzungsregelung mit Blick auf das Bundesstaatsprinzip

281

1. Inhalt des Bundesstaatsprinzips

282

2. Kritische Auseinandersetzung mit möglichen Verletzungskonstellationen

283

a) Mögliche Verletzung der Haushaltsautonomie der Länder

283

b) Wahrung der Eigenstaatlichkeit der Länder

284

aa) Grundsätzliche Einschränkbarkeit der Haushaltsautonomie

284

bb) Restriktive Auslegung der Ewigkeitsgarantie

286

c) Gebot der Bundestreue

287

aa) Ausgleichsfunktion zwischen Länderautonomie und bündischer Einheit

288

bb) Einhaltung des Gleichbehandlungsgebots

288

cc) Einhaltung nach Maßstab der Verhältnismäßigkeit

289

II. Die Verfassungsmäßigkeit der Schuldenbegrenzungsregelung mit Blick auf das Demokratieprinzip

291

1. Inhalt und Prüfungsmaßstab des Demokratieprinzips

291

2. Kritische Auseinandersetzung mit möglichen Verletzungskonstellationen

292

III. Zwischenergebnis

294

C. Fazit

294

§ 5 Die Auswirkung der Schuldenbegrenzungsregelungen auf die Garantie der kommunalen Selbstverwaltung

297

A. Die Entwicklung der Haushalte der Kommunen

297

I. Die Entwicklungen der Finanzausstattung der Kommunen

298

1. Die Einnahmenentwicklung der Kommunen

298

2. Die Ausgabenentwicklung der Kommunen

299

3. Zwischenergebnis: der Trend in der Einnahmen- und Ausgabenentwicklung

302

II. Die Entwicklung des Schuldenstandes

304

1. Die Entwicklung des kommunalen Schuldenstandes

304

2. Die anteilige Entwicklung der kommunalen Kassenkredite

307

III. Zwischenergebnis

310

B. Beziehungen zwischen den Schuldenbegrenzungsregelungen und der Garantie der kommunalen Selbstverwaltung im Mehrebenensystem

311

I. Schuldenbegrenzungsregelungen und kommunale Selbstverwaltung in der Europäischen Union

311

1. Der Schutz der kommunalen Selbstverwaltung in der Europäischen Union

311

2. Auswirkungen der europarechtlichen Vorgaben zur Schuldenbegrenzung auf die Garantie der kommunalen Selbstverwaltung

313

a) Die Vorgaben des Art. 109 II GG i. V. m. 126 AEUV

313

b) Die Auswirkungen des Fiskalvertrages

315

II. Berührungspunkte zwischen den Schuldenbegrenzungsregelungen des Grundgesetzes und der Garantie der kommunalen Selbstverwaltung

319

III. Beziehungen zwischen den Schuldenbegrenzungsregelungen der Landesverfassungen und der Garantie der kommunalen Selbstverwaltung

323

C. Rechtliche Auswirkungen der Schuldenbegrenzungsregelungen auf die Garantie der kommunalen Selbstverwaltung

324

I. Ist die Garantie der kommunalen Selbstverwaltung durch die Ewigkeitsgarantie des Art. 79 III GG geschützt?

325

1. Ewigkeitsschutz durch das Demokratieprinzip

327

a) Die Bestandteile des Demokratieprinzips und die Beziehungen zur Garantie der kommunalen Selbstverwaltung

327

b) Ist die kommunale Selbstverwaltung ein Teil der Grundsätze des Demokratieprinzips?

331

aa) Contra Bestandteil der "Grundsätze" des Demokratieprinzips

331

bb) Pro Bestandteil der "Grundsätze" des Demokratieprinzips

332

cc) Stellungnahme

336

2. Ewigkeitsschutz durch das Bundesstaatsprinzip

340

3. Ewigkeitsschutz durch das Rechtsstaatsprinzip

343

4. Ewigkeitsschutz durch das Sozialstaatsprinzip

344

5. Ewigkeitsschutz durch die in Art. 1 GG niedergelegten Grundsätze

346

6. Ewigkeitsschutz der kommunalen Selbstverwaltung im internationalen Rechtsvergleich

348

7. Zwischenergebnis

350

II. Ist die Garantie der kommunalen Finanzausstattung als Leistungsrecht durch die Schuldenbegrenzungsregelungen dem Leistungsfähigkeitsvorbehalt unterworfen?

350

III. Ist die Kern-Randbereichstheorie trotz Schuldenbegrenzungsregelungen noch anwendbar?

354

1. Die Anwendbarkeit der Kern-Randbereichstheorie

354

a) Der Vergleich mit der Wesensgehaltsgarantie des Art. 19 II GG

354

b) Bestehen grundlegende Änderungen zu den Vorgaben der alten Schuldenbegrenzungsregelung?

356

2. Die Ausprägung der Kern-Randbereichstheorie unter der neuen Schuldenbegrenzungsregelung

358

IV. Zwischenergebnis

360

D. Ergebnis und Ausblick

361

Literaturverzeichnis

366

Sach- und Personenverzeichnis

394