Discrimination in employment & harassment law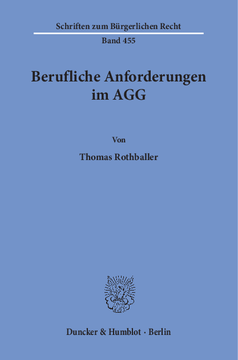 Additional Information
Book Details
ISBN

978-3-428-54941-2
978-3-428-14941-4 (print edition)

DOI

https://doi.org/10.3790/978-3-428-54941-2

Edition

1

Language

German

Pages

255

Collections

Subjects
Pricing
Institution

€ 92.00 (incl. local VAT if applicable)

Individual

€ 71.90 (incl. local VAT if applicable)
About The Author
Thomas Rothballer studierte ab 2009 Rechtswissenschaften an der Ludwig-Maximilians-Universität München. Nach der Ersten Juristischen Staatsprüfung (2014) beim Landesjustizprüfungsamt Bayern verfasste er seine Dissertation unter Betreuung von Prof. Dr. Richard Giesen am Lehrstuhl für Sozialrecht, Arbeitsrecht und Bürgerliches Recht der Ludwig-Maximilians-Universität München. Begleitend hierzu war er bei seinem Doktorvater am Zentrum für Arbeitsbeziehungen und Arbeitsrecht (ZAAR) als wissenschaftlicher Mitarbeiter tätig. Im Jahr 2015 begann er das Referendariat beim Oberlandesgericht München und wurde im Wintersemester 2015/2016 durch die Juristische Fakultät der Ludwig-Maximilians-Universität München promoviert.
Abstract
Die Rechtfertigungstatbestände für Benachteiligungen im arbeitsrechtlichen Teil des Allgemeinen Gleichbehandlungsgesetzes (AGG) bestimmen Reichweite und Wirkung der Diskriminierungsverbote. Wann eine wesentliche und entscheidende berufliche Anforderung zu bejahen ist, wird – nicht zuletzt auf Grund der auch dem Europarecht geschuldeten Häufung unbestimmter Rechtsbegriffe – in Rechtsprechung und Literatur bisher höchst unterschiedlich, vielmals ergebnisorientiert gelöst.

Thomas Rothballer strukturiert die diskriminierungsrechtliche Ausnahmevorschrift der beruflichen Anforderungen. Es wird ein nachvollziehbarer Rahmen für die Beurteilung des Rechtfertigungsmaßstabs geschaffen, der anhand einer Vielzahl von Einzelproblemen des Diskriminierungsrechts praxisbezogen geprüft wird. Neben den – teils europarechtlichen – Grundlagen behandelt die Arbeit auch besondere Konstellationen wie beispielsweise Kirchen und Tendenzbetriebe als Arbeitgeber oder Erwartungen Dritter. »Occupational Requirements in the AGG«

The question what can be justified as labor disadvantage on account of occupational requirements is discussed controversially and is crucial for the range and impact of discrimination prohibitions. Thomas Rothballer developed a workable and – European – lawful justification scale and applies it to a variety of case scenarios.
Table of Contents
Section Title
Page
Action
Price

Vorwort

5

Inhaltsübersicht

7

Inhaltsverzeichnis

9

§ 1 Gleichbehandlung und berufliche Anforderungen

15

§ 2 Historische Entwicklung und geltendes Recht

21

A. Europarechtliche Grundlage

21

I. Kompetenz der EU

21

II. Richtlinien

22

B. Gesetzgebungsverfahren

23

C. Geltendes Recht

25

I. Allgemeiner Teil

25

II. Schutz der Beschäftigten vor Benachteiligung

26

1. Verbot der Benachteiligung

27

2. Organisationspflichten des Arbeitgebers

27

3. Rechte der Beschäftigten

27

4. Ergänzende Vorschriften

28

III. Schutz vor Benachteiligung im Zivilrechtsverkehr

28

IV. Rechtsschutz

28

V. Sonstige Regelungen

28

VI. Terminologie

28

D. Ziele des AGG

30

I. Verhinderung und Beseitigung von Diskriminierungen

30

II. Gewährleistung der Menschenwürde

30

III. Freiheitsschutz

31

IV. Soziale Integration

31

V. Güterverteilung

32

VI. Zusammenfassung

33

§ 3 Rechtfertigungsmaßstab der beruflichen Anforderungen

34

A. Grundlagen

35

I. Auslegungsmaßstab

35

1. Richtlinien

35

2. Grundrechte

36

a) Exkurs: Kollision von Unionsrecht und Grundgesetz

36

b) Maßstab für die verfassungskonforme Auslegung

38

aa) Europäische Grundrechtecharta

39

(1) Grundsatz

40

(2) Ausnahme: Ermessen des nationalen Gesetzgebers?

42

(3) Wirkung

45

(a) Zeitliche Wirkung

45

(b) Funktionale Wirkung

45

(4) Zwischenfazit

47

bb) Deutsches Grundgesetz als paralleler Auslegungsmaßstab

48

cc) Allgemeine Rechtsgrundsätze des Gemeinschaftsrechts

49

dd) Völkerrechtliche Diskriminierungsverbote

51

3. Ergebnis

53

II. Anwendbarkeit der Überlegungen zu § 611a Abs. 1 S. 2 BGB a. F.

53

III. Begrenzung des Diskriminierungsverbotes

55

1. Begrenzte Anzahl der pönalisierten Gründe

55

2. Begrenzter Anwendungsbereich

58

3. Mittelbare Benachteiligung

58

a) Rechtfertigungsmaßstab versus Tatbestandsausschluss

58

b) Abgrenzung zum im Zusammenhang stehenden Merkmal

59

c) Folgerung

61

4. Bestimmung der vergleichbaren Situation

61

5. Schlechterstellung

63

6. Subjektives Tatbestandsmerkmal

63

7. Rechtsmissbrauch durch 'AGG-Hopper'

65

8. Rechtfertigungstatbestände

66

a) Positive Maßnahme

66

b) Religions- und Weltanschauungsgemeinschaften

67

c) Besondere Rechtfertigung wegen des Alters

67

9. Folgerung

69

B. Alternativer Rechtfertigungsmaßstab

69

I. Sachlicher Grund

69

1. Art. 3 GG

70

2. Allgemeiner arbeitsrechtlicher Gleichbehandlungsgrundsatz

70

3. § 4 TzBfG und § 3 Abs. 2 AGG

72

4. § 20 Abs. 1 AGG

73

5. § 10 AGG

74

6. Zwischenfazit

74

II. Selbstständige Verhältnismäßigkeitsprüfung

75

III. Ergebnis

76

C. Inhalt und Reichweite der beruflichen Anforderung

76

I. Anwendungsbereich im AGG

77

1. Gründe und Arten der Benachteiligung

77

2. Positive und negative Anknüpfung

79

3. Bereichsausnahme bei der Geschlechterdiskriminierung

80

II. Berufliche Anforderung

83

1. Gegenstand

84

2. Bestimmungskriterien

85

a) Art der auszuübenden Tätigkeit

86

b) Bedingungen der Tätigkeitsausübung

87

aa) Anknüpfungspunkte

87

(1) Ziel und Zweck der Tätigkeit

88

(a) Tätigkeitsbezug

89

(b) Bestimmung in der Praxis

90

(2) Auf die Tätigkeit einwirkende Rechtsnormen

91

bb) Rechtmäßigkeit

92

(1) Legalitätsprüfung

92

(a) Willkürkontrolle

93

(b) Kein Verstoß gegen sonstige Verbotsnormen

95

(c) Kein Verstoß gegen das Diskriminierungsverbot

96

(d) Zwischenfazit

97

(2) Legitimitätsprüfung

97

(a) Potentielle Rechtmäßigkeitsmaßstäbe

98

(aa) Gewichtiges öffentliches Interesse

99

(bb) Verfolgung der Ziele des AGG

99

(cc) Zwischenfazit

101

(b) Regel-Ausnahme-Verhältnis: grundrechtlich besonders geschützter Belang

101

(aa) Grundrechtlich besonders geschützer Belang

101

(bb) Erwägungen

101

(cc) Regel-Ausnahme-Verhältnis

103

(dd) Beispiel Authentizität

103

(ee) Zwischenfazit

104

(3) Sonderfall bei auf die Tätigkeit einwirkenden Rechtsnormen?

104

(a) Gesetze

105

(b) Kollektivvertragliche Vorgaben

106

c) Summa

109

III. Wesentliche berufliche Anforderung

109

IV. Entscheidende berufliche Anforderung

112

1. Grundsatz

112

2. Diskriminierungsgrund der Behinderung

114

V. Angemessenheit der beruflichen Anforderung

117

VI. Verknüpfung zwischen Diskriminierungsgrund und im Zusammenhang stehendem Merkmal

119

1. Zusammenhang zwischen Merkmal und Diskriminierungsgrund

120

2. Erforderlichkeit des Diskriminierungsgrundes für das Merkmal

122

a) Vereinfachte Personalauswahl versus Pauschalisierung

122

b) Erforderlichkeitsprüfung

123

3. Ergebnis

125

D. Zusammenfassung zum Rechtfertigungsmaßstab der beruflichen Anforderung

125

§ 4 Grundrechtlich besonders geschützte Belange

127

A. Religions- und Weltanschauungsgemeinschaften

127

I. Exkurs: § 9 Abs. 1 AGG

128

1. Grundlagen

128

a) Wortlaut von AGG und Richtlinie

129

b) Persönlicher Anwendungsbereich

130

c) Auslegungsmaßstab

131

2. Arbeitgeber

131

3. Unterschiedliche Behandlung

135

4. Rechtfertigungsgrund

135

a) Selbstbestimmungsrecht als berufliche Anforderung

135

aa) Inhalt des Selbstbestimmungsrechts

136

bb) Rechtfertigende Wirkung

138

(1) Abgestuftes Selbstbestimmungsrecht – Tätigkeitsbezug

139

(2) Uneingeschränkte Beachtung des Selbstbestimmungsrechts

142

(3) Zwischenfazit

149

cc) Sonderkonstellationen

150

b) Art der Tätigkeit

151

c) Rechtfertigung der beruflichen Anforderung

152

5. Ergebnis

153

II. Rechtfertigung nach § 8 Abs. 1 AGG für die übrigen pönalisierten Gründe

154

1. Anwendungsbereich des § 8 Abs. 1 AGG

154

2. Sexuelle Identität als zentraler Diskriminierungsgrund

155

3. Wesentliche und entscheidende berufliche Anforderung

156

a) Berufliche Anforderung

157

aa) Ziel und Zweck der Tätigkeit

157

bb) Rechtmäßigkeit von Ziel und Zweck der Tätigkeit

157

b) Wesentlich, entscheidend und angemessen

160

4. Ergebnis

161

B. Tendenzunternehmen

161

I. Tendenzschutz im AGG

162

II. Anwendbarkeit neben § 9 Abs. 1 AGG

163

III. Wesentliche und entscheidende berufliche Anforderung

164

1. Berufliche Anforderung

164

a) Ziel und Zweck der Tätigkeit

164

b) Rechtmäßigkeit von Ziel und Zweck der Tätigkeit

165

aa) Politische Belange

165

bb) Koalitionspolitische Belange

166

cc) Konfessionelle Belange

167

dd) Künstlerische und wissenschaftliche Belange

168

ee) Presse- und Rundfunkfreiheit

168

ff) Erzieherische und karitative Belange

169

gg) Zwischenfazit

170

2. Wesentlich, entscheidend und angemessen

170

IV. Ergebnis

171

C. Intimsphäre

172

D. Nähe- und Vertrauensverhältnis

173

I. Exkurs: Betriebsgröße des Arbeitgebers

174

II. Rechtfertigende Wirkung eines Nähe- und Vertrauensverhältnisses

176

III. Ergebnis

178

E. Religiöse Bekundungen

178

F. Öffentliche Schutzgüter

181

I. Öffnungsklausel des Art. 2 Abs. 5 RL 2000 / 78 / EG

181

1. Anwendungsbereich

182

2. Berufliche Anforderung

183

a) Regelung des einzelstaatlichen Rechts

184

b) Öffentliches Schutzgut

185

aa) Öffentliche Sicherheit und Ordnung

185

bb) Weitere taugliche Schutzgüter

186

cc) Untaugliche und vorgeschobene Belange

187

3. Wesentliche, entscheidende und angemessene berufliche Anforderung

188

II. Zusammenhang zwischen Merkmal und Diskriminierungsgrund

189

III. Ergebnis

191

§ 5 Besondere Rechtfertigungskonstellationen

193

A. Einflüsse Dritter

193

I. Kundenerwartungen

193

1. Vorab: kein grundrechtlich geschützter Belang

193

2. Eigenständige Rechtfertigungswirkung

195

a) Ansätze in der Literatur

195

aa) Kundenerwartungen als konstitutiver Teil des Unternehmerkonzepts

195

bb) §§ 19 f. AGG

196

cc) Tätigkeitsbezug versus Umweltbezug

197

dd) Diskriminierende Kundenerwartungen

198

b) Der Arbeitgeber im Zwiespalt

199

aa) Kunden

199

bb) Beschäftigte

200

cc) Arbeitgeber

200

c) Auflösung des Spannungsverhältnisses

201

aa) § 12 Abs. 4 AGG und Druckkündigung

201

bb) Ziele des AGG

203

cc) Wirksamer Diskriminierungsschutz

204

dd) Zwischenfazit

206

d) Erwartungen von Kunden in Drittstaaten

206

aa) Divergierende Konstellationen im In- und Drittland

207

bb) Rechtfertigung versus Anwendungsbereichsbegrenzung

208

cc) Zwischenfazit

209

3. Ergebnis

210

II. Erwartungen von Geschäftspartnern

210

III. Mitarbeitererwartungen

211

B. Bestandsgefährdung

213

I. Unternehmerische Freiheit

214

II. Wirkung der Diskriminierungsverbote

215

III. Besonderheiten des Gleichbehandlungsrechts

215

IV. Keine schützenswerte Unternehmung

217

V. Ergebnis

218

C. Markttrennung

219

I. Keine wesentlichen Nachteile bei einer Gesamtbetrachtung

219

II. Bevorzugung anstatt Benachteiligung

220

III. Proportionalität und Einzelfallbetrachtung

221

IV. Ergebnis

222

§ 6 Konklusion

223

Literaturverzeichnis

231

Sachwortverzeichnis

251