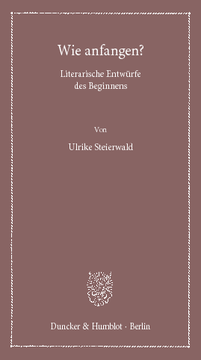 BOOK
Cite BOOK
Style
---
Steierwald, U. (2016). Wie anfangen?. Literarische Entwürfe des Beginnens. Duncker & Humblot. https://doi.org/10.3790/978-3-428-55052-4
Steierwald, Ulrike. Wie anfangen?: Literarische Entwürfe des Beginnens. Duncker & Humblot, 2016. Book. https://doi.org/10.3790/978-3-428-55052-4
Steierwald, U (2016): Wie anfangen?: Literarische Entwürfe des Beginnens, Duncker & Humblot, [online] https://doi.org/10.3790/978-3-428-55052-4
---
Format
---
Wie anfangen?
Literarische Entwürfe des Beginnens
Lectiones Inaugurales, Vol. 13
(2016)
Additional Information
Book Details
Publisher Name

Duncker & Humblot

ISBN

978-3-428-55052-4
978-3-428-15052-6 (print edition)

DOI

https://doi.org/10.3790/978-3-428-55052-4

Edition

1

Language

German

Pages

90

Collections

Subjects
Pricing
Institution

€ 26.00 (incl. local VAT if applicable)

Individual

€ 19.90 (incl. local VAT if applicable)
About The Author
Ulrike Steierwald ist Professorin für Literaturwissenschaft mit dem Schwerpunkt Literatur- und Kulturgeschichte des 18. bis 21. Jahrhunderts an der Leuphana Universität Lüneburg. Von 1994 bis 2001 war sie stellv. Direktorin der Herzogin Anna Amalia Bibliothek, Klassik Stiftung Weimar. Arbeiten zu Raumkonzepten des 18. Jahrhunderts, Leibniz' System einer Universalbibliothek, Sammlungstheorien der Moderne und zur Geschichte der Weimarer Klassik. Bis 2011 war Steierwald Professorin für Informationswissenschaft an der Hochschule Darmstadt (Medientheorie, Mediengeschichte, Wissensordnungen). Zum WS 2011/2012 Ruf an die Leuphana Universität Lüneburg.
Abstract
Der niemals begonnene Anfang, die gescheiterte Initiation eines Textes gehören zu den Albträumen des Autors. Würde er sich in die mythische Tradition der Wiederholung des schon Gesagten, schon Geschriebenen nahtlos einreihen, wäre sein Selbstverständnis als Urheber und Schöpfer in Frage gestellt. Produktions- wie rezeptionsästhetisch erweisen sich Versuche, Anfänge im Sinne des Originären zu begründen und festzuhalten, als nachträgliches, verspätetes Bemühen. Schließlich haben wir im Text immer schon angefangen.Umso mehr bleibt zu klären, welche Rituale und Reflexionen uns dennoch stets aufs Neue $abeginnen$z lassen. Welche unterschiedlichen Kulturtraditionen fließen in die Inszenierungen des Anfangs ein? Das Buch erhellt die Aporien des Anfangs und präsentiert literarische Imaginationen des 18. bis 21. Jahrhunderts, die in Aufbruch wie Rückkehr, Entwicklung wie Umkehrung, in Biographien wie Thanatographien das $aBeginnen$z als unabschließbare Denkbewegung der Moderne sichtbar werden lassen.The beginning never begun, the abortive introduction of a text, are some of the nightmares which can plague an author. Were he to conform to the mythical tradition of reiteration of what has already been said, his self-image as originator and creator would be called into question. Seen from the aspect of production and reception aesthetics, any attempt to establish and retain a beginning as original thought always proves to be a retroactive, belated effort. After all, we have always started off with the text. This book presents literary imaginings from 18th to 21st century, which reveal the $abeginning$z as an interminable movement of thought particular to modernism.
Table of Contents
Section Title
Page
Action
Price

Inhalt

5

Wie anfangen?

7

Raum, Punkt, Komma – Strich

15

Figuren des Aufbruchs

24

Das weiße Blatt

30

Paratexte

42

Konzepte

46

Inverse Gesten des Beginnens

57

Initiationen – Individuationen

64

Getanzte Nekrologe

82

Zur Autorin

89