Regulation of medicines & medical devices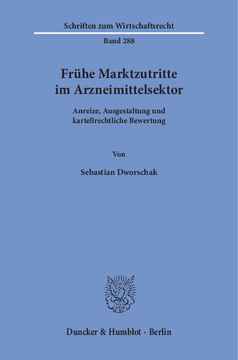 Additional Information
Book Details
ISBN

978-3-428-54887-3
978-3-428-14887-5 (print edition)

DOI

https://doi.org/10.3790/978-3-428-54887-3

Edition

1

Language

German

Pages

244

Collections

Subjects
Pricing
Institution

€ 104.00 (incl. local VAT if applicable)

Individual

€ 79.90 (incl. local VAT if applicable)
About The Author
Sebastian Dworschak studierte von 2005 bis 2011 Rechtswissenschaften an der Universität Konstanz. Von 2011 bis 2015 war er als wissenschaftlicher Mitarbeiter am Lehrstuhl für Bürgerliches Recht sowie deutsches und internationales Unternehmens-, Wirtschafts- und Kartellrecht von Prof. Dr. Christian Kersting, LL.M. (Yale), an der Heinrich-Heine-Universität Düsseldorf tätig. Im November 2015 wurde er dort mit einer pharmakartellrechtlichen Arbeit promoviert. Seit Januar 2015 absolviert er den juristischen Vorbereitungsdienst im Bezirk des Oberlandesgerichts Düsseldorf. Seine bisherigen Stationen verbrachte er u.a. beim Bundeskartellamt in Bonn und bei einer international ausgerichteten Wirtschaftskanzlei in Düsseldorf.
Abstract
Nach den Erkenntnissen der Sektoruntersuchung-Pharma nutzen Arzneimittelhersteller eine Vielzahl patentrechtlicher Werkzeuge, um den Wettbewerb mit Generikaherstellern zu verzögern oder zu verhindern. Zu diesen Werkzeugen zählt die Kommission auch sog. Vereinbarungen über einen frühen Marktzutritt (Early Entry Agreements). Der Begriff des frühen Marktzutritts bezeichnet die (entgeltliche) Zulassung von Generikaherstellern zu Arzneimittelmärkten nur kurze Zeit vor Ablauf der Originalpräparatepatente. Aufbauend auf den Feststellungen der Sektoruntersuchung unterzieht die Arbeit die Strategie früher Marktzutritte einer kartellrechtlichen Überprüfung. Sie gelangt hierbei zu dem Ergebnis, dass frühe Marktzutritte als Patentauslaufstrategien mit Blick auf das Kartell-, Behinderungs- und Diskriminierungsverbot nicht zu beanstanden sind. Infolge ihrer hohen Relevanz für die spätere Struktur von Arzneimittelmärkten unterfallen frühe Marktzutritte jedoch der Zusammenschlusskontrolle und bilden überdies einen der bislang seltenen Anwendungsfälle des Markstrukturmissbrauchs. »Early Entry Agreements in the Pharmaceutical Industry«

According to the European Commission's report on the Pharmaceutical Sector Inquiry practically all originator companies have developed a tool-box of instruments for how to prepare for and react to generic entry. The inquiry, inter alia, dealt with so-called authorised generics resulting from early-entry agreements between originator and generic companies. This study analyses the practise of authorised generics under German and European Competition Law, also considering the legal situation in the U.S.
Table of Contents
Section Title
Page
Action
Price

Vorwort

7

Inhaltsverzeichnis

9

Einleitung

15

Kapitel 1: Einführung

22

§ 1 Die Sektoruntersuchung-Pharma der Europäischen Kommission

23

A. Anlass, Gegenstand und Umfang der Untersuchung

25

B. Ergebnisse der Untersuchung

27

C. Zwischenergebnis

30

§ 2 Problemdarstellung

31

A. Wettbewerbsbeschränkung durch Wettbewerbsförderung?

32

B. Die Marktanteilsentwicklung autorisierter Generika

35

C. Konkretisierung der kartellrechtlichen Bedenken

40

I. Abschreckung generischer Wettbewerber

41

II. Vorzeichnung zukünftiger Marktstrukturen

42

III. Projektion von Marktmacht in die Zukunft

42

§ 3 Eingrenzung des Untersuchungsgegenstandes

44

A. Märkte für verschreibungspflichtige Fertighumanarzneimittel

44

B. Frühe Marktzutritte konzernunabhängiger Generikahersteller

45

§ 4 Gang der Darstellung und Ausblick auf die Untersuchungsergebnisse

47

Kapitel 2: Rechtliche Einordnung und wirtschaftlicher Hintergrund

49

§ 1 Rechtliche Einordnung und Vertragsinhalt

49

A. Einräumung der zivilrechtlichen Nutzungsbefugnisse an dem Arzneimittel

51

B. Verschaffung arzneimittelrechtlicher Marktzulassungen

54

I. Erwerb einer eigenen Marktzulassung

55

II. Die Übertragung von Arzneimittelzulassungen

56

C. Gegenleistungen der Generikahersteller

57

D. Zwischenergebnis

57

§ 2 Wirtschaftlicher Hintergrund

58

A. Frühe Marktzutritte als Patentauslaufstrategie

58

I. Besonderheiten im Produktlebenszyklus eines Arzneimittels

59

II. Frühe Marktzutritte als Patentauslaufstrategie

61

III. Zwischenergebnis

62

B. Frühe Marktzutritte als Bestandteil von Patentvergleichen

63

C. Zwischenergebnis

66

§ 3 Die Bedeutung des Marktzutrittszeitpunkts im Arzneimittelsektor

66

A. Begriff und Entstehung

67

B. Besondere Ausprägung im Arzneimittelsektor

68

I. Hohe Produktloyalität auf Nachfrageseite

69

1. Fehlende Finanzierungsverantwortung und Informationsdefizite der Patienten

70

2. Informationsdefizite und fehlende Finanzierungsverantwortung der Ärzte

72

3. Zwischenergebnis

74

II. Regulatorische Besonderheiten der Angebotsseite

74

1. Qualitätswettbewerb zwischen Originalpräparaten und Generika

75

2. Preiswettbewerb zwischen Originalpräparaten und Generika

75

a) Preiswettbewerb im Arzneimittelsektor

76

b) Preissensibilität und Substitutionsförderung

76

aa) Substitutionsförderung durch Rabattverträge

77

bb) Weitere Auswahlkriterien

78

C. Zwischenergebnis

78

Kapitel 3: Kartellrechtliche Würdigung

80

§ 1 Die kartellrechtliche Bewertung früher Marktzutritte in den USA

82

A. Relevante Aspekte des US-amerikanischen Zulassungsrechts

83

I. Paragraph IV Certifications

85

II. Exklusivitätsfrist für ANDA-Antragsteller

87

B. Meinungsstand zur Zulässigkeit autorisierter Generika

88

I. Verwaltungspraxis der FDA und Rechtsprechung US-amerikanischer Gerichte

90

II. Standpunkte im US-amerikanischen Schrifttum

91

III. Standpunkt der Federal Trade Commission

93

C. Übertragbarkeit der Argumente auf Deutschland und Europa

95

§ 2 Frühe Marktzutritte als Gegenstand kartellrechtlicher Marktverhaltenskontrolle

97

A. Behinderungsmissbrauch gem. §§ 19 Abs. 2 Nr. 1, 20 Abs. 1 GWB, Art. 102 lit. b) AEUV

98

I. Bestandsaufnahme

98

II. Adressatenkreis der Missbrauchsaufsicht

100

1. Sektorspezifische Marktabgrenzung im Arzneimittelbereich

101

2. Bedeutung von Immaterialgüterrechten im Rahmen der Beurteilung marktbeherrschender Stellungen

103

3. Zwischenergebnis

104

III. Unbillige Behinderung generischer Wettbewerber

104

1. Behinderung generischer Wettbewerber

105

2. Unbilligkeit der Behinderung

106

a) Immaterialgüterrechtliche Vorgaben

108

aa) Komplementärverhältnis zwischen Kartellrecht und Immaterialgüterrecht

108

bb) Bisherige Auflösungsversuche

110

cc) Konsequenzen für die Bewertung früher Marktzutritte

114

b) Rückschlüsse auf das Vorliegen besonderer Umstände aus dem AstraZeneca-Verfahren

115

aa) Die Entscheidungen der Gemeinschaftsgerichte in der Rechtssache AstraZeneca

116

bb) Rückschlüsse für die Bewertung früher Marktzutritte

117

cc) Zwischenergebnis

119

c) Qualität der Einschränkung

119

d) Intensität der Einschränkung

121

aa) Marktverschließung durch Marktzutrittsschranken

122

bb) Auswirkungen auf die Verbraucherwohlfahrt

126

cc) Konzeptionelle Bedenken

127

dd) Zwischenergebnis

129

IV. Ergebnis

130

B. Kartellrechtliche Lizenzierungspflicht als Korrektiv

130

I. Lizenzierungspflicht nach den Grundsätzen der Essential Facilities-Doktrin

132

1. Rechtsprechung des EuGH in den Rechtssachen Magill TV Guide und IMS Health

132

2. Verhinderung eines neuen Produktes

134

II. Diskriminierungstatbestand

136

III. Ergebnis

137

C. Wettbewerbsbeschränkende Vereinbarung gem. Art. 101 AEUV, § 1 GWB

138

I. Bezwecken oder Bewirken einer Wettbewerbsbeschränkung

139

II. Wettbewerbsbeschränkende Wirkung

140

1. Atypische Vertikalvereinbarung

141

2. Beschränkung der wirtschaftlichen Handlungsfreiheit unabhängiger Gen‍erikahersteller

144

3. Konzeptionelle Bedenken

147

III. Ergebnis

147

IV. Exkurs: Kartellrechtlich relevante Nebenabreden

148

1. Exklusiv- und Alleinlizenzen

148

2. Alleinbezugsverpflichtungen

149

D. Ergebnis

151

§ 3 Frühe Marktzutritte als Gegenstand kartellrechtlicher Marktstrukturkontrolle

152

A. Frühe Marktzutritte als Anwendungsfall der Zusammenschlusskontrolle

153

I. Aufgreiftatbestand der Zusammenschlusskontrolle

155

1. Verhältnis der europäischen zur nationalen Zusammenschlusskontrolle

155

2. Fusionskontrollrechtlich relevante frühe Marktzutritte und einschlägige Zusammenschlusstatbestände

156

a) Konzerninterne frühe Marktzutritte

157

b) Relevante Zusammenschlusstatbestände

159

3. Lizenzerwerb als Unternehmenszusammenschluss

162

a) Kein Vermögenserwerb nach § 37 Abs. 1 Nr. 1 GWB

163

b) Kontrollerwerb nach § 37 Abs. 1 Nr. 2 lit. a) GWB, Art. 3 Abs. 1 lit. b) FKVO

165

aa) Begriff der Kontrolle

166

bb) Exklusivlizenzen als Kontrollmittel

168

4. Langfristige Lieferverträge als Zusammenschlüsse

169

a) Faktische Kontrolle infolge wirtschaftlicher Abhängigkeit

170

b) Besonderheiten bei der Belieferung mit patentgeschützten Produkten

170

5. Übertragung einer arzneimittelrechtlichen Marktzulassung als Unternehmenszusammenschluss

171

a) Vermögenserwerb oder Kontrollerwerb nach § 37 GWB, Art. 3 FKVO

171

b) Anforderungen an den Vermögensteil zur Erfassung externen Unternehmenswachstums

172

aa) Begriff des externen Unternehmenswachstums

173

bb) Wesentlichkeit des Vermögensteils

175

(1) Quantitative oder qualitative Beurteilung

175

(2) Übergang der Marktstellung

177

(3) Zwischenergebnis

178

cc) Geschäftsbereich mit Marktpräsenz und Marktumsatz

179

c) Arzneimittelzulassungen als wesentliche Vermögensteile mit Marktpräsenz

180

6. Zwischenergebnis

181

7. Übertragung des Erstanbietervorteils als Unternehmenszusammenschluss

181

a) Erstanbietervorteil als anknüpfungsfähiger Vermögensbestandteil

182

b) Frühe Marktzutritte als Konzentrationsvorgänge

184

aa) Erhöhung der relativen Konzentration

187

bb) Konzentration durch Dekonzentrationshemmung

189

II. Zwischenergebnis

190

III. Eingriffsvoraussetzungen

191

1. Bestimmung des relevanten Marktes

191

2. Kontrollfähigkeit zukünftiger Marktstrukturen

192

3. Erhebliche Behinderung wirksamen Wettbewerbs

194

a) Entstehung einer marktbeherrschenden Stellung

195

b) Untersagungsrelevante Bewertungskriterien

196

aa) Qualität des Patents des Originalpräparateherstellers

197

bb) Indikation des Arzneimittels

198

cc) Größe des betroffenen Arzneimittelmarktes

198

dd) Zeitlicher Zusammenhang zwischen Marktzutritt und Patentablauf

199

IV. Ergebnis

200

B. Anwendungsfall des Marktstrukturmissbrauchs gem. Art. 102 AEUV, § 19 GWB

200

I. Ursprung und dogmatische Einwände

201

1. Die Continental Can-Entscheidung des EuGH

202

2. Einwände im Schrifttum

203

II. Anwendungsbereich des Marktstrukturmissbrauchs

205

1. Bislang diskutierte Anwendungsfälle

206

2. Eigenständiger Anwendungsbereich

208

Kapitel 4: Fazit und Ausblick

211

Literaturverzeichnis

217

Stichwortverzeichnis

233