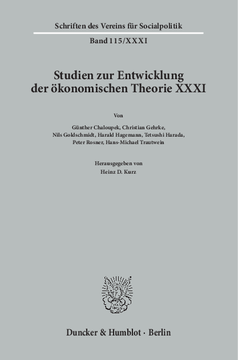 BOOK
Cite BOOK
Style
---
Kurz, H. (Ed.) (2016). Geschichte der Entwicklungstheorien. Studien zur Entwicklung der ökonomischen Theorie XXXI. Duncker & Humblot. https://doi.org/10.3790/978-3-428-54988-7
Kurz, Heinz D.. Geschichte der Entwicklungstheorien: Studien zur Entwicklung der ökonomischen Theorie XXXI. Duncker & Humblot, 2016. Book. https://doi.org/10.3790/978-3-428-54988-7
Kurz, H (ed.) (2016): Geschichte der Entwicklungstheorien: Studien zur Entwicklung der ökonomischen Theorie XXXI, Duncker & Humblot, [online] https://doi.org/10.3790/978-3-428-54988-7
---
Format
---
Geschichte der Entwicklungstheorien
Studien zur Entwicklung der ökonomischen Theorie XXXI
Editors: Kurz, Heinz D.
Schriften des Vereins für Socialpolitik, Vol. 115/XXXI
(2016)
Additional Information
Book Details
Publisher Name

Duncker & Humblot

ISBN

978-3-428-54988-7
978-3-428-14988-9 (print edition)

DOI

https://doi.org/10.3790/978-3-428-54988-7

Edition

1

Language

German

Pages

201

Subjects
Abstract
Die sieben Beiträge befassen sich mit der Geschichte der Entwicklungstheorien von deren Anfängen bis zur Gegenwart. Diese Geschichte hat zu einem beträchtlichen Teil Wurzeln im deutschen Schrifttum. Behandelt werden entwicklungstheoretische Ansätze in Deutschland in der Mitte des 19. Jahrhunderts von Friedrich List bis zur Historischen Schule, Werner Sombarts Sicht des technischen Fortschritts als treibender Kraft kapitalistischer Expansion im Vergleich mit den Sichtweisen Arthur Spiethoffs und Joseph A. Schumpeters, die Rolle externer Ersparnisse in den Analysen von Alfred Marshall bis zu John Chipman und Paul Krugman, das Prinzip der kumulativen und zirkulären Verursachung bei Gunnar Myrdal und Paul Krugman, die Theorien ausgewogenen bzw. unausgewogenen Wachstums bei Paul Rosenstein-Rodan, Ragnar Nurkse und W. Arthur Lewis bzw. bei Albert O. Hirschman und Paul Streeten sowie entwicklungstheoretische Vorstellungen im deutschen Ordoliberalismus, insbesondere im Werk Walter Euckens.»History of Development Theories«The seven essays in this volume deal with the history of development theories from their beginnings up until today. It is shown that this history has remarkable roots in the German literature of the nineteenth century. The authors dealt with in depth include Friedrich List, Werner Sombart, Joseph Schumpeter, Alfred Marshall, Paul Rosenstein-Rodan, Walter Eucken, Arthur W. Nurkse, Gunnar Myrdal and Paul Krugman.