Criminal procedure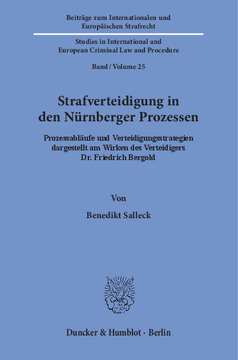 Additional Information
Book Details
ISBN

978-3-428-54801-9
978-3-428-14801-1 (print edition)

DOI

https://doi.org/10.3790/978-3-428-54801-9

Edition

1

Language

German

Pages

384

Collections

Subjects
Pricing
Institution

€ 104.00 (incl. local VAT if applicable)

Individual

€ 79.90 (incl. local VAT if applicable)
About The Author
Benedikt Salleck studierte Rechtswissenschaften an der Friedrich-Alexander-Universität in Erlangen. Ab 2011 promovierte er an der Philipps-Universität Marburg bei Prof. Dr. Christoph Safferling, LL.M. (LSE). Nach Referendariat in Nürnberg und New York arbeitet er seit 2012 als Rechtsanwalt.
Benedikt Salleck studied Law at the Friedrich-Alexander-University in Erlangen. From 2011 he did his Ph.D at the Philipps-University Marburg with Prof. Christoph Safferling, LL.M. (LSE). He completed his legal clerkship in Nuremburg and New York and works as a Lawyer since 2012.
Abstract
Die zentrale Themenstellung betrifft die Frage, in welchem Maße die Verteidigung in den Nürnberger Prozessen tatsächlichen Einfluss auf den Prozessverlauf und -ausgang nehmen konnte. Hierbei wird neben den Grundlagen der Verteidigungsarbeit auch auf Fragen der Rechtsstaatlichkeit bzw. Fairness der Verfahren eingegangen. Die juristische Arbeit der Verteidiger in den Nürnberger Prozessen ist bisher kaum erforscht. Im Kern der Arbeit steht daher die Auseinandersetzung mit konkreten Prozesssituationen, deren Darstellung und Einordnung unter besonderer Berücksichtigung der Verteidigung anhand von Primärquellen, vornehmlich der originalen Prozessprotokolle. Die Arbeit des Nürnberger Verteidigers Friedrich Bergold im Hauptprozess sowie in drei Nachfolgeprozessen wird insbesondere dahingehend aufbereitet, inwieweit Verteidigungsstrategien entwickelt und umgesetzt werden konnten. In einer abschließenden Betrachtung werden die gewonnenen Ergebnisse zusammengeführt und prozessübergreifend ausgewertet. »Defence in the Nuremberg Trials«

To what extent was the Defence able to influence the outcome of the Nuremberg Trials? This book gives a detailed analysis of the work of Friedrich Bergold, defence counsel before the International Military Tribunal and the Subsequent Nuremberg Trials. The author pictures and evaluates legal proceedings based on the original trial records with special regard to the right to a fair trial and the impact of the Defence's strategies. The study at hand closes with a cross analysis of the depicted trials that reveals general patterns.
Table of Contents
Section Title
Page
Action
Price

Vorwort

5

Inhaltsverzeichnis

7

Tabellenverzeichnis

13

Tabelle 1: Hauptkriegsverbrecherprozess – Prozessverlauf im Fall Bormann

59

Tabelle 2a: Hauptkriegsverbrecherprozess – Wesentliche Dokumente im Fall Martin Bormann

60

Tabelle 2b Hauptkriegsverbrecherprozess – \rWesentliche Zeugen im Fall Martin Bormann

61

Tabelle 3a: Zweiter Nachfolgeprozess – Wesentliche Dokumente im Fall Erhard Milch

98

Tabelle 3b: Zweiter Nachfolgeprozess – Wesentliche Zeugen im Fall Erhard Milch

99

Tabelle 4: Zweiter Nachfolgeprozess – Prozessverlauf

100

Tabelle 5: Vierter Nachfolgeprozess – Prozessverlauf im Fall Klein

176

Tabelle 6a: Vierter Nachfolgeprozess – Wesentliche Dokumente im Fall Horst Klein

176

Tabelle 6b: Vierter Nachfolgeprozess – Wesentliche Zeugen im Fall Horst Klein

177

Tabelle 7a: Neunter Nachfolgeprozess – Wesentliche Dokumente im Fall Ernst Biberstein

236

Tabelle 7b: Neunter Nachfolgeprozess – Wesentliche Zeugen im Fall Ernst Biberstein

237

Tabelle 8: Neunter Nachfolgeprozess – Prozessverlauf im Fall Biberstein

239

Abkürzungsverzeichnis

14

Kapitel 1: Grundlagen

17

A. Ziel der Studie, Aktenlage und Auswertungsmethodik

18

I. Ziel und Arbeitsmethode der Studie

18

II. Aktenlage und Auswertung

21

B. Zu den Nürnberger Prozessen

25

C. Die Person Dr. Friedrich Bergold

28

D. Grundlagen der Verteidigungsarbeit

32

I. Rechtsgrundlagen der Prozesse

32

1. Ablauf der Verfahren

34

a) Verfahrensablauf des IMT

34

b) Verfahrensablauf der NMT

37

2. Rechte und Rechtsstellung der Verteidigung

39

a) Beim IMT

39

b) Bei den NMT

40

c) Einschränkungen

41

3. Grundsätzliche Rechtsfragen

43

II. Weitere Einflüsse und Herausforderungen

45

1. Beauftragung der Verteidiger

45

2. Lebensumstände und Bezahlung

47

III. Konkrete Ausgestaltung und Schlussfolgerungen

49

E. Zusammenfassung der Ausgangslage der Verteidigung

52

Kapitel 2: Der Fall Martin Bormann (Hauptprozess)

55

A. Zur Person Martin Bormann

55

B. Die Verteidigung von Martin Bormann

58

I. Einführung und Besonderheiten

58

II. Die Anklageschrift

61

III. Der Gang des Verfahrens

62

1. Beweisvorbringen der Anklagebehörde

62

a) Verschwörung

63

b) Kriegsverbrechen und Verbrechen gegen die Menschlichkeit

64

2. Die Prozessführung der Verteidigung

67

a) Prozessuale und materiell-rechtliche Einwände

67

b) Eigenes Beweisvorbringen

69

3. Die Schlussvorträge

72

a) Das Plädoyer der Verteidigung

72

aa) Die Abwesenheit Bormanns

74

bb) Die Schuldvorwürfe

76

cc) Die vom Gericht nicht zugelassenen Ausführungen

78

b) Die Plädoyers der Ankläger

79

IV. Das Urteil

81

V. Nach dem Urteil

84

C. Fall und Verteidigung Martin Bormann – Fazit

87

Kapitel 3: Der Fall Erhard Milch (Zweiter Nachfolgeprozess)

93

A. Zur Person Erhard Milch

93

B. Die Verteidigung von Erhard Milch

98

I. Einführung und Besonderheiten

98

II. Die Anklage

101

1. Erster Anklagepunkt

101

2. Zweiter Anklagepunkt

103

3. Dritter Anklagepunkt

104

4. Gesamtübersicht und Auswertung der Anklage

104

III. Der Gang des Verfahrens

106

1. Die Prozessführung der Anklagebehörde

106

a) Die Eröffnungsrede der Anklage

106

b) Das Vorbringen der Anklage

107

aa) Bezüglich der Zwangsarbeit

107

bb) Bezüglich der medizinischen Experimente

113

c) Einordnung und Auswertung des Vorbringens

115

2. Die Prozessführung der Verteidigung

117

a) Verteidigungsstrategien und Beweisführung der Verteidigung

117

aa) Ausgangslage und Allgemeine Strategien

117

bb) Die Eröffnungsrede der Verteidigung

118

cc) Einwände gegen das Vorbringen der Anklage

120

dd) Strategie und Beweisführung bezüglich der Zwangsarbeit

123

ee) Strategie und Beweisführung bezüglich der medizinischen Experimente

126

b) Auswertung der Verteidigungsstrategien und des Vorbringens

129

3. Die Schlussvorträge

132

a) Das Plädoyer der Verteidigung

132

b) Das Plädoyer der Anklage

138

aa) In rechtlicher Hinsicht

139

bb) In tatsächlicher Hinsicht

142

c) Das Schlusswort des Angeklagten

147

IV. Das Urteil

148

1. Die Entscheidung des Gerichts

148

a) Erster Anklagepunkt

149

b) Zweiter Anklagepunkt

153

c) Dritter Anklagepunkt

155

2. Die Sondervoten

157

3. Einordnung des Urteils

159

V. Verteidigung nach dem Urteil

161

1. Gesuch an den US Supreme Court

162

2. Gesuche an den amerikanischen Militärgouverneur

163

3. Reaktion auf die Gesuche: Das Inter-Office Memorandum

166

4. Auswertung

166

C. Fall und Verteidigung Erhard Milch – Fazit

167

Kapitel 4: Der Fall Horst Klein (Vierter Nachfolgeprozess)

173

A. Zur Person Horst Klein

173

B. Die Verteidigung von Horst Klein

174

I. Einführung

174

II. Die Anklage

178

1. Die Anklageschrift

178

a) Erster Anklagepunkt

178

b) Zweiter Anklagepunt

180

c) Dritter und vierter Anklagepunkt

182

2. Protest gegen die Anklageschrift

182

3. Gesamtübersicht und Auswertung der Anklage

184

III. Der Gang des Verfahrens

186

1. Die Prozessführung der Anklagebehörde

186

a) Die Eröffnungsrede der Anklage

186

b) Das Vorbringen der Anklage

189

c) Einwände der Verteidigung gegen die Conspiracy

197

d) Einordnung und Auswertung des Vorbringens

197

2. Die Prozessführung der Verteidigung

200

a) Verteidigungsstrategien und Beweisführung der Verteidigung

200

aa) Ausgangslage und allgemeine Strategien

200

bb) Die Eröffnungsrede der Verteidigung

201

cc) Strategie und Beweisführung der Verteidigung

203

b) Auswertung der Verteidigungsstrategie und des Vorbringens

211

3. Die Schlussvorträge

212

a) Das Plädoyer der Anklage

213

b) Das Plädoyer der Verteidigung

214

c) Das Schlusswort des Angeklagten

219

d) Nach dem Schlusswort der Angeklagten

219

IV. Das Urteil

220

1. Die Entscheidung des Gerichts

220

a) Allgemeine Ausführungen

220

b) Zu Horst Klein

223

2. Das Sondervotum des Richters Musmanno

225

3. Einordnung des Urteils

226

V. Nach dem Urteil

227

C. Fall und Verteidigung Horst Klein – Fazit

230

Kapitel 5: Der Fall Ernst Biberstein (Neunter Nachfolgeprozess)

234

A. Zur Person Ernst Biberstein

234

B. Die Verteidigung von Ernst Biberstein

235

I. Einführung

235

II. Die Anklage

239

1. Die Anklageschrift

239

a) Erster Anklagepunkt

240

b) Zweiter und Dritter Anklagepunkt

242

2. Gesamtübersicht und Auswertung der Anklage

243

III. Der Gang des Verfahrens

244

1. Die Prozessführung der Anklagebehörde

244

a) Die Eröffnungsrede der Anklage

244

b) Das Vorbringen der Anklage gegen Ernst Biberstein

250

c) Einordnung und Auswertung des Vorbringens

255

2. Die Prozessführung der Verteidigung

257

a) Verteidigungsstrategien und Beweisführung der Verteidigung

257

aa) Ausgangslage

257

bb) Die Eröffnungsrede der Verteidigung

262

cc) Einwände gegen das Vorbringen der Ankläger

267

dd) Strategie und Beweisführung der Verteidigung

273

b) Auswertung der Verteidigungsstrategie und des Vorbringens

282

3. Die Schlussvorträge

284

a) Plädoyer der Verteidigung

286

b) Plädoyer der Anklage

290

c) Trial-Brief der Anklage

293

d) Trial-Brief der Verteidigung

299

e) Das Schlusswort des Angeklagten

301

IV. Das Urteil

301

1. Die Entscheidung des Gerichts

301

a) Allgemeine Ausführungen

302

b) Zu Ernst ­Biberstein

304

2. Einordnung des Urteils

306

V. Verteidigung nach dem Urteil

307

1. Gesuch an den US Supreme Court

307

2. Gesuche an den amerikanischen Militärgouverneur

308

3. Ergebnis und Auswertung

312

C. Fall und Verteidigung Ernst ­Biberstein – Fazit

313

Kapitel 6: Abschließende Betrachtung

318

A. Die untersuchten Fälle

318

B. Zur Verteidigung des abwesenden Angeklagten

322

C. Zur Feststellung der persönlich vorwerfbaren Schuld

323

D. Zum Beweisrecht und der Selbstbelastung der Angeklagten

325

E. Zu weiteren verfahrensrechtlichen Aspekten

327

F. Zur Umsetzung der Verteidigungsstrategien

328

G. Schlusswort

330

Anhang

333

Anhang 1: 1. Protokoll eines Zeitzeugengesprächs

335

Anhang 2: 2. Protokoll eines Zeitzeugengesprächs

340

Anhang 3: Charter of the International Military Tribunal

345

Anhang 4: Control Council Law No. 10

353

Anhang 5: Rules of Procedure

357

Anhang 6: Ordinance No. 7

361

Anhang 7: Befehlsstruktur des Bauprojekts Wewelsburg

368

Anhang 8: Affidavit ­Biberstein, Dokument NO-4314

369

Literaturverzeichnis

372

1. Quellen

372

2. Literatur

372

3. Abgedruckte Abbildungen

377

Personen- und Sachverzeichnis

378