Constitution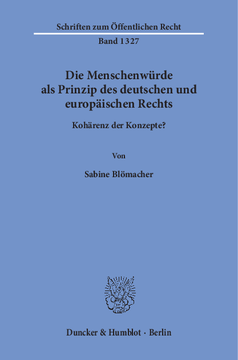 BOOK
Cite BOOK
Style
---
Blömacher, S. (2016). Die Menschenwürde als Prinzip des deutschen und europäischen Rechts. Kohärenz der Konzepte?. Duncker & Humblot. https://doi.org/10.3790/978-3-428-54973-3
Blömacher, Sabine. Die Menschenwürde als Prinzip des deutschen und europäischen Rechts: Kohärenz der Konzepte?. Duncker & Humblot, 2016. Book. https://doi.org/10.3790/978-3-428-54973-3
Blömacher, S, (2016): Die Menschenwürde als Prinzip des deutschen und europäischen Rechts: Kohärenz der Konzepte?, Duncker & Humblot, [online] https://doi.org/10.3790/978-3-428-54973-3
---
Format
---
Die Menschenwürde als Prinzip des deutschen und europäischen Rechts
Kohärenz der Konzepte?
Schriften zum Öffentlichen Recht, Vol. 1327
(2016)
Additional Information
Book Details
ISBN

978-3-428-54973-3
978-3-428-14973-5 (print edition)

DOI

https://doi.org/10.3790/978-3-428-54973-3

Edition

1

Language

German

Pages

322

Collections

Subjects
Pricing
Institution

€ 120.00 (incl. local VAT if applicable)

Individual

€ 89.90 (incl. local VAT if applicable)
About The Author
Sabine Blömacher hat Rechtswissenschaften an der Bayrischen Julius-Maximilians-Universität zu Würzburg, der University of Limerick, Irland, und der Westfälischen Wilhelms-Universität Münster studiert. Sie war studentische Hilfskraft am Institut für Informations-, Telekommunikations- und Medienrecht an der Westfälischen Wilhelms-Universität Münster bei Prof. Dr. Thomas Hoeren sowie wissenschaftliche Mitarbeiterin am Lehrstuhl für Bürgerliches Recht, Medizinrecht und Rechtsphilosophie an der Westfälischen Wilhelms-Universität Münster bei Prof. Dr. Thomas Gutmann. Erstes Staatsexamen am Oberlandesgericht Hamm; Referendariat am Hanseatischen Oberlandesgericht Hamburg mit Stationen in Hamburg und Helsinki; seit 2014 Tätigkeit als Rechtsanwältin in Hamburg.
Abstract
Die Debatte um die Bedeutung und den Schutz der Menschenwürde erlebt eine Renaissance, die sich schon länger nicht mehr nur auf das deutsche Recht beschränkt, sondern zugleich auch Frage des europäischen Rechts ist. Die Konzeption des Begriffes der Menschenwürde als kategorische Norm und unveräußerliches Gut ist ein zentraler Bestandteil des deutschen Rechts, während im europäischen Recht lange eine ausdrückliche Normierung der Menschenwürde fehlte, die erst durch die Charta der Grundrechte der Europäischen Union erfolgte. Der Vergleich der Würdekonzeptionen des deutschen und des europäischen Rechts bildet das Leitmotiv der Arbeit, die im ersten Teil als normtheoretische Analyse des Art. 1 Abs. 1 GG das Konzept der Menschenwürde kritisch hinterfragt und anhand dessen die Struktur, Funktion und Verwendung des Würdebegriffes im deutschen Recht aufgezeigt werden. Im zweiten Teil schließt daran die Frage der Rezeption und die Analyse des Würdebegriffes im Europäischen Recht an.»Human Dignity as Concept in German and European Law«Human dignity as a legal concept in German law is not a good to be balanced or weighed against other goods, but a prohibition norm. In European law, such a concept of dignity has not been established yet. Human dignity as concept in German and European law and the question of a coherence of these concepts are the guidelines of this analysis intending to point out the differences as well as common functions of both concepts.
Table of Contents
Section Title
Page
Action
Price

Vorwort

7

Inhaltsverzeichnis

9

Abkürzungsverzeichnis

14

Einleitung

17

Teil 1: Das Prinzip der Menschenwürde im deutschen Recht

20

A. Die Norm des Art. 1 Abs. 1 GG – Der Rechtsbegriff der Menschenwürde

20

I. Der Begriff der Würde des Menschen

21

II. Standort der Menschenwürde im deutschen Recht – Das Grundgesetz

26

1. Von den Anfängen bis zum Inkrafttreten des Grundgesetzes: Beratungen zur Normierung der Menschenwürde – Entwicklung einer grundgesetzlichen Fundamentalnorm

28

2. Entwicklung des Grundgesetzes seit 1949 – (Notwendige) Anpassung an eine sich wandelnde Gesellschaft?

35

B. Die Menschenwürdenorm in der verfassungsgerichtlichen Praxis

38

I. Art. 1 Abs. 1 GG in der Rechtsprechungstradition des Bundesverfassungsgerichts

40

II. Umgang des Bundesverfassungsgerichts mit der Menschenwürdegarantie des Art. 1 Abs. 1 GG – Entwicklungslinien der Rechtsprechung

43

1. Subjektives Moment des Schutzes der Menschenwürde – Verletzung der Menschenwürde durch eine verächtliche Gesinnung des "Täters"?

44

2. Strukturelemente der Menschenwürde in der Rechtsprechung des Bundesverfassungsgerichts

49

a) Nichtkonsequentialistisches Moment und absoluter Schutzanspruch – Die Abwehr- und Schutzpflichtfunktion der Menschenwürdegarantie

49

(1) Ausgangslage

49

(2) Die Grundsatzentscheidung – Verfassungsmäßigkeit des Luftsicherheitsgesetzes (15. Februar 2006)

51

b) Grundnorm personaler Autonomie

63

c) Fundamentalnorm

71

d) Der würdebasierte Kernbereichsschutz und das Verhältnis der Würdegarantie zu den anderen Grundrechten

73

(1) Ausgangslage

73

(2) Leitentscheidungen

77

(a) Entscheidung zum "Großen Lauschangriff" (3. März 2004) – Ausstrahlungswirkung der Menschenwürde

77

(b) Entscheidung zur "Online-Durchsuchung" (27. Februar 2008)

82

e) Entwicklung leistungs- und teilhaberechtlicher Aspekte aus der Garantie der Menschenwürde

87

(1) Leistungsrechtlicher Aspekt – Art. 1 Abs. 1 GG als Anspruchsgrundlage

87

(2) Teilhaberechtliche Dimension

99

(3) Resümee

100

III. Fazit

101

C. Rezeption des Art. 1 Abs. 1 GG im Spiegel der (Verfassungs-)‌Rechtswissenschaft

102

I. Verfassungsrechtliche Stellung des Art. 1 Abs. 1 GG

104

1. Allgemeine Bedeutung und Rechtscharakter des Art. 1 Abs. 1 GG – (Basis-) Grundrecht vs. Fundamentalnorm?

105

a) Art. 1 Abs. 1 GG als (Basis-)‌Grundrecht

107

b) Art. 1 Abs. 1 GG als Fundamentalnorm

116

(1) Grundannahme

116

(2) Modifikation: Ein Recht darauf, Rechte zu haben (Arendt/Enders)

119

(3) Resümee

122

c) Fazit

122

2. Das Verhältnis von Art. 1 Abs. 1 GG zu weiteren Grundrechten

123

3. "Würde gegen Würde" – Das Verhältnis von Achtungs- und Schutzpflicht zueinander

127

II. Theoretische Absicherung der normativen Aussage der Menschenwürde – Schutzbereichs- und Eingriffsbestimmung

135

1. Ausgangslage

135

2. Konkretisierungsdilemma – Grundproblem im Umgang mit dem Inhalt der Würdegarantie

137

3. Schutzgrund und Schutzbereichsbestimmung der Menschenwürde

141

a) Positive Versuche der Begriffsbestimmung – säkulare Versuche inhaltlicher Konkretisierung zwischen Religion und Philosophie

141

(1) "Mitgifttheorie"

141

(2) "Leistungstheorie"

144

(3) "Kommunikationstheorie"

148

(4) Fazit

150

b) Nicht- bzw. Negativdefinition der Menschenwürde und die Bedeutung der Objektformel – Lösungsansätze des Konkretisierungsdilemmas?

151

(1) Nicht- bzw. Negativdefinition

151

(2) Die "Objektformel" als Konkretisierungsansatz

153

4. Der Verletzungsbegriff in Bezug auf den Schutz der Menschenwürde

155

III. Die Unantastbarkeit der Würde des Menschen – Absolutes Konzept?

158

IV. Die Ewigkeitsgarantie – Bedeutung des Schutzes durch Art. 79 Abs. 3 GG

163

D. Zusammenfassung – Die strukturellen Elemente des Art. 1 Abs. 1 GG

164

I. Schutz des Individuums und Achtung des Menschen als Rechtsperson

166

II. Schutz und Achtung der personellen Autonomie

167

III. Gewährung fundamentaler Basisgleichheit

170

IV. Strukturbildende Basis der (Grund-)‌Rechtsordnung

171

V. Deontologische Struktur der Rechtsordnung und "oberstes Konstitutionsprinzip"

173

Teil 2: Die Menschenwürde im europäischen Recht – am Beispiel ausgewählter Rechtsnormen des Europarates sowie der Europäischen Union und der entsprechenden Rechtspraxis

175

A. Strukturelle Entwicklungen – Ausgangslage

175

B. Entwicklungslinien überstaatlicher Zusammenarbeit auf dem Weg zu einer gemeinschaftlichen Rechtsordnung

176

I. Institutionelle Gliederung des Europäischen (Menschen-)‌Rechtsschutzes

180

1. Ebene des Europarates

180

2. Ebene der Europäischen Gemeinschaften

181

II. Vorüberlegungen zu einem europäischen Menschenrechts- und Würdeschutz

181

C. Wesentliche Rechtsakte im Bereich des Grund- und Menschenrechtsschutzes auf Ebene des Europarates

185

I. Die EMRK und insbesondere Art. 3 EMRK – indirekter Schutz der menschlichen Würde?

185

1. Grundsätze der EMRK und rechtliche Bedeutung

187

a) Grundsätze

188

b) Schutzumfang und -richtung

189

2. Menschenwürdegehalt der einzelnen Konventionsnormen

191

3. Die Bedeutung des Art. 3 EMRK als absolut geschütztes Recht – indirekter Schutz der Menschenwürde?

193

4. Fazit

201

II. Die Antifolterkonvention – spezifische Ergänzung des in Art. 3 EMRK angelegten Schutzes

202

D. Die Rechtsprechung des Europäischen Gerichtshofes für Menschenrechte (EGMR)

204

I. Drohende Todesstrafe und der Schutz des Art. 3 EMRK

207

II. Auslieferung und Abschiebung bei drohender Folter oder erniedrigender oder unmenschlicher Behandlung

212

III. Die Bedeutung eines mutmaßlichen Terrorismusverdachts im Rahmen einer Ausweisungsentscheidung

217

1. Das Chahal-Urteil des EGMR

217

2. Weitere Entwicklungen

223

IV. Fragen zulässiger Haftbedingungen, Strafverfolgung und -vollstreckung

225

V. Die Menschenwürde als Motiv und Grundlage der EMRK

236

VI. Fazit

242

E. Die Menschenwürde in der Rechtsprechung des Europäischen Gerichtshofs (EuGH) – Ansätze eines Konzeptes?

243

I. Ausgangssituation – Der Fall Stauder und die Anfänge des Grundrechtsschutzes durch den EuGH

246

II. Entwicklungen post Stauder

248

III. "Transsexuellen"-Entscheidung

249

IV. Entscheidung zur Biopatentrichtlinie

251

V. Entscheidung in der Sache Omega Spielhallen- und Automaten-GmbH / Oberbürgermeisterin der Bundesstadt Bonn

258

VI. Fazit

265

F. Der Verfassungsentwurf für Europa und der Vertrag von Lissabon als ablösender Kompromiss – Entscheidende Entwicklungen (auch) im europäischen Grundrechtsschutz?

267

I. Regelungsgehalt und Zielsetzung des Verfassungsentwurfs und die Modifikationen des Vertrages von Lissabon

267

II. Menschenwürdeverständnis im Verfassungsentwurf und dem Vertrag von Lissabon – Die Charta der Grundrechte, die Bezugnahme in Art. 6 Abs. 3 EUV und Art. 2 EUV

269

1. Entstehung der Charta der Grundrechte – Neuland in der Entwicklung des Europäischen Gemeinschaftsrechts

269

2. Ziel- und Zwecksetzung der Charta

271

3. Europäischer Grundrechtsschutz post Verfassungsentwurf – Fortschreibung im Vertrag von Lissabon

273

a) Verfassungsentwurf, Vertrag von Lissabon und die Charta der Grundrechte – Menschenwürdeschutz als Novum des Gemeinschaftsrechts

273

b) Die Würde des Menschen – Titel 1 der Charta der Grundrechte der Europäischen Union, ein umfassender Katalog?

275

c) Bedeutung des Art. 6 Abs. 3 EUV (n.F.) – trotz Verbindlichkeit der Charta notwendig?

278

d) (Bindende) Werte und Prinzipien des Gemeinschaftsrechts? – Die Präambel und Art. 2 EUV

280

III. Fazit

281

G. Weitere Maßnahmen der Europäischen Union

283

H. Fazit: Die Europäischen Union zwischen unverbindlichen Erklärungen und bindenden Rechtssätzen – Der Weg zu einem europäischen Grundrechtsschutz

285

I. Grundrechte- und Menschenwürdetradition im europäischen Recht – Von der Wirtschafts- zur Wertegemeinschaft

285

II. Menschenwürdeschutz als "Exportschlager" des deutschen Rechts?

288

Abschließende Thesen

292

I. Bedeutung der Menschenwürde im deutschen und im Gemeinschaftsrecht

292

II. Entwicklung und Reichweite des gemeinschaftlichen Grundrechtsschutzes

292

III. Verhältnis des deutschen zum europäischen Begriff der Menschenwürde

294

Schlusswort

296

Literaturverzeichnis

298

Sachwortverzeichnis

315