Political structures: democracy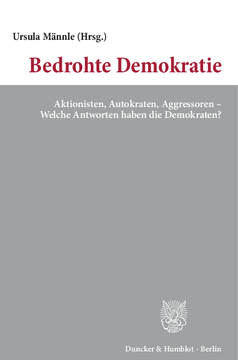 BOOK
Bedrohte Demokratie
Aktionisten, Autokraten, Aggressoren – Welche Antworten haben die Demokraten?
Editors: Männle, Ursula
(2016)
Additional Information
Book Details
ISBN

978-3-428-55013-5
978-3-428-15013-7 (print edition)

DOI

https://doi.org/10.3790/978-3-428-55013-5

Edition

1

Language

German

Pages

92

Collections

Subjects
Pricing
Institution

€ 18.00 (incl. local VAT if applicable)

Individual

€ 13.90 (incl. local VAT if applicable)
About The Author
Ursula Männle (Staatsministerin a.D.). Nach dem Studium der Politikwissenschaft, Soziologie und Neueren Geschichte an den Universitäten München und Regensburg war Ursula Männle von 1970 bis 1976 Wissenschaftliche Assistentin an der Akademie für Politische Bildung in Tutzing und von 1976 bis 2009 Professorin an der Katholischen Stiftungsfachhochschule für Sozialwesen in München, Abteilung Benediktbeuern. 1979/80 und 1983 bis 1994 war sie Mitglied des Deutschen Bundestages und von 1994 bis 1998 Bayerische Staatsministerin für Bundesangelegenheiten. Von 2000 bis 2013 gehörte sie dem Bayerischen Landtag an. Seit 2008 ist sie Honorarkonsulin des Königreichs Marokko, seit 2009 Vorsitzende des Landesverbandes der Pfälzer in Bayern und seit 2014 Vorsitzende der Hanns-Seidel-Stiftung.
Abstract
Angesichts globaler Krisen, die sich immer deutlicher auf innenpolitische Fragen auswirken, ist die Demokratie mehr gefordert denn je. Ihre Legitimität und Effektivität stehen auf einem neuen Prüfstand und es erweist sich als zunehmend schwierig, die Bürgerinnen und Bürger mitzunehmen. Wie es um den Zustand der Demokratie bestellt ist, wird in dem Sammelband »Bedrohte Demokratie« behandelt. Zwar ist eine Politisierung der Gesellschaft wahrzunehmen, doch äußert sich diese oft wenig konstruktiv. Unmutsbekundungen nehmen populistische Züge an und langfristiges Engagement in Parteien bleibt zusehends aus. Auch im internationalen Miteinander scheint das demokratische Ideal fern. Statt Kooperation bestimmen meist Machtinteressen das zwischenstaatliche Handeln und hemmen Reformen internationaler Organisationen sowie die Zivilgesellschaften in vielen Teilen der Welt. Doch die Autoren zeigen: Noch finden die Demokraten Antworten auf die Herausforderungen von Aktionisten, Autokraten und Aggressoren.»Democracy under Threat«Democracy is being challenged more than ever today in the face of global crises which are increasingly affecting internal political issues. Whether it is effective or even legitimate is subject to debate, and it is becoming more difficult to engage the general public. And yet the authors of the volume »Bedrohte Demokratie (Democracy under Threat)« show that democrats can still find an answer on the international and domestic stage to the challenges posed by extreme activists, autocrats and aggressors.
Table of Contents
Section Title
Page
Action
Price

Vorwort

5

Inhaltsverzeichnis

9

I. Innenpolitik

11

Gitta Connemann: Bedrohte Demokratie – Innenpolitische Herausforderungen

13

Die Parallelität der Ereignisse

13

Demokratiemüdigkeit ist ein schleichendes Gift

14

Auch die Vierte Gewalt muss um Glaubwürdigkeit kämpfen

14

Meinungsfreiheit heißt nicht Rechtsfreiheit

15

Hannah Beitzer: Politikverdrossen, passiv, wütend

17

Vertrauensverlust und Individualisierung

18

Engagement wird themenbezogener, kurzlebiger

18

Arm wählt nicht

19

Die Integrationskraft der alten Institutionen

19

Engagement wächst aus Betroffenheit

20

Gerhard Hirscher: Die "Alternative für Deutschland" (AfD) und Pegida als Protestphänomene – eine Gefahr für unsere Demokratie?

21

Protest und Populismus –was hält unsere Demokratie aus?

21

Der bisherige (Erfolgs-)‌Weg der AfD

22

Die Bundestagswahl 2013 und die späteren Wahlerfolge der AfD

22

Die AfD in der deutschen Politik und Gesellschaft

23

Die Pegida-Bewegung – Regionalphänomenoder gesamtdeutsche Protestbewegung?

25

Fazit: Eine neue Bedrohung in den Parlamenten und im außerparlamentarischen Raum?

29

Jasper von Altenbockum: Schreiben Sie das auf! Vom Vertrauensverlust in die politischen Institutionen

33

Hans Reichhart: Nachwuchsprobleme von Parteien

37

Gründe für den Mitgliederschwund

38

Altersgrenze

38

Wandel der Mitgliederstrukturen

39

Geringerer gesellschaftlicher Politisierungsgrad

39

Politikverdrossenheit

39

Konsequenzen für die Jugendverbände

40

Politische Bildung verstärken

40

Politische Themen aufgreifen

41

Konkretes Bewegen

41

Persönliche Beziehungen

42

Fazit

42

II. Außenpolitik

43

Florian Hahn: Außenpolitische Herausforderungen

45

Grenzenlose Krisen

45

Rücksichtlose Störenfriede

46

Hilflose Ordnungshüter

46

Wie geht es weiter?

47

Hanns W. Maull: Internationale Unordnung

49

Wie äußert sich die Erosion der internationalen Ordnung?

49

Normative Ausdehnung, Aushöhlung und Re-Ideologisierung der Weltpolitik

49

Krise der Institutionen

51

Staatszerfall

51

Politikfelder: Problemstau

51

Gewaltsame Konfliktaustragung: Terrorismus und staatliche Gewalt

52

Was verursacht die gegenwärtige internationale Unordnung?

53

Globalisierung als Folge wissenschaftlich-technologischer Innovationen

53

Ideologische Ursachen

54

Machtkonzentration, Machtverschiebungen, Machtdiffusion

54

Die strukturelle Überforderung der Politik

55

Johannes Varwick und Jana Windwehr: Global Governance als Chimäre. Die internationale Ordnung vor der Erosion?

57

Nationale und regionale Ebene

58

Globale Ebene: Ordnung unter Druck

59

Global Governance: eine Chimäre?

61

Multilateralismus im Wandel

63

Zukünftige Steuerungsfähigkeit?

65

Josef Braml: Im Westen nichts Neues. Historische Auseinandersetzung um Eurasien

69

Ironie, nicht Ende der Geschichte

69

Selbstblockade der USA

70

Business as Usual?

72

"Neue historische Auseinandersetzung"

74

Was können wir tun?

79

Stephan Roll / Lena Drummer: Das Scheitern der Arabellion und die Folgen für externe Demokratieförderung. Das Beispiel Ägypten

83

Einleitung

83

Negative Bilanz

83

Gründe für das Scheitern

85

Was vom Frühling bleibt

87

Folgen für externe Demokratieförderung

89