Consumer protection law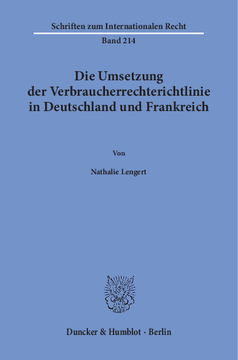 Additional Information
Book Details
ISBN

978-3-428-54888-0
978-3-428-14888-2 (print edition)

DOI

https://doi.org/10.3790/978-3-428-54888-0

Edition

1

Language

German

Pages

255

Collections

Subjects
Pricing
Institution

€ 92.00 (incl. local VAT if applicable)

Individual

€ 71.90 (incl. local VAT if applicable)
About The Author
Nathalie Lengert wurde als Tochter einer finnischen Mutter und eines französischen Vaters in München geboren. Ihr Studium der Rechtswissenschaften an der Ludwig-Maximilians-Universität München und an der Université Panthéon-Assas schloss sie mit französischer Licence und Maîtrise sowie dem Ersten Juristischen Staatsexamen 2013 ab. Sie promovierte an der LMU am Lehrstuhl für Bürgerliches Recht, Zivilverfahrensrecht, Europäisches Privat- und Verfahrensrecht bei Frau Prof. Dr. Beate Gsell und arbeitete bis Ende 2015 promotionsbegleitend als wissenschaftliche Mitarbeiterin an ihrem Lehrstuhl. Seit Oktober 2014 ist sie Referendarin am Oberlandesgericht München.
Abstract
Die Arbeit untersucht rechtsvergleichend die Umsetzungen der Verbraucherrechte-Richtlinie in Deutschland und Frankreich und widmet sich dabei insbesondere der Frage, inwieweit europäisches Richtlinienrecht tatsächlich geeignet ist, seinem proklamierten Ziel, ein hohes Verbraucherschutzniveau zu gewährleisten und gleichzeitig Rechtszersplitterung abzubauen und damit rechtliche Hemmnisse für den grenzüberschreitenden Handel zu beseitigen, gerecht wird.

Nathalie Lengert kommt zu dem Ergebnis, dass durch die Verbraucherrechte-Richtlinie und ihre Umsetzung durchaus Rechtsvereinheitlichungsfortschritte erzielt wurden. Andererseits wird nochmals deutlich gemacht, dass insbesondere die unterschiedlich weit reichenden Sanktionen bei Informationspflichtverstößen zu fortbestehenden Divergenzen in der Rechtslage führen und namentlich dem Widerrufsrecht vor diesem Hintergrund in Frankreich, wo als Folge eines Verstoßes weiterhin Nichtigkeit (nullité) droht, mittelbar eine geringere Rolle zukommt als in Deutschland. »The Implementation of the Consumer Rights Directive in Germany and France«

The Directive on Consumer Rights is another step towards the harmonisation of european consumer contract law in the name of the completion of the internal market. But to what extent is european directive law actually able to decrease legal fragmentation through its implementation by the member states and thus to remove regulatory barriers for the common market? The draftperson researches these questions by means of a comparative analysis of the german an french implementation of the Consumer Rights Directive.
Table of Contents
Section Title
Page
Action
Price

Vorwort

3

Inhaltsverzeichnis

5

Einleitung

17

A. Historische Entwicklung des Verbraucherrechts

18

I. Nationale Bestrebungen zum Verbraucherschutz

18

1. In Deutschland

19

2. In Frankreich

20

II. Europäische Bestrebungen zum Verbraucherschutz

21

1. Entwicklung des europäischen Verbraucherschutzes

21

2. Verbraucherrecht als europäisches Richtlinienrecht

22

3. Hintergrund der Vollharmonisierung: ökonomisches Modell

24

a) Ziel: Verwirklichung des Binnenmarktes

25

b) Fehlen empirischer Beweise für Hindernisse durch Rechtszersplitterung

26

c) Interdependenz von Kompetenz und Wettbewerbsregulierung

27

aa) Vollharmonisierung im Verbraucherrecht; kompetenzrechtliche Hintergründe

27

bb) Wettbewerbsregulierung im Hintergrund

29

B. Ziel der Arbeit

30

Teil 1: Allgemeiner systematischer Vergleich des deutschen und französischen Verbraucherrechts

32

A. Deutscher integrativer Ansatz

33

I. Systematik der Integration ins BGB im Rahmen der Schuldrechtsreform

33

II. Auslagerung der Informationspflichten

35

B. Auslagerung in den französischen Code de la consommation

35

I. Code de la consommation – Reine Kompilation oder kohärente Kodifikation?

36

II. Systematik des Code de la consommation

36

C. Rechtspolitisches Umfeld

38

I. Modellvergleich: Verbraucherrecht als Teil des allgemeinen Zivilrechts?

39

1. Für eine Auslagerung

39

2. Gegen eine Auslagerung

41

3. Stellungnahme

42

II. Verbraucherrecht als Teil des europäischen Privatrechts

44

1. Kritik auf erster Ebene an der Richtlinie selbst

45

a) Demokratiedefizit

45

b) Subsidiaritätsprinzip und Verhältnismäßigkeitsprinzip

45

c) System- und Wertungswidersprüche zwischen EU-Richtlinien

46

2. Kritik auf zweiter Ebene an den Auswirkungen auf das nationale Recht

47

a) Eingriff in die Privatautonomie

47

b) Einfluss des Verbraucherrechts auf das allgemeine Zivilrecht: System- und Wertungswidersprüche

48

c) Fragmentierung des nationalen Zivilrechts

50

d) Verlust nationaler Besonderheiten

51

e) Uneinheitliches Recht in der Union

51

D. Zusammenfassung Teil 1 und Schlussfolgerung

52

Teil 2: Konkreter Rechtsvergleich vor Umsetzung der Verbraucherrechterichtlinie

54

A. Reichweite von Richtlinien

54

I. Anwendungsbereich

55

II. Regelungsbereich

55

III. Wirkungsweise im Rahmen richtlinienkonformer Auslegung

56

B. Konkreter Vergleich der Umsetzungsgesetze von Deutschland und Frankreich zweier mindestharmonisierender Richtlinien

57

I. Haustürgeschäfte

58

1. Anwendungsbereich

59

a) Persönlicher Anwendungsbereich

59

aa) Definition des Verbrauchers

59

(1) Vorgaben der Haustürwiderrufsrichtlinie

59

(2) Rechtslage in Deutschland

59

(3) Rechtslage in Frankreich

60

bb) Definition des Vertragspartners

62

(1) Vorgaben der Haustürwiderrufsrichtlinie

62

(2) Rechtslage in Deutschland

63

(3) Rechtslage in Frankreich

63

b) Sachlicher Anwendungsbereich

63

aa) Definition des Haustürgeschäfts

63

(1) Vorgaben der Haustürwiderrufsrichtlinie

63

(2) Rechtslage in Deutschland

65

(a) Vertragsart

65

(b) Verhandlungssituation

66

(3) Rechtslage in Frankreich

67

(a) Vertragsart

67

(b) Verhandlungssituation

68

bb) Ausschlüsse

69

(1) Vorgaben der Haustürwiderrufsrichtlinie

69

(2) Rechtslage in Deutschland

70

(3) Rechtslage in Frankreich

71

c) Schlussfolgerung hinsichtlich des Anwendungsbereichs

72

2. Informationspflichten

73

a) Informationspflichten: Schriftliche Widerrufsbelehrung

73

aa) Vorgaben der Haustürwiderrufsrichtlinie

73

bb) Rechtslage in Deutschland

74

cc) Rechtslage in Frankreich

74

(1) Allgemeine Informationspflichten des Cconsom

75

(a) Art. L. 111-1 Cconsom: Informationspflichten des Verkäufers

75

(b) Art. L. 111-2 Cconsom: Informationspflichten des Dienstleisters

75

(c) Art. L. 113-1 ff. Cconsom: "prix et conditions de vente"

76

(d) Art. L. 114-1 Cconsom: Lieferfristen

76

(e) Art. L. 134-1 und-2 Cconsom: "remise des contrats"

76

(2) Spezifische Informationspflichten für Haustürgeschäfte

76

b) Sanktion der fehlenden oder fehlerhaften Widerrufsbelehrung

77

aa) Vorgaben der Haustürwiderrufsrichtlinie

77

bb) Rechtslage in Deutschland

77

cc) Rechtslage in Frankreich

78

(1) Zivilrechtliche Sanktionen, insbesondere die "nullité"

78

(2) Strafrechtliche Sanktionen

80

c) Schlussfolgerung hinsichtlich Informationspflichten

81

3. Das Widerrufsrecht

81

a) Widerrufsfrist

83

aa) Dauer der Widerrufsfrist

83

Teil 3: Konkreter Rechtsvergleich der Umsetzung der VRRL

133

A. Wechsel der europäischen Strategie hin zur Vollharmonisierung

133

I. Reichweite vollharmonisierender Richtlinien

134

II. Reichweite der Verbraucherrechterichtlinie

137

B. Konkreter Vergleich der Umsetzungsgesetze

140

I. Anwendungsbereich

142

1. Allgemeiner Geltungsbereich

142

a) Vorgaben der VRRL

142

b) Umsetzung in Deutschland

145

c) Umsetzung in Frankreich

146

d) Schlussfolgerung hinsichtlich des allgemeinen Geltungsbereichs

147

2. Persönlicher Anwendungsbereich

148

a) Verbraucher

148

aa) Vorgaben der VRRL

148

bb) Umsetzung in Deutschland

148

cc) Umsetzung in Frankreich

150

b) Unternehmer

151

aa) Vorgaben der VRRL

151

bb) Umsetzung in Deutschland

151

cc) Umsetzung in Frankreich

151

c) Schlussfolgerung hinsichtlich des persönlichen Anwendungsbereichs

152

3. Sachlicher Anwendungsbereich

152

a) Fernabsatzvertrag

152

aa) Vorgaben der VRRL

152

bb) Umsetzung in Deutschland

153

cc) Umsetzung in Frankreich

154

b) Außerhalb von Geschäftsräumen abgeschlossener Vertrag

154

aa) Vorgaben der VRRL

154

bb) Umsetzung in Deutschland

155

cc) Umsetzung in Frankreich

156

c) Schlussfolgerung hinsichtlich des sachlichen Anwendungsbereichs

157

4. Zusammenfassende Schlussfolgerungen hinsichtlich des Anwendungsbereichs

157

a) Allgemeiner Anwendungsbereich

157

b) Persönlicher Anwendungsbereich

158

c) Sachlicher Awendungsbereich

158

II. Informationspflichten und formelle Anforderungen

158

1. Informationspflichten bei anderen als Fernabsatzverträgen oder außerhalb von Geschäftsräumen geschlossenen Verträgen

159

a) Vorgaben der VRRL

159

b) Umsetzung in Deutschland

161

c) Umsetzung in Frankreich

162

d) Schlussfolgerung hinsichtlich allgemeiner Informationspflichten

163

2. Informationspflichten bei Fernabsatz- und außerhalb von Geschäftsräumen geschlossenen Verträgen

164

a) Vorgaben der VRRL

164

b) Umsetzung in Deutschland

167

c) Umsetzung in Frankreich

168

d) Schlussfolgerung hinsichtlich Informationspflichten für besondere Vertriebsarten

169

3. Formale Anforderungen für besondere Vertriebsarten

169

a) Formale Anforderungen für außerhalb von Geschäftsräumen geschlossene Verträge

169

aa) Vorgaben der VRRL

169

bb) Umsetzung in Deutschland

170

cc) Umsetzung in Frankreich

170

b) Formale Anforderungen bei Fernabsatzverträgen

171

aa) Vorgaben der VRRL

171

bb) Umsetzung in Deutschland

173

cc) Umsetzung in Frankreich

174

c) Schlussfolgerungen hinsichtlich formaler Anforderungen für besondere Vertriebsarten

175

4. Sanktionen

175

a) Vorgaben der VRRL

175

b) Umsetzung in Deutschland

176

c) Umsetzung in Frankreich

176

5. Zusammenfassende Schlussfolgerungen hinsichtlich Informationspflichten

178

a) Allgemeine Informationspflichten

178

b) Informationspflichten und formale Anforderungen bei Fernabsatzverträgen und außerhalb von Geschäftsräumen geschlossenen Verträgen

178

c) Sanktionen bei fehlender oder fehlerhafter Information

179

III. Widerruf

179

1. Widerrufsrecht und -frist

180

a) Vorgaben der VRRL

180

b) Umsetzung in Deutschland

181

c) Umsetzung in Frankreich

182

2. Nichtaufklärung über das Widerrufsrecht

183

a) Vorgaben der VRRL

183

b) Umsetzung in Deutschland

183

c) Umsetzung in Frankreich

183

3. Ausübung des Widerrufsrechts

184

a) Vorgaben der VRRL

184

b) Umsetzung in Deutschland

185

c) Umsetzung in Frankreich

185

d) Schlussfolgerung hinsichtlich Ausübung des Widerrufsrechts

186

4. Pflichten des Unternehmers im Widerrufsfall

186

a) Vorgaben der VRRL

186

b) Umsetzung in Deutschland

187

c) Umsetzung in Frankreich

187

d) Schlussfolgerung hinsichtlich der Pflichten des Unternehmers im Widerrufsfall

188

5. Pflichten des Verbrauchers im Widerrufsfall

188

a) Vorgaben der VRRL

188

b) Umsetzung in Deutschland

190

c) Umsetzung in Frankreich

191

d) Schlussfolgerung hinsichtlich der Pflichten des Verbrauchers im Widerrufsfall

191

6. Wirkungen des Ausübung des Widerrufsrechts auf akzessorische Verträge

192

a) Vorgaben der VRRL

192

b) Umsetzung in Deutschland

192

c) Umsetzung in Frankreich

193

d) Schlussfolgerung hinsichtlich der Widerrufsfolgen auf akzessorische Verträge

193

7. Ausnahmen vom Widerrufsrecht

193

a) Vorgaben der VRRL

193

b) Umsetzung in Deutschland

195

c) Umsetzung in Frankreich

196

d) Schlussfolgerung hinsichtlich Ausnahmen vom Widerrufsrecht

196

8. Zusammenfassende Schlussfolgerungen hinsichtlich des Widerrufsrechts

197

IV. Sonstige Verbraucherrechte

198

1. Lieferung

198

a) Vorgaben der VRRL

198

b) Umsetzung in Deutschland

199

c) Umsetzung in Frankreich

200

d) Schlussfolgerungen hinsichtlich der Lieferung

201

2. Gefahrübergang

201

a) Vorgaben der VRRL

201

b) Umsetzung in Deutschland

202

c) Umsetzung in Frankreich

202

d) Schlussfolgerungen hinsichtlich des Gefahrübergangs

202

3. Entgelte für die Verwendung bestimmter Zahlungsmittel

203

a) Vorgaben der VRRL

203

b) Umsetzung in Deutschland

203

c) Umsetzung in Frankreich

204

d) Schlussfolgerungen hinsichtlich Zahlungsmittel

204

4. Telefonische Kommunikation

204

a) Vorgaben der VRRL

204

b) Umsetzung in Deutschland

204

c) Umsetzung in Frankreich

205

d) Schlussfolgerungen hinsichtlich telefonischer Kommunikation

205

5. Zusätzliche Zahlungen

205

a) Vorgaben der VRRL

205

b) Umsetzung in Deutschland

206

c) Umsetzung in Frankreich

206

d) Schlussfolgerungen hinsichtlich zusätzlicher Zahlungen

206

6. Unbestellte Waren oder Dienstleistungen

207

a) Vorgaben der VRRL

207

b) Umsetzung in Deutschland

207

c) Umsetzung in Frankreich

208

d) Schlussfolgerungen hinsichtlich unbestellter Waren oder Dienstleistungen

208

C. Schlussfolgerungen aus dem konkreten Vergleich

208

I. Systematik und Schwächen der Umsetzung

208

1. Deutschland

208

2. Frankreich

211

II. Niveau der Vereinheitlichung

211

1. Anwendungsbereich

212

2. Informationspflichten und formale Anforderungen

212

3. Widerrufsrecht

213

4. Sonstige Verbraucherrechte

214

III. Zwischenergebnis

214

Teil 4: Fazit

216

A. Erreichung der Ziele der Kommission in der VRRL

216

I. Stärkung des Verbrauchervertrauens durch einheitliches hohes Verbraucherschutzniveau

217

1. Einheitliches Verbraucherschutzniveau

217

a) Vereinheitlichung der Regelungen der verschiedenen Richtlinien

217

b) Vereinheitlichung der verschiedenen nationalen Regelungen durch die Umsetzung der vollharmonisierenden Richtlinie

219

aa) Anwendungsbereich

219

(1) Persönlicher Anwendungsbereich

219

(2) Sachlicher Anwendungsbereich

220

bb) Informationspflichten

221

cc) Widerruf

222

dd) Erfüllung von Fernabsatzverträgen

222

ee) Nicht bestellte Waren oder Dienstleistungen

223

ff) Sonstige Verbraucherrechte

223

gg) Schlussfolgerungen

223

2. Hohes Verbraucherschutzniveau

224

a) Senkung des Schutzniveaus?

224

aa) Veränderung des Schutzniveaus in Deutschland

225

bb) Veränderung des Schutzniveaus in Frankreich

226

cc) Bilanz

226

b) Kumulation von Schutzstandards

227

II. Stärkung des Binnenmarktes durch Senkung der Transaktionskosten für den grenzüberschreitenden Handel?

227

III. Wahrung des Subsidiaritätsprinzips?

229

IV. Fazit zur Erreichung der Ziele

230

B. Verengung der Umsetzungsspielräume; Einfluss auf Umsetzungsmodelle?

231

I. System- und Wertungswidersprüche innerhalb des nationalen Rechts aufgrund der Umsetzung

231

II. Spricht Vollharmonisierung gegen integrierende Umsetzung?

232

C. Ausblick

233

Literaturverzeichnis

236

Stichwortverzeichnis

249