Advertising, marketing & sponsorship law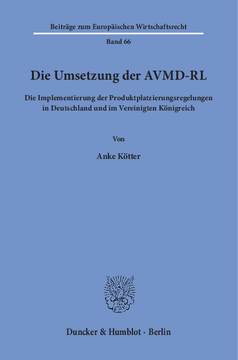 Additional Information
Book Details
ISBN

978-3-428-54852-1
978-3-428-14852-3 (print edition)

DOI

https://doi.org/10.3790/978-3-428-54852-1

Edition

1

Language

German

Pages

452

Collections

Subjects
Pricing
Institution

€ 150.00 (incl. local VAT if applicable)

Individual

€ 116.90 (incl. local VAT if applicable)
About The Author
Anke Kötter begann im Jahr 2000 in Heidelberg ihr Jurastudium, das sie mit dem Zweiten Staatsexamen (2008) abschloss. Parallel zum Zweiten Staatsexamen absolvierte sie einen Masterstudiengang Medienrecht am Mainzer Medieninstitut, der zu einer Referententätigkeit in einer deutschen Landesmedienanstalt führte. Im Jahr 2010 ging sie nach London, wo sie einen Master im IP Law absolvierte, anschließend arbeitete sie ab 2011 promotionsbegleitend in einer Frankfurter Wirtschaftsrechtsboutique. Mit einem DAAD-Stipendium führte es sie 2013 nach London zurück, wo sie ihre rechtsvergleichende Dissertation abschloss. Seit 2013 ist sie in München als Rechtsanwältin tätig.
Abstract
»The Implementation of the AMSD«

In respect of Product Placement in audiovisual media services, the Audiovisual Media Services Directive (AMSD) has led to extensive legal changes. The AMSD offers the possibility for member states that, under certain circumstances, media service provider can permissibly make use of product placement also on television and on telemedia. The book investigates the legal implementation of the respective regulations on European as well as on German level and draws a comparison to the implementation in the United Kingdom. Die Audiovisuelle Mediendienste-Richtlinie hat für die Werbeform der Produktplatzierung in audiovisuellen Mediendiensten weitreichende rechtliche Änderungen herbeigeführt. Mediendiensteanbieter können diese Werbeform nun unter bestimmten Voraussetzungen im Fernsehen und in Telemedien verwenden. Die Arbeit untersucht die Voraussetzungen für die Werbeform der Produktplatzierung, wie sie sich aus der AVMD-RL ergeben, und überprüft die Umsetzung der entsprechenden Vorschriften in Deutschland und im Vereinigten Königreich. Hierbei zeigt sich, dass bezüglich der Regelungen auf allen Ebenen noch offene Rechtsfragen bestehen, für die in diese Untersuchung Lösungswege aufgezeigt werden. Zudem kommt die Autorin im Hinblick auf die Regelungen in Deutschland zu dem Ergebnis, dass diese bezüglich des öffentlich-rechtlichen Rundfunks nicht verfassungskonform sind. Hinsichtlich des Vereinigten Königreichs führt die Verfasserin in das dort bestehende Rundfunksystem ein und erläutert vor diesem Hintergrund die Umsetzung der Vorschriften zur Produktplatzierung.
Table of Contents
Section Title
Page
Action
Price

Vorwort

7

Inhaltsverzeichnis

9

1. Kapitel: Einführung

21

A. Einleitung

21

B. Gang der Untersuchung

25

2. Kapitel: Die Normierung der Produktplatzierung auf europäischer Ebene

27

A. Der medienrechtliche europäische Hintergrund

27

I. Medienregulierung in Europa

27

II. Doppelcharakter der Medien als Kultur- und Wirtschaftsgut

29

III. Medienpluralismus und Medienfreiheit

32

IV. Konvergenz der Medien

34

V. Harmonisierung mit nationalen Systemen

37

VI. Einschlägige medienrechtliche Regelungen auf europäischer Ebene

38

1. Europäische Grundrechte mit besonderem Bezug zum Medienrecht

39

2. Grundfreiheiten mit besonderem Bezug zum Medienrecht

40

3. Europäisches Übereinkommen über das grenzüberschreitende Fernsehen (FÜ)

42

4. Art. 167 AEUV

43

5. Einschlägiges Sekundärrecht

46

B. Die AVMD-RL

47

I. Die historische Entwicklung der AMVD-RL

47

1. Die Entwicklung der Fernseh-RL

47

2. Von der Fernseh-RL zur AVMD-RL

50

II. Die Regelungen der Produktplatzierung innerhalb der AVMD-RL

51

1. Die rechtlichen Rahmenbedingungen der Produktplatzierung in Europa vor Erlass der AVMD-RL im Jahr 2007

51

a) Regelungen der Fernseh-RL hinsichtlich Werbung im Fernsehen

52

b) Erwägungsgründe

52

c) Begriffsbestimmungen

52

d) Kapitel IV der Fernseh-RL

53

e) Erfassung der Produktplatzierung durch die werbebezogenen Klauseln der Fernseh-RL

54

f) Ergebnis

59

2. Regelungsziel und Grundlagen der AVMD-RL

59

a) Regelungsziel der AVMD-RL, insbesondere hinsichtlich Produktplatzierungen

59

aa) Generelles Regelungsziel der Richtlinie

60

bb) Regelungsziel der Richtlinie hinsichtlich Produktplatzierung

61

b) Kompetenzgrundlage der AVMD-RL

62

c) Anwendungsbereich der AVMD-RL

63

aa) Audiovisueller Mediendienst als Anknüpfungspunkt

64

(1) Dienstleistung im Sinne der Art. 56 und 57 AEUV

64

(2) Redaktionelle Verantwortung eines Mediendiensteanbieters

65

(3) Bereitstellung von Sendungen als Hauptzweck

66

(4) Der Bezug zur Information, Unterhaltung, Bildung

68

(5) Die Bestimmung für die allgemeine Öffentlichkeit

69

(6) Übertragung über elektronische Kommunikationsnetze

70

(7) Audiovisuelle kommerzielle Kommunikation als eigenständiger Mediendienst?

70

bb) Unterscheidung in lineare und nicht-lineare Dienste

71

cc) Grenzen des Anwendungsbereichs der AVMD-RL

73

d) Grundlegendes Regelungskonzept der AVMD-RL

74

e) Herkunftslandprinzip als rechtliches Grundprinzip der AVMD-RL und sein Bezug zu den Produktplatzierungsregelungen

76

III. Die Erfassung der Produktplatzierung im Normengefüge der AVMD-RL

78

1. Begriffsbestimmung sowie Abgrenzung der einzelnen Werbeformen von der Produktplatzierung durch die AVMD-RL

78

a) "Audiovisuelle kommerzielle Kommunikation", Art. 1 Abs. 1 h) AVMD-RL

79

b) "Fernsehwerbung", Art. 1 Abs. 1 lit. h) AVMD-RL

81

c) "Schleichwerbung", Art. 1 Abs. 1 lit. j) AVMD-RL

83

d) "Sponsoring", Art. 1 Abs. 1 lit. k) AVMD-RL

84

e) "Teleshopping", Art. 1 Abs. 1 lit. l) AVMD-RL

85

f) "Produktplatzierung", Art. 1 Abs. 1 lit. m) AVMD-RL

86

aa) Die Definitionsmerkmale der Produktplatzierung

87

(1) Jede Form audiovisueller kommerzieller Kommunikation

87

(2) Einbeziehung/Bezugnahme eines Produkts, einer Dienstleistung oder der entsprechenden Marke

87

(a) Themenplatzierung als äußere Grenze zulässiger Produktplatzierung

89

(b) Zwischenergebnis

90

(3) Erscheinen in einer Sendung

91

(4) Gegen Entgelt oder eine ähnliche Gegenleistung

91

(a) Keine Einführung einer generellen Bagatellgrenze für Produktplatzierung

92

(b) Berechnung des bedeutenden Wertes

93

(c) Auslegungsweite des Definitionsmerkmals

95

(d) Empfänger der Gegenleistung

95

(5) Zwischenergebnis zu den Definitionsmerkmalen der Produktplatzierung

97

bb) Verhältnis der Produktplatzierung zu den anderen, in der AVMD-RL legal definierten Werbeformen

98

(1) Verhältnis zum Oberbegriff der audiovisuellen kommerziellen Kommunikation

98

(2) Verhältnis zur Fernsehwerbung

99

(3) Verhältnis zur Schleichwerbung

101

(a) Produktplatzierung als Unterfall der Schleichwerbung

101

(b) Nebeneinander von Produktplatzierung und Schleichwerbung

102

(c) Stellungnahme

103

(d) Ergebnis

105

(4) Verhältnis zum Sponsoring

106

(5) Abgrenzung zum Teleshopping

108

(6) Abgrenzung zur Produktionshilfe

108

(7) Ergebnis

109

2. Generelle Anforderungen für audiovisuelle kommerzielle Kommunikation, Art. 9 AVMD-RL

109

a) Materielle Anforderungen an audiovisuelle kommerzielle Kommunikation

110

aa) Erfordernis der leichten Erkennbarkeit audiovisueller kommerzieller Kommunikation, Art. 9 Abs. 1 lit. a) AVMD-RL

110

bb) Verbot von Techniken der unterschwelligen Beeinflussung, Art. 9 Abs. 1 lit. b) AVMD-RL

110

cc) Beurteilung der materiellen Grundvorschriften für alle Formen der audiovisuellen kommerziellen Kommunikation

110

b) Absolute Grenzen der audiovisuellen kommerziellen Kommunikation

114

c) Sonderregelung für Kindersendungen

114

3. Die Vorgaben für die Produktplatzierung, Art. 11 AVMD-RL

115

a) Grundsätzliches Verbot, Art. 11 Abs. 2 AVMD-RL

116

b) Ausnahmeregelung, Art. 11 Abs. 3 AVMD-RL

116

c) Konkrete Anforderungen an Produktplatzierung in Sendungen, Art. 11 Abs. 3 S. 3ff. AVMD-RL

120

aa) Die Kennzeichnungspflicht, Art. 11 Abs. 3 S. 3 lit. d) AVMD-RL

121

bb) Keine unzulässige Beeinträchtigung von redaktioneller Verantwortung und Unabhängigkeit des Mediendiensteanbieters, Art. 11 Abs. 3 S. 3 lit. a) AVMD-RL

124

cc) Keine unmittelbare Kaufaufforderung, Art. 11 Abs. 3 S. 3 lit. b) AVMD-RL

127

dd) Keine zu starke Herausstellung des Produkts, Art. 11 Abs. 3 S. 3 lit. c) AVMD-RL

128

d) Absolute Grenzen der Produktplatzierung, Art. 11 Abs. 3 S. 2 AVMD-RL und Art. 11 Abs. 4 AVMD-RL

129

4. Regelungen zur Fernsehwerbung, Art. 19ff. AVMD-RL

130

a) Trennungsgebot, Art. 19 Abs. 1 AVMD-RL, und Produktplatzierung

130

b) Ergebnis

133

C. Zusammenfassung zur Regulierung der Produktplatzierung in der AVMD-RL

134

3. Kapitel: Die Normierung der Produktplatzierung in Deutschland

137

A. Rundfunk- und Medienentwicklung in Deutschland vor dem Hintergrund des europäischen Rechtseinflusses

137

B. Produktplatzierung in den Medien im Rahmen der gesetzgeberischen Rundfunk- und Medienregulierung in Deutschland

141

I. Produktplatzierung und das UWG

142

II. Gesetzgebungskompetenz im Medienbereich

143

III. Medienrechtliches Normengefüge der Bundesrepublik Deutschland auf Länderebene, insbesondere der Rundfunkstaatsvertrag

146

C. Die bisherige rechtliche Behandlung von Produktplatzierungen in Deutschland

148

I. Die einzelnen, hinsichtlich der Produktplatzierung maßgeblichen Regelungen des RStV in der Fassung des 12. RÄStV

148

II. Der Trennungs- und Erkennbarkeitsgrundsatz des § 7 Abs. 3 S. 1 und S. 2 RStV a.F.

150

III. Das Schleichwerbeverbot des § 7 Abs. 6 RStV a.F.

154

IV. Die Erfassung von Product Placement im alten Recht

156

1. Product Placement in Eigenproduktionen des Rundfunkveranstalters

157

2. Product Placement bei Auftrags-‍, Co- und Fremdproduktionen

160

3. Kostenlose Produktionsbeihilfen

162

4. Abgrenzung zu Product Placements in Kinofilmen

163

V. Zusammenfassung der nun überholten rechtlichen Behandlung des Product Pla‍cement

165

D. Die Erfassung von Produktplatzierung nach der Implementierung der AVMD-RL

166

I. Die Umsetzung der AVMD-RL in der Bundesrepublik Deutschland

167

1. Verhältnis des Rechts der EU zur Rechtsordnung der Bundesrepublik Deutschland

168

2. Wirkung der AVMD-RL in einem Mitgliedstaat der EU

169

3. Konkreter Verlauf der Umsetzung hinsichtlich Produktplatzierung in Deutschland

171

a) Grundsätzlicher Entscheidungsprozess der Länder

172

b) Breite Kontroverse um die Thematik Produktplatzierung im Vorfeld der Gesetzgebung

173

c) Positionen gegenüber der Liberalisierung im Rahmen der großen Anhörung

175

d) Abschließender Entscheidungsprozess

176

II. Die Normierung der Produktplatzierung im Rundfunkstaatsvertrag und in den Werberichtlinien

178

1. Der Staatsvertrag für Rundfunk und Telemedien (Rundfunkstaatsvertrag, RStV)

179

2. Die einzelnen, durch die europäische Rechtslage geänderten Vorschriften im RStV

181

a) Die Definitionen des § 2 RStV

181

aa) Werbung, § 2 Nr. 7 RStV

181

(1) Keine vollständige Übernahme des Werberegelungssystems der AMVD-RL

182

(2) Zentraler Werbungsbegriff des § 2 Nr. 7 RStV und dessen Verhältnis zur AVMD-RL

185

bb) Schleichwerbung, § 2 Nr. 8 RStV

187

cc) Produktplatzierung, § 2 Nr. 11 RStV

189

(1) Entgeltliche Produktplatzierung, § 2 Nr. 11 S. 1 RStV

189

(2) Unentgeltliche Produktplatzierung, § 2 Nr. 11 S. 2 RStV

192

dd) Abgrenzung von Schleichwerbung und Produktplatzierung

193

b) Die allgemeinen Vorschriften für die Ausstrahlung von Werbung, § 7f. RStV

194

aa) Die Abänderung des etablierten Trennungsgrundsatzes, § 7 Abs. 3 RStV

195

(1) Split-Screen-Problematik

196

(2) Weg frei für Produktplatzierungen

198

(3) Neufassung des § 7 Abs. 3 RStV

199

bb) Unzulässige und zulässige Produktplatzierung, § 7 Abs. 7 RStV

202

(1) Unzulässige Produktplatzierung, insbesondere Themenplatzierung, § 7 Abs. 7 S. 1 RStV

203

(a) Das Verbot der Themenplatzierung

203

(b) Definition der Themenplatzierung in den Werbe-RL der Landesmedienanstalten

205

(2) Voraussetzungen zulässiger Produktplatzierung, § 7 Abs. 7 S. 2 RStV

206

(3) Die Kennzeichnungspflicht zulässiger Produktplatzierung, § 7 Abs. 7 S. 3 bis 6 RStV

207

(a) Die Kennzeichnungspflicht und die Vorgaben der AVMD-RL

208

(b) Ausnahmen von der Kennzeichnungspflicht

209

(c) Tatsächliche Kennzeichnung

211

c) Die Produktplatzierungsvorschrift für den öffentlich-rechtlichen Rundfunk, § 15 RStV

211

aa) Produktplatzierung in Fremdproduktionen, § 15 S. 1 Nr. 1 RStV

212

(1) Vorliegen einer Fremdproduktion

212

(2) Unterscheidung der Sendungskategorien

216

bb) Produktbeistellungen, § 15 S. 1 Nr. 2 RStV

219

(1) Kritik an der Veränderung der Rechtslage

220

(a) Kritik des öffentlich-rechtlichen Rundfunks

220

(b) Missbrauchskritik der Gegner

221

(c) Hinterfragung des Abgrenzungskriteriums der Entgeltlichkeit

222

(2) Ungeschriebene Voraussetzungen für Produktbeistellungen

223

(3) Anforderungen im Übrigen, insbesondere ausgenommene Sendungsformate

224

(4) Bestimmung der Wertgrenze

225

d) Die Produktplatzierungsvorschrift für den privaten Rundfunk, §§ 44 RStV

225

aa) Zulässigkeit von Produktplatzierungen in Eigen-‍, Auftrags- und Fremdproduktionen, § 44 Nr. 1 RStV

226

bb) Sendungen in Regionalfensterprogrammen und Fensterprogrammen nach § 31 RStV

227

e) Produktplatzierung in fernsehähnlichen Telemedien, § 58 Abs. 3 AVMD-RL

228

f) Sonstige, für Produktplatzierung relevante Vorschriften

231

3. Die Erfassung der Produktplatzierung durch die Werberichtlinien

232

a) Beibehaltener Grundsatz der Darstellung der realen Umwelt

233

b) Werberichtlinien und Produktplatzierung im Hörfunk

234

c) Die Rechtsnatur und Wirkung der Werberichtlinien im dualen System

235

d) Die konkreten Regelungen der Werberichtlinien zur Produktplatzierung

237

aa) Voraussetzungen einer zulässigen Produktplatzierung, insbesondere das Erfordernis einer "redaktionellen Rechtfertigung"

237

bb) Kennzeichnung der Produktplatzierung

241

(1) Anforderungen

241

(2) Bedeutung der Kennzeichnungspflicht

242

(a) Vor dem Hintergrund der Rezipientenwahrnehmung

242

(b) Vor dem Hintergrund der aktuellen Stellung von Produktplatzierung im Wettbewerb

245

(3) Bewertung der Kennzeichnungsanforderungen

246

(a) Angemessenheit der Kennzeichnung

246

(b) Lösung der Kennzeichnungsproblematik im RStV

250

cc) Zulässige Produktbeistellungen, insbesondere Wertberechnung

252

(1) Festlegung der absoluten Untergrenze von 1.000 Euro

253

(2) Prinzipielle Orientierung an einer relativen Wertgrenze

255

(3) Gesonderte Berechnung des Wertes und Außerachtlassung bestimmter Produkte

257

dd) Behandlung von Ausstatterhinweisen, Ziff. 12 Abs. 1 Werbe-RL

259

e) Zusammenfassung

259

4. Verhaltenskodex Produktplatzierung

261

a) Rechtsnatur

261

b) Inhaltliche Bewertung

262

E. Zusammenfassung und Bewertung der gesetzlichen Umsetzung der Produktplatzierungsvorschriften in Deutschland

264

4. Kapitel: Rechtspolitische und verfassungsrechtliche Beurteilung der Einführung von Produktplatzierung in Deutschland

267

A. Rechtspolitische Betrachtung

268

I. Argumente für eine Liberalisierung der Produktplatzierung

268

II. Argumente gegen eine Liberalisierung der Produktplatzierung

269

III. Rechtspolitische Bewertung

271

B. Verfassungsrechtliche Beurteilung im Hinblick auf Art. 5 Abs. 1 S. 2 GG

273

I. Rundfunkrechtliches Verfassungsrecht in Deutschland, insbesondere Art. 5 Abs. 1 S. 2 GG, im Hinblick auf Trennungsgrundsatz und Produktplatzierung

274

1. Der verfassungsrechtliche Rundfunkbegriff nach Art. 5 Abs. 1 S. 2 GG

275

2. Die Grundrechtsfähigkeit privater und öffentlich-rechtlicher Rundfunkanstalten

275

3. Schutzbereich der Rundfunkfreiheit in Bezug auf Programmfreiheit und Werbung

276

a) Werbung als Gegenstand von Programm- und Rundfunkfreiheit

276

b) Der Schutzbereich des Art. 5 Abs. 1 S. 2 GG im Hinblick auf programmintegrale Werbung

280

4. Erweiterung der Rundfunkfreiheit der Veranstalter durch die Veränderungen?

281

5. Verfassungsrechtliche Auswirkungen für die Werbetreibenden

282

a) Schutz durch die Rundfunkfreiheit aus Art. 5 Abs. 1 S. 2 GG

282

b) Schutz durch andere Grundrechte, vor allem durch die Meinungsfreiheit des Art. 5 Abs. 1 S. 1 GG

282

c) Produktplatzierung und Meinungsfreiheit, Art. 5 Abs. 1 S. 1 GG

283

6. Mögliche Kollision von Rundfunkfreiheit aus Art. 5 Abs. 1 S. 2 GG und Neuregelung

284

a) Die Sonderdogmatik hinsichtlich öffentlich-rechtlicher Rundfunkanstalten

287

b) Die Sonderdogmatik hinsichtlich privater Rundfunkanstalten

290

c) Die Bedeutung des Trennungsgrundsatzes vor dem Hintergrund der Rundfunkfreiheit und der rundfunkrechtlichen Rechtsprechung des BVerfG

291

d) Rechtmäßige und erforderliche Umwandlung in einen Unterscheidbarkeitsgrundsatz?

293

aa) Die Auffassung Ladeurs

294

bb) Die Auffassung von Platho

296

cc) Die Auffassung Hains

298

dd) Weitere Literaturmeinungen

299

e) Zwischenergebnis

300

7. Verfassungsrechtliche Diskussion der Neuerungen in Bezug auf den öffentlich-rechtlichen Rundfunk

301

a) Unterscheidbarkeitsgrundsatz, § 7 Abs. 3 RStV

302

b) Exkurs: Möglichkeit der Einführung des Trennungsgrundsatzes durch den deutschen Gesetzgeber für öffentlich-rechtliche Rundfunkanstalten unter der AVMD-RL

307

c) Produktplatzierung, §§ 7 Abs. 7, 15 RStV

309

d) Zwischenergebnis für den öffentlich-rechtlichen Rundfunk

311

8. Verfassungsrechtliche Diskussion der Neuerungen in Bezug auf den privaten Rundfunk

312

a) Unterscheidbarkeitsgrundsatz, § 7 Abs. 3 RStV

313

b) Produktplatzierung, §§ 7 Abs. 7, 44 RStV

315

c) Zwischenergebnis für den Privatrundfunk

317

II. Sonstige Grundrechtskollisionen durch die Neuerungen

318

C. Zukunftsperspektive zur Produktplatzierung in Deutschland

318

D. Ergebnis

322

5. Kapitel: Die Umsetzung der AVMD-RL im Vereinigten Königreich

324

A. Einführung in das britische duale Rundfunksystem, insbesondere im Hinblick auf die Werbeaufsicht und -regulierung durch die Ofcom (Office of Communications)

324

I. Die Pflichten der Ofcom nach dem CA 2003

328

II. Das Verhältnis zwischen Ofcom und BBC

331

III. Die tatsächliche Werbeaufsicht über den Rundfunk im Vereinigten Königreich, insbesondere hinsichtlich Produktplatzierung

333

IV. Generelle rechtliche Einordnung von Produktplatzierung im britischen Medienrecht

336

B. Die Umsetzung der AVMD-RL im Vereinigten Königreich hinsichtlich Produktplatzierung

339

I. Die Rechtslage bezüglich Produktplatzierung vor Umsetzung der AVMD-RL im Vereinigten Königreich

340

1. S. 10.5 BC 2010

340

2. Ausnahmen vom Verbot der Produktplatzierung nach vorhergehender Rechtslage

343

3. Bewertung und Rechtsvergleich mit der ebenfalls überkommenen Rechtslage in Deutschland

344

II. Sonstige, im Hinblick auf Product Placement anwendbare Vorschriften

347

III. Die Implementierung der Produktplatzierungsvorschriften der AMVD-RL

349

1. Die Einstellung des Vereinigten Königreichs zur Liberalisierung der Produktplatzierung durch die AMVD-RL und die rechtliche Entwicklung diesbezüglich

349

a) Vor Erlass der AVMD-RL

349

b) Während der Verhandlungen auf europäischer Ebene

351

c) Vom zunächst weiterbestehenden Verbot zur Liberalisierung

352

2. Die aufgrund der AVMD-RL geänderten Regelungen

355

a) Communications Act 2003

356

aa) Geltung auch für die BBC?

356

bb) S. 319 CA 2003

358

cc) S. 321 CA 2003

358

dd) Schedule 11 A, CA 2003

359

(1) Einführung/Definitionen

359

(a) Definition Produktplatzierung

359

(b) Definition Prop Placement

360

(2) Verbote von Produktplatzierung

361

(3) Generelle Rahmenbedingungen für Produktplatzierung

364

(a) Zulässige Sendeformate und Erscheinungsform der Produktplatzierung im Programm

364

(b) Absolute Verbotsfälle im Hinblick auf die Integration von Produktplatzierung

364

(c) Kennzeichnung

364

b) Ofcom Broadcasting Code

366

aa) Guidance Notes zu S. 9 Ofcom BC

366

bb) Anwendungsbereich des Ofcom BC, insbesondere Anwendbarkeit auf die BBC, sowie Konsequenzen einer Verletzung des Codes

367

cc) "Section Nine: Commercial References in Television Programming"

368

(1) Einleitung zu Section 9, insbesondere Anwendungsbereich

369

(2) "Principles", insbesondere Trennungsgrundsatz und Schleichwerb‍everbot

370

(a) Unterscheidungsgrundsatz

370

(b) Abgrenzung zum Unterscheidungsgrundsatz bei Fernsehwerbung

371

(c) Transparenz (Schleichwerbeverbot) und Konsumentenschutz

373

(3) "General rules" zur Konkretisierung der "Principles"

373

(a) Bewahrung redaktioneller Unabhängigkeit, Rule 9.1

373

(b) Unterscheidungsgrundsatz, Rule 9.2

374

(c) Verbot von Schleichwerbung, Rule 9.3 Ofcom BC

375

(d) Keine Förderung von Produkten, Dienstleistungen oder Marken, Rule 9.4 Ofcom BC

375

(e) Keine unangemessene Herausstellung von Produkten, Dienstleistungen oder Marken, Rule 9.5 Ofcom BC

376

(4) Spezialregelungen Produktplatzierung im Ofcom BC, insbesondere auch Anwendbarkeit dieser auf die BBC

377

(a) Rules 9.6 bis 9.11 Ofcom BC, die auf alle Programme anwendbar sind

378

(aa) Programmgenres, Rules 9.6 und 9.7 Ofcom BC

378

(bb) Verantwortlichkeit und redaktionelle Unabhängigkeit des Rundfunkveranstalters, insbesondere Themenplatzierung, Rule 9.8 Ofcom BC

379

(cc) Exkurs: Werbefinanziertes Programm im Vereinigten Königreich

382

(dd) Art und Weise der Platzierung, Rules 9.9 und 9.10 Ofcom BC

383

(ee) Verbotene Produkte, Rule 9.11 Ofcom BC

385

(b) Rules 9.12 bis 9.13, zusätzlich anwendbar auf Produktplatzierung, die in Programme integriert wurde, die unter der Rechtshoheit des Vereinigten Königreichs produziert wurden

386

(aa) "Sendungen produziert unter der Rechtshoheit des Vereinigten Königreichs"

386

(bb) Unzulässige Genres, insbesondere fakten- und sachbezogene Sendungen, Rule 9.12 Ofcom BC

387

(cc) Nicht durch Produktplatzierung zu bewerbende Produkte, Rule 9.13 Ofcom BC

390

(c) Rule 9.14 Ofcom BC zur Kennzeichnung der Produktplatzierung

391

(aa) Kennzeichnung von "generic placement"

392

(bb) Die Entwicklung der Kennzeichnung von Produktplatzierung

394

(cc) Abschließende Bewertung

397

(d) Prop Placement

398

(aa) Definition "Prop Placement" in den Guidance Notes

398

(bb) Die Berechnung des bedeutenden Wertes

399

(cc) Bewertung der Vorgehensweise hinsichtlich der Festlegung des bedeutenden Wertes

400

(e) Regelungen zum Sponsoring in Hinblick auf ihr Verhältnis zur Produktplatzierung

403

(aa) Nebeneinander von Produktplatzierung und Sponsoring

404

(bb) Exkurs: Nebeneinander von Produktplatzierung und Sponsoring nach dem RStV

404

(cc) Sponsoring innerhalb einer Sendung

406

c) Produktplatzierung in On-Demand Content

406

aa) Die Umsetzung der AVMD-RL im Hinblick auf VOD-Dienste

407

bb) Die rechtliche Erfassung der Produktplatzierung in VOD-Diensten durch den CA 2003 und die ATVOD

408

cc) Bewertung

410

d) Produktplatzierung und die BBC

412

aa) Editorial Guidelines der BBC zu Produktplatzierung

413

bb) Guidance der BBC zu Produktplatzierung

416

cc) Zusammenfassung

417

C. Kritische Diskussion der Einführung von Produktplatzierung im Vereinigten Königreich vor dem Hintergrund übergeordneter Rechtsprinzipien des Vereinigten Königreichs

418

D. Zusammenfassender Rechtsvergleich mit der rechtlichen Behandlung von Produktplatzierungen in Deutschland nach Umsetzung der AVMD-RL

422

6. Kapitel: Zusammenfassung der wichtigsten Thesen

424

A. Zur Untersuchung der Produktplatzierungsvorschriften in der AVMD-RL

424

B. Zur Umsetzung der Produktplatzierungsvorschriften der AVMD-RL in Deutschland

425

C. Zur rechtspolitischen und verfassungsrechtlichen Bewertung der Einführung von Produktplatzierung in Deutschland

427

D. Zur Implementierung der Produktplatzierung im Vereinigten Königreich

428

Literaturverzeichnis

430

Sachverzeichnis

448