Criminal procedure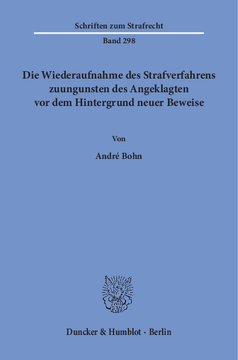 BOOK
Die Wiederaufnahme des Strafverfahrens zuungunsten des Angeklagten vor dem Hintergrund neuer Beweise
Schriften zum Strafrecht, Vol. 298
(2016)
Additional Information
Book Details
ISBN

978-3-428-55033-3
978-3-428-15033-5 (print edition)

DOI

https://doi.org/10.3790/978-3-428-55033-3

Edition

1

Language

German

Pages

348

Collections

Subjects
Pricing
Institution

€ 104.00 (incl. local VAT if applicable)

Individual

€ 79.90 (incl. local VAT if applicable)
About The Author
André Bohn studierte von 2008 bis 2013 Rechtswissenschaft an der Ruhr-Universität Bochum. Nach Absolvierung der Ersten Prüfung im Freiversuch promovierte er bei Herrn PD Dr. Sickor zu dem Thema: »Die Wiederaufnahme des Strafverfahrens zuungunsten des Angeklagten vor dem Hintergrund neuer Beweise«. Seit Mitte 2014 ist er am Lehrstuhl für Strafrecht, Strafprozessrecht und Internationales Strafrecht von Frau Prof. Swoboda als Wissenschaftlicher Mitarbeiter tätig. Seit Mai 2016 ist André Bohn Rechtsreferendar im Bezirk des Oberlandesgerichts Hamm.
Abstract
Die Arbeit beschäftigt sich mit der Frage, ob es möglich sein soll, beim Vorliegen neuer Beweise eine zuvor freigesprochene Person nochmals anzuklagen. Dieser Fragestellung liegt der Konflikt zwischen dem Verbot erneuter Strafverfolgung und der Verwirklichung der materiellen Gerechtigkeit zugrunde. § 362 StPO normiert die Wiederaufnahme des Strafverfahrens zuungunsten des Angeklagten, ermöglicht aber momentan keine Wiederaufnahme bei dem Vorliegen neuer Beweise.

Nach einem historischen Teil zur Entwicklung der Wiederaufnahme des Strafverfahrens und des Schutzes vor erneuter Strafverfolgung setzt André Bohn sich mit der Rechtskonformität des bestehenden § 362 StPO auseinander. Im Anschluss wird die Möglichkeit geprüft, in § 362 StPO einen Wiederaufnahmegrund wegen neuer Beweise einzuführen. Der Autor kommt zu dem Ergebnis, dass eine Erweiterung des § 362 StPO um einen Wiederaufnahmegrund wegen neuer Beweise nicht möglich ist. »Revision Proceedings to the Disadvantage of the Accused on the Basis of Newly Discovered Incriminating Evidence«

Should it be admissible to reopen criminal proceedings even after a final judgement has been rendered if new inculpating evidence has come to light which seriously incriminates the person acquitted? The answer to this question entails solving the conflict between the prohibition of double jeopardy (in Germany known as the rule of »ne bis in idem« which in itself is an aspect of the individual guarantee of legal certainty) and the criminal courts' duty to render material justice on the basis of a material truth.

In Germany revision proceedings to the disadvantage of the accused are regulated in § 362 of the German Code of Criminal Procedure (»StPO«). § 362 StPO does currently not envisage revision proceedings to the disadvantage of an accused on the basis of new inculpating evidence.

The author traces the historical development of the protection against double jeopardy and the rules on revision proceedings in criminal matters. He furthermore examines the constitutionality of the current normative framework on revision in § 362 StPO and of the rules recently proposed with the intent to acknowledge the discovery of new inculpating evidence as an additional ground of revision to the disadvantage of the accused.

The author concludes that admitting such a new ground of revision would violate the German Constitution and European Legal Minimum Standards on legal certainty in criminal law.
Table of Contents
Section Title
Page
Action
Price

Vorwort

5

Inhaltsverzeichnis

7

Abkürzungsverzeichnis

9

A. Einleitung

17

B. Die Wiederaufnahme des Strafverfahrens

22

C. Der Grundsatz "ne bis in idem"

36

D. Strafprozessuale Zulässigkeit und Vereinbarkeit des § 362 StPO mit höherrangigem Recht und anderen Prinzipien

47

I. Strafprozessuale Zulässigkeit des § 362 StPO

47

II. Vereinbarkeit des § 362 StPO mit Art. 103 III GG

56

1. Reichweite des Art. 103 III GG

57

a) Art. 103 III GG als Verbot erneuter Verfolgung

57

b) Sonderfall: Art. 103 III GG und nichtige Urteile

62

2. Verhältnis des § 362 StPO zu Art. 103 III GG

83

III. Fragen zu § 362 StPO vor dem Hintergrund des Europa- und Völkerrechts

100

1. Vereinbarkeit des § 362 StPO mit Art. 14 VII IPbpR, Art. 4 EMRK-Pr. 7 und Art. 50 GRC in seiner innerstaatlichen Wirkung

101

2. Transnationale Ne-bis-in-idem-Regelungen

117

3. § 362 StPO vor dem Hintergrund der Art. 50 GRC, 54 SDÜ und 103 III GG

137

4. Ergebnis zu der Vereinbarkeit des § 362 StPO mit dem Europa- und Völkerrecht

143

IV. Verhältnis des § 362 StPO zu den §§ 78 ff. StGB

143

1. Das Institut der Verjährung

145

2. Versuch einer Lösung des Konflikts anhand des Gesetzes

148

a) Verschiedene Lösungsansätze

148

b) Lösung über § 78b I Nr. 2 StGB

150

aa) Anwendbarkeit des Legalitätsprinzips im Wiederaufnahmeverfahren

151

bb) Ergebnis zur Anwendbarkeit des Legalitätsprinzips im Wiederaufnahmeverfahren

157

cc) Weitere Probleme bei der Lösung über § 78b I Nr. 2 StGB

157

dd) Ergebnis

159

3. Weitere Argumente der einzelnen Meinungen

160

a) Berücksichtigung der Folgen der einzelnen Meinungen

160

b) Die Reform der Verjährungsvorschriften von 1975

161

c) Beschuldigtenschutz

162

d) Weitere Argumente für einen Neubeginn der Verjährung

164

aa) Argumente

164

bb) Kritik

165

e) Weitere Argumente gegen das Weiterlaufen der Verjährung nach Freisprüchen

170

4. Ergebnis

171

5. Wiederaufnahme und Verjährung bei unterschiedlicher rechtlicher Würdigung im Ausgangs- und im Wiederaufnahmeverfahren

172

E. Schlussfolgerungen aus der bisherigen Untersuchung und Lösungsansätze

176

I. Zwischenergebnis und daraus resultierende Schlussfolgerungen

176

II. Lösungsansätze

180

F. Rechtskonforme Ausgestaltung des § 362 StPO

184

I. § 362 Nr. 3 StPO i.V.m. § 370 I StPO als absoluter Wiederaufnahmegrund

184

II. Fehlende Anknüpfung an die Schwere der begangenen Straftat

185

G. Erweiterung des § 362 StPO

193

I. Generelle Möglichkeit einer Erweiterung der Wiederaufnahmegründe in § 362 StPO

193

II. Notwendigkeit einer Erweiterung der Wiederaufnahmegründe in § 362 StPO

200

III. Strafprozessuale Zulässigkeit und Vereinbarkeit einer Erweiterung des § 362 StPO mit höherrangigem Recht und anderen Prinzipien

217

1. Strafprozessuale Zulässigkeit einer Erweiterung

217

2. Vereinbarkeit einer Erweiterung mit Art. 103 III GG

219

3. Vereinbarkeit einer Erweiterung mit Art. 14 VII IPbpR, Art. 4 EMRK-Pr. 7 und Art. 50 GRC in seiner innerstaatlichen Wirkung

238

4. Vereinbarkeit einer Erweiterung mit Art. 54 SDÜ, Art. 50 GRC und Art. 103 III GG in ihrer transnationalen Wirkung

242

5. Verstoß gegen Art. 3 I GG

242

6. Verstoß gegen das Rückwirkungsverbot

253

7. Verstoß gegen die Unschuldsvermutung

273

8. Verstoß gegen den Grundsatz der Waffengleichheit oder den Nemo-tenetur-Grundsatz

283

IV. Gefahr der Ausweitung der nachteiligen Wiederaufnahme

286

H. Fazit

289

Literaturverzeichnis

290

Stichwortverzeichnis

346