Criminal law: procedure & offences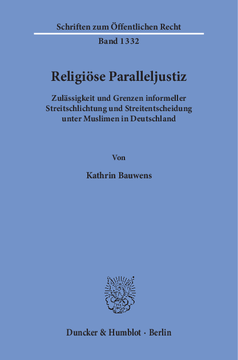 BOOK
Religiöse Paralleljustiz
Zulässigkeit und Grenzen informeller Streitschlichtung und Streitentscheidung unter Muslimen in Deutschland
Schriften zum Öffentlichen Recht, Vol. 1332
(2016)
Additional Information
Book Details
ISBN

978-3-428-54839-2
978-3-428-14839-4 (print edition)

DOI

https://doi.org/10.3790/978-3-428-54839-2

Edition

1

Language

German

Pages

274

Collections

Subjects
Pricing
Institution

€ 92.00 (incl. local VAT if applicable)

Individual

€ 71.90 (incl. local VAT if applicable)
About The Author
Kathrin Bauwens ist als Rechtsanwältin in einer internationalen Wirtschaftskanzlei in Frankfurt am Main tätig. Von 2005 bis 2010 studierte sie Rechtswissenschaften in Münster und Barcelona. Von 2011 bis 2014 war sie als wissenschaftliche Mitarbeiterin am Lehrstuhl für Bürgerliches Recht sowie deutsches und internationales Unternehmens-, Wirtschafts- und Kartellrecht von Prof. Dr. Christian Kersting, LL.M (Yale), an der Heinrich-Heine-Universität Düsseldorf tätig. Ihr Referendariat absolvierte sie am Oberlandesgericht Düsseldorf.
Abstract
Unlängst häuften sich Meldungen über eine sogenannte »islamische Paralleljustiz« in Deutschland. Die Arbeit untersucht das damit angesprochene Phänomen der Generierung von Subkulturen unter Migranten, die sich auch in Deutschland an ihrem traditionellen oder religiösen Recht orientieren und vor allem familien- und strafrechtliche Streitigkeiten eigenständig bzw. durch milieunahe Personen schlichten oder entscheiden lassen, während die staatliche Justiz nicht einbezogen wird. Die Autorin analysiert die bisher vorliegenden Befunde und prüft systematisch Zulässigkeit und Grenzen religiöser bzw. traditionell motivierter Streitschlichtung- und entscheidung. Nach einer Abgrenzung zu Erscheinungen religiöser Gerichtsbarkeiten in Großbritannien und Kanada und der Einordnung des Phänomens in das Konzept des Rechtspluralismus, wird der verfassungsrechtliche Schutz genuin religiös motivierter Streitschlichtung aufgezeigt. Anhand einer Analyse potentieller Gegenrechte – wie zum Beispiel dem Rechtsprechungsmonopol des Staates, der funktionstüchtigen Strafrechtspflege, des Gleichheitssatzes, der öffentlichen Ordnung, aber auch etwa dem Rechtsdienstleistungsgesetz – werden präventive und repressive Handlungsmöglichkeiten des Staates dargelegt. »Religious Informal Justice«

The book focuses on the current debate on inofficial mediation and settlement of conflicts between muslim immigrants in Germany. Generated subcultures potentially rather prefer to settle conflicts privately and in accordance with Sharia law, instead of making use of the official justice system. The author systematically assesses the admissibility and limits of this social phenomenon under German law.
Table of Contents
Section Title
Page
Action
Price

Vorwort

7

Inhaltsverzeichnis

9

Einleitung

17

Erster Teil: Eine Abgrenzung – Staatlich anerkannte religiöse Schiedsgerichte und informelle Paralleljustiz – Einführung und Begriffserklärung, Stand der Forschung

21

A. Informelle religiöse Streitschlichtung und -entscheidung in Migrantenmilieus

21

B. Informelle und formelle Scharia-Gerichte in Großbritannien

27

I. Öffentliche Schattengerichte – Die Sharia-Councils in Großbritannien

27

II. Muslim Arbitration Tribunal – islamisches Schiedsgericht?

31

III. Die umstrittene Rede des Erzbischofs von Canterbury

33

IV. Zwischenergebnis

35

C. Die Scharia-Debatte in Kanada

35

I. One Law for all Canadians?

36

II. Darstellung der vorgebrachten Argumente – Relevanz für die Bewertung informeller Verfahren

40

D. Scharia im Westen – Rechtspluralismus als wünschenswertes Ziel einer religionspluralistischen Gesellschaft?

43

I. Eine heterogene Mehrheit von Rechten im selben sozialen Feld

43

II. Religiöse Rechtsspaltung oder religiöse Schiedsverfahren als Antwort auf religiösen Pluralismus?

48

1. Religiöse Rechtsspaltung

48

2. Religiöse islamische Schiedsverfahren

54

Zweiter Teil: Religiöse Paralleljustiz im Familien- und Erbrecht

56

A. Das islamische Recht: Entstehung, Rechtsquellen und Grundzüge des materiellen Familien- und Erbrechts

56

I. Entstehung und frühe Geschichte des islamischen Rechts

57

1. Muhammads Zeit in Medina

57

2. Die Zeit der Kalifen

59

3. Die Entstehung der Rechtsschulen

61

II. Die Quellen des islamischen Rechts

62

1. Der Koran

63

2. Die Sunna

64

3. Der Konsens

65

4. Der Analogieschluss und andere juristische Auslegungsmethoden

65

5. Idschtihad und die Schließung des Tores der selbstständigen Rechtsfindung

66

III. Islamisches Familien- und Erbrecht

67

1. Ehefähigkeit

67

2. Eheschließung

69

3. Ehehindernisse

69

a) Anzahl der geschlossenen Ehen

69

b) Konfession des Ehepartners

70

c) Verwandtschaft

71

d) Wartefrist nach Scheidung oder Tod (iddat)

72

e) Statusgleichheit

73

f) Dreimalig ausgesprochener talāq

73

g) Pilgerfahrt

73

4. Allgemeine Wirkungen der Ehe

73

5. Güterrecht

74

6. Die Brautgabe

76

7. Unterhalt nach der Scheidung

77

8. Eheverträge (taqliq)

78

9. Beendigung der Ehe

79

a) Einseitige Scheidungsmöglichkeiten durch den Mann

79

aa) Verstoßung (ṭalāq)

79

bb) Schwur der Enthaltsamkeit (īlā)

82

cc) Vergleich mit einer Frau, zu der ein verwandtschaftliches Eheverbot besteht (ẓihār)

82

b) Scheidungsvollmacht der Frau (ṭalāq-e tafwīḍ)

82

c) Einvernehmliche Scheidung durch Vereinbarung der Ehepartner

83

d) Richterliche Auflösung der Ehe

83

e) Eheauflösung durch Religionswechsel

84

f) Beendigung durch Tod

85

10. Sorgerecht

85

11. Erbrecht

86

a) Festgelegte Erbfolge

86

b) Gewillkürte Erbfolge

88

c) Kognatische Erbfolge der Schiiten

89

12. Der Zeugenbeweis

89

B. Grundrechtlicher Schutz traditioneller bzw. religiöser Schlichtungen

90

I. Religionsfreiheit, Art. 4 GG

90

1. Bestimmung des Schutzbereichs der Religionsfreiheit

91

2. Anwendung der festgestellten Grundsätze auf religiöse Paralleljustiz

96

3. Eingriff

99

4. Schranken des Art. 4 GG

99

II. Allgemeine Handlungsfreiheit

102

III. Zwischenergebnis

103

C. Rechtsprechungsmonopol des Staates oder existierender Gerichtspluralismus? Garantie und Grenzen privater Rechtsprechung

104

I. Staatliche Rechtsprechung und private Gerichtsbarkeiten – Begriffsklärung

104

II. Grenzen privater Gerichtsbarkeiten – Das staatliche Rechtsprechungsmonopol als irreführende Begrifflichkeit

110

1. Rechtsprechungsmonopol: Vom Wortlaut ausgehende Eingangsüberlegung

110

2. Art. 92 GG als verfassungsrechtliche Grundlage eines staatlichen Rechtsprechungsmonopols?

111

a) Absolutes Rechtsprechungsmonopol

111

b) Eigene Stellungnahme zu einem absoluten Rechtsprechungsmonopol

114

aa) Die Privatautonomie als zwingender Garant privater Gerichte

115

bb) Rückschluss aus den Gesetzgebungsmaterialien

116

cc) Kritsche Würdigung der für ein absolutes Rechtsprechungsmonopol vorgebrachten Argumentation

116

(1) Die geschichtliche Entwicklung des Justizwesens

117

(2) Der Topos der Einheit der Rechtsordnung

117

(3) Extensive Auslegung der Vorschriften des organisatorischen Teils

120

c) Zwischenergebnis

120

d) Quasi-absolutes Rechtsprechungsmonopol

121

e) Eigene Stellungnahme zu einem quasi-absoluten Rechtsprechungsmonopol

121

f) Relativ-formales und relativ-modales Rechtsprechungsmonopol

122

g) Eigene Stellungnahme zu den formalen Interpretationsansätzen

123

3. Herleitung eines quasi-absoluten Rechtsprechungsmonopols aus grundrechtlichen Schutzpflichten und dem allgemeinen Justizgewährungsanspruch

125

a) Grundrechtliche Grenzen privater Gerichtsbarkeit

125

b) Justizgewährungsanspruch

126

c) Keine Begrenzung durch Art. 101 Abs. 1 S. 1 GG

128

III. Zwischenergebnis

128

IV. Die praktische Umsetzung des quasi-absoluten Rechtsprechungsmonopols im deutschen Gerichtspluralismus

129

1. Schiedsgerichte

129

2. Vereins- und Verbandsgerichte

134

3. Betriebsjustiz

136

4. Parteischiedsgerichte

138

5. Kirchengerichte

139

V. Rückschlüsse für den Untersuchungsgegenstand und Ergebnis

141

D. Eingriff aufgrund der Verletzung des Gleichheitssatzes

143

I. Die Sittenwidrigkeit von auf islamischem Recht beruhenden Rechtsgeschäften

144

1. Ehevereinbarungen

146

2. Erbrecht

147

3. Scheidungsrecht

149

4. Sorgerecht

150

5. Gewichtung männlicher und weiblicher Zeugenaussagen

151

II. Zwischenergebnis

151

III. Eingriffsmöglichkeiten der Exekutive zur Durchsetzung der Gleichberechtigung

152

1. Keine Eingriffsbefugnis aus der ordnungsrechtlichen Generalklausel in Verbindung mit Art. 3 Abs. 2 GG

152

2. Keine Eingriffsbefugnis aus der Schutzpflicht des Art. 3 Abs. 2 GG

153

a) Das Gentechnik-Urteil des Hessischen Verwaltungsgerichtshofs

155

b) Das Schleyer-Urteil des Bundesverfassungsgerichts

156

c) Kritik an grundrechtlichen Schutzpflichten als unmittelbarer Eingriffsgrundlage

157

d) Keine Eingriffsbefugnis aus der ordnungsrechtlichen Generalklausel in Verbindung mit einer staatlichen Schutzpflicht aus Art. 3 Abs. 2 GG

160

e) Mögliche Maßnahmen zur Erfüllung der Schutzpflicht ohne Eingriffe in Rechte Dritter

161

3. Einordnung des Gleichheitssatzes unter das Teilschutzgut der Unverletzlichkeit der subjektiven Rechte und Rechtsgüter des Einzelnen – Problematik der Subsidiaritätsklausel

163

4. Ergebnis

165

E. Eingriff aufgrund einer Verletzung der öffentlichen Ordnung

165

I. Verfassungs- und rechtspolitische Kritik am Begriff der öffentlichen Ordnung

166

II. Verletzung der öffentlichen Ordnung durch informelle religiöse Verfahren?

168

F. Unzulässige Rechtsdienstleistung nach dem Rechtsdienstleistungsgesetz

173

I. Entwicklung der Reglementierung des Rechtsberatungsmarktes in Deutschland

174

II. Komplementärfunktion des Rechtsdienstleistungsgesetzes

175

III. Das Rechtsdienstleistungsgesetz als Eingriffsgrundlage

176

IV. Schutzzwecke des Rechtsdienstleistungsgesetzes als vorrangiges Auslegungskriterium

177

1. Schutz der Rechtssuchenden

178

2. Schutz des Rechtsverkehrs

179

3. Schutz der Rechtsordnung

179

4. Schutz der Anwaltschaft als ungeschriebenes Schutzgut?

179

V. Informelle religiöse Rechtsberatung als erlaubnispflichtige Rechtsdienstleistung?

180

1. Außergerichtlichkeit, § 1 Abs. 1 S. 1 RDG

180

2. Rechtsdienstleistung, § 2 Abs. 1 RDG

181

a) Konkrete Angelegenheit

181

b) Fremde Angelegenheit

181

c) Rechtliche Prüfung

181

aa) Konstellation 1

182

bb) Konstellation 2

182

cc) Konstellation 3

186

3. Ausschlusstatbestände

187

a) Ausschluss des Vorliegens einer Rechtsdienstleistung nach § 2 Abs. 3 Nr. 2 RDG: Schiedsrichter

187

b) Ausschluss des Vorliegens einer Rechtsdienstleistung nach § 2 Abs. 3 Nr. 4 RDG: Mediation

188

4. Erlaubnisfreiheit aufgrund eines Ausnahmetatbestandes?

190

a) Rechtsdienstleistung aufgrund besonderer Sachkunde in einem ausländischen Recht, §§ 10 Abs. 1 Nr. 3, 12 RDG

191

b) Unentgeltlichkeit, § 6 RDG

192

VI. Ergebnis

194

G. Eingriffe bei strafrechtlich relevantem Verhalten im Rahmen der religiösen Paralleljustiz im familienrechtlichen Bereich

194

Dritter Teil: Religiöse Paralleljustiz in strafrechtlich relevanten Sachverhalten

197

A. Religiös-kulturelle Motive der Beteiligten – Das islamische Strafrechtsverständnis

198

I. Kategorisierung der Straftatbestände

198

1. Grenzvergehen (hadd)

199

2. Talionsdelikte (qiṣāṣ)

200

B. Islamisches Strafrechtsverständnis und Offizialprinzip

201

I. Verankerung des Offizialprinzips im deutschen Recht

202

II. Durchbrechungen des Offizialprinzips

202

1. Antragsdelikte

203

2. Privatklage

204

3. Täter-Opferausgleich

205

III. Ergebnis

206

C. Friedensstiftende Funktion der Schlichter?

206

I. Präventivwirkung

207

II. Behinderung repressiver Polizeiarbeit

208

D. Das Spannungsverhältnis zwischen Freiheitsrechten und Wahrheitsermittlungspflicht – Möglichkeiten der Unterbindung von Schlichtungen im strafrechtlich relevanten Bereich

209

I. Repressive Maßnahmen – Strafrechtliche Konsequenzen

209

1. Nichtanzeige geplanter Straftaten (§ 138 StGB)

209

2. Strafvereitelung (§ 258 StGB)

211

3. Aussagedelikte (§§ 153–162 StGB)

214

II. Präventive Maßnahmen

216

1. Allgemeine Maßnahmen zur Vertrauensbildung und Sensibilisierung der Justiz

216

III. Vorfeldmaßnahmen

217

1. Untersagungsverfügung, Gefährderansprache und Gefährderanschreiben

219

2. Kontaktverbot

222

3. Eingriffsvoraussetzungen

223

a) Schutzgut: Strafrechtliche Vorschriften

223

b) Schutzgut: Die Pflicht des Staates zum Erhalt einer funktionstüchtigen Strafrechtspflege

223

c) Schutzgut: Das Strafmonopol des Staates

226

d) Vorliegen einer konkreten Gefahr

227

e) Beschränkung durch das Übermaßverbot

228

f) Bestimmtheitsgrundsatz

230

E. Ergebnis

230

Ergebnisse der Arbeit in Thesen

231

Anhang: Interview mit Frau Rechtsanwältin Nazan Simsek aus Augsburg vom 3. Dezember 2013 über ihre Erfahrungen mit religiöser Paralleljustiz

240

Literaturverzeichnis

242

Sachverzeichnis

272