Capital markets & securities law & regulation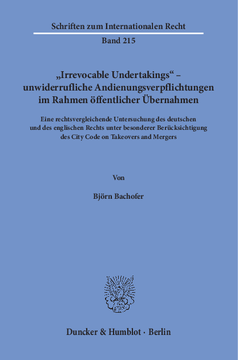 BOOK
»Irrevocable Undertakings« – unwiderrufliche Andienungsverpflichtungen im Rahmen öffentlicher Übernahmen
Eine rechtsvergleichende Untersuchung des deutschen und englischen Rechts unter besonderer Berücksichtigung des City Code on Takeovers and Mergers
Schriften zum Internationalen Recht, Vol. 215
(2016)
Additional Information
Book Details
ISBN

978-3-428-54848-4
978-3-428-14848-6 (print edition)

DOI

https://doi.org/10.3790/978-3-428-54848-4

Edition

1

Language

German

Pages

311

Collections

Subjects
Pricing
Institution

€ 116.00 (incl. local VAT if applicable)

Individual

€ 89.90 (incl. local VAT if applicable)
About The Author
Björn Bachofer, Studium der Rechtswissenschaften mit unternehmensrechtlichem Schwerpunkt an der Eberhard Karls Universität Tübingen. Ablegen der Ersten juristischen Prüfung im Jahr 2013. Im Anschluss Forschungsarbeiten für eine rechtsvergleichende Abhandlung im Kapitalmarkt-/Übernahmerecht, begleitet durch Nebentätigkeiten als wissenschaftlicher Mitarbeiter in verschiedenen wirtschaftsrechtlich ausgerichteten Sozietäten in München. Seit 2014 Referendar im Bezirk des Kammergerichts. Promotion durch die Eberhard Karls Universität Tübingen im Jahr 2015.
Abstract
Die Arbeit untersucht und vergleicht die verschiedenen Möglichkeiten zur Absicherung von Übernahmeangeboten im Sinne des WpÜG. Unter dem Schlagwort deal protection beleuchtet der Autor zunächst gängige Vereinbarungen des Bieters mit der Zielgesellschaft (namentlich etwa break-up fees oder Exklusivvereinbarungen), um sodann den Fokus auf sog. »irrevocable undertakings« zu richten. Dieses aus dem angelsächsischen Rechtskreis stammende Instrument der Transaktionssicherung, bei welchem sich maßgeblich beteiligte Aktionäre der Zielgesellschaft bereits im Vorfeld eines Übernahmeangebots gegenüber dem (potentiellen) Bieter unwiderruflich zur Andienung ihres Aktienpakets für den Fall der Abgabe eines entsprechenden Angebots verpflichten, wirft dabei spezifische rechtliche Fragen auf, insbesondere in den Bereichen des Insiderrechts und der wertpapierhandelsrechtlichen Beteiligungstransparenz sowie im Zusammenhang mit den besonderen übernahmerechtlichen Regelungen des WpÜG, zu deren Beantwortung sich der Autor eines Vergleichs mit dem englischen Recht bedient, welches derlei Vereinbarungen bereits vor über 30 Jahren im City Code on Takeovers and Mergers erstmals kodifizierte. »A Comparative Analysis of the German and English Laws with a Particular Focus on the UK City Code on Takeovers and Mergers«

Under the heading »deal protection« the author examines the different means of hedging the risks of a takeover offer within the scope of the WpÜG, focussing on the use of »irrevocable undertakings« by certain key shareholders in the target to accept the offeror's future offer. These agreements raise a number of specific questions especially in the context of the German WpHG and WpÜG, which the author seeks to address through a comparative analysis of the German and English laws with a particular focus on the UK City Code on Takeovers and Mergers.
Table of Contents
Section Title
Page
Action
Price

Vorwort

7

Inhaltsverzeichnis

11

Erster Teil: Einleitung

23

§ 1 Hintergrund

23

§ 2 Problemstellung

28

I. Gegenstand der Untersuchung

28

II. Anlass der Untersuchung

28

§ 3 Verlauf der Untersuchung

30

Zweiter Teil: Deal Protection im Rahmen öffentlicher Übernahmen

32

§ 4 Bedeutung von Deal Protection in Übernahmesachverhalten

32

I. Interessenlage der beteiligten Parteien

32

1. Bieter

32

2. Zielgesellschaft

33

3. Aktionäre und weitere Stakeholder der Zielgesellschaft

34

II. Übernahmespezifische Bedürfnisse nach Transaktionssicherung

34

1. Abwehr unerwünschter Konkurrenz

34

2. Kostenersatz

35

§ 5 Deal Protection-Vereinbarungen im Einzelnen

36

I. Vereinbarungen des Bieters mit Aktionären der Zielgesellschaft

36

1. Irrevocable undertakings (irrevocables)

36

2. Stimmbindungsverträge

38

II. Vereinbarungen zwischen Bieter und Zielgesellschaft

39

1. Break-up fees

40

a) Inhalt der Vereinbarung

42

b) Motive der Vereinbarungsparteien

42

c) Zulässigkeit und Grenzen

44

2. Lock-up options

46

a) Stock option lock-ups

46

aa) Inhalt der Vereinbarung

46

bb) Motive der Vereinbarungsparteien

47

cc) Zulässigkeit und Grenzen

48

(1) Naked warrants

49

(2) Covered warrants

50

b) Asset option lock-ups

51

aa) Inhalt der Vereinbarung

51

bb) Motive der Vereinbarungsparteien

51

cc) Zulässigkeit und Grenzen

52

3. Exklusivvereinbarungen

54

a) Überblick

54

b) Grundsätze für die Beurteilung der rechtlichen Zulässigkeit

55

c) Exklusivvereinbarungen im Einzelnen

57

aa) No shop-Vereinbarungen

57

(1) Inhalt der Vereinbarung

57

(2) Zulässigkeit und Grenzen

58

bb) No talk-Vereinbarungen

58

(1) Inhalt der Vereinbarung

58

(2) Zulässigkeit und Grenzen

59

cc) Board recommendation agreements

60

(1) Inhalt der Vereinbarung

60

(2) Zulässigkeit und Grenzen

61

Dritter Teil: Deal Protection durch Irrevocable Undertakings

62

§ 6 Irrevocable Undertakings im Detail

62

I. Beteiligte und Abschlussmotive

62

1. Vereinbarungsparteien

62

a) Aktionärsseite

62

b) Bieterseite

63

2. Abschlusskompetenz

64

3. Interessenlage

64

a) Intentionen des Bieters

65

aa) Einflussnahme der Aktionärsstruktur der Zielgesellschaft

66

bb) Sicherstellung einer bestimmten Mindestannahmequote

67

cc) Absicherung gegen Konkurrenzangebote

68

dd) Widerstand der Zielgesellschaft bei feindlichen Übernahmen

68

ee) Squeeze-out der Minderheitsaktionäre

69

b) Intentionen des Aktionärs

70

II. Rechtsnatur eines irrevocable

71

1. Andienungsverpflichtung des Aktionärs (einseitige irrevocables)

71

2. Angebotsverpflichtung des Bieters (zweiseitige irrevocables)

72

3. Form

73

III. Inhalt und Ausgestaltungsmöglichkeiten

73

1. Möglicher Verpflichtungsinhalt

73

a) Typische Ausgestaltung (einseitige irrevocables)

74

b) Zweiseitige irrevocables

75

c) Directors' irrevocables

75

d) Negative irrevocables

77

aa) Inhalt

77

bb) Rechtliche Aspekte

78

2. Besondere Bedingungen der Andienungsverpflichtung

79

3. Intensität der Andienungsverpflichtung

80

a) Hard irrevocables

81

b) Soft irrevocables

83

c) Semi-hard irrevocables

83

4. Zeitliche Aspekte

84

5. Sonstige Abreden

86

a) Kooperationspflichten

86

aa) Ausübung von Bezugsrechten

87

bb) Unterrichtungspflichten

88

b) Garantieversprechen

88

c) Stillhalteabkommen (standstill agreements)

90

d) Vertraulichkeitsvereinbarungen

91

e) Vertragsstrafenregelung

92

f) Break-up fee-Vereinbarungen

93

g) Weitere (deal protection-)‌Vereinbarungen

94

§ 7 Weitere Möglichkeiten der vorangebotlichen Beteiligungssicherung

96

I. Überblick

96

II. Potentielle Gestaltungsvarianten im Einzelnen

98

1. Paketerwerbe

98

a) Unbedingte Paketkaufverträge

99

aa) Wertpapierübernahmerechtliche Aspekte

100

bb) Wertpapierhandelsrechtliche Aspekte

102

cc) Übernahmerechtlicher Squeeze-out

102

b) Bedingte Paketkaufverträge

104

aa) Wertpapierübernahmerechtliche Aspekte

105

bb) Wertpapierhandelsrechtliche Aspekte

106

cc) Übernahmerechtlicher Squeeze-out

106

2. Optionsvereinbarungen

107

a) Schuldrechtliche Call-Optionen

108

aa) Wertpapierübernahmerechtliche Aspekte

108

bb) Wertpapierhandelsrechtliche Aspekte

108

cc) Übernahmerechtlicher Squeeze-out

109

b) Dingliche Call-Optionen

109

aa) Wertpapierübernahmerechtliche Aspekte

109

bb) Wertpapierhandelsrechtliche Aspekte

110

cc) Übernahmerechtlicher Squeeze-out

110

c) Bedingte Call-Optionen

111

aa) Wertpapierübernahmerechtliche Aspekte

111

bb) Wertpapierhandelsrechtliche Aspekte

111

cc) Übernahmerechtlicher Squeeze-out

112

3. Differenzkontrakte

112

a) Inhalt eines CFD

113

b) Bedeutung in Übernahmesachverhalten

114

III. Irrevocables vs. sonstige Gestaltungsvarianten

116

1. Entscheidungsparameter

116

a) Abhängigkeit des Aktienerwerbs vom Angebotserfolg

116

b) Begründung einer Angebotspflicht (§ 35 Abs. 2 WpÜG)

117

c) Beteiligungstransparenz (§§ 21ff. WpHG)

118

d) Relevanz im Rahmen des übernahmerechtlichen Squeeze-out (§ 39a f. WpÜG)

119

e) Mindestpreisrelevanz bzw. Preisschutz für den betreffenden Aktionär

120

f) Vollzug der jeweiligen Vereinbarung

120

2. Fazit

121

Vierter Teil: Irrevocable Undertakings im Vereinigten Königreich

122

§ 8 Rechtliche Rahmenbedingungen im Vereinigten Königreich

122

I. Überblick

122

II. Der City Code on Takeovers and Mergers (City Code)

124

§ 9 Irrevocable Undertakings im Anwendungsbereich des City Code

126

I. Begriffsdefinition durch den City Code

126

II. Allgemeine Voraussetzungen für die Vereinbarung von irrevocables

127

1. Irrevocables als offer-related arrangements (Rule 21.2 des City Code)

127

a) Generelles Verbot von deal protection-Vereinbarungen

127

b) Begriff des "offer-related arrangement"

128

c) Relevanz des Verbots für die Vereinbarung von irrevocables

128

d) Besonderheiten bei directors' irrevocables

129

2. Verbot der Vereinbarung von Sonderkonditionen (Rule 16.1 des City Code)

130

3. Beschränkungen der Beteiligungssicherung (Rule 5 des City Code)

131

a) Erwerbsbeschränkungen

131

b) Relevanz für die Vereinbarung von irrevocables

132

III. Unzulässigkeit und Zustimmungsvorbehalte des Takeover Panel in Einzelfällen

134

1. Vereinbarungsverfahren

134

a) Nichtinstitutionelle Aktionäre als Vereinbarungspartner (Rule 4.3 des City Code)

134

b) Telefonische Kontaktierung durch den Bieter (Rule 19.5 des City Code)

135

2. Erklärung fehlender Angebotsabsicht durch den Bieter im Vorfeld (Rule 2.8 des City Code)

135

a) Vorangebotliche Veröffentlichungspflichten (pre-bid announcements)

135

b) Relevanz für die Vereinbarung von irrevocables

137

3. Gescheitertes Übernahmeangebot des Bieters im Vorfeld (Rule 35.1 des City Code)

137

4. Irrevocables mit anteilshaltenden Beratern der Zielgesellschaft (Rule 4.4 des City Code)

138

5. Andauernde wettbewerbsrechtliche Überprüfungen (Rule 12.2 des City Code)

138

IV. Auswirkungen und Folgepflichten unter dem Regime des City Code

139

1. Offenlegung

139

a) Allgemeine Veröffentlichungspflicht für irrevocables (Rule 2.11 des City Code)

139

aa) Offenlegung im Grundsatz

139

bb) Umfang der Offenlegungspflicht

140

cc) Aktualisierungspflichten

140

b) Opening Position Disclosure (Rule 8 des City Code)

141

c) Angebotsankündigung durch den Bieter (Rule 2.7 des City Code)

141

d) Angebotsunterlage (Rule 24.3 des City Code)

142

e) Mitteilungspflichten im Angebotsverfahren (Rule 17.1 des City Code)

143

2. Irrevocables und Angebotspflicht (Rule 9 des City Code)

143

a) Irrevocables als kontrollrelevanter Aktienerwerb?

144

b) Acting in concert zwischen Bieter und verpflichteten Aktionären

145

3. Mindestpreisrelevanz von irrevocables (Rule 6 und 11 des City Code)

146

§ 10 Insiderrechtliche Vorgaben im Vereinigten Königreich

148

I. Insiderhandelsverbot (insider dealing)

149

1. Vorgaben des Market Conduct (MAR)

149

2. Vorgaben des City Code

150

II. Weitergabeverbot (improper disclosure)

150

1. Vorgaben des Market Conduct (MAR)

151

2. Vorgaben des City Code

151

3. Schlussfolgerung und Ergebnis

153

III. Ad-hoc-Publizität (disclosure of inside information)

153

1. Vorgaben der Disclosure Rules and Transparency Rules (DTR)

153

2. Vorgaben der Listing Rules (LR)

154

§ 11 Relevanz im Squeeze-out-Verfahren (Sec. 979 CA 2006)

155

Fünfter Teil: Irrevocable Undertakings in Deutschland

156

§ 12 Rechtliche Rahmenbedingungen in Deutschland

156

I. Überblick

156

II. Wertpapierübernahmerecht

158

III. Wertpapierhandelsrecht

160

§ 13 Zulässigkeit und Grenzen

162

I. Irrevocables im Anwendungsbereich des WpÜG

162

1. Gleichbehandlung der Aktionäre (§ 3 Abs. 1 WpÜG)

163

a) Disponibilität des Gleichbehandlungsgrundsatzes

163

b) Ausgestaltungsspezifische Fragestellungen im Einzelnen

164

aa) Informationsgrundlage der Aktionäre

164

bb) Vereinbarung abweichender Konditionen

165

cc) Ausschluss des Rücktrittsrechts nach § 21 Abs. 4 WpÜG (Angebotsänderung)

167

dd) Ausschluss des Rücktrittsrechts nach § 22 Abs. 3 WpÜG (Konkurrenzangebot)

168

(1) Disponibilität des § 22 Abs. 3 WpÜG

169

(a) Meinungsstand

169

(b) Stellungnahme

172

(2) Ergebnis

172

2. Mindestannahmefrist (§ 16 WpÜG)

173

3. Öffentliche Aufforderung zur Angebotsabgabe (§ 17 WpÜG)

173

a) Einseitige Ausgestaltung des irrevocable

173

b) Öffentliche Aufforderung zur Vereinbarung von irrevocables

174

4. Nichtigkeit aufgrund von § 15 Abs. 3 Satz 2 WpÜG?

175

II. Irrevocables im Anwendungsbereich des WpHG

177

1. Insiderhandelsverbot (§ 14 Abs. 1 Nr. 1 WpHG)

177

a) Irrevocables als Erwerbe im Sinne von § 14 Abs. 1 Nr. 1 WpHG

178

b) Verwendung der Insiderinformation

180

aa) Angebotsabsicht als Insiderinformation

180

bb) Im Rahmen einer Due Diligence erlangte Insiderinformationen

182

c) Ergebnis

183

2. Insiderrechtliches Weitergabeverbot (§ 14 Abs. 1 Nr. 2 WpHG)

183

a) Anforderungen an die Befugnis zur Weitergabe einer Insiderinformation

183

b) Einzelfallorientierte Interessenabwägung

185

aa) Ziele des Insiderrechts vs. Weitergabeinteresse des Bieters

185

bb) Beteiligungshöhe des Aktionärs und Gesamtanzahl als begrenzende Faktoren

186

c) Ergebnis

188

§ 14 Kapitalmarktrechtliche Folgepflichten

190

I. Insiderüberwachung

190

1. Ad-hoc-Publizität (§ 15 Abs. 1 Satz 1 WpHG)

190

a) Voraussetzungen der Veröffentlichungspflicht nach § 15 Abs. 1 Satz 1 WpHG

191

aa) Abschluss eines irrevocable als Insiderinformation im Sinne von § 13 Abs. 1 WpHG

191

(1) Das bevorstehende Übernahmeangebot als Informationsgehalt

192

(a) Wahrscheinlicher künftiger Umstand (§ 13 Abs. 1 Satz 3 WpHG) vs. konkreter gegenwärtiger Umstand (§ 13 Abs. 1 Satz 1 WpHG)

192

(b) Zukünftiger Umstand und hinreichende Wahrscheinlichkeit (§ 13 Abs. 1 Satz 3 WpHG)

194

(c) Konkreter gegenwärtiger Umstand und Preisbeeinflussungspotential (§ 13 Abs. 1 Satz 1 WpHG)

195

(2) Die Veräußerungsabsicht des verpflichteten Aktionärs als Informationsgehalt

197

bb) Unmittelbare Betroffenheit von Bieter- bzw. Aktionärsgesellschaft

198

cc) Einzelfragen

199

(1) Sperrwirkung durch § 10 Abs. 6 WpÜG?

199

(2) Zeitpunkt der Ad-hoc-Veröffentlichung durch Bieter- bzw. Aktionärsgesellschaft

201

(3) Einfluss der Mitteilungen nach § 10 WpÜG und § 25a WpHG auf die Ad-hoc-Veröffentlichungspflicht

201

b) Befreiung von der Veröffentlichungspflicht (§ 15 Abs. 3 WpHG)

202

aa) Berechtigtes Interesse des Emittenten

203

(1) Geheimhaltungsinteresse des Bieters vs. Interesse des Kapitalmarkts

203

(2) Geheimhaltungsinteresse des jeweiligen Aktionärs vs. Interesse des Kapitalmarkts

205

bb) Keine Irreführung der Öffentlichkeit

206

cc) Gewährleistung der Vertraulichkeit

207

(1) Grundsätzliche Anforderungen an den Emittenten

207

(2) Vertraulichkeitsvereinbarung im irrevocable als Voraussetzung?

208

dd) Nachholung der Veröffentlichung (§ 15 Abs. 3 Satz 2 WpHG)

209

c) Ergebnis

209

2. Directors' Dealings (§ 15a WpHG)

210

a) Irrevocables als eigenes Geschäft der Führungsperson

210

b) Sinn und Zweck des § 15a WpHG

212

II. Beteiligungstransparenz

213

1. Mitteilungspflicht für bedeutende Stimmrechtsanteile (§§ 21, 22 WpHG)

214

a) Schwellenberührung durch irrevocables (§ 21 Abs. 1 WpHG)

214

b) Zurechnung von Stimmrechten (§ 22 WpHG)

215

aa) Erwerbsrechte an Aktien (§ 21 Abs. 1 Satz 1 Nr. 5 WpHG)

215

bb) Acting in concert (§ 22 Abs. 2 WpHG)

216

2. Halten von Finanz- und sonstigen Instrumenten (§ 25 WpHG)

217

a) Anspruch auf Übertragung der dem irrevocable unterliegenden Aktien

217

b) Irrevocables und einseitiges unbedingtes Erwerbsrecht

218

3. Halten von weiteren Finanz- und sonstigen Instrumenten (§ 25a WpHG)

219

a) Voraussetzungen der Mitteilungspflicht (Erwerbsmöglichkeit)

219

aa) Irrevocables als sonstige Instrumente zur Ermöglichung des Erwerbs

220

(1) Meinungsstand

220

(2) Ausgestaltungsspezifische Differenzierung?

222

(3) Ausnahmeregelung kraft Rechtsverordnung de lege ferenda?

222

(4) Ergebnis und Praxisempfehlung

225

bb) Stimmrechtsaggregation (§ 25a Abs. 1 Satz 7 WpHG)

225

cc) Inhalt der Mitteilung nach § 25a WpHG bei Schwellenüberschreitung

226

(1) Gesetzliche Vorgaben de lege lata

226

(2) Keine Offenlegung der Vereinbarungsdetails

226

b) Wegfall der Erwerbsmöglichkeit (Verfallsmitteilung)

227

III. Übernahmerechtliche Veröffentlichungspflichten und Auswirkungen

228

1. Entscheidung zur Abgabe eines Angebots (§ 10 Abs. 1 WpÜG)

228

a) Einflussnahme auf den Veröffentlichungszeitpunkt der § 10 WpÜG-Mitteilung

229

aa) Einseitige irrevocables

229

bb) Verpflichtung des Bieters zur Angebotsabgabe (zweiseitige irrevocables)

230

cc) Ergebnis

231

b) Offenlegung von irrevocables in der § 10 WpÜG-Mitteilung

231

aa) Gesetzliche Vorgaben de lege lata

231

bb) Überlegungen de lege ferenda

232

2. Kontrollerwerb und Angebotspflicht (§§ 29 Abs. 2, 35 Abs. 2 WpÜG)

233

a) Kontrollerlangung im Sinne von § 35 Abs. 2

233

b) Erwerbsrechte an Aktien (§ 30 Abs. 1 Satz 1 Nr. 5 WpÜG)

234

c) Acting in concert (§ 30 Abs. 2 WpÜG)

235

3. Stellungnahme von Vorstand und Aufsichtsrat (§ 27 Abs. 1 WpÜG)

236

IV. Relevanz im Rahmen des Angebotsverfahrens

239

1. Auswirkungen auf die Gegenleistung

239

a) Mindestpreisrelevanz (§ 4 WpÜG-AngVO)

239

aa) Irrevocables als "Vorerwerbe" im Sinne von § 4 WpÜG-AngVO

240

(1) Regel (übliche Ausgestaltung)

241

(2) Zusicherung wertrelevanter Nebenleistungen

241

(a) Potentielle Nebenleistungen im Einzelnen

242

(b) Rechtsfolgen

243

bb) Ergebnis

244

b) Art der Gegenleistung (§ 31 Abs. 3 WpÜG)

244

c) Gemeinsam handelnde Personen (§ 2 Abs. 5 WpÜG)

246

2. Offenlegung in der Angebotsunterlage

247

a) Pflicht zur Offenlegung (§ 11 Abs. 4 WpÜG i. V. m. § 2 Nr. 5 WpÜG-AngVO)

248

b) Umfang der Offenlegungspflicht (Vereinbarungsdetails)

249

aa) § 11 Abs. 4 WpÜG i. V. m. § 2 Nr. 7 WpÜG-AngVO

250

bb) § 11 Abs. 1 Satz 2 WpÜG

251

cc) Ergebnis de lege lata

253

dd) Überlegungen de lege ferenda

254

c) Zusammenfassung

254

3. Besondere Veröffentlichungspflichten nach Angebotsabgabe (§ 23 WpÜG)

255

a) Mitteilung für bestehende irrevocables

255

aa) "Wasserstandsmeldungen" (§ 23 Abs. 1 Satz 1 Nr. 1 WpÜG)

255

bb) (Vor-)‌Erwerbsvereinbarungen (§ 23 Abs. 1 Satz 2 WpÜG)

256

cc) Mitteilung von Parallelerwerben (§ 23 Abs. 2 Satz 1, 2 WpÜG)

256

b) Erfüllung der Andienungsverpflichtung

257

4. Europäische Durchbrechungsregel (§ 33b WpÜG)

257

a) Irrevocables als Übertragungsbeschränkungen im Sinne von § 33b Abs. 2 Nr. 1 Alt. 3 WpÜG

258

b) Stimmbindungsvereinbarungen in einem irrevocable

260

V. Übernahmerechtlicher Squeeze-Out nach § 39a f. WpÜG

260

1. Erwerb "auf Grund des Angebots" i. S. v. § 39a Abs. 3 Satz 3 WpÜG

262

2. Beeinträchtigung des Markttests?

265

a) Grundsatz

265

b) Manipulierbarkeit des Markttests durch irrevocables

266

3. Keine inhaltliche Differenzierung

268

4. Ergebnis

269

§ 15 Durchsetzbarkeit eines Irrevocable Undertaking und haftungsrechtliche Fragen

270

I. Zwangsweise Durchsetzbarkeit der Andienungsverpflichtung

270

II. Sekundäransprüche bei Verstoß gegen die Pflichten aus dem irrevocable

271

Sechster Teil: Rechtsvergleichende Zusammenfassung und Ausblick

273

§ 16 Zusammenfassung der Ergebnisse

273

I. Zulässigkeit von Irrevocable Undertakings

273

1. Zulässigkeit von Andienungsverpflichtungen im Grundsatz

273

a) Deutschland

273

b) Vereinigtes Königreich

273

c) Fazit

274

2. Insiderrechtliche Bestimmungen

274

a) Deutschland

274

b) Vereinigtes Königreich

275

c) Fazit

275

II. Inhaltliche Ausgestaltung und Mindestpreisrelevanz von Irrevocable Underta‍k‍ings

275

1. Deutschland

275

2. Vereinigtes Königreich

276

3. Fazit

276

III. Offenlegung von Irrevocable Undertakings

277

1. Beteiligungstransparenz bzw. allgemeine Veröffentlichungspflicht

277

a) Deutschland

277

b) Vereinigtes Königreich

277

c) Fazit

278

2. Angebotsunterlage

278

a) Deutschland

278

b) Vereinigtes Königreich

279

c) Fazit

279

3. Übernahmerechtliche Veröffentlichungspflichten

280

a) § 10 WpÜG-Mitteilung bzw. formale Angebotsankündigung

280

Literaturverzeichnis

290

Sachverzeichnis

309