Constitution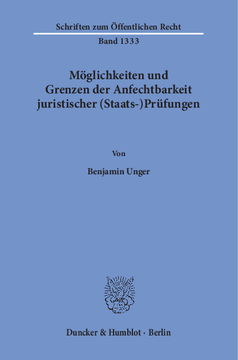 Additional Information
Book Details
ISBN

978-3-428-54935-1
978-3-428-14935-3 (print edition)

DOI

https://doi.org/10.3790/978-3-428-54935-1

Edition

1

Language

German

Pages

677

Collections

Subjects
Pricing
Institution

€ 138.00 (incl. local VAT if applicable)

Individual

€ 107.90 (incl. local VAT if applicable)
About The Author
Benjamin Unger studierte von 1998 bis 2002 Rechtswissenschaften an der Universität in Hamburg. Nach der Absolvierung seines Rechtsreferendariats im Bezirk des Oberlandesgerichtes Schleswig gründete er 2006 seine Rechtsanwaltskanzlei in Stade, wobei er den Fokus seiner Tätigkeit von Beginn an auf das Prüfungsrecht richtete. 2010 begann er mit der Arbeit an seiner Dissertation, die ab dem Jahr 2012 von Prof. Dr. Müller-Terpitz betreut wurde. Im Jahr 2015 wurde er von der Universität Passau zum Dr. jur. promoviert. Benjamin Unger ist nach wie vor als selbstständiger, auf Prüfungsrecht spezialisierter Rechtsanwalt, seit 2009 in Hildesheim, tätig.
Abstract
Der Autor untersucht umfassend die (außer-)gerichtlichen Rechtsschutzmöglichkeiten des Prüflings gegen ihn belastende Prüfungsentscheidungen auf der Grundlage des einschlägigen materiellen (Prüfungs-) und Prozessrechts in seiner gegenwärtigen Auslegung und Anwendung durch Rechtsprechung und Literatur. Dabei kommt er zu dem Ergebnis, dass sich die Rechtsposition des Prüflings trotz der Anerkennung eines »Antwortspielraums« in Fachfragen und der Notwendigkeit einer verwaltungsinternen Kontrolle der Prüfungsentscheidung in der »Juristenentscheidung« des Bundesverfassungsgerichtes gegenüber dem Status quo letztlich kaum verbessert hat.

Die Gründe dafür werden ebenso aufgezeigt wie mögliche Wege zu einer Verbesserung der Rechtsstellung des Prüflings. Hervorzuheben ist insoweit die Neuziehung der Grenzen des Bewertungsspielraums durch die Übertragung des Modells der rationalen Abwägungskontrolle auf das Prüfungsrecht und die Entwicklung abgesenkter bzw. gesteigerter Anforderungen für die Einleitung und Durchführung des Überdenkungsverfahrens auf der Grundlage einer neuen Dogmatik. The author of this dissertation thesis states the question if and in what way, with which means and under which conditions an examinee can take – successful – legal actions in or outside court against a burdening decision in his exams. In this thesis the present examination regulations are evolved by a new legitimization of assessment and by narrowing the scope of assessment by the introduction of a rational and balanced system of controlling the decisions.
Table of Contents
Section Title
Page
Action
Price

Vorwort

5

Inhaltsübersicht

7

Inhaltsverzeichnis

11

Kapitel 1: Einleitung

21

Kapitel 2: Gang der Untersuchung

28

Kapitel 3: Verfassungsrechtliche Determinanten

31

A. Art. 12 Abs. 1 Satz 1 GG

33

B. Art. 3 Abs. 1 GG

51

C. Art. 19 Abs. 4 Satz 1 GG

52

D. Art. 20 Abs. 3 GG

54

Kapitel 4: Rechtsgrundlagen des deutschen Juristenausbildungs- und Prüfungsrechts

56

A. Einleitung und Überblick

56

B. Durch den Untersuchungsgegenstand begrenzte Einzelbetrachtung der Rechtsgrundlagen

59

I. Zwischenprüfung

63

1. (Formell‑)Gesetzliche Vorgaben für die Ausgestaltung der Zwischenprüfung

63

a) Inhalt der formell-gesetzlichen Regelungen

63

b) Verfassungsrechtliche Bewertung nach Maßgabe der Wesentlichkeitstheorie

64

c) Notwendige Erstreckung des Einheitlichkeitsgebots auf die Zwischenprüfung

67

2. Grundzüge der Zwischenprüfungen

69

3. (Verfassungs‑)‌Rechtliche Bewertung (der Ausgestaltung) der Zwischenprüfungen

71

II. Schwerpunktbereichsprüfung

79

1. (Formell‑)Gesetzliche Ausgestaltungsvorgaben

79

a) Inhalt und Umfang der formell-gesetzlichen Direktiven

79

b) Verfassungsrechtliche Bewertung unter dem Blickwinkel der Wesentlichkeitstheorie

81

2. Grundzüge der Schwerpunktbereichsausbildung und -prüfung

86

3. Abschließende Bewertung der Ausgestaltung der Schwerpunktbereichsprüfung

91

a) Erfüllung des bundesgesetzlichen Regelungsauftrags und Wahrung des Einheitlichkeitsgebots

91

b) Verfassungsrechtliche Bewertung

93

aa) Prüfungsanforderungen und Bestehensregelungen

93

bb) Rechtsschutzmöglichkeiten

101

III. Staatliche Pflichtfachprüfung

102

1. Bundesgesetzliche Vorgaben für die Ausgestaltung der staatlichen Pflichtfachprüfung

103

2. Die weitere Ausgestaltung der staatlichen Pflichtfachprüfung in den Bundesländern

104

a) Formell-gesetzliche und / oder verordnungsrechtliche Konkretisierungen der Rahmenvorgaben

104

b) Verfassungsrechtliche Bewertung unter dem Gesichtspunkt der Wesentlichkeitslehre

104

c) Wesentliche Grundzüge der staatlichen Pflichtfachprüfung

107

3. Abschließende Bewertung der Ausgestaltung der staatlichen Pflichtfachprüfung

111

a) Wahrung des Einheitlichkeitsgebots des § 5 Abs. 1 Satz 2 DRiG

111

b) Verfassungsrechtliche Bewertung der Ausgestaltung der staatlichen Pflichtfachprüfung

112

IV. Das Verhältnis der Schwerpunktbereichsprüfung zur staatlichen Pflichtfachprüfung

114

V. Die Zweite juristische Staatsprüfung

115

1. Bundesgesetzliche Vorgaben

115

2. Die weitere Ausgestaltung der Zweiten juristischen Staatsprüfung in den Bundesländern

117

3. Bewertung der Ausgestaltung der Zweiten juristischen Staatsprüfung

119

a) Wahrung des Einheitlichkeitsgebots des § 5d Abs. 1 Satz 2 DRiG

120

b) Verfassungsrechtliche Bewertung der Ausgestaltung der Zweiten juristischen Staatsprüfung

121

Kapitel 5: Mögliche Angriffsgegenstände im Rahmen einer Prüfungsanfechtung und vorprozessuale Rechtsschutzmöglichkeiten des Prüflings im Überblick

122

A. Mögliche Angriffsgegenstände im Rahmen einer Prüfungsanfechtung

122

B. Vorprozessuale Rechtsschutzmöglichkeiten des Prüflings

125

Kapitel 6: Möglichkeiten und Grenzen der (gerichtlichen) ­Kontrolle der Prüfungsentscheidung

139

A. Verfahrens- und Bewertungsfehler und deren Abgrenzung im Überblick

139

B. Die (nachträgliche) Geltendmachung von Verfahrensfehlern und deren Kompensation

147

I. Voraussetzungen des Anspruchs auf die Neuerbringung einer fehlerhaft ermittelten Prüfungsleistung

148

1. Vorliegen eines (wesentlichen) Verfahrensmangels

149

a) Mögliche Faktoren der Leistungsbeeinträchtigung im Überblick

149

aa) Äußere Störungen des Prüfungsablaufs

149

bb) Innere Störfaktoren

149

cc) Sonderfall Prüfungsstoffüberschreitung

150

b) Erheblichkeit des Verfahrensmangels

152

aa) Dogmatische Grundsätze

152

bb) Notwendige Maßstabskonkretisierung

154

(1) Innere Bedingungen der Leistungserbringung

154

(2) Äußere Bedingungen der Leistungserbringung

157

2. Rüge- bzw. Anzeigeobliegenheit des Prüflings

157

a) (Verfassungsrechtliche) Grundsätze

157

aa) Rechtsdogmatische Verortung bzw. verfassungsrechtliche Ableitung und Rechtfertigung der potentiellen Rüge- bzw. Anzeigeobliegenheit

159

bb) Fallgruppenabhängige Obliegenheit des Prüflings

168

b) Zeitpunkt der Rüge bzw. Anzeige des Verfahrensmangels

182

aa) Grundsatz: Obliegenheit zur unverzüglichen Geltendmachung

183

bb) Vorbehalt der Zumutbarkeit

185

cc) Fallgruppenabhängige Konkretisierung

186

(1) Äußere Störungen und Prüfungsverfahrensfehler im engeren Sinne

186

(2) Prüfungsunfähigkeit

189

c) Notwendigkeit einer gesetzlichen Regelung der Rüge- bzw. Anzeigeobliegenheit

197

3. Unterbliebene Abstellung oder unzureichende Kompensation des Verfahrensfehlers

199

4. Gesetzliche Ausschlussfristen / Obliegenheit zur rücktrittsähnlichen Erklärung

203

5. Hinweispflichten des Prüfungsamtes

208

II. Inhalt des Anspruchs bzw. Art und Weise der Kompensation

211

1. Rechtsfolgen einer Rücktritts- oder äquivalenten Erklärung

211

2. Rechtsfolgen der Geltendmachung sonstiger Verfahrensmängel

217

C. Die Erhebung formeller und materieller Bewertungsrügen und ihre (potentielle) Erheblichkeit als Rechtsfehler im Bewertungsvorgang

222

I. Der Ablauf des Bewertungsvorgangs

222

1. Der äußere Vorgang der Leistungsbewertung bzw. das formelle Bewertungsverfahren

222

2. Der innere Vorgang der Leistungsbewertung bzw. das materielle Bewertungsverfahren

226

a) Die Ermittlung der relevanten Beurteilungsgrundlage

228

b) Der eigentliche Vorgang der Leistungsbewertung

242

II. Die Anerkennung eines Bewertungsspielraums als Konsequenz der Eigentümlichkeiten des Bewertungsvorgangs

252

1. Die verwaltungsgerichtliche Rechtsprechung zum Beurteilungsspielraum des Prüfers vor dem 17.04.1991

253

2. Die Ersetzung des "Beurteilungsspielraums" durch einen auf "prüfungsspezifische Wertungen" beschränkten "Bewertungsspielraum" durch das BVerfG

255

3. Die Aufnahme der Entscheidung des BVerfG in Rechtsprechung und Literatur

258

4. Der heutige Meinungsstand zum Bewertungsspielraum

259

5. Der Bewertungsspielraum des Prüfers im Lichte der aktuellen, allgemeinen Diskussion

262

a) Der unstreitige Gewährleistungsgehalt von Art 19 Abs. 4 Satz 1 GG

263

b) Die Diskussion um die einschlägigen grundrechtlichen Legitimationsmaßstäbe

265

aa) Art. 19 Abs. 4 Satz 1 GG als Legitimationsanker

266

bb) Die materiellen Freiheitsgrundrechte als maßgebliche Richtschnur

267

c) Stellungnahme

268

aa) Grundrechtliche Standortbestimmung

268

bb) Hinreichende Rechtmäßigkeitskontrolle

270

cc) Anforderungen an eine und Grenzen der Kontrolle einer rechtsverletzenden Unzweckmäßigkeit

272

(1) Unzweckmäßigkeit als Rechtsverletzung und mögliche Rechtskontrolle

272

(2) Ablehnung einer gerichtlichen Eigenbewertung als Form der Zweckmäßigkeitskontrolle

273

dd) Kompensation des gerichtlichen Rechtsschutzdefizits durch verwaltungsinterne Kontrolle

278

ee) Der Bewertungsspielraum des Prüfers im Lichte des Art. 12 Abs. 1 Satz 1 GG

279

d) Ergebnis

280

III. (Verbleibende) Möglichkeiten und Grenzen der (gerichtlichen) Kontrolle

280

1. Voraussetzungen für die Eröffnung des Bewertungsspielraums

283

a) Verfahrensfehlerfrei ermittelte Prüfungsleistung

284

b) Eignung der Prüfungsaufgabe

285

aa) Eignung der Prüfungsaufgabe im engeren Sinne

285

(1) Bewertungsspielraum des Prüfers bzw. des Prüfungsamtes bei der Auswahl der Prüfungsaufgabe?

285

(2) Gesetzliche Vorgaben für Art und Inhalt der Prüfungsaufgabe

291

bb) Problem der Vorbefassung der Prüflinge mit der Prüfungsaufgabe

304

c) Vollständige und zutreffende Feststellung der Beurteilungsgrundlage / "Sachverhaltsirrtum"

306

2. Bisherige Grenzen des Bewertungsspielraums

309

a) Einleitung und Überblick

309

b) Anzuwendendes Recht

311

c) Verletzung "allgemein gültiger Bewertungsgrundsätze"

316

aa) Einleitung und Überblick

316

bb) Entwicklung und gegenwärtiger Stand der Rechtsprechung

317

(1) Rechtsprechung des Bundesverwaltungsgerichtes

318

(2) Instanzgerichtliche Rechtsprechung

324

cc) Eigene Bewertung der Rechtsprechungsleistung

329

dd) Die Konkretisierungs- und Konturierungsbemühungen in der Literatur

331

ee) Zusammenfassung der bisherigen Erkenntnisse

334

3. Einordnung der "Bewertungsgrundsätze" und des bisherigen Kontrollansatzes

335

4. Das Modell der rationalen Abwägungskontrolle

341

a) Einführung durch das Bundesverfassungsgericht

342

b) Entwicklung und gegenwärtiger Stand der Diskussion in der Verwaltungsrechtsdogmatik

346

c) Das universelle Abwägungskontrollmodell Riehms

350

aa) Die einzelnen Kontrollparameter

350

bb) Weitgehende Korrespondenz mit den Kontrollparametern der Abwägungsfehlerlehre im (Bau‑)‌Planungsrecht

352

d) (Potentielle) Geeignetheit der Abwägungsfehlerlehre / rationalen Abwägungskontrolle zur Kontrolle der Abwägungsentscheidung des Prüfers?

354

aa) Verneinung der Übertragbarkeit der Abwägungsfehlerlehre durch das BVerwG

355

bb) Eigene Ansicht: Eignung als Kontrollmaßstab aufgrund paralleler Entscheidungsstrukturen

356

e) Die den Kontrollparametern der Abwägungsfehlerlehre entsprechenden materiell-rechtlichen Bindungen im Prüfungsrecht

357

aa) Einleitung

357

bb) Normative Anbindung des Abwägungsgebots

359

cc) Abwägungsausfall

362

dd) Abwägungsdefizit

363

ee) Abwägungsfehleinschätzung / -disproportionalität

366

ff) Zusammenfassung und Erweiterung der rationalen Abwägungskontrolle im engeren Sinne

370

(1) Das Gebot der rationalen Abwägung

370

(2) Das Gebot der Sachlichkeit als (weiterer) Abwägungsfalsifikationsmaßstab

371

f) (Weitere) Übertragung des rationalen Abwägungskontrollmodells

373

aa) Die den Abwägungsrahmen bildenden Abwägungsdirektiven

374

(1) Das Gebot der zweckgerichteten Korrektur / Verbot der Anstellung sachfremder Erwägungen

374

(2) Das Gebot der Respektierung des Antwortspielraums des Prüflings in Fachfragen

377

(3) Das Gleichbewertungsgebot

402

bb) Das Gebot der rationalen Abwägung / "Sachlichkeitsgebot"

403

5. Erheblichkeit von Abwägungsfehlern

409

a) Einleitung und Grundsätze

410

b) Generelle Erheblichkeit von Mängeln im Abwägungsvorgang im engeren Sinne

411

c) Erheblichkeit von Fehlern bei der Zusammenstellung des Abwägungsmaterials

411

aa) Die Rechtsprechung des Bundesverwaltungsgerichtes

412

bb) Bewertung der Rechtsprechung des Bundesverwaltungsgerichtes und eigener Ansatz

414

(1) Der dogmatische Ausgangspunkt der Kausalitätsprüfung

414

(2) Die vom BVerwG benannten Ausnahmefälle mangelnder Kausalität des (Abwägungs‑)‌Fehlers

415

Kapitel 7: Das verwaltungsinterne Kontrollverfahren (Überdenkungsverfahren)

421

A. Einleitung und Überblick

421

B. (Defizitäre) Gesetzliche Regelung des verwaltungsinternen Kontrollverfahrens

425

C. Voraussetzungen für die Einleitung und Durchführung des Überdenkungsverfahrens

429

I. Das Recht des Prüflings auf Akteneinsicht

429

1. Einleitung und Überblick

429

2. Rechtsgrundlage(n) des Anspruchs und Verhältnis der Regelungen zueinander

430

3. Art und Umfang der Gewährleistung

435

a) Anspruchsvoraussetzungen

436

b) Zeitpunkt des Entstehens und Erlöschens des Akteneinsichtsrechtes

437

c) Gegenstand der Akteneinsicht

440

d) Modalitäten und Ort der Einsichtnahme

443

II. Der Anspruch des Prüflings auf eine Begründung der Leistungsbewertung

451

1. Einleitung und Überblick

451

2. Rechtsgrundlagen und Anspruchsvoraussetzungen

453

a) (Obligatorische) Begründung der Bewertung schriftlicher Prüfungsleistungen

453

b) Der fakultative Begründungsanspruch bei mündlichen Prüfungen

454

aa) Erfordernis eines (spezifizierten) Begründungsverlangens des Prüflings

456

bb) Faktische und normative Befristungen des Begründunganspruchs

459

cc) Hinweispflichten des Prüfungsamtes

462

3. Form, Inhalt und Umfang der Begründung

463

a) Form der Bewertungsbegründung

464

b) Allgemeine Erfordernisse an Inhalt und Umfang der Bewertungsbegründung

465

aa) Mitteilung der leitenden Gründe (§ 108 Abs. 1 Satz 2 VwGO analog)

465

bb) Äquivalenter Anspruchsinhalt nach der Rechtsprechung des BVerwG

468

cc) Verfassungsrechtliche Determinanten

470

dd) Konkretisierung der Ursprungsbegründung

471

ee) (Teilweise) Nachreichung der tragenden Begründungserwägungen

474

c) Realisierung des Begründungsanspruchs im konkreten Einzelfall

482

aa) Die Offenlegung des fachspezifischen Bewertungsmaßstabs

483

bb) Die Plausibilisierung der Abwägungsentscheidung

485

4. Anforderungen an die Begründung des Zweitvotanten

491

III. Voraussetzungen für die Einleitung des Überdenkungsverfahrens

496

1. Erfordernis der Geltendmachung substantiierter Einwände

496

a) Einleitung und Begriffsklärung

496

b) (Unterbliebene) Gesetzliche Regelung

498

c) Verfassungsrechtliche Bewertung (der Substantiierungsobliegenheit)

500

d) (Konkreter) Inhalt der Substantiierungsobliegenheit

509

aa) Das Substantiierungserfordernis in der Rechtsprechung des BVerwG

509

bb) Das Substantiierungserfordernis in der instanzgerichtlichen Rechtsprechung

511

cc) Die Interpretation des Substantiierungserfordernisses in der Literatur

512

dd) Bewertung und eigener Ansatz

512

e) Zielrichtung der Einwendungen und erforderliche Präzisierungen

517

aa) Allgemeine Grenzen des Darlegungsmaßes

517

bb) Verfahrensfehler und Missachtung von Abwägungsdirektiven

519

cc) Prüfungsspezifische Wertungen bzw. Gewichtungen und Abwägungen

520

2. (Zusätzliches) Erfordernis der Schlüssigkeit der Einwendungen?

522

a) Der Meinungsstand in der (instanzgerichtlichen) Rechtsprechung

522

b) Die Rechtsmeinungen in der Literatur

524

c) Gesetzliche Normierung des Schlüssigkeitserfordernisses

524

d) Stellungnahme

525

IV. Die Einleitung und Durchführung des Widerspruchs- / Überdenkungsverfahrens

526

1. (Organisations‑)‌Aufgaben und (Kontroll‑)‌Befugnisse des Prüfungsamtes

526

2. Befassungs- und Bescheidungspflicht des Prüfers

536

3. Umfang und Grenzen der Überprüfungskompetenz des Prüfers

542

4. Umfang und Grenzen der Neubewertungs- / Abänderungsbefugnis des Prüfers

545

5. Abschluss des Überdenkungs- / Widerspruchsverfahrens

554

Kapitel 8: Verwaltungsprozessuale Rechtsschutzmöglichkeiten

559

A. Gegenstand und Voraussetzungen der gerichtlichen Überprüfung

559

I. (Ursprünglicher) Klage- und Streitgegenstand

559

1. Der Streitgegenstand im Allgemeinen

559

2. Der Kontrollgegenstand bei Bewertungsrügen

563

3. Veränderungen des Streitgegenstandes im gerichtlichen Verfahren

565

II. Prozessuale Konsequenzen und Grundsätze

567

1. Substantiierungsobliegenheit / Amtsermittlungsgrundsatz

567

2. Weitergehende prozessuale Handlungslasten des Prüflings

571

B. Erneuter Eintritt in das Überdenkungsverfahren?

572

I. Prüferbeteiligung gegen den Willen des Prüflings?

572

II. Anspruch des Prüflings auf (erneute) Prüferbeteiligung?

576

1. (Fehlende) Einfach-rechtliche Regelungen

577

a) Die Rechtslage in Bayern

577

b) Die Rechtslage in den übrigen Bundesländern

578

2. Differenzierung wesentlicher Fallgruppen

579

a) Verantwortlichkeit des Prüfungsamtes

579

aa) Neubewertung der Prüfungsleistung mit erstmaliger Begründung

579

bb) Unterbliebene Durchführung des Überdenkungsverfahrens

580

cc) Ungenügende Durchführung des Überdenkungsverfahrens

581

b) Verantwortlichkeit des Prüflings

584

aa) Die Rechtsprechung der Instanzgerichte

584

bb) Die Rechtsprechung des Bundesverfassungsgerichtes

586

cc) Die Rechtsprechung des Bundesverwaltungsgerichtes

586

dd) Die Rechtsstandpunkte im Schrifttum

589

ee) Eigene Auffassung

590

C. Gerichtliches Rechtsschutzinstrumentarium

598

I. Hauptsacheverfahren

598

1. Die prinzipiell statthafte Klageart

598

2. Prozessuale Überholung des Klagebegehrens

603

a) Fortbestehendes Rechtsschutzbedürfnis bei bestandener Wiederholungsprüfung?

603

aa) Erledigung des Verpflichtungs- / Leistungsbegehrens

604

bb) Erledigung auch des Anfechtungsbegehrens

607

cc) Umstellung des Klagebegehrens auf eine Fortsetzungsfeststellungsklage

610

b) Prozessuale Handlungslasten bei vollständiger Erledigung

613

II. Vorläufiger Rechtsschutz

617

1. Die vorläufigen Rechtsschutzbegehren im Überblick

617

2. Vorläufige Durchsetzung der Neben- und Hilfsansprüche

618

a) Einordnung des Begehrens

619

b) § 44a Satz 1 VwGO als Durchsetzungshindernis?

620

c) Anspruchsvoraussetzungen

625

3. Vorläufige Durchsetzung des materiell-rechtlichen Hauptanspruchs

627

a) Allgemeine Einordnung und Bewertung des Begehrens

627

b) Vorläufige Zulassung zur mündlichen Prüfung

630

c) Vorläufige Neuerbringung von Prüfungsleistungen

633

d) Vorläufige Neubewertung von Prüfungsleistungen

633

D. Gerichtlicher Entscheidungsfindungsprozess

636

I. Allgemeine Grundsätze

636

1. Amtsaufklärungspflicht

636

2. Beweislastverteilung und Beweisgrundsätze

636

II. Die Feststellung von Bewertungsfehlern im Besonderen

639

1. Sachverhaltsermittlung

639

2. Beweiserhebung

641

3. Sachverhalts- und Beweiswürdigung

644

4. Grenzen der Kausalitätsprüfung eines festgestellten Bewertungsfehlers

644

E. Möglichkeiten der Prozessbeendigung

645

I. Überblick

646

II. Gerichtlicher Entscheidungsrahmen \nbei einer Prozessbeendigung durch Urteil

646

1. Bindung des Gerichtes an das Klagebegehren im Allgemeinen

646

2. Prozessuale Bindungswirkung eines Notenverbesserungsbegehrens im Besonderen

647

3. Abarbeitung des Klagebegehrens und möglicher Urteilsinhalt

650

III. Prozessvergleich und möglicher Inhalt

651

IV. (Bindungs‑)‌Wirkung von Urteil und Vergleich

651

Literaturverzeichnis

658

Sachverzeichnis

669