Administrative procedure & courts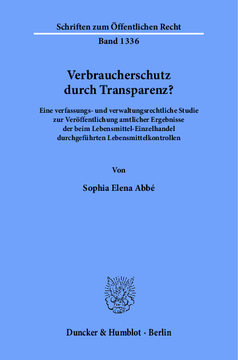 BOOK
Cite BOOK
Style
---
Abbé, S. (2017). Verbraucherschutz durch Transparenz?. Eine verfassungs- und verwaltungsrechtliche Studie zur Veröffentlichung amtlicher Ergebnisse der beim Lebensmittel-Einzelhandel durchgeführten Lebensmittelkontrollen. Duncker & Humblot. https://doi.org/10.3790/978-3-428-55077-7
Abbé, Sophia Elena. Verbraucherschutz durch Transparenz?: Eine verfassungs- und verwaltungsrechtliche Studie zur Veröffentlichung amtlicher Ergebnisse der beim Lebensmittel-Einzelhandel durchgeführten Lebensmittelkontrollen. Duncker & Humblot, 2017. Book. https://doi.org/10.3790/978-3-428-55077-7
Abbé, S (2017): Verbraucherschutz durch Transparenz?: Eine verfassungs- und verwaltungsrechtliche Studie zur Veröffentlichung amtlicher Ergebnisse der beim Lebensmittel-Einzelhandel durchgeführten Lebensmittelkontrollen, Duncker & Humblot, [online] https://doi.org/10.3790/978-3-428-55077-7
---
Format
---
Verbraucherschutz durch Transparenz?
Eine verfassungs- und verwaltungsrechtliche Studie zur Veröffentlichung amtlicher Ergebnisse der beim Lebensmittel-Einzelhandel durchgeführten Lebensmittelkontrollen
Schriften zum Öffentlichen Recht, Vol. 1336
(2017)
Additional Information
Book Details
ISBN

978-3-428-55077-7
978-3-428-15077-9 (print edition)

DOI

https://doi.org/10.3790/978-3-428-55077-7

Edition

1

Language

German

Pages

295

Collections

Subjects
Pricing
Institution

€ 106.00 (incl. local VAT if applicable)

Individual

€ 79.90 (incl. local VAT if applicable)
About The Author
Sophia Elena Abbé studierte Rechtswissenschaften an der Freien Universität Berlin. Dort promovierte sie bei Prof. Dr. Helge Sodan von 2012 bis 2016 und arbeitete im Deutschen Bundestag als wissenschaftliche Mitarbeiterin.
Abstract
Von 2007 bis 2014 wurden in verschiedenen deutschen Städten die Ergebnisse amtlicher Lebensmittelkontrollen durch staatliche Stellen im Internet veröffentlicht. Die Autorin untersucht diese Veröffentlichungsmodelle auf ihre Verfassungsmäßigkeit hin, wobei insbesondere die Fragen des Eingriffs sowie der Erforderlichkeit einer Ermächtigungsgrundlage, aber auch verwaltungsrechtliche Fragestellungen, wie die Unterscheidung von gubernativem und administrativem Handeln, ausführlich behandelt werden. Da bislang alle Veröffentlichungsformen von Lebensmittelkontrollergebnissen an gerichtlichen Entscheidungen scheiterten, geht die Arbeit sodann der Frage nach, ob und wie eine solche Veröffentlichung verfassungskonform ausgestaltet werden könnte. Als Grundlage für die dabei zu treffenden Wertungen werden Verbraucherschutz und staatliche Transparenz sowie die Entwicklung hin zu mehr weichen Steuerungsmechanismen erörtert. Am Ende der Arbeit steht ein Leitfaden für die gesetzgeberische Praxis.»Consumer Protection via Transparency?«In several German cities food hygiene ratings, especially for restaurants, were published by the state from 2007 to 2014 via the internet. This ended because of negative judicial decisions. The author examines, if the release of these information violated the German Constitution and would have needed a legal base. As a result, the author affirms this question and presents a guideline for such a legal base for similar publications in the future.
Table of Contents
Section Title
Page
Action
Price

Vorwort

5

Inhaltsübersicht

7

Inhaltsverzeichnis

9

Abkürzungsverzeichnis

14

Erstes Kapitel: Verbraucherschutz durch Transparenz

19

A. Einführung

19

B. Gang der Untersuchung

23

C. Transparenz

24

I. Entwicklung des Transparenzgedankens

26

II. Bedeutungsgewinn staatlicher Transparenz

27

1. Aufgabenverlagerung und Beeinflussung staatlicher Entscheidungsfindung

27

2. Handlungsverlagerung zu weichen Steuerungsformen

30

3. Wandel zur Informationsgesellschaft

32

D. Verbraucherschutz

35

I. Verbraucherschutz – ein Prinzip von Verfassungsrang?

39

1. Herleitung aus dem Schutz für die körperliche Unversehrtheit und das Leben

41

2. Herleitung aus der Privatautonomie

41

3. Herleitung aus der Meinungs- und Informationsfreiheit

43

4. Herleitung aus dem Sozialstaatsprinzip als dem Recht der strukturell Schwächeren

46

5. Herleitung aus dem Grundgesetz allgemein

47

II. Verbraucherschutz auf europäischer Ebene

48

III. Funktionsfähigkeit von Verbraucherschutz durch Information

51

1. Das Verbraucherleitbild

51

2. Vor- und Nachteile von Steuerung durch Information

53

E. Zusammenfassung zu Verbraucherschutz durch Transparenz

58

Zweites Kapitel: Verbraucherschutz durch amtliche Lebensmittelkontrollen

60

A. Amtliche Lebensmittelkontrollen

60

B. Veröffentlichung der Ergebnisse amtlicher Lebensmittelkontrollen

63

I. Veröffentlichungsmodell in Nordrhein-Westfalen

65

II. Veröffentlichungsmodelle in Zwickau (Sachsen) und Offenbach (Hessen)

68

III. Berlin

68

1. Modell des Berliner Bezirks Pankow

68

2. Berliner Transparenzmodell "Sicher essen" und weitere Bezirksmodelle

70

IV. Veröffentlichungsüberlegungen des Bundes

74

V. Veröffentlichungsmodell des § 40 I a LFGB

75

VI. Zusammenfassung

76

Drittes Kapitel: Grundrechtseingriff

77

A. Schutzbereiche

77

I. Die Berufsfreiheit des Art. 12 I 1 GG

77

1. Besonderheit bei Information

83

2. Berufsregelnde Tendenz

86

3. Ergebnis zur Berufsfreiheit

87

II. Die Eigentumsfreiheit des Art. 14 I 1 GG

88

1. Art. 14 I 1 GG direkt

88

2. Recht am eingerichteten und ausgeübten Gewerbebetrieb

92

a) Rechtsprechung

94

b) Strukturmerkmale des Eigentums

95

c) Das Recht am eingerichteten und ausgeübten Gewerbebetrieb als bloße Gewinnerwartung

98

d) Gefahr einer Schutzlücke

101

e) Sinn und Zweck des Art. 14 I 1 GG

102

f) Überstaatliches Recht

103

g) Ergebnis zum Recht am eingerichteten und ausgeübten Gewerbebetrieb

106

3. Ergebnis zur Eigentumsfreiheit

107

III. Abgrenzung von Eigentums- und Berufsfreiheit

107

IV. Das allgemeine Persönlichkeitsrecht

110

V. Zwischenergebnis zur Eröffnung der Schutzbereiche

117

B. Eingriff

117

I. Faktischer Eingriff

118

1. Übliche Merkmale des faktischen Eingriffs

119

a) Subjektive Kriterien

120

b) Objektive Kriterien

122

2. Eigener Ansatz

128

II. Veröffentlichung der amtlichen Lebensmittelkontrollergebnisse als faktischer Eingriff

132

C. Vorliegen einer Ungleichbehandlung im Sinne des Art. 3 I GG

138

I. Erstveröffentlichung

138

II. Risikobasierter Ansatz

139

III. Kurzfristige Nachkontrolle

140

IV. Zwischenergebnis

141

V. Verhältnis zwischen Art. 3 I GG und den Freiheitsrechten

141

D. Ergebnis

142

Viertes Kapitel: Existenz einer Ermächtigungsgrundlage

143

A. Allgemeine Aufgabe der Staatsleitung als Ermächtigung

144

I. Handlungsform Warnung

144

1. Begrifflichkeiten des Kommunikationsrechts

145

2. Schwäche der kommunikationsrechtlichen Begrifflichkeiten

149

3. Lenkungswirkung der Veröffentlichung von Lebensmittelkontrollergebnissen

150

II. Gubernatives Handeln

151

1. Rechtsprechung zu administrativem Informationshandeln

153

2. Übertragbarkeit der Rechtsprechung zu gubernativem Handeln auf das der Administrative

159

3. Ansichten in der Literatur zu administrativem Informationshandeln

162

III. Zwischenergebnis zur Aufgabe der Staatsleitung als Ermächtigung

164

B. Spezielle Ermächtigungsgrundlagen

165

I. Art. 10 BasisVO oder Art. 7 VO (EG) 882 / 2004 als Ermächtigungsgrundlage

165

II. Sperrwirkung des Art. 7 VO (EG) 882 / 2004 und des Art. 10 BasisVO

168

1. Argumente für die Sperrwirkung

169

2. Argumente gegen die Sperrwirkung von Art. 10 BasisVO

171

3. Entscheidung des EuGH zur Sperrwirkung des Art. 10 BasisVO

172

4. Art. 7 II, III VO (EG) 882 / 2004 als Beschränkungsgründe

173

III. § 40 LFGB als Ermächtigungsgrundlage

176

1. § 40 I 1 LFGB

176

2. § 40 I 2 LFGB

177

3. § 40 I a LFGB

180

4. Produktbezogenheit des § 40 LFGB

182

IV. § 6 I 3 Hs. 1 VIG als Ermächtigungsgrundlage

184

1. Daten, zu denen Zugang zu gewähren ist

185

2. Anwendbarkeit des § 6 I 3 VIG

187

3. Ausschluss- und Beschränkungsgründe des § 3 VIG

191

a) § 3 S. 1 Nr. 1 lit b) VIG – Laufende Verfahren

191

(1) Verfassungsmäßigkeit der Rückausnahme bei unzulässigen Abweichungen vom Lebensmittelrecht

192

(2) Dauer des Veröffentlichungsausschlusses

195

(3) Sonderproblem Verwaltungsverfahren

196

b) § 3 S. 1 Nr. 2 VIG – Der Information entgegenstehende private Belange

197

c) Ergebnis zu den Ausschlussgründen des § 3 VIG

198

4. Zusammenfassung zu § 6 I 3 VIG als Ermächtigungsgrundlage

198

V. Polizeirechtliche Generalklausel als Ermächtigungsgrundlage

199

VI. Ergebnis zur Frage der Ermächtigungsgrundlage

199

Fünftes Kapitel: Verhältnismäßigkeit und Rechtfertigung

200

A. Verhältnismäßige Einschränkung der betroffenen Freiheitsrechte

201

I. Legitimer Zweck

201

II. Geeignetheit

202

1. Einhaltung lebensmittelrechtlicher Bestimmungen durch die Lebensmittelunternehmer

202

2. Ermöglichung eigenverantwortlicher Entscheidungen durch Information

204

III. Erforderlichkeit

208

1. Klassische Maßnahmen als milderes Mittel

208

2. Andere Ausgestaltung der Information als milderes Mittel

210

a) Form

210

b) Inhalt

212

c) Dauer

216

d) Veröffentlichungsobjekt

218

e) Zwischenergebnis

219

IV. Angemessenheit

220

1. Argumente für das Überwiegen des Unternehmerschutzes

221

2. Argumente für das Überwiegen des Verbraucherschutzes

223

3. Zwischenergebnis

225

B. Rechtfertigung der Beeinträchtigung des Art. 3 I GG

226

I. Erstveröffentlichung nicht gleichzeitig

227

II. Risikobasierter Ansatz

228

III. Kurzfristige Nachkontrollen

229

IV. Zwischenergebnis

230

Sechstes Kapitel: Anforderungen an ein verfassungskonformes Veröffentlichungsmodell

231

A. Formelle Anforderungen

231

I. Zuständigkeit für die Schaffung einer Ermächtigungsgrundlage

232

II. Bestimmtheit der Ermächtigungsgrundlage

235

III. Zitiergebot

238

B. Materielle Anforderungen: Grundrechtsschutz durch Verfahren

243

I. Die Veröffentlichung als Verwaltungsakt oder Realakt

244

1. Konkludenter Verwaltungsakt

245

2. Zwischenergebnis zum Vorliegen eines Verwaltungsaktes

248

3. Abwägung zwischen Verwaltungs- und Realakt

249

II. Anhörung

251

III. Möglicher Klageweg

254

IV. Zwischenergebnis zum Grundrechtsschutz durch Verfahren

256

Siebtes Kapitel: Fazit

258

Zusammenfassung in Leitsätzen

262

Kapitel 1: Verbraucherschutz durch Transparenz

262

Kapitel 2: Verbraucherschutz durch amtliche Lebensmittelkontrollen

263

Kapitel 3: Grundrechtseingriff

264

Kapitel 4: Existenz einer Ermächtigungsgrundlage

265

Kapitel 5: Verhältnismäßigkeit und Rechtfertigung

266

Kapitel 6: Anforderungen an ein verfassungskonformes Veröffentlichungsmodell

267

Literaturverzeichnis

269

Sachwortverzeichnis

288