Private international law & conflict of laws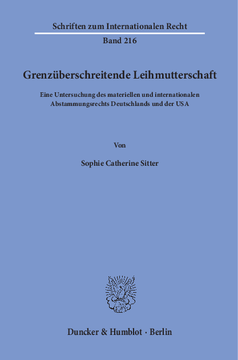 BOOK
Grenzüberschreitende Leihmutterschaft
Eine Untersuchung des materiellen und internationalen Abstammungsrechts Deutschlands und der USA
Schriften zum Internationalen Recht, Vol. 216
(2017)
Additional Information
Book Details
ISBN

978-3-428-54939-9
978-3-428-14939-1 (print edition)

DOI

https://doi.org/10.3790/978-3-428-54939-9

Edition

1

Language

German

Pages

329

Collections

Subjects
Pricing
Institution

€ 116.00 (incl. local VAT if applicable)

Individual

€ 89.90 (incl. local VAT if applicable)
About The Author
Sophie Catherine Sitter, geb. 1982, studierte Rechtswissenschaften an der Ludwig-Maximilians-Universität München sowie an der Handelshögskolan, Göteborg (Schweden). Ihren juristischen Vorbereitungsdienst absolvierte sie am Oberlandesgericht München. Nach ihrem zweiten Staatsexamen war sie von 2011 bis 2013 als wissenschaftliche Mitarbeiterin am Gerichtshof der Europäischen Union im Kabinett der deutschen Generalanwältin Prof. Dr. Dr. Juliane Kokott tätig. Anschließend promovierte sie an der Ludwig-Maximilians-Universität bei Prof. Dr. Stephan Lorenz. Im Jahr 2014 erwarb sie einen Master of Laws der UC Berkeley (USA). Seit 2014 arbeitet sie als Rechtsanwältin in einer internationalen Wirtschaftskanzlei im Bereich Prozessführung.
Abstract
Die Arbeit behandelt die Frage der rechtlichen Abstammung eines von einer ausländischen Leihmutter geborenen Kindes. Die Autorin untersucht diese Frage anhand eines Vergleichs des deutschen und US-amerikanischen Rechts. Dabei stellt sie fest, dass sowohl das deutsche Abstammungsrecht als auch das Abstammungsrecht zahlreicher US-Bundesstaaten den betroffenen Kindern eine Abstammung von ihren Wunscheltern häufig verwehrt. Anhand einer kritischen Würdigung beider Rechtsordnungen prüft die Autorin deshalb, ob das geltende Abstammungsrecht noch zeitgemäß ist und wie de lege ferenda mit der Abstammung nach Leihmutterschaft sowie mit dem Problem hinkender Statusverhältnisse umgegangen werden kann. Dabei kommt sie zu dem Ergebnis, dass insbesondere die Menschenwürde des Kindes und das Gebot der Rechtssicherheit und Rechtsklarheit die Zulässigkeit der Leihmutterschaft erforderlich machen. Die hinter dem gesetzlichen Verbot stehenden Bedenken könnten durch entsprechende gesetzliche Regelungen ausgeräumt werden. »Cross-Border Surrogacy«

The book deals with some of the legal questions arising out of cross-border surrogacy agreements. In particular, the author analyses the legal parentage of a child born out of a surrogacy agreement by comparing the German and US Parentage Laws and Conflict of Law rules.
Table of Contents
Section Title
Page
Action
Price

Vorwort

7

Inhaltsverzeichnis

9

Einleitung

17

1. Teil: Einführung in das Thema

23

§ 1 Grundlagen

23

A. Das Problem

23

B. Ziel der Arbeit

28

C. Gang der Untersuchung

28

§ 2 Entwicklung und Methoden der Leihmutterschaft

29

A. Historische Entwicklung

29

B. Terminologie

31

C. Medizinische Grundlagen und Methoden

33

I. Gründe für Leihmutterschaft

34

II. Medizinische Vorgehensweise

35

1. Herkunft der Gameten

36

2. Methoden medizinisch assistierter Reproduktion

36

a) Künstliche Insemination

36

b) In-vitro-Fertilisation

37

c) Oozytenspende

37

d) Gametentransfer

37

e) Embryonentransfer

37

f) Embryonenspende

38

3. Methoden zum Herbeiführen von Leihmutterschaft

38

III. Risiken bei Leihmutterschaft

38

IV. Folgen der Leihmutterschaft für Mutter und Kind

39

D. Leihmutterschaft in Zahlen

40

2. Teil: Leihmutterschaft im autonomen Recht

43

§ 3 Autonomes Recht

43

A. Leihmutterschaft

43

I. Rechtslage in Deutschland

44

1. Embryonenschutzgesetz

44

2. Adoptionsvermittlungsgesetz

46

3. Hintergrund der gesetzgeberischen Entscheidung gegen Leihmutterschaft

47

4. Allgemeines Zivilrecht

49

a) Verstoß gegen ein gesetzliches Verbot

50

b) Verstoß gegen die guten Sitten

52

5. Zusammenfassung

53

II. Rechtslage in den USA

53

1. Regelungen auf Bundesebene

54

2. Einzelstaatliche Regelungen

58

a) Verbot der Leihmutterschaft

58

b) Zulässigkeit von Leihmutterschaft unter bestimmten Voraussetzungen

59

c) Keine Regelungen zur Leihmutterschaft

62

3. Hintergrund der Rechtslage in den USA

64

III. Vergleich

66

1. Unterschiede in der Haltung zu Leihmutterschaft

67

2. Unterschiede in der gesetzlichen Regelung von Leihmutterschaft in leihmutterfeindlichen Rechtsordnungen

69

IV. Würdigung

70

1. Verbot der Leihmutterschaft zum Schutz des Kindes

70

a) Störung der Identitätsfindung des Kindes

70

b) Schutz der Menschenwürde des Kindes

73

2. Verbot der Leihmutterschaft zum Schutz der Leihmutter

74

a) Menschenwürde der Leihmutter

74

b) Emotionale und moralische Konflikte der Leihmutter

76

c) Ausbeutung einer Zwangslage

77

3. Recht der Wunscheltern auf Fortpflanzung

78

4. Diskriminierungsverbot

78

5. Kohärenz der gesetzgeberischen Regelung

79

6. Zusammenfassung

80

B. Abstammung

80

I. Deutschland

81

1. Originäre Zuordnung

81

a) Mutterschaft

81

b) Vaterschaft

82

2. Änderung der Eltern-Kind-Zuordnung

86

a) Anfechtung

86

aa) Vaterschaftsanfechtung

86

bb) Anfechtung der Vaterschaft bei Leihmutterschaft

87

(1) Notwendigkeit einer Beiwohnungsversicherung auch bei Leihmutterschaft?

88

(2) Ausschluss des Anfechtungsrechts der Leihmutter und des Ehemannes gemäß § 1600 Abs. 5 BGB?

90

cc) Mutterschaftsanfechtung

94

b) Adoption

96

aa) Voraussetzungen der Adoption

97

bb) Beurteilungsmaßstab

97

cc) Tatbestandsvoraussetzungen

98

c) Privatrechtliche Übertragung der Elternschaft

99

3. Elternschaft gleichgeschlechtlicher Partner

99

4. Sonderregelungen für künstliche Befruchtungsmethoden

103

5. Bedeutung von genetischer Verwandtschaft und Elternschaft kraft Willenserklärung

104

a) Genetische Verwandtschaft

104

b) Elternschaft kraft Willenserklärung

107

c) Faktische Elternschaft

108

6. Hintergrund der Rechtslage in Deutschland

108

7. Zwischenergebnis

110

II. USA

111

1. Originäre Eltern-Kind-Zuordnung

112

a) Mutterschaft

112

b) Vaterschaft

114

c) De facto-parents

116

2. Änderung der Eltern-Kind-Zuordnung

116

a) Leugnen der Vaterschaft

117

b) Gerichtliche Feststellung

118

aa) Feststellung der Vaterschaft

118

bb) Feststellung der Mutterschaft

119

cc) Statusänderung bei Leihmutterschaft

119

c) Adoption

120

3. Elternschaft gleichgeschlechtlicher Partner

121

4. Sonderregelungen für Leihmutterschaft

122

a) Model Acts

124

b) Parenthood by gestation

127

c) Parenthood by genetics

129

d) Parenthood by intent

131

e) Best interest of the child test

134

f) Contractual parenthood

135

5. Genetische Verwandtschaft und parenthood by intent

135

6. Zwischenergebnis

136

7. Hintergrund der Rechtslage in den USA

137

III. Vergleich

138

1. Sonderregelungen bei medizinisch assistierter Fortpflanzung

139

2. Einbeziehung der Parteiinteressen

141

3. Relevanz der sozialen Elternschaft

142

4. Abstammung bei Leihmutterschaft

142

IV. Würdigung

144

1. Fehlende Eignung des Abstammungsrechts zur Verhinderung gespaltener Mutterschaft

144

2. Verhinderung der gespaltenen Mutterschaft nicht erforderlich

145

3. Keine Rechtfertigung durch generalpräventive Aspekte

147

4. Verstoß gegen den Gleichheitssatz

149

a) Art. 3 Abs. 3 S. 1 GG

149

b) Art. 3 Abs. 2 S. 1 GG

150

c) Art. 3 Abs. 1 GG

152

5. Fazit und Lösungsmöglichkeiten

152

a) Einführung einer Mutterschaftsanfechtung

153

b) Sonder-Adoptionsverfahren für genetisch verwandte Wunscheltern

154

c) Übertragung der Intentionslösung (parenthood by intent)?

154

d) Zwischenergebnis

157

C. Staatsangehörigkeit

157

I. Deutschland

157

1. Erwerb der deutschen Staatsangehörigkeit

157

2. Verfahren bei Auslandsgeburt

159

a) Antrag auf Ausstellung eines Kinderreisepasses

159

b) Nachbeurkundung der Auslandsgeburt

161

3. Verfahren zur Feststellung der Staatsangehörigkeit

162

II. USA

163

1. Erwerb der amerikanischen Staatsangehörigkeit

163

2. Verfahren bei Auslandsgeburt

165

3. Verfahren zur Feststellung der Staatsangehörigkeit

166

III. Vergleich

166

IV. Würdigung

167

3. Teil: Grenzüberschreitende Leihmutterschaft

170

§ 4 Verfahrensrechtliche Anerkennung ausländischer Entscheidungen

171

A. Deutschland

171

I. Anerkennungsgrundsätze

172

1. Verfahrensrechtliche und kollisionsrechtliche Anerkennung

172

2. Gegenstand verfahrensrechtlicher Anerkennung

172

3. Verfahrensrechtliche Anerkennung von Abstammungsentscheidungen

174

a) Anerkennungsmaßstab

174

b) Verfahren

177

c) Wirkungen der Anerkennung

177

d) Anerkennungshindernisse

178

II. Verfahrensrechtliche Anerkennung im Einzelnen

178

1. Elternschaft kraft Gesetzes oder Vertrag

178

2. Ausländische Urkunden und Registereinträge

179

3. Gerichtliche Mitwirkung als Tatbestandsmerkmal

181

4. Ausländische Gerichtsurteile

184

a) Konstitutive oder deklaratorische Gerichtsentscheidung

184

b) Inhalt der ausländischen Entscheidung

184

c) Ausländische Entscheidungen mit Wirkung inter partes

186

5. Adoptionsentscheidungen

186

III. Anerkennungshindernisse

188

1. Fehlende internationale Zuständigkeit

188

2. Ordre public

189

a) Zuordnung des Kindes zur Wunschmutter

191

aa) Vergleichbares Ergebnis nach deutschem Recht

191

bb) Kein Verstoß gegen tragende Grundsätze des deutschen Rechts

192

(1) Kein Verstoß gegen die Wertungen des AdWirkG und ESchG

193

(2) Kein Verstoß gegen Grundrechte

193

(3) Kein ordre public-Verstoß wegen forum shopping

194

(4) Folgen der Bejahung eines ordre public-Verstoßes

195

(5) Wertungen der Europäischen Menschenrechtskonvention

196

(6) Wertungen der UN-Kinderrechtskonvention

200

cc) Fazit

201

b) Zuordnung des Kindes zum Wunschvater

201

c) Zuordnung zu gleichgeschlechtlichen Co-Eltern

202

3. Sonstige Anerkennungshindernisse

204

IV. Zusammenfassung

204

B. USA

205

I. Anerkennungsgrundsätze

205

1. Verfahrensrechtliche und kollisionsrechtliche Anerkennung

205

2. Gegenstand verfahrensrechtlicher Anerkennung

207

3. Verfahrensrechtliche Anerkennung im amerikanischen Recht

209

a) Pflicht zur verfahrensrechtlichen Anerkennung

210

b) Reichweite der Anerkennung

213

aa) Urteile

213

bb) Public acts

215

cc) Records

215

c) Ausnahmen von der Anerkennungspflicht

216

aa) Fehlen einer public policy-Ausnahme

216

bb) Einschränkungen durch das Due Process-Gebot

216

cc) Mittelbare public policy Ausnahme?

218

d) Ausländische Entscheidungen

220

II. Anerkennung im Einzelnen

220

1. Fallkonstellationen

220

2. Elternstellung kraft Gesetzes

222

3. Geburtsurkunde bzw. Registereintrag

222

4. Gerichtliche Mitwirkung als Tatbestandsmerkmal

226

5. Schwesterstaatliche Abstammungsurteile

226

6. Adoptionsentscheidungen

231

7. Ausländische Gerichtsentscheidungen

234

8. Zusammenfassung

235

C. Vergleich

236

D. Würdigung

237

§ 5 Kollisionsrecht

239

A. Deutschland

239

I. Qualifikation

240

II. Abstammungsstatut

242

1. Anwendbarkeit von Art. 19 EGBGB

242

a) Vorrangige völkerrechtliche Regelungen

242

b) Anwendbarkeit in Leihmutterfällen

243

c) Kollisionsrechtliche Einkleidung der Frage der Abstammung eines Kindes

243

2. Anknüpfung im Einzelnen

244

a) Art. 19 Abs. 1 S. 1 EGBGB

244

aa) Gewöhnlicher Aufenthalt eines Säuglings

245

bb) Ausländisches Recht als Abstammungsstatut

249

b) Art. 19 Abs. 1 S. 2 EGBGB

250

aa) Heimatrecht der Mutter

250

bb) Heimatrecht des Vaters

251

cc) Heimatrecht eines Co-Elternteils

252

c) Art. 19 Abs. 1 S. 3 EGBGB

253

3. Verhältnis der Anknüpfungsalternativen

254

a) Kollisionsfälle im Rahmen des Art. 19 EGBGB

255

b) Verhältnis der Anknüpfungsmerkmale

256

aa) Kollidierende Zuordnungen

256

bb) Faktischer Muttermangel

260

4. Statutenwechsel

260

III. Ordre Public

261

IV. Unionsrechtliche Vorgaben bei der Anerkennung ausländischer Statusentscheidungen

262

1. Unionsrechtliche Pflicht zur Rechtslagenanerkennung in Statusfragen?

264

a) Übertragbarkeit auf andere Statusverhältnisse

265

b) Inhalt des Anerkennungsprinzips

266

2. Anerkennung von Anerkennungsentscheidungen

269

3. CIEC-Mutterschaftsfeststellungsübereinkommen

270

V. Anfechtungsstatut

270

1. Anfechtung der Mutterschaft

270

a) Deutsches Abstammungsstatut

271

b) Ausländisches Abstammungsstatut

271

2. Anfechtung der Vaterschaft

272

3. Ordre public

272

VI. Adoptionsstatut

272

1. Anwendbares Recht

273

2. Deutsches Adoptionsstatut

273

3. Ausländisches Adoptionsstatut

274

VII. Internationales Erb- und Unterhaltsrecht

275

VIII. Zusammenfassung

275

B. USA

276

I. Choice of law in den USA

277

1. Vorbemerkung

277

2. First Restatement

279

3. Governmental interest analysis

281

4. Better law approach

282

5. Second Restatement

284

II. Grenzüberschreitende Leihmutterschaftsfälle in den USA

285

1. Fallkonstellationen

286

2. Abstammungsstatut

286

a) First Restatement

287

aa) Familienrechtliche Qualifikation

287

bb) Vertragsrechtliche Qualifikation

288

cc) Adoptionsrechtliche Qualifikation

289

dd) Zusammenfassung

289

b) Governmental interest analysis

289

c) Better law approach

291

d) Second Restatement

291

3. Adoptionsstatut

291

III. Zusammenfassung

292

C. Vergleich

293

D. Würdigung

295

I. Kollisionsrechtlicher Handlungsbedarf?

296

II. Vermeidung hinkender Rechtsverhältnisse

297

1. Änderung des Kollisionsrechts

297

2. Vereinheitlichung des materiellen Abstammungsrechts

298

3. Rechtslagenanerkennung de lege ferenda

298

4. Fazit

301

III. Klarstellung im Rahmen von Art. 19 EGBGB

301

1. Gewöhnlicher Aufenthalt, Art. 19 Abs. 1 S. 1 EGBGB

302

2. Rangverhältnis der Anknüpfungsalternativen

302

4. Teil: Zusammenfassung und Lösungsvorschläge

303

§ 6 Zusammenfassung der bisherigen Ergebnisse

303

A. Leihmutterschaft im autonomen Recht

303

B. Grenzüberschreitende Leihmutterschaft

304

§ 7 Lösungsvorschläge für das deutsche Recht

305

A. Abschluss eines internationalen Übereinkommens

306

B. Autonome Lösungsmöglichkeiten

309

I. Materielles Recht

309

II. Internationales Privatrecht

310

III. Internationales Zivilverfahrensrecht

310

Ergebnis

311

Literaturverzeichnis

313

Sachwortregister

324